Is the 'strictest plastic ban in history' working in China?
Business & Technology
China's industrial and consumer economies will soon generate 45 million tons of plastic waste every year. The government has acted to reduce packaging. Are the new policies working?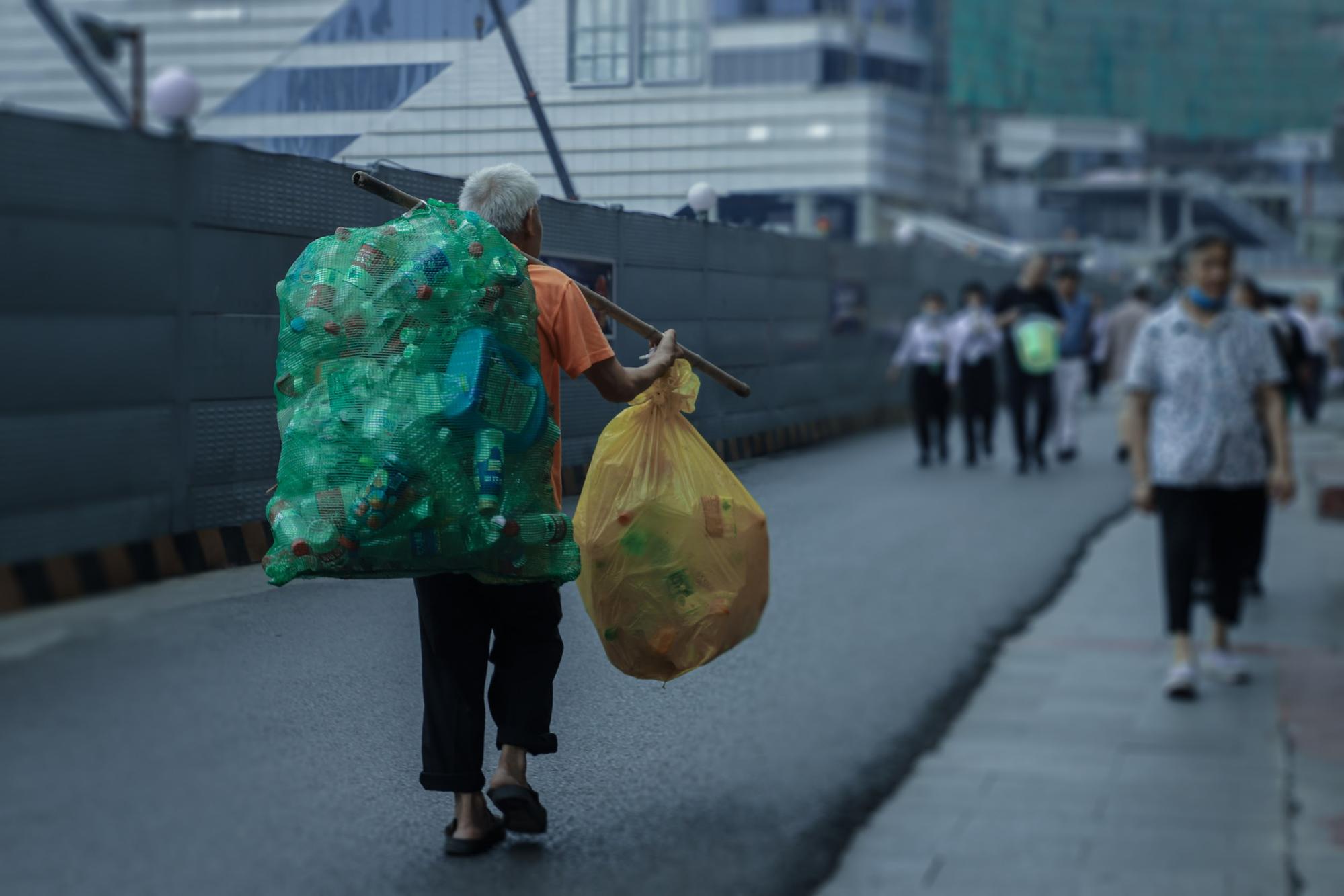 An unintended cost of China's $1.8 trillion ecommerce industry has been the sheer volume of plastic waste it generates. In the past two years, China's packaging waste increased eightfold with projections to reach 45 million tons a year by 2025. This is roughly the same size as all types of waste produced in total by Japan annually.
In what state media have called the "strictest plastic ban" in history (in Chinese), the government has responded aggressively to the crisis. In September last year, the Ministry of Commerce effectively pledged — following a more formal declaration in January 2020 (in Chinese) — to ban single-use plastic bags and utensils from major cities by year end. Single-use straws will be banned nationwide. The new guidelines also include efforts to improve recycling infrastructure and policies to encourage green biodegradable packages.
China news, weekly.
Sign up for The China Project's weekly newsletter, our free roundup of the most important China stories.
Several months into China's plastic ban, it's time to check in on how different industries are coping:
Big supermarkets are going green, while mom-and-pop stores lag behind. In a report (in Chinese) by the Economic Daily, journalists looked at a number of stores in the Beijing area and found that the larger supermarkets have gradually moved away from disposable plastic bags to biodegradable alternatives, but small stores haven't.
At a Beijing branch of big-box retailer Carrefour, a separate report (in Chinese) says that large and small plastic bags, priced at 0.3 yuan ($0.046) and 0.2 yuan ($0.031) respectively, were removed on January 1, and replaced instead by large and small biodegradable bags, priced at 0.8 yuan ($0.12) and 0.5 yuan ($0.076).
"I always thought that the supermarket plastic bags weren't all that expensive at 30 cents, so I didn't pay it much notice," said one shopper (in Chinese). "But now I notice that the bags are more expensive…so I'll strive to bring my own bag next time."
At a Freshippo in Shanghai, a high-tech supermarket owned by Alibaba, The China Project confirmed that plastic bags were still sold but only in a very small size. Because those can only hold three or four items per bag, shoppers effectively need to bring their own bags to shop conveniently.
At roadside stalls, shops, and even smaller chains, The China Project found that plastic remains widely in use. According to the Economic Daily article (linked above), a fruit store owner admitted that the main reason for sticking with disposable plastic bags was cost: "A biodegradable shopping bag costs 20 cents, compared to the ordinary plastic bag, which is much lower, about 2 cents. We use hundreds of bags a day, so the total cost differential is huge."
But the owner also admitted that now that ordinary plastic bags are harder to come by, he's planning to switch: "When this batch is used up, we also want to start using biodegradable bags."
The takeout industry is having an uneven and uncoordinated start. A Chinese journalist at Economic Daily, who interviewed a number of restaurants on Meituan's popular takeout platform, reported that most restaurants started using biodegradable plastic boxes since last year, after the platform encouraged them to switch in December (in Chinese). Yet some restaurants claimed they were not aware of the new plastic policy.
HEYTEA, a popular bubble tea brand, now gives customers on their takeout platform three options of straws: "biodegradable," "paper," or "no straw," The China Project found.
Yet many businesses still lag behind. On Alibaba's Ele.me (in Chinese), another popular takeout app, users were allowed the option to forgo utensils altogether, but plastic utensils remained the default option.
China's biodegradable plastics industry remains in its infancy. Although demand for biodegradable plastics is already skyrocketing due to new restrictions on plastic, the industry itself remains small and fragmented. Demand outweighs supply, and there remain significant barriers to mass production like capacity limitations on raw materials.
In January, Kanghui New Material Technology, a subsidiary of Hengli Petrochemical, signed a contract to produce 600,000 tons of biodegradable plastics a year. The plant is expected to go into operation in the first half of 2021.
By 2025, demand for biodegradable plastics — which come from four areas, including disposable utensils, plastic bags, plastic mulch (used in farming), and delivery packaging — will total 2.5 million tons, creating an $8.3 billion market opportunity.
According to Forward Intelligence (in Chinese), a research institute at Tsinghua University, in 2019, China accounted for a quarter of global plastic consumption while only making up 5% of global biodegradable plastic demand.