The anaconda in the chandeliers: The Hong Kong National Security Law and its implications for middle powers
Politics & Current Affairs
In May 2021, an Israeli company became the first documented case of China imposing free expression limitations on a foreign business under the 2020 Hong Kong National Security Law. Tuvia Gering argues that democracies must research the law and its implications to ensure that their citizens are not prosecuted for exercising their basic rights.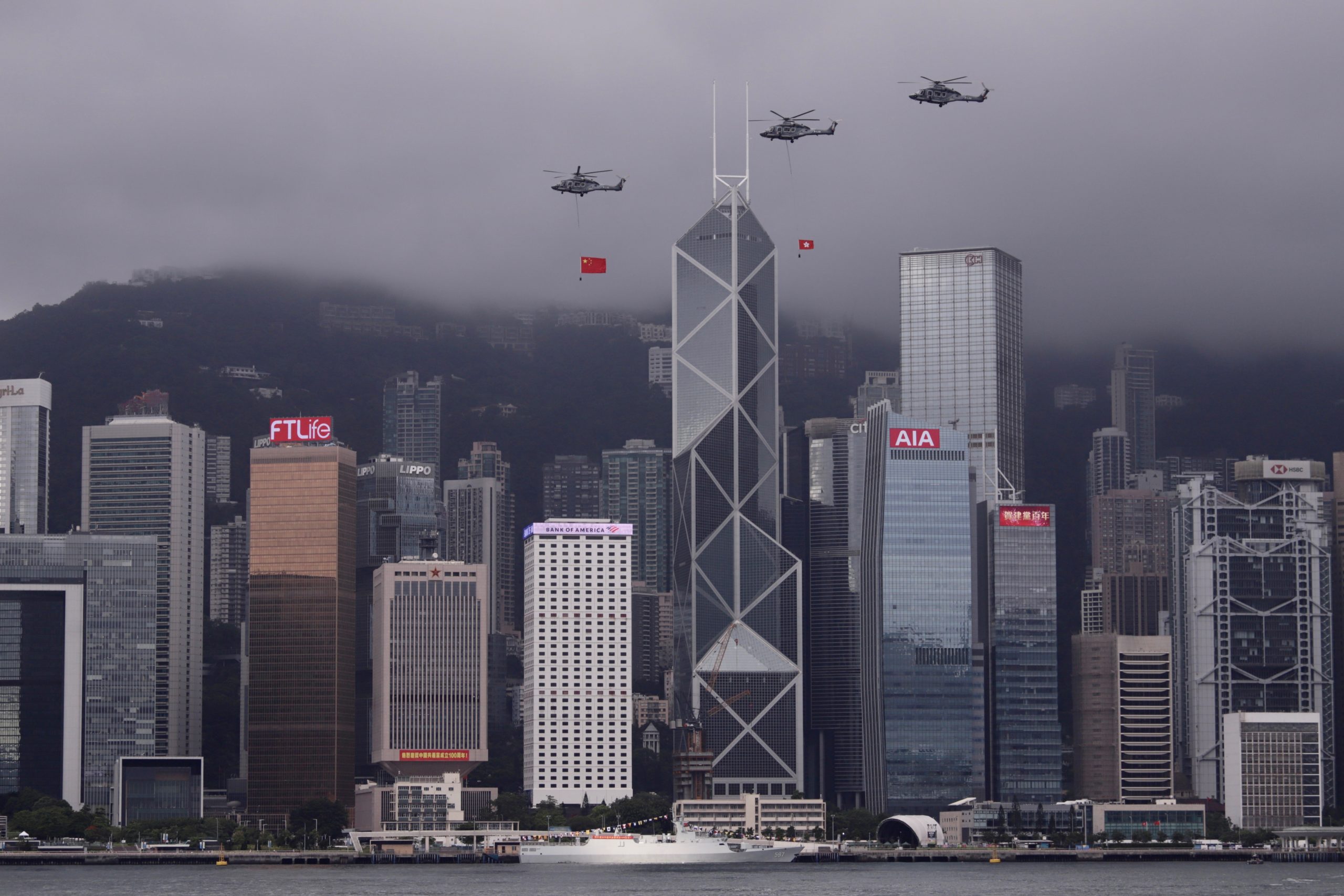 At the request of Hong Kong police, the Nasdaq-listed Israeli software company Wix disabled a pro-democracy website on May 31, 2021. The details of the case were revealed three days later by Hong Kong activist and former legislator Nathan Law (羅冠聰 Luó Guāncōng) from his place of refuge in London.
During those three days, Law unsuccessfully pleaded with the company to restore the website, but Wix claimed to be acting on orders. The site was back and running three hours after the dissident shared the company's responses with his 285,000 followers on Twitter, and the company issued an apology.
This is not the first time an Israeli company has acceded to Chinese authority, and it is certainly not the first time for a multinational corporation, as Kodak's outrageous recent apology to China reminded us: "We will keep ourselves in check and correct ourselves." 
Just in the last decade, a large number of Western brands and private entities that rely on the Chinese market have sacrificed their freedom of expression — and even groveled — for the sake of their bottom line, only to lose hundreds of millions of dollars in the process. 
Businesses and corporations are not the only ones feeling the heat. According to the Wall Street Journal, LinkedIn notified at least 10 foreign China scholars, including an Israeli academic, that their profiles had been blocked or that their content had been removed. 
Furthermore, an investigation on IDF radio revealed in July that several Israeli academics admitted to self-censorship when writing or speaking about China. Some claimed they did so to avoid losing funding and access to the mainland, while others stated they were under direct pressure by the Chinese embassy in Tel Aviv.
Wix does not even have servers in Hong Kong
What makes Wix's case particularly concerning is that the company does not provide services to China and its servers are located in the United States. That is to say, despite the fact that the company and its customers operate outside of Chinese jurisdiction, P.R.C. authorities applied textbook "long-arm jurisdiction." 
Wix is the first foreign company to be impacted by Hong Kong's new National Security Law, but it won't be the last. The law was imposed on Hong Kong by the P.R.C. legislature, the National People's Congress, on June 30, 2020. It broadens Beijing's legal authority to intervene in the special administrative region's jurisdiction in all matters of national security, broadly defined.
The reason Wix was affected appears in section 38, which effectively states that the law applies "anywhere in the world," according to Jeremy Daum, a senior research fellow at the Yale Law School's Paul Tsai China Center; regardless of citizenship or permanent residency status — and even if the action is legal in the country where the "crime" is perpetrated — anyone can potentially be held accountable "for having written or said the wrong thing."
Along with the requirement to censor or modify content, the law authorizes Hong Kong law enforcement agencies to make arrests, monitor and listen to calls and messages, impose exit bans, freeze, search, and confiscate assets, documents, and electronic tools, and demand information and property handover.
If you ask Beijing's central government, the National Security Law should have been passed when the former British colony was handed over to the People's Republic of China in 1997. As is well known, Britain predicated the transfer on granting autonomy to Hong Kong based on the principle of "one country, two systems," a condition that was incorporated into the island's de facto constitution.
On the surface, this is standard legislation in that it targets four crimes that are also punishable in other countries: separatism, subversion, terrorism, and collusion with foreign powers. The law's supporters point, for example, to a series of violent clashes between law enforcement and demonstrators that occurred during the 2019 protests. Following the stabbing of a police officer by a lone wolf perpetrator in July 2021, its passage was argued to be all the more necessary.
On July 27, Tong Ying-kit (唐英傑 Táng Yīngjié), 24, became the first person convicted under the new legislation for "inciting secession and terrorism." The definitions for the two terms, as well as other legal definitions that fall under "national security," are likely to remain ambiguous to allow for a maximalist interpretation based on political expediency. 
Implications for middle powers, and for their citizens 
The National Security Law appears to legitimize arbitrary and selective enforcement against both Chinese and foreign citizens, including the exercise of their right to freedom of expression in their own sovereign jurisdictions. This is entirely consistent with the securitization of everything under Xí Jìnpíng 习近平. 
So should foreign nationals be concerned that they will be targeted and used as a political bargaining chip as soon as they set foot on Chinese soil, including Hong Kong?
The primary goal of the law, as explained by scholar Jeremy Daum, is to give the central government more legal leeway to intervene directly in Hong Kong governance, whereas branding the special administrative region as hostile to foreign businesses and nationals makes wholesale enforcement less desirable. As a result, the law is likely to be used against Hong Kong residents or in situations where the P.R.C.'s core interests are at stake.
However, there have been documented instances of China enforcing its laws selectively against foreigners. We must remember Michael Spavor and Michael Kovrig; the two Canadians were detained approximately a week and a half after Huawei's CFO, Mèng Wǎnzhōu 孟晚舟, had been arrested in Canada for allegedly violating U.S. sanctions against Iran. In less than two months, they will have served 1,000 days in jail and are not expected to be released unless or until the extradition order against Meng is revoked.
Democracies have updated their travel advisories, fearing that their citizens visiting Hong Kong will face surveillance, detention, deportation, and imprisonment. When it comes to a company or corporation without business ties in the P.R.C., the law may apply to its employees who pass through the country, though a far more immediate threat is the loss of future access to the Chinese market (this may be exactly one of the purposes of the law).
Extradition agreements with Hong Kong have been suspended by the EU, Australia, and the U.K., and countries like Israel must consider whether to repeal their mutual assistance in criminal matters, conventions, and any extradition treaties with the special administrative region.
The law's ramifications are not limited to legal entanglements, but also include economic ones. The Trump administration lifted Hong Kong's special economic status, while the Biden administration issued a warning to American businesses on July 16, 2021, ahead of federal restrictions on business cooperation and additional financial sanctions against officials.
Provided that any person or organization that imposes sanctions and bans or engages in other "hostile" activities against China or Hong Kong is incriminated under article 29(4) of the law, foreign companies may have to choose between violating American and European sanctions and violating the new Chinese law.
Moreover, the European Parliament has asked the Commission to impose additional restrictions on the sharing of information between European and Hong Kong companies, as well as stock exchange, banking, and security cooperation, with a focus on the export of technologies and means that can be used to violate human rights.
In this regard, it was reported in October 2020 that the Hong Kong police used the Israeli Cellebrite to break into the phones of up to 4,000 pro-democracy demonstrators. These days, as more reports emerge that other Israeli startups have sold hacking tools to autocratic regimes for civilian purposes, democracies must pass legislation to prevent a situation in which private tech firms help violate human rights.
China passed an anti-sanctions law on June 10, 2021, to combat what it calls "bullying" and "interfering in its internal affairs." To provide legal and economic protection to their businesses and citizens, democracies should pass their own "anti-sanctions" legislation. 
What is to be done about the anaconda? 
Unfortunately, the protection of the freedom of expression for citizens of democracies will almost certainly be a challenging task. The National Security Law's sting is not in its enforcement, but in the fear of it. The law will ensure that anyone with even a tangential connection to China is careful with their words, knowing that any form of expression, as well as any action, that is contrary to the Chinese Communist Party's interests is a liability.
This is the same giant anaconda in the chandelier that Sinologist Perry Link discussed in his classic essay on Chinese self-censorship: Most of the time, the menacing snake does nothing; it doesn't have to. The mere thought of the anaconda falling on the unfortunate victim's head is enough to keep him from making the "wrong move."
When Link's article was first published two decades ago, the anaconda hovered just above the heads of people living in the mainland. However, under Xi Jinping, its dimensions have swelled, and the National Security Law now allows it to stretch between two chandeliers at the same time.