Alibaba's silicon chip in the age of hypersonic missiles
Business & Technology
Alibaba's Yitian 710 chip shows how the U.S.-China-Taiwan semiconductor dance hides an increasingly unstable equilibrium.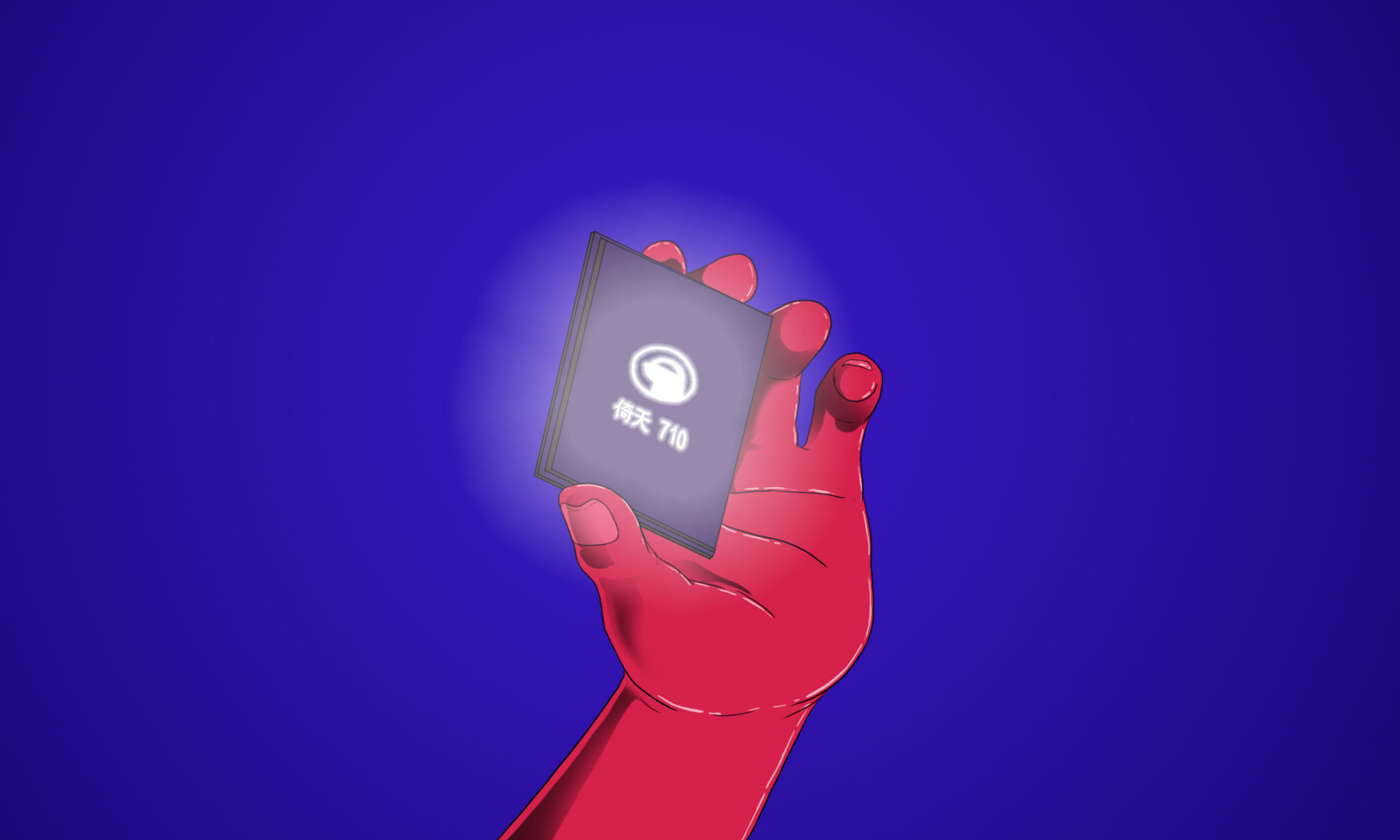 The announcement (in Japanese) last week that Chinese ecommerce giant Alibaba had developed a new advanced and powerful server chip got some but perhaps not enough attention. The announcement from Alibaba's chip design arm T-Head (Pinguote) of the Yitian 710 chip was not surprising in itself — most large cloud services providers and other large tech companies design or are planning to design their own semiconductors, including Google with its TPU, AWS with Graviton, and Microsoft's offering in development. All of these are designed to run cloud native applications at scale, while Apple's M1 is designed to run smartphones and notebooks. 
Chinese tech companies understand the game here. T-Head is also behind the Xuantie 910, an AI optimized semiconductor Alibaba rolled out last year at a major semiconductor conference that got high marks for performance. Being able to offer dedicated hardware to optimize for specific workloads and optimizing the hardware platform for your own cloud services offerings is the way to go. 
Chinese chip design is world class, but China still can't make high-end chips 
But it is the geopolitics around these developments that is really interesting, and raises long-term questions about what could be termed the current unstable equilibrium at the core of industry trends in cloud hardware. The geopolitics of semiconductors involves the growing political pressures on the complex relationships between companies in the U.S., China, and Taiwan, along with other centers of the global semiconductor industry. The crux of the issue is that although the design of the Yitian 710 is purely Chinese, the bulk of the underlying IP used to build the chip comes mostly from the U.S. and the United Kingdom, along with a smattering of other key technologies from European and Asian companies.  While the performance benchmarks and design of the Yitian show that Alibaba chip designers are already world class, there is no chance such a chip could be manufactured in China, and almost all the core elements of the chip do not originate in China.   
The core IP is from Arm, currently owned by SoftBank, which interestingly is also a shareholder in Alibaba. U.S. semiconductor giant Nvidia — whose chips are also used in many data centers to run AI and other workloads — is trying to buy Arm, but Chinese and other antitrust regulators are unlikely to approve the deal — in China, this is because of Beijing's concern that the deal would give the U.S. more control over Arm's IP.
At one level, the Alibaba announcement involves some fundamental semiconductor industry issues. For example, Alibaba indicated in the Yitian 710 announcement that it will devote more resources to chip designs using the open-source RISC-V architecture, which remains outside of U.S. export controls — in 2019, the RISC-V Foundation moved its headquarters to Switzerland to reduce the likelihood that it would be subject to any U.S. export control action. The Chinese government has made a big commitment to RISC-V, and China's ecosystem supporting the architecture has developed rapidly over the past several years, with several new domestic RISC-V alliances gaining members. While for server applications the x86 and Arm architecture remain dominant, RISC-V-based semiconductors are being used in more applications, and Chinese firms such as Alibaba appear committed over the long term to reducing dependence on proprietary Arm designs.  
But the biggest geopolitical issue is that the Yitian 710 is produced in Taiwan by global foundry leader Taiwan Semiconductor Manufacturing Corporation (TSMC) at the 5 nanometers (nm) node, the most advanced manufacturing process for semiconductors.
The geopolitical considerations here are complex. The manufacturing process for the Yitian and other advanced semiconductors includes U.S. origin tools that are critical — and irreplaceable — links in the production chain, giving the U.S. some control over who TSMC manufactures chips for. The U.S. government last year extended the so-called foreign direct product rule extraterritorially to target Chinese telecom giant Huawei, after putting the firm on the dreaded Entity List in May 2019. The effect of the Entity List and foreign direct product rule was to effectively undercut the competitiveness of most of Huawei's business lines, threatening its very existence. 
Hypersonic fears
Like a central processing unit (CPU) made by Chinese firm Phytium, the Yitian 710 chip could end up in systems that support military applications — though Alibaba has said that it does not plan yet to sell the 710, only deploy it within its own data centers, which is similar to how Google and AWS deploy semiconductors that they have designed internally. Phytium was effectively cut off from manufacturing future chips at TSMC when it was added to the U.S. Commerce Department Entity List in April by the Biden administration. TSMC was not obligated to stop manufacturing, because the foreign direct product rule has not been formally extended to Phytium, but did so because of political considerations around the optics of manufacturing semiconductors, some of which were likely used in high-performance computers (HPC) to design weapons systems that could be used against Taiwan and U.S. forces in an invasion scenario. The Washington Post broke this story in April just before Phytium was added to the Entity List. 
Media stories over the past several weeks about a possible new test of a hypersonic glide vehicle that may have been modeled using HPCs including Phytium chips have renewed debate in Washington about the implications of allowing Chinese firms to use Taiwan and TSMC as a manufacturing base for advanced semiconductors, some of which could find their way into systems with military applications.  
This is a volatile issue in the U.S.-China-Taiwan triangle. It has heated up over the past few months, as the Biden administration has pushed on a number of Beijing's redlines about Taiwan. 
These Washington policy measures have focused on traditional redlines around U.S. diplomatic engagement with Taiwan, arms sales, and the presence of U.S. military trainers or advisers on the island. 
The semiconductor issue is what I call an "unknown redline," because Beijing so far has not reacted to the cutoff of its leading tech firm, Huawei, from using a company in a location it considers to be part of China, to manufacture advanced semiconductors. The Phytium case has added to the mix, and should another large Chinese tech company be similarly targeted, the "silicon shield" around Taiwan — touted recently by Taiwan President Tsai Ing-wen (蔡英文 Cài Yīngwén) — would be under new and unknown levels of pressure. 
Hence, the Alibaba announcement also highlights what is likely an unstable equilibrium for the industry and for U.S. policy on China and semiconductors over the medium term. Chinese company access to cutting-edge processing nodes in Taiwan would seem to undercut U.S. efforts to keep China itself, specifically, domestic foundry leader Semiconductor Manufacturing International Corporation (SMIC), several generations behind global leaders TSMC, Samsung, and Intel. SMIC is basically stuck making chips at the 10–14 nanometer nodes as a result of U.S. pressure on the Dutch government to ensure that lithography leader ASML does not ship advanced extreme ultraviolet (EUV) systems to the firm. 
China hawks in the U.S. Congress have already pushed for Phytium to be formally included under the foreign direct product rule, and Senator Tom Cotton and Representative Michael McCaul wrote a letter to Commerce Secretary Gina Raimondo in April calling for the rule to be extended to all Chinese companies designing and manufacturing semiconductors at TSMC and other leading foundries at 14 nanometers or below. Another letter last week from 16 Republican Congress persons led by McCaul called for extending the foreign director product rule to "all entities that enable the Party's military capabilities and human rights abuses," along with sweeping restrictions on U.S. technology exports — including lithography equipment and electronic design automation tools — to Chinese semiconductor firms. Should Republicans sweep Congress in the 2022 midterms, China hawks such as Cotton and Florida senator Marco Rubio are certain to revisit the issue and push for more controls.
The Biden administration has not yet clearly articulated clear definitions of national security concerns around China, semiconductors, and dual-use applications of semiconductors that could come under scrutiny.  In the meantime, export control measures such as those taken against Huawei and Phytium continue to impact sensitive supply chains in an industry long accustomed to the free flow of technologies, personnel, and financing. Balancing national security issues with avoiding the appearance of constraining the march of Chinese innovation and potentially disrupting supply chains remains a key challenge in Washington. For example, keeping controls on SMIC's ability to acquire advanced manufacturing tools for uncertain national security gains would seem to be an area for examination. 
Fortunes to be made in chip supply chains 
Meanwhile, a host of other Chinese firms, including AI chip design startups and established players such as Cambricon, Horizon Robotics, Novumind, Yitu, Intellifusion, and Bitmain, and established players such as Alibaba and Baidu, continue to tape out new advanced chip designs at TSMC. That this seems like an unstable equilibrium should not be surprising.
Finally, U.S. policymakers are struggling with two major issues in this arena. The first is an export control system designed for another era, and certainly not for Great Power Competition in the digital age, let alone surgical intervention in the business operations of large multinational corporations or complex global supply and value chains. Second, governments struggle to get nuanced policy advice on regulating a large and diverse business community, featuring lots of technology companies with major equities in China. 
Typical of both these problems are studies on the potential for military use of advanced and complicated technology domains like artificial intelligence, which, like cloud services, are inherently dual use. A recent study on the Chinese military's adoption of AI, for example, concludes that "although nearly all of the XX contracts reviewed in this study are described as "intelligent" (智能), the true nature of this intelligence — and the machine learning methods that may or may not be involved in their operation — is unclear." Yet the report goes on to hint that the U.S. government should consider policy decisions around export controls on Chinese companies related to AI. But on the basis of what criteria should this be considered?  
A key recommendation in the final report from the blue-ribbon National Security Committee on AI (NSCAI) — which was commissioned under the 2019 U.S. National Defense Authorization Act and included many former military and industry officials and was issued earlier this year — suggests boldly, 
The U.S. Government must clearly state the principles that will guide future U.S. decisions regarding policies to protect critical technologies. This will enable more consistent and cohesive technology protection policies and provide clarity to industry regarding how the government intends to utilize these regulatory tools in the current competitive environment, thereby reducing uncertainty for U.S. businesses. No such framework currently exists [emphasis added].
Given industry trends and no framework to bring clarity to real national security issues around the quintessential dual-use technology, semiconductors, U.S.-China competition over semiconductors is only going to get fiercer and more complicated as we head into 2022. There's a tech arms race on, and fortunes will be made by those who can figure out the supply chains for the weapons.