Biden-Xi meeting: No breakthrough, but a possible journalist visa thaw
Politics & Current Affairs
Joe Biden and Xi Jinping's virtual meeting yesterday evening appears to have been relatively friendly and promises more stability for the U.S.-China relationship. There were no breakthroughs, but Chinese media reported that an agreement had been reached to issue journalist visas, starting with the U.S. side.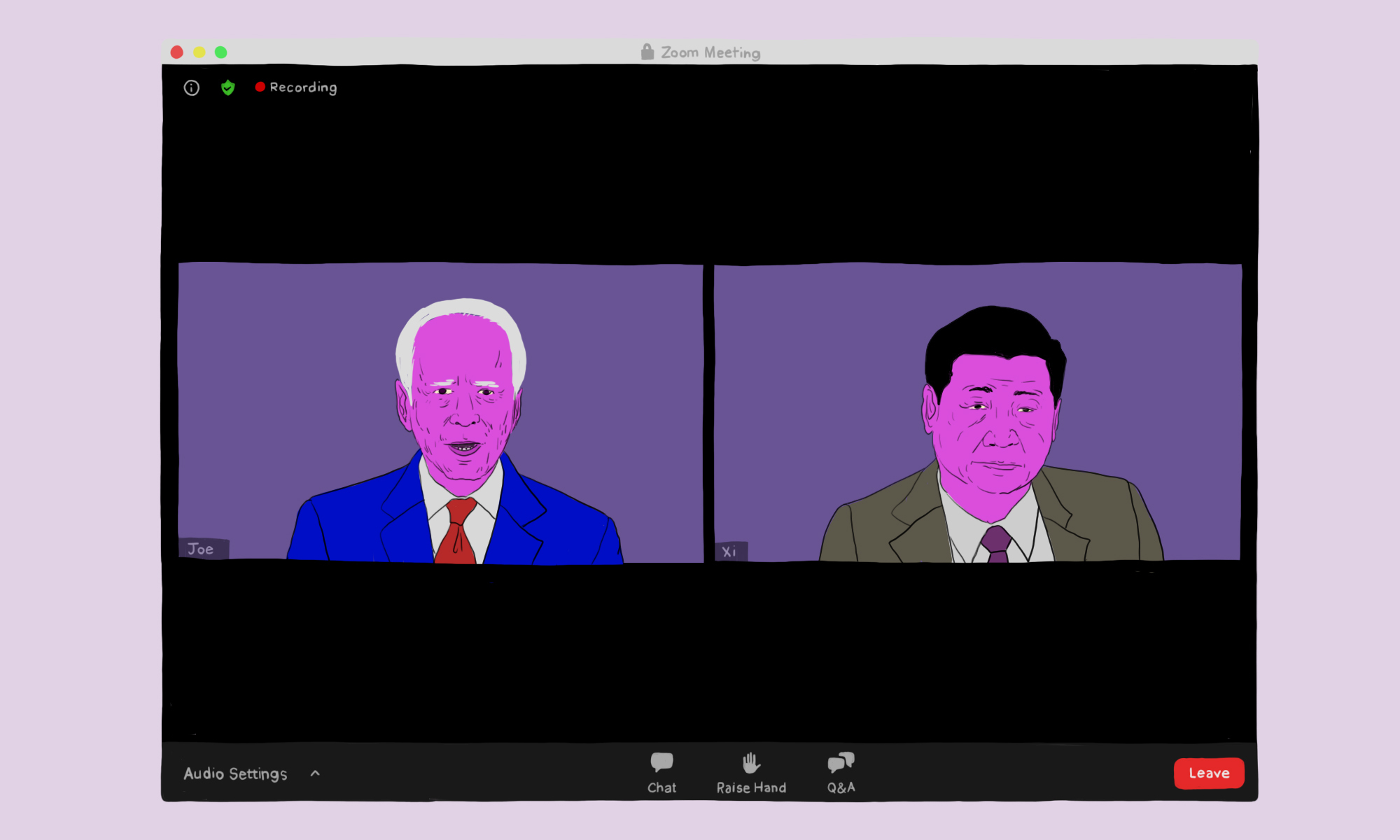 U.S. President Joe Biden and Chinese leader Xí Jìnpíng 习近平 had a long virtual meeting yesterday evening, which by all accounts was relatively amicable. Despite the friendly tone, serious areas of disagreement — such as human rights, and who is responsible for increased Taiwan tensions — did not go unmentioned.
A White House readout says that the leaders discussed the "complex nature of relations" between the U.S. and China and "the importance of managing competition responsibly."
A much longer readout from Chinese state media Xinhua (in English, in Chinese) says that the two leaders "agreed that their meeting is candid, constructive, substantive and productive," and "agreed to maintain close communication in different forms and steer China-U.S. relations back on the right track of sound and steady development."
One of the meeting's more concrete, if small, policy outcomes was hinted at by China, which said it "takes seriously the wishes of the U.S. business community to travel to China more easily, and has agreed to upgrade [a] fast-track arrangement."
Another significant policy change was not mentioned in either readout, but reported in Chinese media such as China Daily, citing Foreign Ministry sources:
…the U.S. will issue one-year multiple-entry visas to journalists of Chinese nationality, and will immediately initiate the process to address "duration of status" issues.

Based on the principle of reciprocity, the Chinese side commits to granting equal treatment to U.S. journalists immediately after U.S. policies enter into force…
Journalist visa cancellations were some of the more striking signs of increasing U.S.-China tensions in the spring of 2020, as the Trump administration kicked out some 60 employees at Chinese state media from the U.S., and China responded by expelling at least 13 American journalists, in addition to revoking the work permits of local Chinese news assistants.
A few other highlights from the meeting that are immediately apparent:
Agreement on international cooperation
Xi:
President Xi stressed that a sound and stable China-U.S. relationship is required for…finding effective responses to global challenges such as climate change and the COVID-19 pandemic…
Biden:
[Biden] raised specific transnational challenges where our interests intersect, such as health security. In particular, the two leaders discussed the existential nature of the climate crisis to the world and the important role that the United States and the PRC play.
Both readouts also mentioned energy security, North Korea, Afghanistan, and Iran as areas of mutual interest.
Xi added a separate remark on areas for bilateral cooperation:
The two countries, with broad common interests in a wide range of areas including economy, energy, mil-to-mil, law-enforcement, education, science and technology, cyber, environmental protection and sub-national interactions, should complement each other to make the cake bigger for China-U.S. cooperation.
Disagreement on Taiwan
Xi:
[Xi] noted the new wave of tensions across the Taiwan Strait, and ascribed the tensions to the repeated attempts by the Taiwan authorities to look for U.S. support for their independence agenda as well as the intention of some Americans to use Taiwan to contain China. Such moves are extremely dangerous, just like playing with fire. Whoever plays with fire will get burnt.
Biden:
President Biden underscored that the United States remains committed to the "one China" policy, guided by the Taiwan Relations Act, the three Joint Communiques, and the Six Assurances, and that the United States strongly opposes unilateral efforts to change the status quo or undermine peace and stability across the Taiwan Strait.
The Chinese readout says that Biden "stated that the U.S. does not support 'Taiwan independence.'" A senior Biden administration official appeared to confirm this in a press briefing — "I know that White House officials have reiterated it publicly earlier this year, that it [Taiwan independence] is not something that the United States supports" — while emphasizing that this is not "anything that's particularly new or different" from the longstanding "one China" policy.
Other areas of disagreement mentioned in both readouts include human rights — "President Biden raised concerns about the PRC's practices in Xinjiang, Tibet, and Hong Kong, as well as human rights more broadly" — and economic fairness, with Biden flagging the "PRC's unfair trade and economic practices" and Xi reiterating many of Beijing's standard points defending China's economic policies and political system.
No big breakthrough, but the start of more stable communications?
A Reuters analysis describes broad agreement about the likely effect of the meeting:
Daniel Russel, the former top U.S. diplomat for Asia in the Obama administration, described the Biden-Xi meeting as the first of a "series of important conversations that can steer the relationship on a steadier course while the two sides continue to furiously compete."
Wáng Huīyào 王辉耀, president of the Center for China and Globalization in Beijing, said the meeting promised to "stop the downward spiral of bilateral relations and will stabilize U.S.-China relations for some time," particularly on the issue of Taiwan.
More on the Biden-Xi meeting: