Beijing-born influencer sparks outrage on Chinese internet for supporting the overturning of Roe v. Wade
Society & Culture
A female entrepreneur and former journalist has drawn heavy fire on Chinese social media for saying, "Giving life a chance. This shouldn't be up for debate."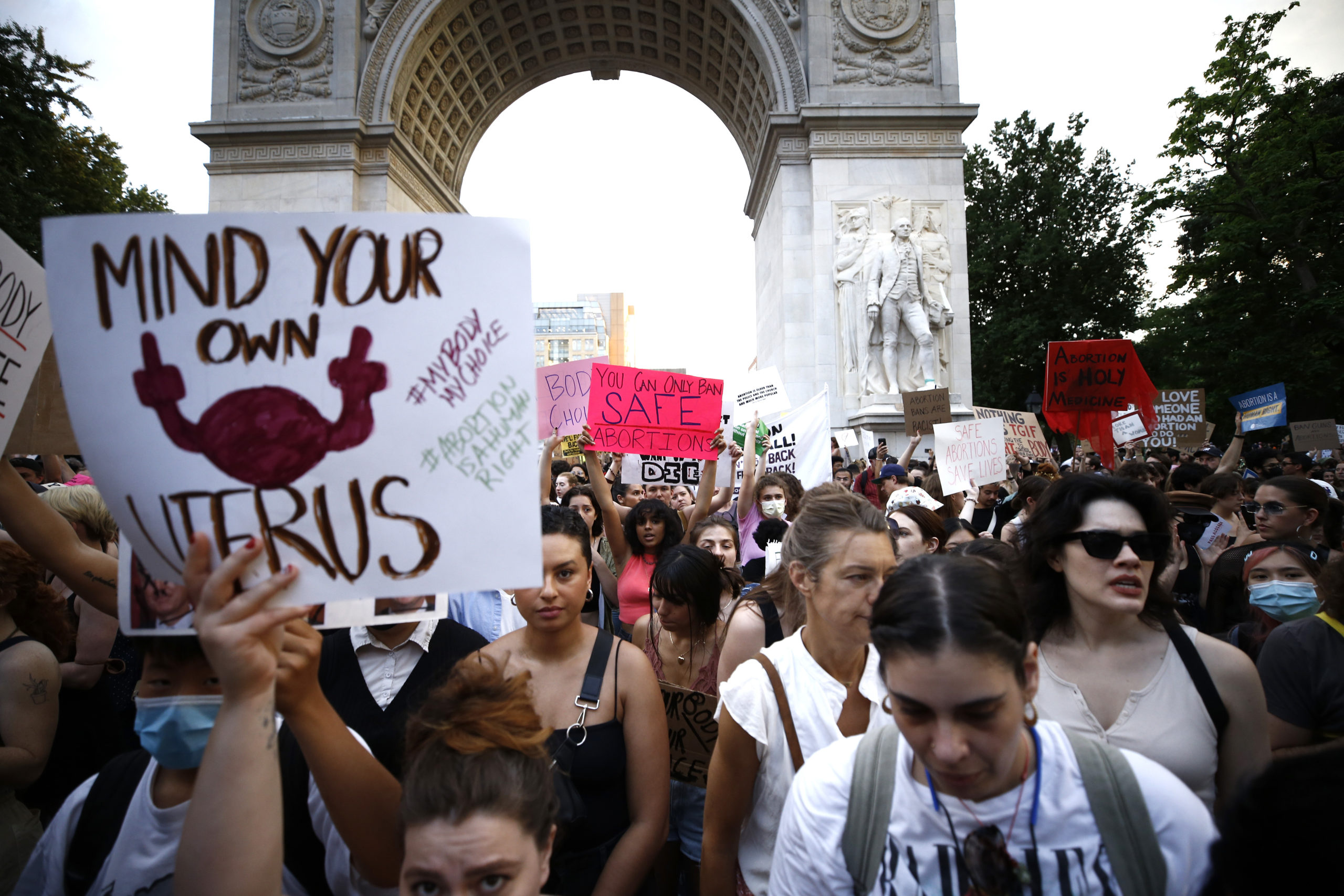 In a rare instance of a public figure facing backlash on the Chinese internet over views on abortion, Tracey Chang Xinyue (常馨月 Cháng Xīnyuè), a Beijing-born, London-based influencer/entrepreneur who has more than 3 million followers across major social media sites in China, has set off a firestorm of criticism online after expressing her praise for the U.S. Supreme Court's decision to overturn Roe v. Wade.
In a historic and far-reaching decision powered by its conservative majority, the U.S. Supreme Court officially reversed Roe v. Wade, declaring that the federal constitutional right to abortion, upheld for nearly a half century, no longer exists. The ruling, most of which was leaked in early May, means that nearly half of the U.S. states will impose restrictive bans or completely outlaw abortion.
While the reversal has brought forth days of protest and outrage in the U.S., the news also elicited strong reactions on Chinese social media platforms like Weibo, where the hashtag "U.S. Supreme Court Cancels Constitutional Right to Abortion" (#美国最高法院取消宪法规定的堕胎权#) garnered over 640 million views before the site started restricting discussions.
For influential people with sizable followings on the Chinese internet, hardly any of them shared their thoughts on the U.S. ruling or women's reproductive rights in general. But there's one woman who weighed in on the matter, and she's in hot water as a result.
On Monday, Tracey Chang Xinyue, a bilingual 36-year-old who used to be a news anchor, posted a video (in Chinese) on Weibo explaining why she didn't see the reversal as a step backwards for women. 
"The issue of abortion is different from women's rights to receive education, vote, or get equal pay. Getting an abortion is not something for women to celebrate or feel proud of," Chang said in Chinese. "In a society where abortion is accessible and cheap, men would be more reluctant to use contraceptives because they would think it would be convenient to get rid of the 'trouble' if a woman gets pregnant by accident."
Chang stressed that she didn't support a blanket abortion ban, given that "exceptions should be given for circumstances like rape and incest." But "if abortion is completely legalized and extremely available," it's doing men a favor because they would always have a way out in cases of unplanned pregnancy, she said. Plus, Chang added, "a consensus in the scientific community is that unborn babies can experience pain and sense light at 15 weeks gestational age."
"Both human life and women's rights deserve to be respected," she said. "I hope all women will protect themselves and be responsible for their mental and physical well-being. If you have an unintended pregnancy, I hope you will consider your baby's rights to life when you make the final decision."
Though she wrote in the caption that she didn't intend to "change anyone's opinion" and asked viewers to have a "rational discussion" with her, criticism immediately followed. "You keep saying you are unbiased and just want to lay out facts. But it's so obvious that you are anti-abortion so stop pretending you don't have a stance on the matter," a Weibo user wrote (in Chinese), while another one fumed, "Do you know that abortion restrictions can lead to unsafe abortions and many women might die because of this ruling? Of course you don't know because you come from a place of privilege."
The backlash was equally loud on popular social commerce app Little Red Book (小红书 xiǎohóngshū), where Chang posted the same video to her 1.3 million followers. Many said (in Chinese) they were taken aback by her views on the overturning of Roe v. Wade, given that Chang previously presented herself as a positive role model and a champion of female empowerment. 
In an article published last year on The Beijinger, Chang was introduced as "the first-ever Miss New York winner of Chinese descent, past Davos Moderator, CGTN Journalist, Columbia Business School Graduate, Asian American Excellence Award winner, and most recently, wife, mother, and business owner/entrepreneur." When asked about her beauty brand, Chang said that her business was all about "empowering women and empowering people from around the world with a drive to succeed."
While many of Chang's fans said they were disappointed by her remarks, others poured out support for her, saying she's entitled to have her own opinion. Chang herself hasn't shown any willingness to embrace criticism. In another video (in Chinese) posted on Tuesday, Chang doubled down on her comments and slammed "trolls" for taking her views out of the context. "I support women's rights to make choices but, at the same time, I hope that more people will respect life," she said. "Giving life a chance. This shouldn't be up for debate."
Emphasizing that she's "pro-choice" but not "pro-abortion," Chang went on to say, "If you come to me and ask if I think you should have a child, I would say yes. Giving birth is a beautiful thing. You have the right to not have children, but speaking for myself, I think wanting to have children should be a natural desire for everyone."
Her second video, unsurprisingly, was met with another round of derision. "The impact of the bans will be felt first by those who are already disadvantaged and facing barriers. There will be women who for financial reasons cannot simply go to another state to have the procedure. Being privileged does not give you a reason to be ignorant," one incensed Xiaohongshu user commented (in Chinese). 
The China Project has reached out to Chang on Instagram for comment but did not immediately hear back.
The intensity of the backlash against Chang highlighted how reproductive rights  issues have come into sharp focus for Chinese women in recent years. In light of the end of Roe v. Wade, many Chinese women worried that the decision may augur a broader regression on women's bodily autonomy around the world.
The history of abortion in modern China is closely linked to the evolution of the government's population control over the years. Under the one-child policy, introduced in 1979 to keep the country's population growth in check, family planning officials routinely hunted down families suspected of violating the rules on childbearing, gave out fines, and at times forced women to undergo abortions and sterilizations.
In today's China, abortion is legal and widely accessible. According to official statistics, around 9.7 million abortions are carried out each year in China, which is thought to be a result of a lack of sex education. Unlike in the U.S., where women's bodies and rights are under assault for mostly political and religious reasons, the Chinese government has a more practical reason to change its abortion policies: Despite Beijing's growing emphasis on encouraging people to have more babies, the number of newborns in China plummeted for a fifth straight year to hit a new record low in 2021. Many Chinese women fear that to avert the demographic timebomb, Chinese policymakers might restrict access to abortion in the near future.