With 'instant retail,' brick-and-mortar stores are making a comeback
Business & Technology
Offline stores are back in the game. Local convenience stores are now delivering groceries, medicines, and clothes faster than Alibaba and JD.com can.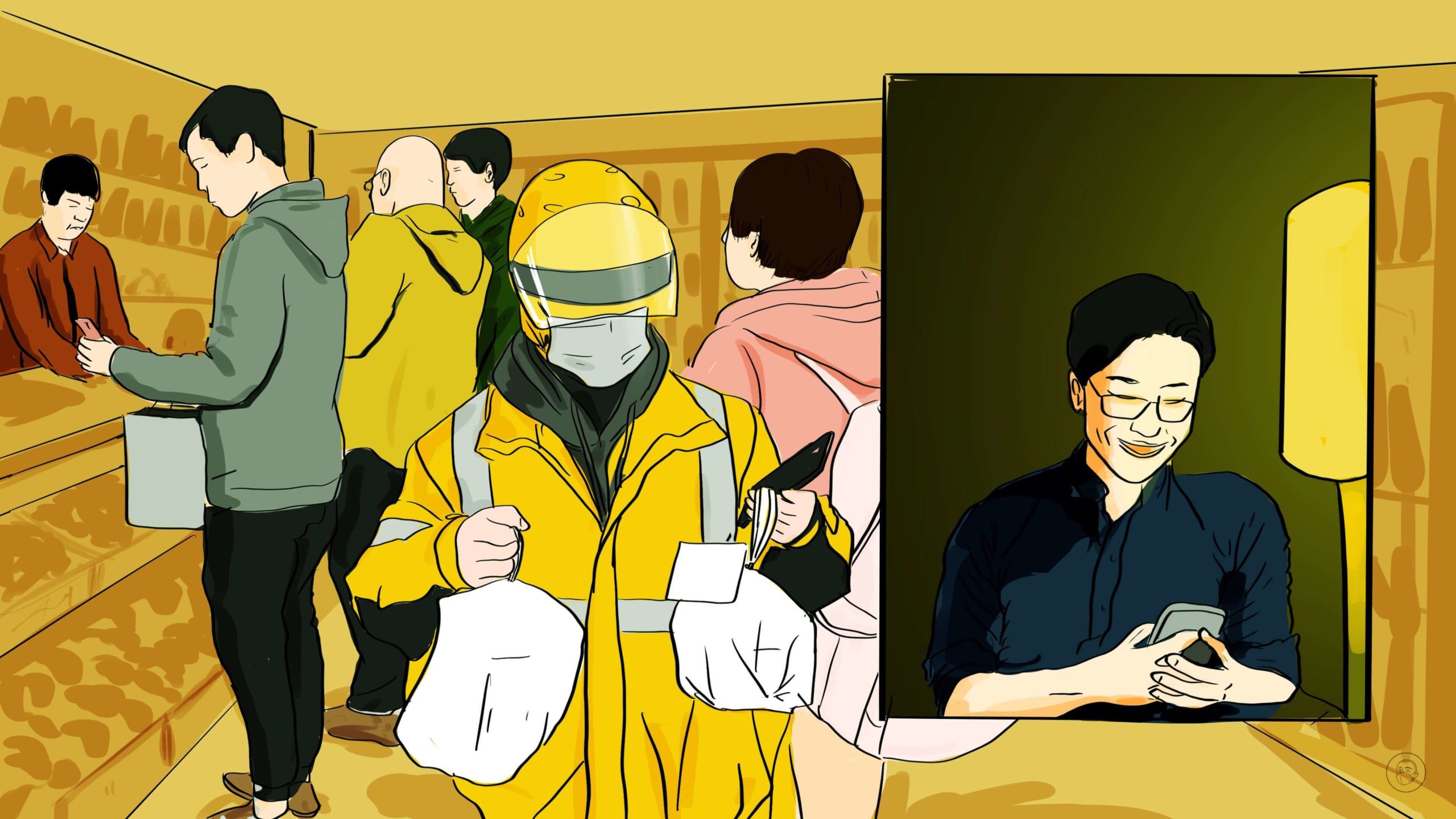 Are brick-and-mortar stores finally making a comeback after years of COVID contraction and ecommerce attrition? On Tuesday this week, the China General Chamber of Commerce released the 2021 China Retail Top 100 Report, which included some surprising findings.
Ecommerce sales growth has slowed down: The retail sales growth rate of the top 100 ecommerce companies declined from 30.1% in 2020 to 19.3% in 2021, a drop of 10.8%.
But offline commerce has increased: The retail sales of 67 of 96 brick-and-mortar retail companies achieved positive growth of 13.6% year-on-year in 2021, compared with -8.8% in 2020.
And brick-and-mortar retailers like Wumart 物美商业, Century Mart 世纪华联, Meiyijia 美宜佳, Rainbow 武商, and Wushang 武商 have "innovated with new products, new services, and new models to create new forms of consumption."
One particular area in which offline stores have innovated recently, according to the report, is the latest trend in Chinese consumption that has allowed offline stores to take advantage of their physical location and use the internet as a sales channel: "instant retail."
Business in the morning.
It only takes two minutes each day to stay tapped in to the world's second largest economy. Sign up for Tipsheet, delivered to your inbox for free at 9am ET daily.
What is "instant retail"?
Chinese media are using "instant retail" to describe how brick-and-mortar stores, including independent stores that are not part of a chain or franchise, are harnessing the internet (more specifically, third-party online sales and logistics networks like Meituan 美团, JD.com 京东集团, and Pinduoduo 拼多多) to become suppliers to customers within a radius of about five kilometers (three miles), offering them delivery within one hour or even 30 minutes.
On August 5, CCTV News ran a 10-minute segment on instant retail that profiled a young grocery shop owner in Beijing, who decided to open his store online on the Meituan platform. The man explained how he was able to customize his online store, optimizing his product promotions for young people in the communities surrounding his small offline store. Using Meituan enabled him to offer deliveries to customers as far as six kilometers (3.7 miles) from his store. The grocer reported a big increase in business, with a million transactions online and offline in the month of May alone.
The Beijing grocer is not alone in getting into instant retail. According to the CCTV segment, in the first half of this year, the transaction volume of convenience stores and supermarkets on Meituan increased by 54% year-on-year, and mom-and-pop stores increased by as much as 110%. The report also cites one estimate that the instant retail business is expected to grow at a compound annual growth rate of 36% up to 2025. Another statistic cited by CCTV says that the penetration rate of online-to-offline retail (O2O) in China was about 1.6% in 2021. O2O, which includes instant retail and older forms of ecommerce that have a physical component, is expected to increase to 7.8% in 2025, when the total retail scale will be about 1.2 trillion yuan (about $175 billion), comprising about 100 billion annual orders.
A COVID silver lining?
In essence, instant retail is bringing brick-and-mortar stores back into the retail game by making it easy for them to sell online. Instant retail is basically glorified takeaway, and was enabled by the estimated total 13 million delivery drivers that have crisscrossed China's cities for years, delivering millions of products bought online.
But a key change occurred this year with the long COVID lockdowns in various cities, when ecommerce providers in China encountered unprecedented delivery delays. According to one local journalist, delivery times during the Shanghai lockdown were as long as 40 days, and delays continued even after the lockdown had ended. As a result, the habits of consumers seeking to buy urgent necessities such as food and clothes began to change, and the concept of instant retail emerged. While large ecommerce platforms were unable to complete the last mile of delivery, offline stores went online to efficiently deliver the necessary goods.
While it started with food delivery, instant retail now encompasses not only food and supermarket retail, but also various products that customers don't want to wait for, like flowers, cakes, medicines, clothing, shoes, beauty products, and computer, communication, and consumer electronics (3C) products. And it is not only taking place in the largest coastal cities. In Guangxi in southern China, for example, Meituan has reported that instant retail orders of convenience stores in the first half of this year increased by 42% year-on-year, while that of large supermarkets increased by 119%, and mom-and-pop grocery stores by 317%.
As one local article put it, if a mosquito is bothering you at night and you don't have any repellent, would you just bear it until the next day? Or if suddenly you feel like ice cream in the middle of a sweltering afternoon, would you venture out into the sun or just wait till later? Instant retail can meet all these needs, and by giving customers rapid and reliable delivery, offline stores are being revitalized by this radical new trend.
Who will gain from instant retail?
The growth of instant retail appears to be benefiting small businesses that operate independent stores as well as supermarkets and other retail chains. Of course, the platforms that enable the transactions and deliveries are also making their cut: So far, Meituan appears to be the leader, but several other companies are getting in on it, including JD.com and Alibaba 阿里巴巴集团 affiliate Ele.me 饿了么.
Instant retail looks like a long-term trend, but there are still many questions about the model: Will instant retail cannibalize the ecommerce operations of the other platforms? Or will self-operated instant retailers like Alibaba's Hema 盒马, Pupu 朴朴, Dingdong Maicai 叮咚买菜, and Missfresh 每日优鲜 eventually take over the business and squeeze the mom-and-pop stores out of the game?