Is China stuck in second place?
Business & Technology
This was supposed to be China's century, but the country may never surpass the U.S. as the world's largest economy, argues veteran China business reporter Dexter Tiff Roberts in the latest installment of his weekly column for The China Project.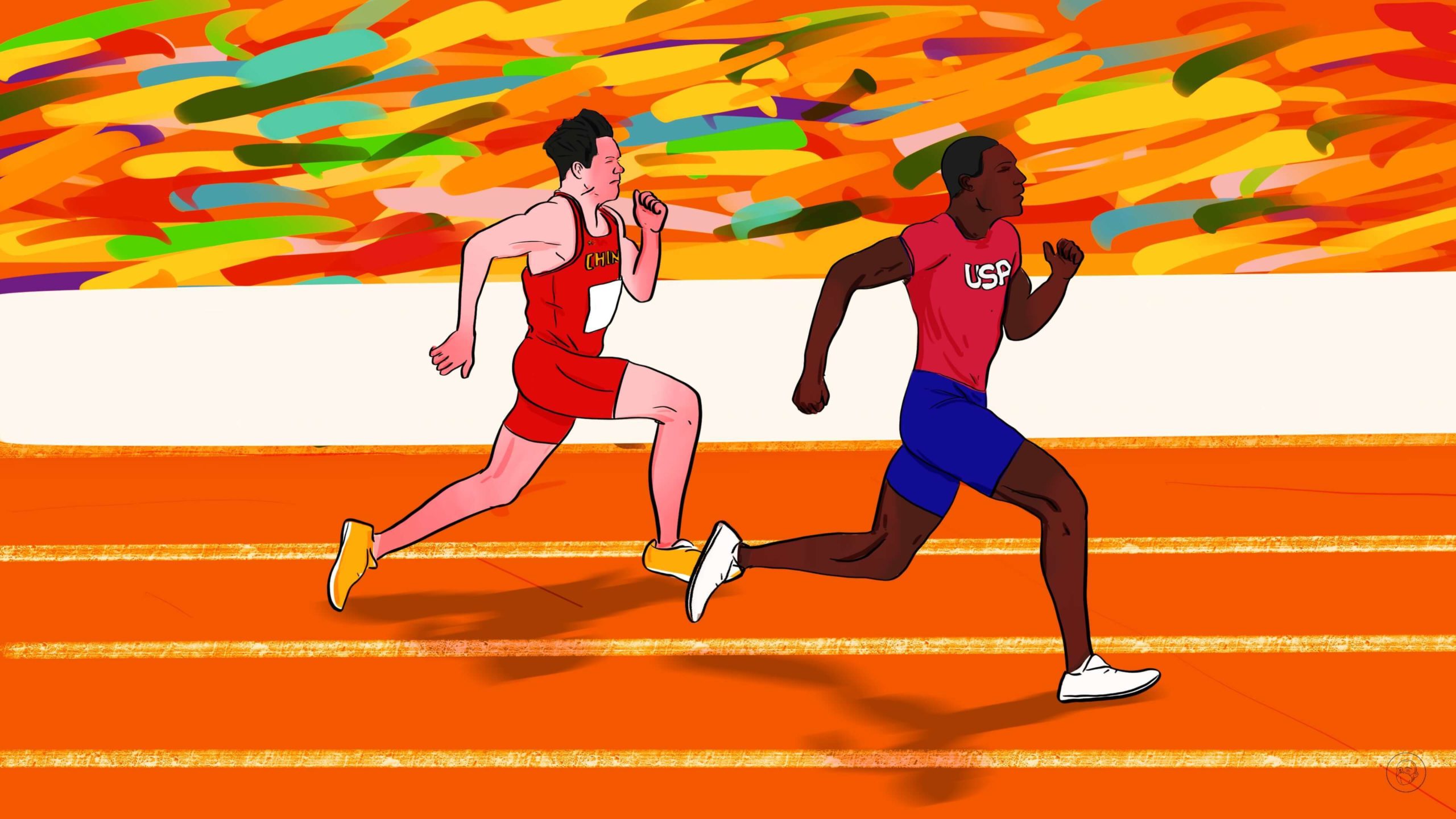 Remember all those investment banks and research institutions predicting China would surpass the U.S. with the world's largest economy? Goldman Sachs, for example, 15 years ago said it would happen in 2026. And last year Nomura predicted China would take the lead in 2028, while JPMorgan put it by 2031 at the latest. For years it has been assumed a done deal with the question only being when. Well, it may not happen quite so fast or some say, ever. The combination of a badly slumping economy, which grew only 0.4% in the second quarter over a year earlier, plus the rapid depreciation of the Chinese yuan against the dollar — down more than 10% so far this year — makes China assuming the global pole position now look a lot further off. (According to the World Bank, China's GDP grew to 77% of that of the U.S in 2021, up from only 13% in 2001.)
As countries around the world, including the U.S., raise interest rates to stem inflation, China is the only major economy now cutting them as officials try to boost the economy's flagging fortunes. But that won't stop the gap between the two countries' economies from widening. "This year will see a reversal of China's catch-up with the United States in U.S. dollar terms. Due to low real growth in China, modest inflation and sharp depreciation of the yuan, the gap between China's and the U.S.'s GDP will jump from $5.3 trillion in 2021 to an estimated $8.3 trillion," tweeted National University of Singapore professor and former World Bank China chief Bert Hofman on September 29.
"This is the single most mind blowing statistic I have read about China's slowing economy and its effect on U.S.-China relative economic heft: The dollar's rise is outpacing Chinese growth, so China's economy will SHRINK in U.S. dollar terms this year," tweeted Martin Chorzempa, a senior fellow at the Peterson Institute for International Economics, responding to Hofman's prediction.
China, of course, has long been a top growth driver for the rest of Asia and beyond. No more. For the first time in over twenty years, China is expanding more slowly than all the emerging economies of Asia, including Vietnam, Indonesia, the Philippines, and Malaysia, according to an October survey by the World Bank. The lending institution has cut its growth forecast for China this year from 4.3% to 2.8% in large part because of the country's pandemic policy and property sector malaise. That follows a slew of GDP downgrades including by the IMF which cut projected growth by 1.1 percentage points to 3.3% in July, and the Asian Development Bank which slashed its estimate from 5% to also 3.3% in September. Nomura, Goldman Sachs, and S&P Global Ratings have also all recently reduced their estimates too. "Growth in most countries in the East Asia and the Pacific (EAP) region rebounded in the first half of 2022, but China lost momentum," the World Bank report states.
With China's economy trending slower, think tanks have started reconsidering their timeframes for it to become the world's biggest. The London-based Centre for Economics and Business Research, for example, has decided it will take two years longer than originally predicted, with China passing the U.S. in 2030. The Japan Center for Economic Research now says it won't happen until 2033, four years later than before. And according to "Revising down the rise of China," a report from earlier this year by Sydney-based think tank Lowy Institute, China will likely "never establish a meaningful lead over the United States and [will] remain far less prosperous and productive per person than America, even by mid-century."
Some are saying it may never happen. Former U.S. Treasury Secretary Lawrence Summers recently told Bloomberg News it was "now much less clear" whether China would ever surpass the U.S., citing low productivity and government control over business. Several years ago, Capital Economics chief Asia economist Mark Williams was already saying China likely would never become number one, naming falling productivity as well as China's shrinking workforce as reasons. And I predicted in my 2020 book "The Myth of Chinese Capitalism," that even if China were to surpass the U.S. it might well fall back again into second place later, because of a lack of progress in reforming the hukou or household registration system and the land market, both of which are necessary to create a more consumption-driven economy and power growth (I have made this prediction again much more recently.)
While China's leaders have never said it explicitly, it's pretty clear that there is a second part to their much touted goal for their country to become "prosperous and strong" by the 100th anniversary of the founding of the People's Republic of China in 2049. The unsaid part is that China must surpass the U.S. (Xi's oft repeated statement that "the East is rising and the West is declining" and that "time and momentum are on our side," more than hints at that.). If China never does become the world's preeminent power as measured in economic heft, that's sure to provide a serious stress test to the Party's legitimacy.