China's close ties with Russia are all about China
Politics & Current Affairs
China and Russia lauded the strength of their military cooperation this past week. But whether or not Beijing will offer military aid to Moscow in its war on Ukraine hinges on whether it serves China's interests.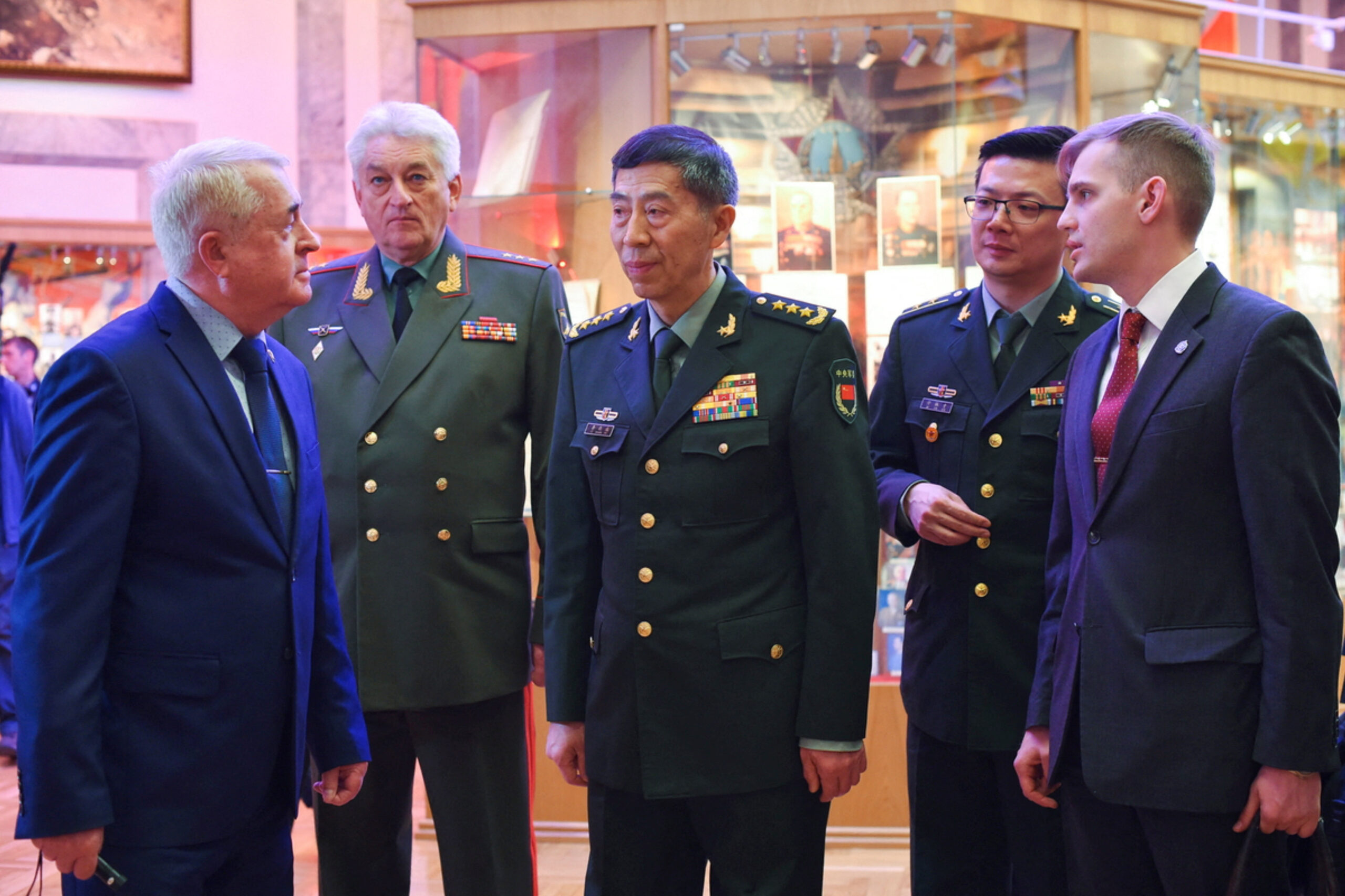 China showed no signs of toning down its support of Russia this past week. China's defense minister, General Lǐ Shàngfú 李尚福, visited Moscow from April 16 to 19. It was his first overseas trip since being appointed to China's top military position in March, and the first visit by the Chinese defense minister to Russia since its invasion of Ukraine in February 2022.
Li and his Russian counterpart, Sergei Shoigu, vowed to expand military ties during their meeting yesterday, in the latest sign of closer ties between Moscow and Beijing. The two defense chiefs agreed to "maintain close high-level communication…[and] expand cooperation between the theaters."
On April 16, Li met with Russian President Vladimir Putin. The two men hailed military cooperation between their two countries. "We are also working actively through the military departments, regularly exchanging information that is useful to us, cooperating in the field of military-technical cooperation, conducting joint exercises, moreover, in different theaters: in the Far East region, and in Europe, and at sea, and on land and in the air," Putin said, according to the Kremlin.
Li was sanctioned by the U.S. in 2018 for engaging in transactions with individuals linked to Russia's transfer of Su-35 combat aircraft and S-400 surface-to-air missile-system-related equipment to China.
"China will not help Russia win, but it also must prevent it from losing"
Li's trip to Moscow comes amid fears from Western allies that China is considering supplying Russia with military equipment for its war in Ukraine.
China has repeatedly denied the U.S.'s accusations that it would support Russia through military means. No proof of any such transactions has emerged as of yet, though the Washington Post reported on April 13 that a U.S.-leaked intelligence report, dated late February, described how Russia's Foreign Intelligence Service believed that Beijing had approved the "provision of lethal aid" to Moscow for its war in Ukraine.
Lyle Goldstein, the director for Asia engagement at Defense Priorities and a visiting professor at Brown University, just returned from a trip to China, where he spoke with about a dozen top Russia and Eurasia specialists. He said that he does not think China would provide weapons to Russia for use in the Ukraine war.
On the other hand, Goldstein said that the specialists "generally acknowledged that China is quite sympathetic to Russia, due to the fact that Beijing is also facing significant geopolitical and ideological pressure from the West."
"As a whole, [Beijing] blames NATO expansion for provoking the war. Some Chinese have spoken out critically against Russian aggression, but they have been a small minority," Goldstein told The China Project.
But China must also balance any sympathies with Russia with mounting pressure from the West. "As one Beijing strategist told me: 'China will not help Russia win, but it also must prevent it from losing,'" Goldstein added.
Just last month, Chinese President Xí Jìnpíng 习近平 received a red-carpet welcome when he arrived in Moscow to meet Putin. The pomp-filled show of their close personal rapport also came as a stark symbol of their revisionist world order, aimed at countering the one led by Washington and its democratic allies.
China has largely abided by Western sanctions over the war in Ukraine. But Beijing has also refused to condemn Moscow for the invasion, and has provided a lifeline through purchases of cheap Russian energy exports and supplies of key technology equipment like semiconductors.
While Western sanctions have cut Russia off from its major trade partners, particularly the European Union, Russia has shifted a large chunk of its exports to China. Trade between China and Russia jumped 29.3% to $190 billion in 2022, compared with the previous year. Russia also surpassed Saudi Arabia as China's top oil supplier in January and February this year, with 15.68 million tons of crude oil shipments, according to data from China's General Administration of Customs (GAC). (India is also another major importer of Russian oil.)
China's in it for China
But China's alliance with Russia has been forged with China's own interests in mind. Beijing needs Moscow's support to aid a number of vested interests, such as its strategic ambitions in the Arctic, as well as an ideological counterweight to the West — especially given the growing tensions over Taiwan.
Chinese companies have moved in to fill the void left by European companies fleeing Western sanctions. Chinese vehicles are taking over Russian roads, and Xiaomi recently took the top spot in the Russian market for smartphones.
"Generally, Chinese leaders grasp that Russia is in a very tough spot, and they are willing to lend a hand to some extent, while still insisting on 'neutrality' in order to preserve commercial ties with the West, and particularly Europe," Goldstein told The China Project.
But there are some rumblings in Russia that the country is becoming too dependent on Chinese technology, as an isolated Moscow grows cautious of its reliance on Beijing.
"Unquestionably, China is in the driver's seat of this relationship — much more so than in the past," Goldstein said. "Russia has to grant China greater access to its markets, technology, and resources…But China is, I think, wise enough that it knows it should not overplay its hand."
Western countries tighten up on sanctioned technology to Russia
Russia has managed to import some sanctioned U.S. and European components through third-party countries, including through mainland China and Hong Kong. But the U.S. and Europe have been cracking down on the remaining pieces of technology that have still made it into Russia, despite the trade restrictions.
On April 12, the U.S. and the U.K. imposed new sanctions on 120 entities and individuals supporting Russia's war on Ukraine, "including facilitators of sanctions evasion." The updated controls included the addition of 28 entities to the U.S.'s trade blacklist, including "a People's Republic of China (PRC) based firm that has provided satellite imagery of locations in Ukraine to entities affiliated with the Wagner private military company that is fighting in Ukraine on Putin's behalf."
But sanctions will likely do little to change Beijing's approach to Moscow. China has been "laboring under sanctions rules in its relationships with Iran, North Korea, and myriad other countries for decades. Thus, they have a long experience in upholding these economic relationships, while steering clear of the most flagrant violations," Goldstein told The China Project. "China has enough economic clout and leverage, even with the U.S., that it can make counter threats if Washington is viewed as overzealous in sanctions enforcement."
Meanwhile, Ukraine is finding more Chinese-made parts in Russian weapons, such as components in drone navigation systems and fire control systems in tanks that were previously made by European manufacturers. Ukraine also added Chinese smartphone maker Xiaomi and its top brass on its list of "international war sponsors" for continuing to sell its products in Russia after Moscow's invasion in February 2022.