No captions: The singular photography of Chen Man
Society & Culture
Interview translations and image galleries from one of China's most prominent fashion photographers.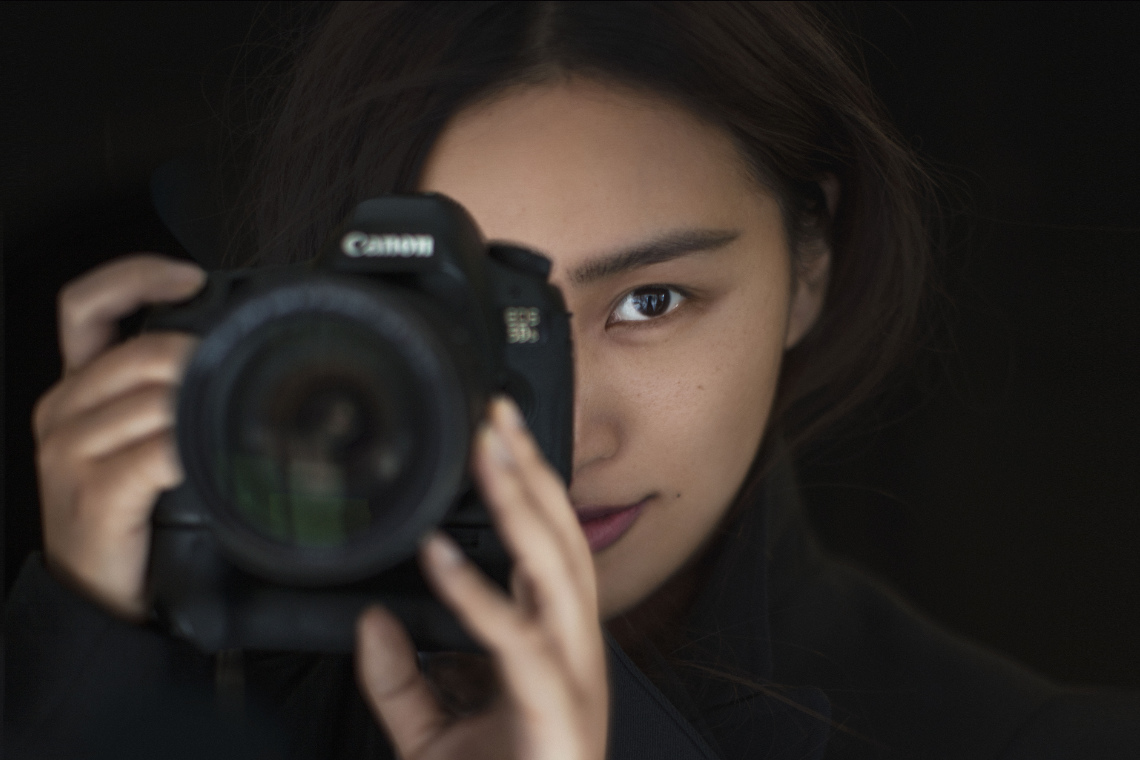 ---
"If photos are strong enough, there is no need to use captions to describe them. You see, the sun doesn't need captions." —Chen Man
Chen Man is a 36-year-old Beijing-born photographer who has become one of the most-sought-after names in the Chinese fashion industry. A graduate of the Central Academy of Arts, her career took off while she was still a student when the Chinese design magazine Vision began using her highly stylized images on its covers. She was one of the first fashion photographers in China to make heavy use of digital-image-altering technologies, and her work is characterized by a lush surrealism.
Chen's work soon became a regular feature on the covers of China's fashion magazines. In 2008, "The Astronaut," a signature image from Chen's early career, which features a woman trapped in a glass bubble with a single tear running down her cheek, became part of the permanent collection of the Victoria and Albert Museum in London.
Below is an abridged translation of various interviews that Chen has given to Chinese media over the past few years.
2014
FHM magazine: You started your career from Vision magazine with some collage-style front covers that surprised many. How did you create those stylish covers?
Chen: It was in 2003 when I was still in college that I began to do front covers for Vision magazine. The works attracted plenty of attention from the fashion world and surprised many fashion professionals…as I deliberately overdid the technical part. My first work triggered a large wave of feedback with both positive and negative comments. Later on, I became tired of looking at tech stuff.
FHM: What made you turn to fashion magazines?
Chen: The front cover series that I produced for Vision magazine belongs to the initial stage of my career. As a tech maniac at that time, I heavily relied on tech for storytelling, which attracted mixed reactions in the fashion field. Some were saying, "Never ask Chen Man to shoot." That's the point where I realized that I broke the common rules that many professionals feel safe with, and this kind of issue is still present now. Therefore, I suddenly jumped to the second stage of head-shots and came up with some simple lighting arrangements, which again surprised many, because at that time, there was no one except me who shot photos like this. What I wanted was to be straightforward without adjectives or nonsense.
FHM: How can you be so unique?
Chen: Human beings by nature like to be different from others. I love emphasizing that "repetition is a disease." Think about it. We, human beings, exist as a symphony orchestra, rather than a choir of robots… I'm not afraid of making mistakes, but of being numb and surrounded by a crowd of people who are playing safe all the time… Many Chinese photographers think there is no other way to aesthetically present a contemporary China rather than shooting…in a traditional style. For me, given that I am a Chinese photographer, I want to show the real fashion from contemporary Chinese women, instead of repeating old stuff or catering to foreigners' tastes. Dragons and phoenixes are cool, but they are from the past. Let's get over making foreigners sing Beijing opera and making Chinese sing Western opera, shall we?
FHM: How did you reach your third stage?
Chen: The third stage in my career was inspired by a concept in Buddhism — always being in accord with living beings. When I did the "Red" series in 2008, though the photos show a group of naked women who look obscene, the message that I attempted to deliver is a theory from Buddhism that "all reality is a phantom and phantoms are real."
FHM: What's your way of dealing with Chinese motifs?
Chen: It's a complicated question. Many people like to copy my lighting, composition, or visual effects, and some are even selling the plans for my lighting setup arrangements on Taobao. I am happy about it because it means that I have been recognized. I brought about a qualitative change. When many are following me, a quantitative change is about to happen. And when we have plenty of quantitative changes, a qualitative change will take place again. This is not about using the same model forever, but raising photography to a higher level with joint efforts.
2015
Q: What's China's biggest misunderstanding of fashion or fashion business?
Chen: We copied what we think is the Western world.
Q: How do you balance commercial work and artwork? How do you differentiate them from each other?
Chen: To be honest, there is nothing to balance. These two are already in a love relationship. Artists exploit the residual value of their works by reproduction. Commercial products can be artwork, such as the iPad. Don't try to differentiate everything, as it is one of the limitations that human beings have.
Q: Most people came to know you as a fashion photographer, but in fact, you have multiple identities such as a designer, a painter, a film director, and an advocate for traditional Eastern philosophy. These identities blend together and form Chen Man as a world-known visual artist. How do you balance your various jobs? Do you prefer any of them?
Chen: They all serve as softwares that are installed on my hardware, my body. I provide certain pieces of information for a certain user. My main practice is to obtain, combine, and deliver information.
Q: In your opinion, what is photography?
Chen: It's a toy that locks up time, enabling human beings to overcome their uncertainties about time.
2015
i-D magazine: What's the definition of beauty for most Chinese girls now?
Chen: The definition of beauty is changing all the time. Chinese girls wear a "fusion" style right now. Look at those Beijing girls in Shin Kong Place, they carry Hermès bags, wear Chanel outfits and UGG shoes while having bead bracelets on their left hands and calculators in their right hands. I know that they are uncertain about their future though their material needs have been satisfied. Feeling comfortable with living in uncertainties is a kind of freedom.
2016
Jackie, brand director of Dissona, an online clothing store: Based on your experience of collaborating with international brands and domestic brands, what's the difference between them?
Chen: For foreign brands and magazines such as Guess, i-D, and Muse, they always have the line saying "Photo by Chen Man" alongside their titles and logos in an advertisement even if I do not ask for it. My feeling is that they support aspiring young professionals more. Domestic brands also do, but sometimes they fail to provide a sense of security when I am working with them.
2016
Q: When you see a person, which part do you first look at as a photographer?
Chen: I usually peek at someone as a whole in a quick second and then turn to his or her eyes. Many people are wearing colored contacts nowadays, but I usually ask them to take contacts off when doing headshots. Some look like a completely different person without colored contacts.
Q: How do you define yourself? Some people say you are a master of post-production effects and there is nothing special about your shooting skills. Some people say your works are too commercial and pretentious. What's your response?
Chen: We tend to confine ourselves in a shell, but in fact, there are no limits at all, even time is not a limit. I admire those who have experienced a lot but are willing to keep a simple mind.
2016
Self magazine: Everything has its own fashion elements and you have the eyes to discover them. What kind of fashion elements are you most interested in? When did you realize that you have such talents?
Chen: I am not chic at all. I love subtle and common things. What you see is what you discover.
2016
i-D: Why did you get into photography?
Chen: In front of you there is all kinds of graphic information, it can be people, scenery, or something else. Each time you press the shutter, you make a decision. We constantly experience all sorts of information and decision making. What lies between them is fate. So each of us can be a camera, leaving our fate on earth.
2016
FHM magazine: If you are granted three days to take a rest, what would you do?
Chen: Finish my unfinished work.
FHM: Given the booming of the Chinese film industry and your strong network of contacts, have you ever considered doing film?
Chen: It's very likely I will.
FHM: What is the line between art and pornography?
Chen: Pornography very often has no restraints. When we add a few restraints to pornography, we have art.
FHM: Any advice on cameras?
Chen: First of all, I'm not a big fan of photography equipment. What's more important is the feeling that you have when holding a camera. For me, the Canon EOS 5D Mark IV is good enough.
FHM: You've said that only women can see the most beautiful part of a woman. Can you elaborate on it?
Chen: Yes. I feel that men rarely pay attention to details. Even for a straight man, he usually only peeks at where he's interested in.
FHM: That explains why your works are attractive to men.
Chen: Once I take photos, no matter for individuals or for brands, my thinking is to make my work exclusively belong to my subjects, otherwise I won't do it and it will just be a waste of time. It's almost a crime.
FHM: In comparison with other photographers, what's special about you?
Chen: I have a bigger team.