The Communist Youth League will help you find love: WeiWatch, May 24-31
Your guide to the buzz on the Chinese internet over the past seven days.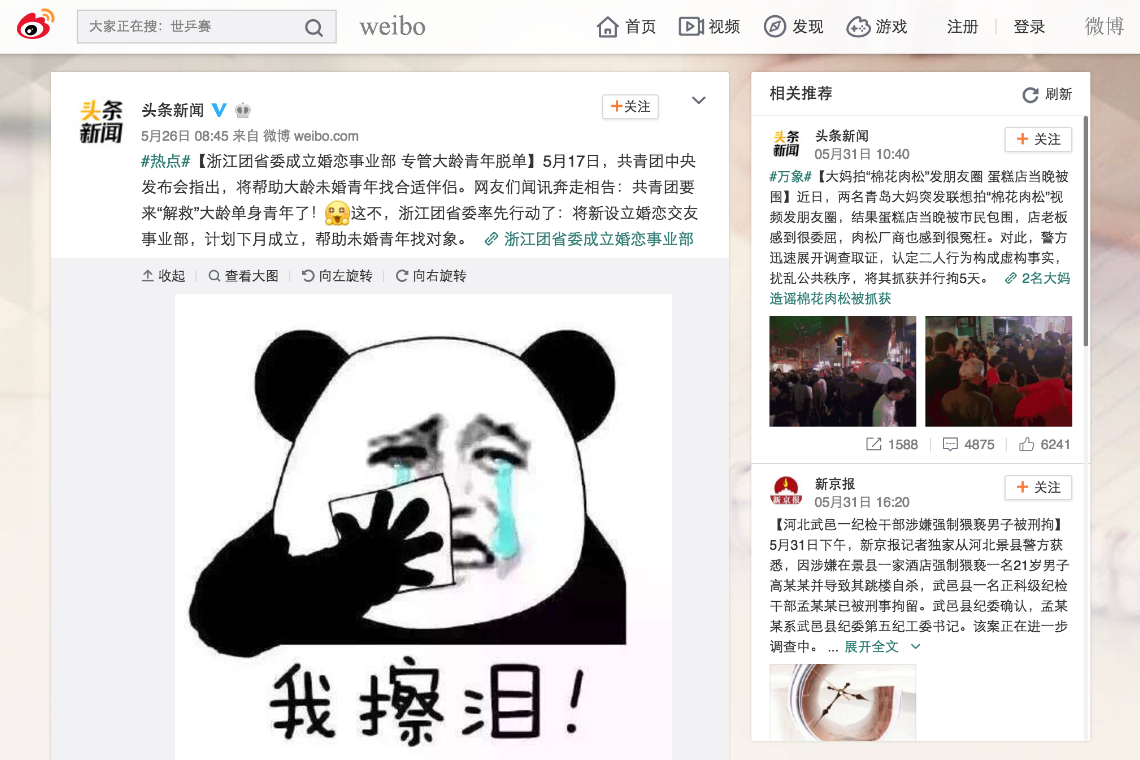 ---
In Chinese, wei (微 wēi) means "micro," as in microblogging (微博 wēibó) or short-form messaging (微信 wēixìn). These are also the names of China's two largest online social networks: Weibo (a microblog somewhere between Twitter and Facebook in style) and WeChat (the world's most popular social and messaging app, known in Chinese as weixin).
In WeiWatch, we round up the most-talked-about topics on Chinese social media platforms, including Weibo, WeChat, Toutiao, and whatever will be big in China next.
If you like this feature, we'll do it weekly. Please send feedback to jiayun@supchina.com or to editors@supchina.com.
Chinese Go master Ke Jie crushed by Google software
On May 27, Ke Jie 柯洁, universally recognized as the world's top player of the traditional Chinese board game Go 围棋, lost his third and final game against AlphaGo, an artificial intelligence Go-playing program developed by a Google-affiliated company.
The three-part match took place in Wuzhen, Zhejiang Province, as part of the "Future of Go Summit" co-sponsored by the Chinese Go Association and Google. In the first game held on May 22, Ke lost the match by a narrow margin of half a point. Having learned lessons from his previous loss, Ke, according to AlphaGo's analysis, played perfectly for about the first 50 moves in the second game, evolving his strategy to create an enormously complex game from the start, in the hopes that AlphaGo did not have the ability to connect the dots as well as human beings can by looking at the bigger picture of the board. But AlphaGo successfully evaded all traps set by Ke. In the final game on May 27, Ke adopted similar strategies, yet again failed to beat AlphaGo.
After the third game, Ke, described by some Chinese media as "the last hope of mankind against machines," almost cried as he gave an apologetic speech (in Chinese) about his defeat, saying, "I faced a cold, calm and terrifying opponent, to the best of my ability. I could only predict half of AlphaGo's moves. I wish I could have done better."
Ke's defeat was mocked by some internet users in China, including Wang Sicong 王思聪, son of billionaire Dalian Wanda Group founder Wang Jianlin 王健林. But a majority seemed to support Ke, with one commenter writing, "You are still the best among human beings. You beat Wang Sicong by a long shot."      
Communist Youth League will help you find love
The Zhejiang provincial branch of the Communist Youth League is planning to set up a "marriage and dating" division in June to help single young people find a mate, according to Qianjiang Evening News (in Chinese). More than 20 matchmaking activity centers will be built across the province to serve that end.
According to Wang Huilin 王慧琳, deputy secretary of the provincial Youth League, the goal of the new department is to "solve dating needs of single men and women, construct a platform where young people can meet each other, create a database of singles, and organize dating activities under the guidance of staff from the division." Wang also stated that dating and marriage have become the most pressing problems to solve for the youth now because of geographical barriers, the accelerated pace of work, and shrinking social circles.
The national Communist Youth League has previously sent out signals in recent years that guiding singles into marriage is a pressing matter. On May 17, He Junke 贺军科, one of the top officials in the Youth League, said in a press conference that "getting married is the biggest problem for young people." However, the news triggered outrage from some internet users. One of the most upvoted comments on Weibo reads (in Chinese), "Whether I marry or not is none of your business."
China's Ministry of Foreign Affairs responds to controversial commencement speech
Yang Shuping 杨舒平, a new Chinese graduate from the University of Maryland, caused a storm on Chinese social media last week with a commencement speech she made on May 21. In the address, Yang, who is from the city of Kunming in southwest China, praised the fresh air she had found in America, and used the concept of "fresh air" as a metaphor for free speech that she said "should not be taken for granted" and is critical for making society "more open and peaceful."
The video of the speech went viral on Chinese social media and met with massive backlash from internet users, with many accusing her (in Chinese) of belittling her own country and urging her not to return home. Finding herself at the center of an internet firestorm, Yang apologized (in Chinese) on her Weibo account on May 22, writing, "I love my country and hometown. I am proud of its prosperity. The speech was just to share my personal experience of studying abroad and by no means did I mean to insult my home country."
The controversy in China about her commencement address reached the point that the Ministry of Foreign Affairs chimed in. At a press conference on May 24, when asked about the government's comments on Yang's speech, Lu Kang 陆慷, foreign ministry spokesperson, said, "Many young Chinese students are now studying overseas, whose views and perceptions of some things may change and evolve after going abroad. But as long as they love their country deep down in their heart and stand ready to contribute to it, I believe the Chinese government will encourage, support, and welcome them."