China to tame 'gray rhinos' – China's latest top news
Jeremy Goldkorn's selection of the top stories from China on July 24, 2017.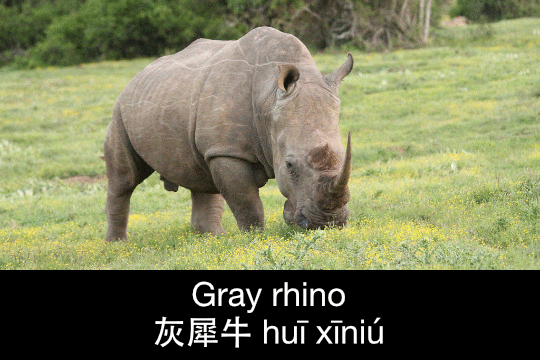 Gray rhinos: Government to scrutinize big-spending companies
The People's Daily has popularized a new term in Chinese business: gray rhinos. In a front-page editorial (in Chinese) published on July 17, the Party's newspaper warned that "preventing and resolving financial risks, especially systemic financial risks, is the fundamental task of financial work" of the government. The article mentions two types of risks:
Black swans 黑天鹅 hēi tiān'é — risks that are completely unpredictable.
Gray rhinoceroses 灰犀牛 huī xīniú — which comes from the title of a book about large and obvious "dangers we ignore" until they start running too fast, or, as a People's Daily explainer (in Chinese) puts it: "A gray rhino is massive, and responds slowly —  you can see it clearly in the distance, but if it charges you, it will catch you off guard and gore you."
WHO ARE THE GRAY RHINOS?
The People's Daily article does not mention any company by name, but "gray rhinos" has been widely interpreted to refer to Wanda, Anbang, Fosun International, and HNA, which the New York Times says (paywall) "have feasted on cheap debt provided by state banks, spending lavishly to build their empires."
The appearance of the warning about gray rhinos on the front page of the print edition of the People's Daily is final confirmation, if any were necessary, that the government intends to closely scrutinize the acquisitions and related debt of some of China's biggest privately controlled companies. Some related stories:
The Wall Street Journal says (paywall) that, "according to people with knowledge of the action," President Xi Jinping personally signed off on measures to "bar state-owned banks from making new loans to property giant Dalian Wanda Group to help fuel its foreign expansion."
Wanda's billionaire chairman, Wang Jianlin 王健林, told Caixin that Wanda will "actively respond to the state's call and decided to put its main investments within China."
The South China Morning Post reports that three banks that "funded HNA's growth…have decided to stop extending new loans to HNA," while a fourth has "trimmed its exposure to the company." HNA has also attracted scrutiny in the U.S.
Chinese businesspeople love animal metaphors
Some better-known examples that predate the gray rhino:
Bulls (牛 niú) and bears (熊 xióng) became widely used even outside of financial circles in the early 2000s.
In 2005, Jack Ma 马云 compared his ecommerce platform Alibaba — now one of the world's biggest companies — to a crocodile in the Yangtze River battling against Ebay, a shark in the ocean, saying, "If we fight in the ocean, we lose, but if we fight in the river, we win."
In 2016, Wang Jianlin announced a plan "to build 15 multi-billion-dollar theme parks across China by 2020, which he said would be a 'pack of wolves' that defeats the one 'tiger' of Shanghai Disneyland." Perhaps he should have compared his rival to a mouse: Earlier in July, Wanda announced that it would sell all of its theme park assets.
Bhutan-India-China border dispute enters second month
The border dispute in the high Himalayas — where Indian troops have entered what China considers its territory in response to Indian ally Bhutan's complaints about Chinese road building on disputed land — has entered its second month.
Why should you care?
The standoff is in a remote wilderness far from everywhere that matters. But it's important. Tiny Bhutan is a mere sideshow: The real competition is between China and India, a determined rival that is neither a Western power nor a small, easily intimidated Southeast Asian nation. The way this situation resolves will tell us a lot about how the world deals with assertive 21st-century China.
Some reading to get you up to date: