Happy birthday to 'the senior'
Newsletter
A summary of the top news in Chinese society and culture for August 17, 2017. Part of the daily SupChina newsletter, a convenient package of China's business, political, and cultural news delivered to your inbox for free. Subscribe here.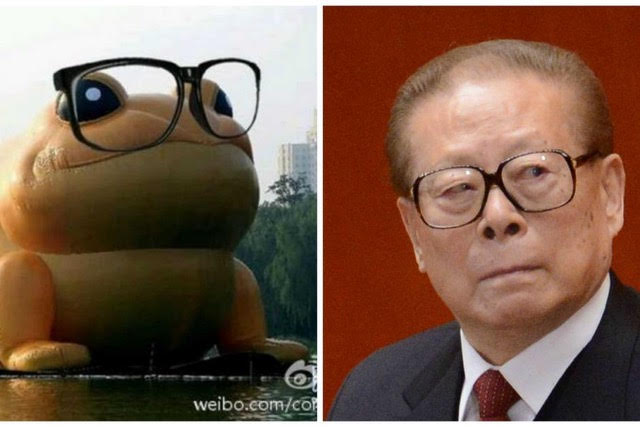 ---
Jiang Zemin 江泽民, a former Chinese president who defined a generation of Communist Party leaders, turned 91 today (August 17). Though China doesn't have a tradition of celebrating retired politicians' birthdays, Jiang has for years been greeted with an onslaught of unsolicited birthday wishes from young Chinese, who often call themselves "fans of the toad" (蛤丝 hásī). Many Chinese millennials might not remember much of Jiang's two-term presidency from 1993 to 2003, but his personality really stands out among Chinese senior leaders — who usually appear restrained and scripted in public. Jiang, by contrast, used to joke, dance, sing, and cracks jokes in English.
To become a legit Toad Fan, you need to know:
Jiang's nickname "toad" 蛤 há originated from his facial resemblance to a toad with his heavy rectangular glasses and head shape.
A way to show your Toad Fan identity is using the character 蛤 as often as you can. For example, instead of writing haha (哈哈 hāhā) to express joy, a Toad Fan writes 蛤蛤 háhá. Also, when discussing the difference between current president Xi Jinping and Jiang, Toad Fans use the character Xi 习 in the phrase 习习蛤蛤 xíxíháhá, a pun on 嘻嘻哈哈 xīxīhāhā, which is also a way to express laughter.
However, since 蛤 is censored on most social media platforms, Toad Fans also use "the senior" (长者 zhǎngzhě), an alternative reference to Jiang that came from his famous confrontation with Hong Kong journalist Sharon Cheung 陈宝华 — see below.
To celebrate Jiang's birthday, simply post "+1s" on your social media accounts, which stands for your best wishes to add "one more second" to Jiang's lifetime.
Toad Fans' favorite highlights of Jiang's career in video:
Interview with Mike Wallace from CBS 60 Minutes
Jiang sat with famous anchor Mike Wallace at the seaside resort of Beidaihe in 2000. Jiang gave answers to a host of questions including human rights issues, freedom of speech, and China's political system.
Inspection of China United Engineering Corporation
During a 2009 visit to China United Engineering Corporation, Jiang reflected on his accomplishments at the helm of the Party. The biggest three, according to him, were the establishment of the socialist market economic system, the introduction of Deng Xiaoping Theory into the Communist Party of China's Constitution, and the creation of the "Three Represents" theory. Jiang also showed off his English language skills throughout the visit. When given a gift at the end of the trip, Jiang blurted out, "Excited!"
Fierce confrontation with Hong Kong reporter Sharon Cheung
At a press conference in 2000, Jiang was aggressively questioned by Hong Kong journalist Sharon Cheung 陈宝华 on whether the Party had interfered in the re-election of Tung Chee-hwa 董建华 as Hong Kong's chief executive. Jiang seemed infuriated and lost his composure, berating her: "You seem very familiar with Western media, but you are too young," he said, switching smoothly between Mandarin and English, and then Cantonese. "Questions you asked are too simple. Sometimes naive! Do you understand?"
A few phrases heavily quoted by Toad Fans all came from this notable confrontation with Cheung. They are:
"You all are too young, after all." 你们毕竟too young (said in mix of Chinese and English)
"Too simple. Sometimes naive." (said in English)
"Mike Wallace from the U.S. is way above you all. I talked joyfully and comfortably with him." 美国的华莱士不知道比你们高到哪里去了,我跟他谈笑风生 (said in Chinese)
"Media still needs to improve its knowledge level." 媒体还是要提高自己的知识水平 (said in Chinese)
"You should not always look for big news." 你们不要想喜欢弄大新闻 (said in Chinese)
---