Has China reached peak bike sharing, or will the cycle continue?
Newsletter
Kaiser Kuo's selection of the top stories from China on September 8, 2017. Part of the daily SupChina newsletter, a convenient package of China's business, political, and cultural news delivered to your inbox for free. Subscribe here.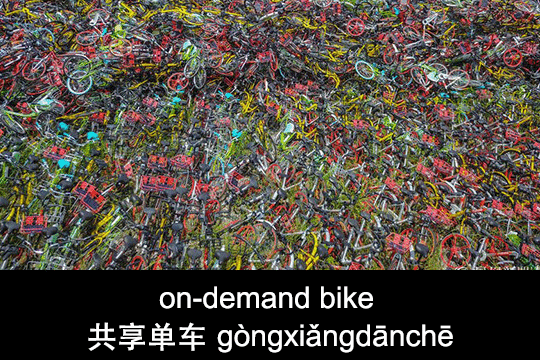 ---
Peak bike sharing?
It seems like just yesterday we lauded China's innovative bike-sharing companies: "Bike sharing done right," we proclaimed. Alas, bike sharing — like the O2O craze that hooked Chinese urbanites on fast, cheap food delivery — went from a good thing to way too much of one practically overnight. This week, Beijing joined 11 other major cities in backpedaling on the bike-sharing craze, announcing that no more new bikes are allowed to enter the city. More cities will undoubtedly follow as the colorful, cheap bikes pile up on sidewalks — literally.
The estimable Chris Buckley, the correspondent for the New York Times whose Twitter account rivals @RelevantOrgans for best China-themed humor on Twitter, has been chronicling peak bike sharing — the kind of visually spectacular polychromatic cock-up that only China, with its entrepreneurial exuberance, its surfeit of venture capital, its sheer velocity and absurd scale, can produce. Buckley's talent for captioning is unrivaled: See here, and here, and here, here, and here.
The white-hot competition between the big players, Ofo and Mobike, hasn't dissuaded new market entrants, who are fast exhausting distinctive color possibilities. It's still possible, of course, that from this blood-red bay where the frenzied combatants are hemorrhaging venture funding, one enormous shark may yet swim out to the fabled blue waters beyond. If China's ride-hailing and food delivery wars of recent years are any guide, perhaps we'll see a merged entity come out on top. I've already got a name for it, too: MoFo.
On the bright side, at least all that bike manufacturing may be soaking up some of China's problematic steel overcapacity.
Letter from Pyongyang
Don't miss Evan Osnos's journalistic tour de force in the forthcoming issue of the New Yorker, a piece entitled "The risk of nuclear war with North Korea." Osnos, who was based in Beijing until 2014, traveled to Pyongyang this summer. "I wanted to understand how North Koreans think about the kind of violence that their country so often threatens," he writes. Were the threats serious, or mere posturing? How did they imagine that a war would unfold? Before my arrival in North Korea, I spent time in Washington, Seoul, and Beijing; many people in those places, it turned out, are asking the same things about the United States."
He worries that the fate of the world is in the hands of two men without the statesmanship of, say, Khrushchev and Kennedy in October 1962. Instead, we have "a senescent real-estate mogul and reality-television star and a young third-generation dictator who has never met another head of state," Osnos laments. "Between them, they had less than seven years of experience in political leadership."
Expect to hear him talk about the piece on a forthcoming episode of the Sinica Podcast!