China's popular coconut milk brand under fire for sexually charged ads
Society & Culture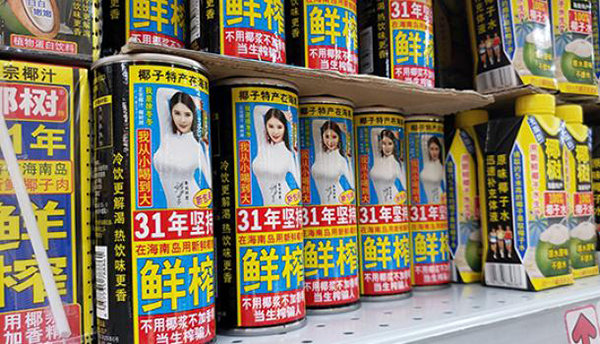 Coconut Palm 椰树牌, a leading coconut milk brand in China, is under investigation for several sexual-innuendo-laden ad campaigns to promote its products.
Based in Hainan, China's southernmost province, the manufacturer has a tradition of updating its beverage packaging every year. And over time, it has become notorious for its tasteless commercials featuring sexually suggestive taglines and images of well-endowed models. But after getting away for a long time with its questionable advertising approach, which already attracted a lot of criticism from its consumers, its recently released packaging for 2019 has landed it in trouble.
In the advertisement, a woman with large breasts can be seen holding a can of coconut milk in a tight white tank top. Next to her is a slogan that reads, "A can a day and you'll be pale and busty." On the beverage's new packaging, there is another woman in an extremely tight dress that shows her curves. Placed adjacent to her is this quote: "I grew up drinking it."
On a billboard that some people spotted, another busty model poses for the drink, accompanied by the words, "Applying coconut milk to your breasts and drinking it every day can enlarge your boobs." The ad claims that the quote is from an article that was published by a Hong Kong-based newspaper in 1997, but many people have voiced their doubts about the alleged properties of the beverage.
Deeply disturbed by the brand's latest ad campaign, some customers took to the internet this week to criticize Coconut Palm for its aggressive advertising approach. One Weibo user commented (in Chinese), "Are they actually trying to sell drinks? The ads make them sound like a company making breast augmentation products."
In light of an outbreak of criticism online, the Haikou Municipal Administration of Industry and Commerce announced today that it had launched an investigation into the company, which is accused of creating vulgar content and false advertising.
For many Chinese brands, using attractive women and sexually suggestive images in ads is a common trick to get attention. In 2017, Juewei Duck Neck 绝味鸭脖, a retail snack chain in China, got called out on its sexist ads, which objectified women and employed dirty jokes to entice male consumers. It was later slapped with a fine of 600,000 yuan ($88,750) for its sexually charged commercials.