Taiwan's indigenous are still seeking justice on the democratic side of the Taiwan Strait
Society & Culture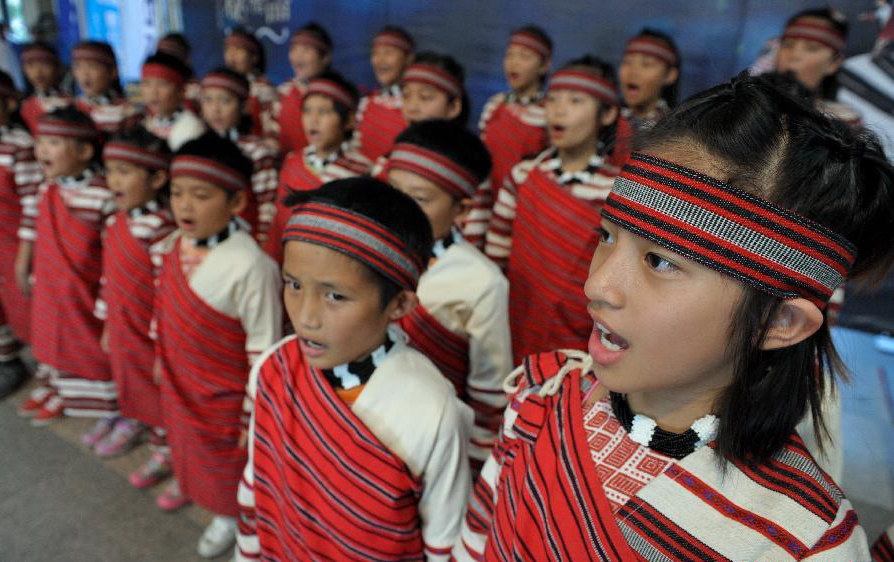 Last month, 31 indigenous representatives signed an open letter condemning the "hegemony" of Xi Jinping — but don't interpret that as full-throated support for Taiwan's current government.
For many of the island's half-million indigenous residents, cross-straits politics is secondary to more pressing, long overlooked issues they face at home, everything from education to suicide rates to government restrictions on their claim to ancestral land.
In a widely dissected January 2 speech, Chinese President Xi Jinping reasserted China's unwavering claim of sovereignty over the island and his commitment to potentially using force to pursue it. Reaction from all sides was swift: Taiwan President Tsai Ing-wen 蔡英文 (Cài Yīngwén) forcefully rejected Xi's offer of unification in a speech later that day, leading the New York Times to say that the people of Taiwan had rallied around their leader, while a South China Morning Post op-ed claimed China had "opened the door to war" with Taiwan.
But there was one group whose official response was the subject of far less dissection by the mainstream press: Taiwan's indigenous, those who can claim thousands of years of history on the island long before the first foreign settlers showed up in the 17th century.
"We've lived in Taiwan, our motherland, for more than 6,000 years," reads an open letter addressed to Xi and signed by 31 indigenous representatives from Taiwan's 16 officially recognized tribes plus its partially recognized Pingpu (plains) indigenous peoples, published in Chinese and translated here into English. "Taiwan is the sacred land where generations of our ancestors lived and protected with their lives. It doesn't belong to China."
In his speech, Xi called Chinese sovereignty of Taiwan a "historical conclusion." But the powerful entry of indigenous voices into the escalating rumble of cross-strait acrimony drew attention to Taiwan's approximately 530,000 indigenous residents, who make up about 2.3% of the island's population.
"We do not share the mono-culturalism, unification, and hegemony promoted by you, Mr. Xi, on behalf of the government of China," the leader reads. "It is far from greatness. It is of nothing that we desire.
"Being humble to the land, respecting other lives, to co-exist with other groups of people in pursuit of common good — these are values that we believe in."
The letter was interpreted by many as symbolizing not only a faith among indigenous peoples in Taiwan's democracy, but their tacit alignment with the stance of Tsai's ruling Democratic Progressive Party (DPP), which favors eventual independence — that Taiwan is not and will never be a part of what the letter calls the "so-called Chinese nation."
However, the truth is far more complex, especially to activists such as Panai Kusui, a singer and indigenous leader born to parents of the Puyuma and Amis tribes. "If you take out 'Dear Xi Jinping' and replace it with 'Dear the Tsai administration,' the letter would work just as well," she said.
A history of exploitation and underrepresentation
Taiwan's indigenous, or 原住民 (yuán zhùmín, original inhabitants), are seeking comprehensive transitional justice after centuries of exploitation at the hands of various colonizers, including the Han Chinese settlers whom they predate. In 2016, Tsai Ing-wen became the first Taiwanese leader to officially apologize to the island's indigenous population, acknowledging that past governments had failed to implement the Indigenous Peoples' Basic Law, passed in 2005 to grant a wide range of rights to indigenous residents, and promised progress during her administration.
This progress has come slower than once hoped for a population that remains poorer and less educated than citizens of Han Chinese ethnicity. The letter to Xi Jinping notes this, saying: "We are not content with the current state of Taiwan, the sovereign state that was built upon our motherland."
Panai is a key figure in an indigenous occupation in central Taipei that has persisted for over 700 days. On February 1 — Day 709 — one of the coldest days of the winter, she sat in the center of Taipei's 228 Peace Park, bundled in five layers of clothing and clutching a tarp to block the afternoon breeze. The occupation began shortly after the government's ministry-level Council of Indigenous Peoples announced the Guidelines for Demarcating Aboriginal Land or Tribal Areas, intended to jumpstart the process of allowing indigenous land claims laid out in the 2005 Basic Law. However, the 2017 guidelines restrict indigenous claims to publicly owned lands and disallow claims on privately owned plots, leading Panai and her fellow occupiers to see the move as unjustly favoring developers — and as a shattered promise from Taiwan's leader.
"She's lying to the people."
"In Tsai Ing-wen's apology, what she said was something we could identify with," Panai said. "When it comes to implementing what she's saying, it's wrong again. She's lying to the people."
Indigenous political participation is fragmented in Taiwan. Some groups align themselves either with Tsai's DPP or, especially in the eastern counties of Hualien and Taitung, with the opposition Kuomintang (KMT), seen in rural communities as champions of practical causes such as spurring employment and local economies. Many detach entirely from Taiwan's two-party political duopoly. Some, like Panai, opt to spur action from the streets.
The letter to Xi Jinping was likewise not a collective effort. It was conceived, authored, and signed by members of the indigenous reconciliation committee established by Tsai Ing-wen.
At times, it reads like a letter indirectly targeting Taiwanese leadership, stating: "We have never given up our rightful claim to the sovereignty of Taiwan." But Panai laughed when she first saw the letter. She has friends on the reclamation committee, but she considers the letter a "mouthpiece" for the government's efforts at pursuing transitional justice to its own ends — a method which, to Panai, is reason enough to occupy the streets of Taipei for over 700 days.
The cross-strait debate fails to resonate
In Taiwan, many indigenous residents disassociate from cross-strait concerns and the existential choice of how to interact with the Chinese Communist Party (CCP), which has never ruled Taiwan. "They feel like, no matter what's happening, they're marginalized in their society," said Scott Simon, co-chair of Taiwan studies at the University of Ottawa.
Panai, who was joined by singer Joss Stone at the Taipei protest site in 2017, has never been fond of the CCP. She noted that, while one of her songs remains popular on Chinese talent shows, she herself is banned from performing on the mainland due to her campaigning on behalf of Tibet.
However, Panai bristles at the notion that indigenous peoples should be thankful they are governed by democratic Taiwan when the Chinese Communist Party looms just across the strait.  "Even if the government [of Taiwan] says it is trying to make things better, they're still in power," she said. "They're not going to give that power back to the people."
In 2007, China voted in favor of the United Nations Declaration on the Rights of Indigenous Peoples (UNDRIP). However, its government does not recognize the term "indigenous peoples," instead classifying its own indigenous residents as "ethnic minorities" without the right to claim sovereignty over ancestral lands. As the letter to Xi notes, minorities in China's "autonomous" areas such as the Tibetan and Xinjiang Uyghur Autonomous Regions have been subject to human rights abuses and forced to abandon their culture, language, and traditions.
China has also consistently opposed the presence at UN indigenous forums of representatives from Taiwan, which is not a UN member state. In previous years, indigenous representatives attended the dialogues alongside foreign delegations and NGOs. However, Taiwanese passport holders are no longer allowed to enter UN buildings, relegating potential participants to dialogue in side forums.
"Most indigenous people see basic human rights such as land, culture, medical service, and education as priorities."
UNDRIP requires free and prior informed consent to military actions on indigenous lands, a protection Simon stressed is imperiled by China's refusal to recognize indigeneity in a potential cross-strait conflict. "It would be a serious threat to the indigenous people of Taiwan if there were any kind of unification," he said.
"Mr. Xi, force does not lead to peace," reads the letter. Nevertheless, in Taiwan, these hypothetical matters can seem abstract in the face of pressing concerns such as joblessness, poor education, and higher than average suicide rates.
"Most indigenous people are more distant and don't talk about [cross-strait relations] much," said Lekal Sumi, an Ami film director from Taiwan's eastern Hualien province. "They see basic human rights such as land, culture, medical service, and education as priorities."
While Lekal said he does not associate with the cross-strait political dialogue, he values Taiwan's freedoms and participates in political causes such as indigenous opposition to storing nuclear waste on Taiwan's Orchid Island, home to the Tao people. "I actively defend Taiwan's democracy," he said. "It is the only place [on] the Taiwan Strait that has freedom of speech, which so many before us fought for."
Starting the quest for international recognition from within
Taiwan's indigenous have always participated in the island's shift out of martial law and into a young and thriving democracy. "We the indigenous peoples of Taiwan have pushed this nation forward towards respect for human rights, democracy, and freedom," reads the letter to Xi Jinping. "After thousands of years, we are still here."
Taiwan's indigenous endured an early 17th century Dutch colonization, the successive conquests of the Ming loyalists in 1661 and the Chinese Qing government in 1683, and a half-century of Japanese rule from 1895 to 1945, during which the occupiers violently crushed indigenous resistance and divvied up the lands among state and private owners — creating boundaries which were inherited by the ROC government in 1945.
Under the 2005 Basic Law, indigenous peoples have autonomy over the use of their ancestral lands — what is built there, whether state-owned firms can extract resources, whether they succumb to the deforestation that has long plagued the island. But the 2017 decision to restrict these rights to publicly owned lands, in the eyes of the Taipei occupiers, remains incomplete without also considering lands which are now privately owned.
Indigenous peoples in Taiwan, like indigenous populations in other countries, maintain that their relationship with their land predates the very concept of ownership. "The concept of privately-owned and publicly-owned land cannot be reconciled with how we have always used the land," said Panai. This position, to Panai and her fellow occupiers, is untenable with the realities of modern life.
Some urge pragmatism. Kolas Yotaka, an Ami politician who now serves as Cabinet spokesperson, spoke in defense of the 2017 guidelines, telling Reuters: "We cannot go back to how it was 400 years ago." However, there has been no serious talk of compensating original inhabitants for those lands which are now privately owned.
The DPP has long touted indigenous culture to differentiate Taiwan from China, while the KMT uses it to portray itself as the party of multicultural unity.
The ruling DPP has advocated indigenous culture, passing an act to promote Taiwan's indigenous languages in 2017 and pushing to display indigenous artifacts and artwork in Taipei's Chiang Kai-shek Memorial Hall and National Palace Museum.
This is a politically prudent strategy for both parties, according to Kerim Friedman, associate professor at National Dong Hwa University's College of Indigenous Studies. He notes that the DPP has long touted indigenous culture to differentiate Taiwan from China, while the KMT uses it to portray itself as the party of multicultural unity.
At present, DPP leaders "are also interested in attracting indigenous votes in traditionally [pro-KMT areas] of Taiwan, like Hualien," Friedman said. "Although they still have a long way to go, I believe they made some significant headway in the last election, especially among younger indigenous voters."
However, indigenous communities remain infuriated over projects such as a mining quarry on their traditional land in Hualien — its corporate owner was granted a 20-year extension of mining rights in March 2017 — and the storage of over 100,000 nuclear waste barrels on Orchid Island, which was initiated in 1982 without the knowledge of the island's Tao inhabitants and continues today.
Taiwan's search for international recognition, said Lekal, is paradoxical when the island refuses to recognize and value the rights of its minority residents, including its indigenous population.
"There's still a long way to go to reach transitional justice," he said. "The way [indigenous peoples] rely on the environment, and vice versa, has generated rich cultures which can only be practiced in mountains, seas, and lands. Otherwise, this will be just a form and never complete.
This may not be a right afforded to those living under the rule of Xi Jinping. Nevertheless, Panai refuses to compromise in her stance. To the authors of the letter to Xi, said Friedman, "the issue of indigenous sovereignty requires Taiwanese sovereignty, but also that Taiwanese sovereignty requires recognition of indigenous sovereignty." But to Panai, indigenous sovereignty is inalienable — both the ROC and PRC are perfectly capable of playing the role of colonizer.
On January 22, the occupation's 699th day, Taipei police disassembled the encampment at its previous site outside a metro station, just a stone's throw away. They now ask Panai and her fellow occupiers to leave the park at 6 p.m. every day, she said, although the curfew is lightly enforced.
Panai directs her focus to preserving indigeneity in Taiwan, offering free classes on indigenous culture in the afternoons and talking to and liberally challenging passersby. "Indigenous people are a concept to Taiwanese, not real people," she said. To her, indigeneity is bound to the land, to a way of life left behind by modern society, a culture impossible to preserve from the top down. "This is why I can fight for so long," she said. "It's an education. People on this land should learn about their history."