A savory summer meal: Cold noodles with shredded chicken
Society & Culture
A summertime recipe that's delicious and refreshing.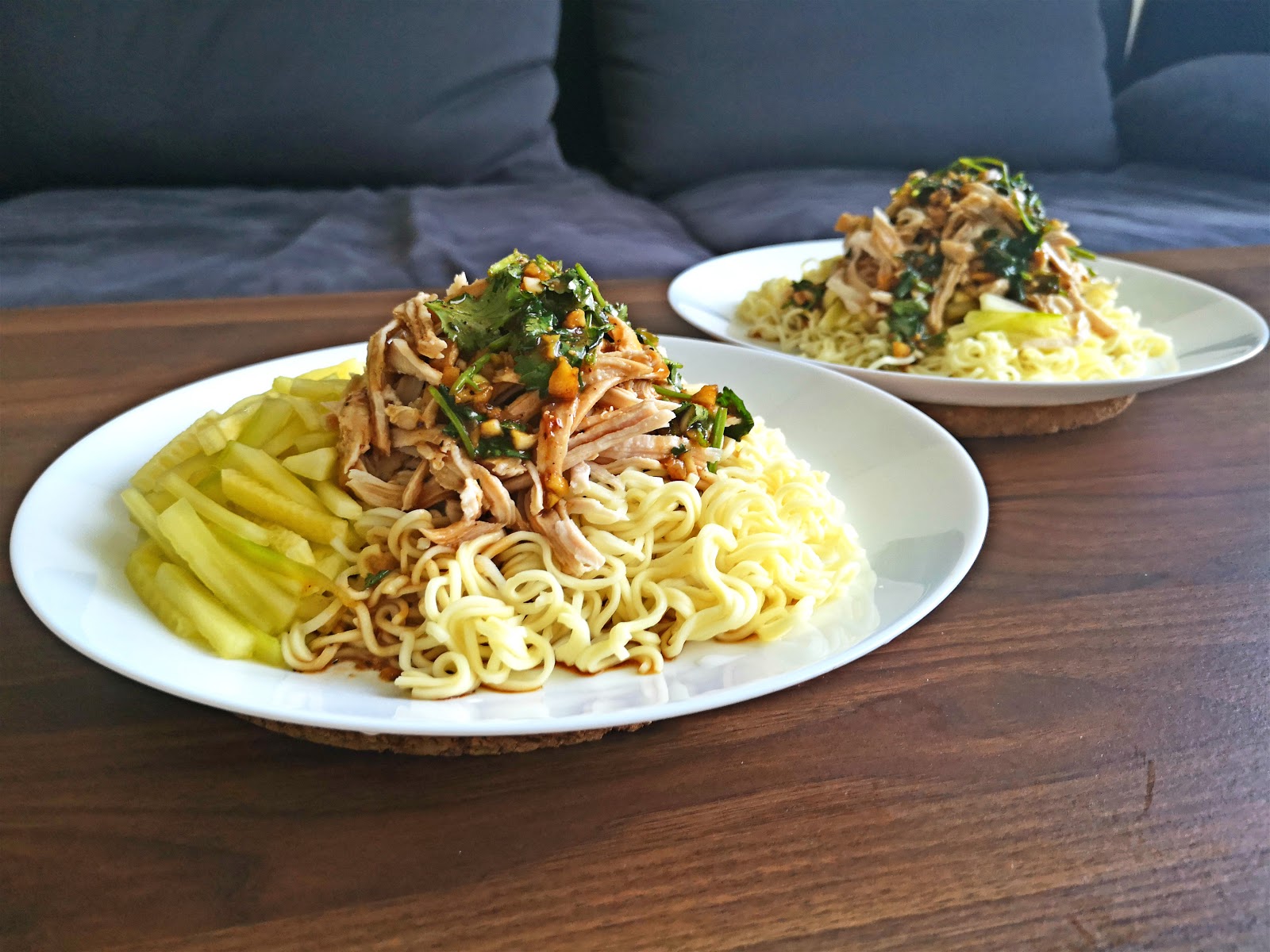 Let's cool off a bit during this hottest time of the year. Today I'll show you how to make cold noodles with shredded chicken (鸡丝凉面 jī sī liáng miàn), one of my favorite summer dishes. Bon appétit!
The idea of eating cold noodles may seem a bit strange, but don't worry, it's not raw or undercooked. It's "cold" because we rinse cooked noodles with cool water and let it dry at room temperature. Cold noodles are supposed to be chewy, elastic, and refreshing, and thus is said to increase one's appetite in the heat.
Cold noodles with shredded chicken is just one variation of Chinese cold noodles. It's actually a Sichuan dish, but it's extremely popular across the country, especially during the summer. I won't make it as spicy as the Sichuan version, though feel free to add more pepper if you like.
Traditionally we use sesame sauce, but you can also use peanut butter as a substitute, like I did. I actually prefer the taste and texture of creamy peanut butter, and it's just easier to find.
YIELD
Serves 2
TIME
40 minutes
INGREDIENTS
1 boneless chicken breast
2 servings noodles (any thin, long noodles or pasta will work)
1/2 cucumber
2 slices ginger
2 green onions, chopped, white and green part separated
4 cloves garlic, minced
1/2 teaspoon chili powder
1/2 teaspoon black pepper
3 tablespoons cooking oil
a small handful of cilantro, chopped
6 tablespoons light soy sauce
2 tablespoons vinegar (almost all types of vinegar work)
1/2 tablespoon peanut butter
1 teaspoon sugar
1 teaspoon sesame oil
INSTRUCTIONS
Add chicken breast, ginger, and the white part of green onions to a small pot with enough water to submerge the chicken breast, and bring to a boil. Don't cover the pot. Let it boil for 10 to 15 minutes until the chicken breast is fully cooked.
Bring another small pot of water to a boil and then add the noodles. Cook until tender.
While the chicken breast and noodles are cooking, peel the cucumber, julienne it, and set aside
Prepare the sauce. Put chopped cilantro, the green part of green onions, minced garlic, 1/2 teaspoon of chili powder, and 1/2 teaspoon of black pepper into a small bowl. Add three tablespoons of cooking oil in a pan and heat it until shimmering. Pour in the hot oil to evenly cover the sauce ingredients. Enjoy the beautiful sound and aroma. Add 6 tablespoons of light soy sauce, 2 tablespoons of vinegar, 1/2 tablespoon of peanut butter, 1 teaspoon of sugar, and 1 teaspoon of sesame oil. Mix them well.
5. When the chicken breast is cooked, let it cool down a bit and then shred the cooked chicken breast with your fingers. Try to make them as thin as possible.
6. Drain the cooked noodles. Rinse them thoroughly under cold water and drain well. Coat them with a little bit of cooking oil and spread them out on a sheet pan so they won't stick together.
7. Assemble the noodles with julienned cucumber and shredded chicken breast. Pour the sauce over everything and toss them together.
8. Serve immediately.
---
SupChina Eats is a weekly column.