Album 'Both' fuses ancient Chinese culture with contemporary sounds
Society & Culture
The artistic duo Wang Meng and Yu Miao have created one of the unlikeliest albums of the year, "Both," which attempts to bring ancient Chinese traditions into the realm of contemporary electronica.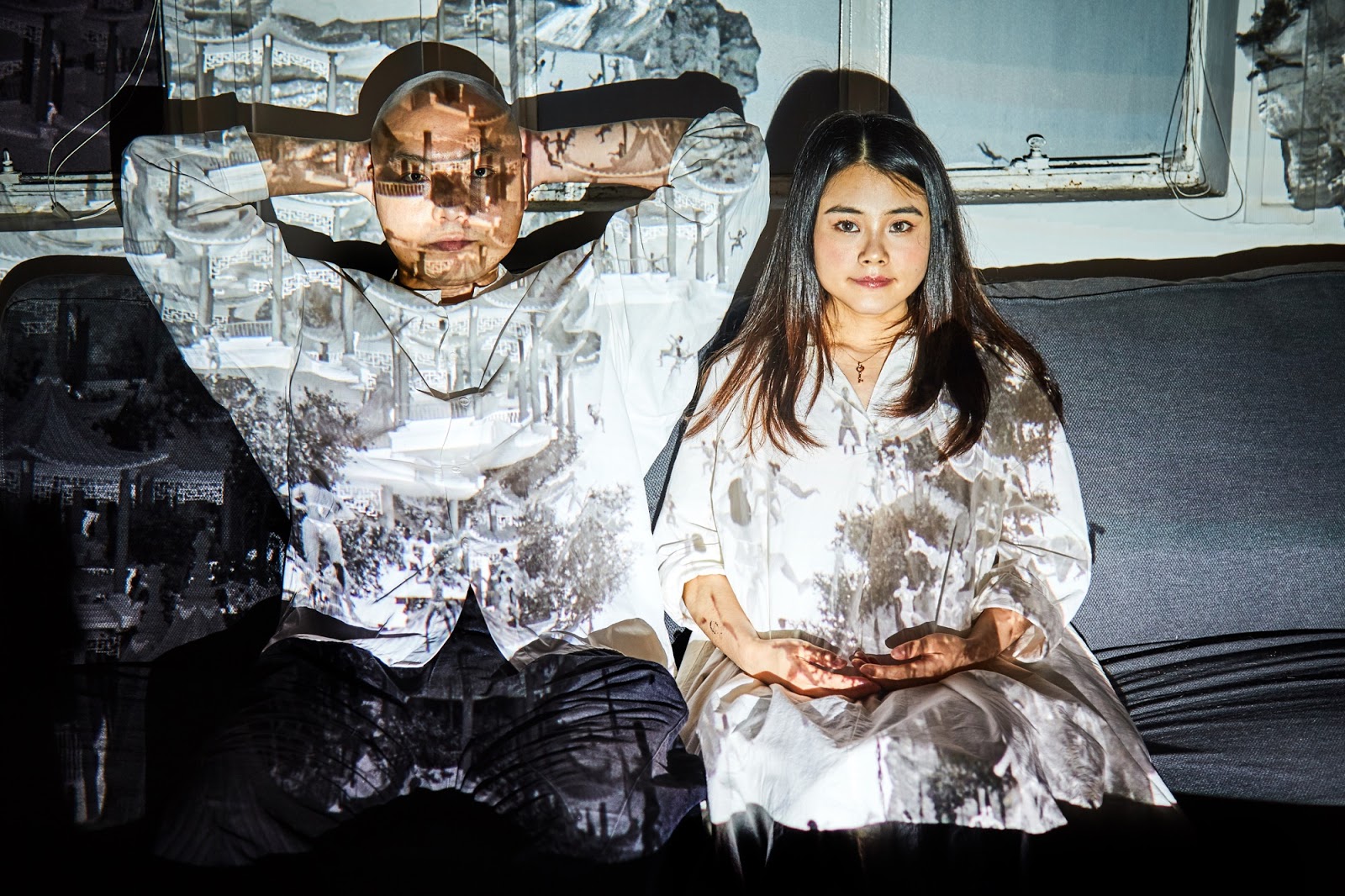 When Shanghai-based artist Wáng Méng 王萌 visited an obscure bar in Beijing's sprawling Chaoyang District one frosty evening in late 2017, he had no idea a new career in music was about to begin.
"I'm an oil painter by training," the burly Tianjin native explains. "Both my parents painted, and I too loved drawing from an early age. I was sent to middle school and high schools that specialized in the arts."
As a young adult Wang contemplated becoming an independent artist. But fearing "poverty and struggle" in one of north China's dusty art villages, he headed south to mercantile Guangdong Province, where he spent four years studying visual communication design at Guangzhou Fine Art Academy.
"Friends [in the north] told me the Pearl River Delta was a culture desert, but I found the atmosphere very open, people's attitudes were really progressive, and the art scene was a lot less cliquish than in Beijing," he says. "All the creatives knew one other and got along. This inspired me to think more collaboratively."
After graduating, Wang moved to the Chinese capital, where he remained for three and a half years developing a name for himself as an artist specializing in visual backdrops for musicians.
"I mostly worked with underground artists, rock bands, folk acts, and electro outfits," he says of the time he spent cutting his teeth in this niche arena.
In 2013, Wang moved to Shanghai, where he founded Radioactive Vision Studio (放射能视觉工作室 fàngshè néng shìjué gōngzuò shì), a stage design company. His clients got bigger, including the likes of pop star and actress Lǐ Yǔchūn 李宇春.
Yet despite his preference for the "can-do" attitude prevalent in the more liberal city of Shanghai, Wang recognizes that "the music business is centered in Beijing," and travels north regularly to meet prospective clients. It was after one such meeting that Wang found himself watching guzheng prodigy Yú Miǎo 于淼 performing alongside Wáng Lù 王璐, a prominent DJ and producer in the capital.
Yu's lifelong love affair with this 21-string instrument — which has been played in China since the Qin Dynasty more than two thousand years ago — began when she was just six years old. "I first heard it at the Children's Palace (少年宫 shàonián gōng) and thought the sound was really special," she says. "The music teacher sent me a test to clap a basic rhythm. I passed the test and was allowed to start playing."
After more than a decade mastering the instrument at the hutong home of her tutor, Yu was accepted into the Central Conservatory of Music in Beijing, although the experience didn't quite live up to the prestige associated with the institution.
"You just had to follow the teacher, do your homework and pass exams. It was boring, there was no space to really express myself," she says, highlighting the conservative attitude still prevalent in Chinese classical music circles today.
As Wang Meng explains, "In Chinese art schools you can study contemporary ink painting, but there's no such course for, say, modern erhu or avant-garde guzheng."
Rebelling against her formulaic training, Yu, since graduating in 2011, has been trying to get the guzheng out of the Tang Dynasty tea house and back on the stage for 21st century audiences to enjoy.
"It's an instrument like any other, one that can adapt to any genre," she says. "I've tuned it to fit Western modes and scales. I even play it through effects pedals."
Yu has been a regular fixture in Beijing live houses like DDC, Temple, and Jianghu for a number of years, cooperating with an eclectic cast of musicians, playing everything from free jazz with saxophonist Lǐ Tiěqiáo 李铁桥 to experimental noise with Stefan Angelina. But it was arguably when Wang invited her to Shanghai in 2017 that she found the yang for her yin.
"Wang and I are very different," she says of their first efforts to cooperate in early 2018 in Shanghai. "I had to teach him basic musical theory before we could get started. We jammed together for several months before performing to an audience."
That audience was, bizarrely, an unsuspecting class of migrant workers inhabiting one of Shenzhen's infamously ramshackle city villages.
"I was working on an installation piece in Futian District for the second Shenzhen Theater Biennale," Wang says of his enduring interest in public performance art. "I asked Yu Miao to come along, and that became effectively our first show."
The duo rolled south and performed from the counter of a rundown computer repair shop. Their audience was anyone that happened to wander by. That is, until some public security personnel forced them to stop disturbing the peace.
"It was quite a punk thing to do," Yu Miao says, laughing.
In fact, there is a "punk" strain running through their music, even if it is a subtle one. Though superficially ambient, indebted to influences like Brian Eno and Alva Noto, their debut album Both, produced by Yán Jùn 严俊 in Shanghai, has a go-against-the-grain thread running from beginning to end.
Opening with the clamorous bars in the track "Missing" (肠胃炎 chángwèiyán), a dark, industrial soundscape introduces listeners to a record that promises to challenge. Mid-album, the sonic journey meets the hauntingly tender ballad "These Violent Delights have Violent Ends" (兰因絮果 lán yīn xù guǒ) — an idiom which means "what starts well ends in separation." The pulsing house beat of the title track concludes the record, by which point, any serious listener knows neither Wang nor Yu are conforming to a template. Whether it's the spoken word samples permeating the track Qianqian, the post rock-esque suspense driving tracks like "Lehepa" or "Grain Rain," or the cinematic timbre of "Out of Tokyo" and "Black Rock," the duo have created a dynamic record, one of great poignancy and originality, that seems to capture the sonic zeitgeist of the strange new decade we have just entered into.
Both artists shy away from naming a favorite track. And perhaps this is an impossible question to answer, as Both is more a body of work than a collection of songs per se. It is symphonic in scope, even if the album is far from classical. Thematically, the album corresponds with a fast-changing technological superpower: it is unbalanced, rich in contradiction, yet indelibly linked to an ancient cultural tradition.
The fusion of ancient and modern, acoustic and electronic is represented in Wang's visuals, evidenced in the dreamlike album cover art, the stage projections he conjures as VJ while they perform, as well as the dazzling video for the third track on the album, "Grain Rain" (谷雨 gǔyǔ):
"I made the album art first before developing it into a video," Wang says. "I wanted to create an image that looks superficially traditional, like a classical landscape painting. But when you look closer you realize it's a surreal 3D image that was made by a computer."
The unique visual element has partially liberated the band from the dive bars that are a common rite of passage for new alternative acts. Developing the street art concept first attempted in Shenzhen in 2018, Wang Meng and Yu Miao are as comfortable playing live houses as they are in public spaces such as Shanghai Xinzhuang Transport Hub, where they performed in July and are still being exhibited as a video installation, or playing live to shoppers at Shenzhen's MixC Shopping Mall in order to spice up Chinese Valentine's Day on August 25.
When asked how the duo has managed to blend not just disparate forms of music, but also divergent ways to present art to the public, Wang Meng's response is characteristically deferential: "It was just a very natural thing to fuse our talents and interests. It's been an organic experience. Nothing was contrived."
But whether by chance or providence, Wang Meng and Yu Miao are already reshaping the Chinese musical landscape, marking a radical departure from much of the derivative rock and pop that has gone before them, while proving China's ancient beauty and creative ingenuity does not necessarily belong in the past.
Listen to the album Both on Soundcloud, Bandcamp, Apple Music, or Spotify. Wang Meng + Yu Miao are currently in the middle of a 15-city tour (August 28 to October 31) that ends with a performance in Beijing.