Can WeChat be woke? The progressive Chinese Americans countering right-wing narratives
Society & Culture
The loudest voices on WeChat in the U.S. have long been those of conservative, first-generation immigrants from mainland China who support Trump. But recently, some liberal Chinese Americans have begun working harder to make their voices heard on the platform.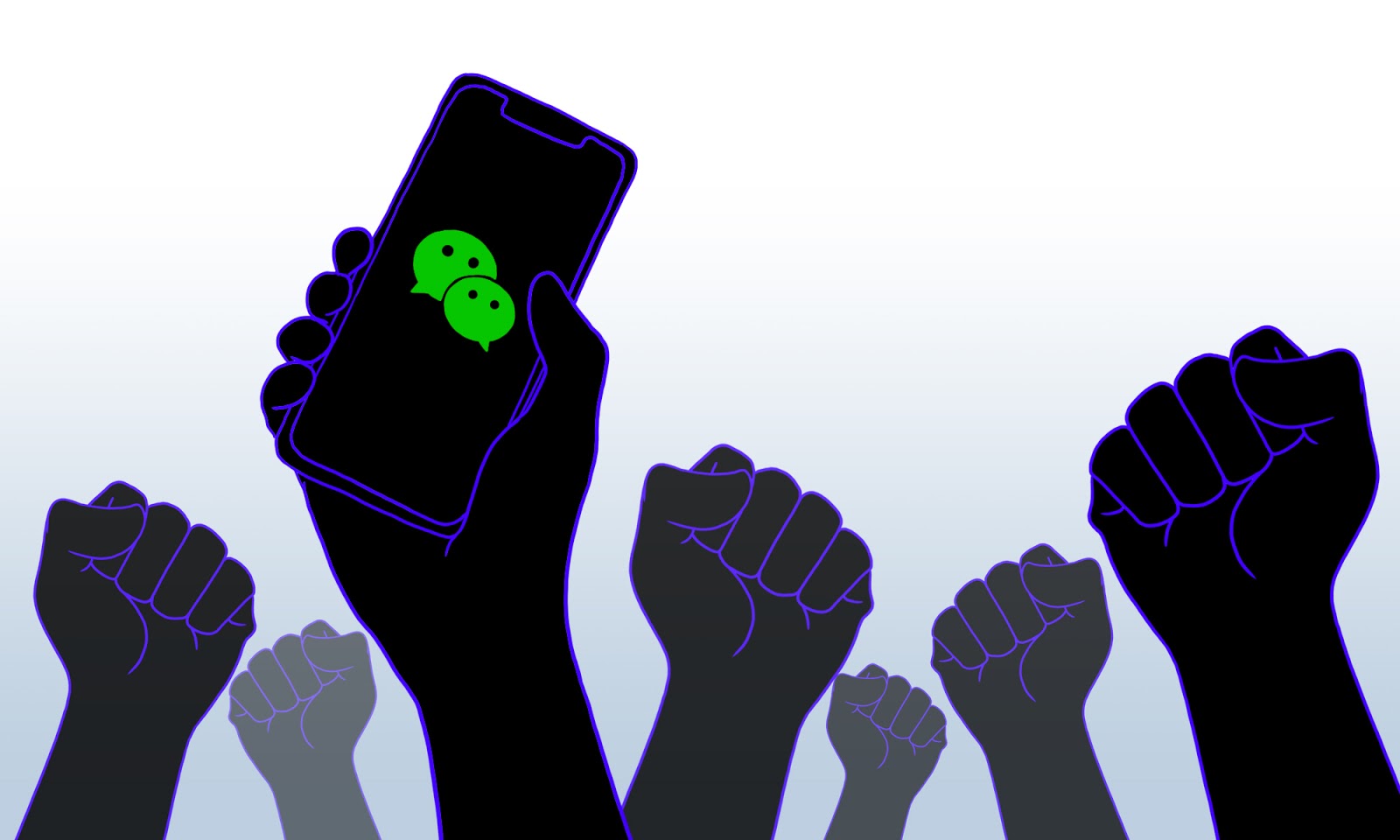 Eileen Huang likes to express her emotions through poetry. A lover of ancient Chinese poems by Lǐ Bái 李白 and Dù Fǔ 杜甫, and an avid reader of Vonnegut and Plath, she considers herself skilled at using descriptive language. But as the U.S. became embroiled in debate and mass demonstrations after George Floyd's death, the 20-year-old student at Yale University felt called to write something more analytical. In her resulting open letter, she condemned what she saw as a culture of "silence from Asian Americans" — or worse, openly expressed anti-black stereotypes — and urged her fellow Chinese Americans to see the fight against racism as a shared struggle.
"I find it hard to write poems at a time like this," she wrote. "I refuse to focus on our history, our stories, and our people without acknowledging the challenges, pain, and trauma experienced by marginalized people — ourselves included — even today."
At the same time that her open letter went viral in English, a Chinese version was simultaneously published on the Chinese social media app WeChat, where it was viewed hundreds of thousands of times, sparking strong and sharply divided reactions from the Chinese community in the U.S.
Huang was amazed by the amount of engagement her article received on WeChat, and realized that the largest Chinese social media app was lacking voices like hers. WeChat has over 3 million active users in the U.S., primarily Chinese Americans who use it to maintain contacts with friends and families in China.
"There's a sort of need for younger voices, especially voices that aren't really on WeChat, like second-generation Chinese Americans who may not be fluent in Mandarin Chinese," Huang said. "I was a novel voice in that space and people wanted to listen to these voices, regardless of what their opinions are."
Despite the openness of many readers of her letter, Huang found herself alarmed by the fact that most of the responses were negative, some forcefully so. She wondered: How was it that right-wing narratives had become so powerful on WeChat? And how could she play a part in bringing more diverse perspectives to the platform?
The rise of the WeChat right: From 2014 to the election of Donald Trump
Chinese technology giant Tencent launched WeChat in China in 2011 as a messaging app. In China and abroad — largely among Chinese students and first-generation immigrants — the app quickly gained followers, and just as importantly, features. Over the years, WeChat has become a super app that encompasses nearly all digital activities from messaging and calling to online payment and serving as a virtual workplace.
WeChat's most essential feature allows people to form private groups of up to 500 members, managed by owners who have the power to add or remove anyone to and from the group. Different from Facebook's public groups, all WeChat groups are unsearchable unless a person is given a unique group QR code, or is "invited" by an existing group member. After joining a group, the person then has the ability to widely discuss common interests and directly contact all group members.
Individuals on WeChat can post on their timelines, called "Moments," but also unlike Facebook, these posts are private, so only those who are direct friends with them have access and can react to their posts, creating a self-contained bubble around individuals and their WeChat friends.
Steven Chen, a Chinese American who has been writing articles on WeChat for years, attributed the rise of the new Chinese right-wing to the growing popularity of WeChat among new immigrants from mainland China, who tend to be significantly more socially conservative than Chinese Americans overall. Chen explained that WeChat, in contrast to other social media platforms in the U.S., is dominated by that one largely homogeneous group. The singularity of their identity and the private space the platform offers allow them to "make derogatory comments or post true or fabricated stories about other racial or religious communities with no defense from those targeted groups," he wrote in Medium.
The networks of WeChat contacts that Chinese Americans had built up were politically activated in 2014 by a trio of events.
The most important was an affirmative action bill in California called SCA-5, a proposition that would allow higher-education institutions to use race, gender, and ethnicity as considering factors when making admission decisions. Fear spread in Asian-American communities that it would harm the admission prospects of Asian-American high schoolers in getting into elite colleges. Unbridled panic spread on WeChat, which served as a powerful and effective tool for concerned Chinese immigrants to organize and mobilize around the cause. Asian Americans have continued to play a prominent role in contesting affirmative action policies in more recent years.
Two other events in 2014 also led to a political awakening of new, first-generation Chinese-American immigrants mostly from mainland China. In one, Fox News host Bob Beckel used the offensive slur "Chinamen" on live television, leading to widespread calls for his resignation. And in November of that year, Peter Liang, a young Chinese police officer in New York, fatally shot a black American named Akai Gurley. Liang's eventual indictment and conviction led to a level of activism in the Chinese-American (and the larger Asian-American) community unseen since the 1982 killing of Vincent Chin in a Detroit suburb.
It was in 2014 that Wú Bō 吴波 founded a Chinese American–focused, WeChat-based media platform called ChineseAmericans (美国华人, měiguó huárén, Chineseamerican.org), and enlisted the help of Chen. The men were both Silicon Valley computer engineers who were shaken by what they saw as open hostility against Chinese Americans, and felt the need for a space for political discussions.
Since few WeChat-based media focused solely on the affairs of Chinese Americans, ChineseAmericans easily gathered momentum and established its name in the community. Today, ChineseAmericans has more than 100,000 followers on WeChat and 18,000 followers on Facebook.
How Trump's election changed ChineseAmericans (and Chinese Americans)
When founded, ChineseAmericans was a "neutral digital media outlet that spread the positive energy of Chinese Americans," Wu said, and the articles that the outlet published in the early years incorporated viewpoints from both sides.
A scroll through the archives of ChineseAmericans from 2014 to 2015 illustrates how the outlet sometimes uncritically followed popular trends in Chinese-American discourse. Articles described protests and talking points against SCA-5, and hailed the victory of Schuette v. Coalition to Defend Affirmative Action (a Supreme Court ruling that allowed states to issue bans on affirmative action in education). Other pieces called for the resignation of the Fox news host Bob Beckel, and documented the growing engagement in politics of Chinese Americans. Now Wu admits that certain articles were hard to look back at and were not necessarily "good."
The 2016 election marked a turning point in Chinese-American politics. Many people who were advocates of Peter Liang and critics of Bob Beckel became passionate Trump supporters. Others, including the core members of ChineseAmericans, diverted to the anti-Trump camp. The platform started publishing election analysis and articles critical of Trump, and was accused of being a traitor to China (汉奸, hànjiān) by many of the vast number of Trump-loving people in China.
"I was more of a conservative before 2016," Wu said. "But I slowly began to change after that."
Wu described the shift in the platform's coverage as emblematic of the "continuous course of progress and division" happening within the larger Chinese-American community. In 2014, the new generation of Chinese immigrants was agonized by the litany of events that felt starkly personal and thus driven by an urge to speak up, even though many were unfamiliar with the politics and principles of American democracy. But the rise of Trump in 2016 motivated Chinese-American individuals to examine America's values and political culture more closely, which resulted in a split in the group's political affiliation.
This shift — manifested in Wu's personal change of opinion, in his rethinking and reforming of ChineseAmericans' coverage, and in his community's growing schism — also reflects the complexity of the Chinese-American political landscape.
Since then, ChineseAmericans started using the principles of "objectivity, reason, and inclusivity" to appraise its submissions. The platform has broadened its scope to include domestic and international news and analysis, keeping civic-minded, Chinese-speaking readers in mind. Its coverage now ranges from investigations into the Trump administration, analyses of Obamacare, and the DACA program to explainers on the Israel-Palestine conflict and commentaries on Chinese Americans' values and interests.
Overall, from its articles that endorse affirmative action, advocate racial equality, and criticize Trump's policies, ChineseAmericans seems to be a liberal media outlet, but Wu insisted that it is largely due to the type of submissions and their factuality rather than the editorial team's deliberate choice.
"Submissions that are from right-leaning writers are rare," Wu said. "You can see that many pro-Trump WeChat public accounts publish articles. But if you fact-check them, oftentimes, they're not telling the truth or are not logically sound."
ChineseAmericans has made some effort to provide a balance of viewpoints, for example, recently publishing an interview with Cliff Zhonggang Li (李忠刚 Lǐ Zhōnggāng), the executive director of the National Committee of Asian American Republicans.
Despite the relative lack of conservative contributors, ChineseAmericans seems to have a vocal, conservative reader base that often dominates the comment sections. Wu said that it suggests conservative Chinese people continue to be more active on WeChat.
Liu, an editor and another core organizer of ChineseAmericans, who asked to only be identified by her last name, said that since she joined the team in 2015, she has gradually lost interest in quarreling with and persuading people with different viewpoints. Rather, she sees the purpose of ChineseAmericans articles as to communicate and disseminate facts and hold the ground for factual information on WeChat.
The WeChat Project
After Huang penned her open letter about George Floyd and the need for Chinese-American solidarity in the fight against racism, she began to form an idea about what to do next. She wanted to amplify the voices of young, like-minded Chinese Americans on WeChat, to "combat misinformation and harmful narratives that are anti-black, anti-immigrant, and anti-queer that we see on WeChat all the time." She called it The WeChat Project or 心声 (xīnshēng, voice from the heart). The WeChat Project has been publishing mainly on the WeChat public account of ChineseAmericans, due to the channel's established status in the Chinese-American community.
Participants are members of the Chinese diaspora's younger generation who recognize the "harmful dialogues" circulating on WeChat, Huang said. Despite the difficulty in disrupting the "bubbles" formed on the platform due to its design, Huang considered the ripples her letter caused as an encouraging example of how the bubbles were "breached and no longer isolated."
Rather than condescend to or patronize conservative members of the Chinese-American community, which Huang's open letter had been accused of, "[w]e're trying to come from a place of love and care for our community and for our families," Sunnie Liu, co-founder of The WeChat Project, said. Liu further stressed that The WeChat Project does not speak for the Chinese-American community — another common accusation directed at Huang's letter. The goal of the project is "less to bridge that gap between Chinese Americans and the greater American society, but more [to] bridge the gap between different generations of the Chinese diaspora in the United States."
One of The WeChat Project's recent articles addresses readers in the form of a letter and starts with the words, "We are first and foremost your children — young Chinese Americans who want to talk with our parents and grandparents. We will not stop having these conversations."
This approach, which mixes personal narratives with facts and statistics in order to reach readers who are less progressive, has proven to be an effective strategy, according to Liu.
Currently, the team consists of 10 volunteers. They post original content on specific issues that flare up on WeChat, and have so far written about Trump's WeChat ban, systemic racism, police reform and abolition, and the presidential election. Every article they publish has an English and a Chinese version.
The future of progressive publishing on WeChat
Following the 2016 presidential election, many liberal media outlets were started on WeChat that attempted to compete with ChineseAmericans. But, one by one, they disappeared due to lack of funding and the demanding commitment it requires to manage a high-quality WeChat public account. ChineseAmericans is facing the same problem. Both Wu and Chen have full-time jobs. The team has been functioning on a voluntary basis with no outside funding.
"This is like another full-time job," Wu said. "It is actually a big burden for us. It takes up our time and energy, and affects our time with family, with our children."
In the past four years, Chinese immigrant groups in America have gone through a tumultuous experience, shaping and reshaping their distinct political landscape. Now, during a historic time in American history, tension in the community is high. Wu and his team members found themselves accused of publishing CCP propaganda for their progressive content and critical stance toward Trump.
"We're trying to stick it through till at least the election," Wu said, with a weary smile. "But I don't know what will happen [to the platform] after that."