Mom's best red-braised whole fish
Society & Culture
In Lu Zhao's final SupChina Eats, she presents a family recipe: red-braised fish, cooked whole.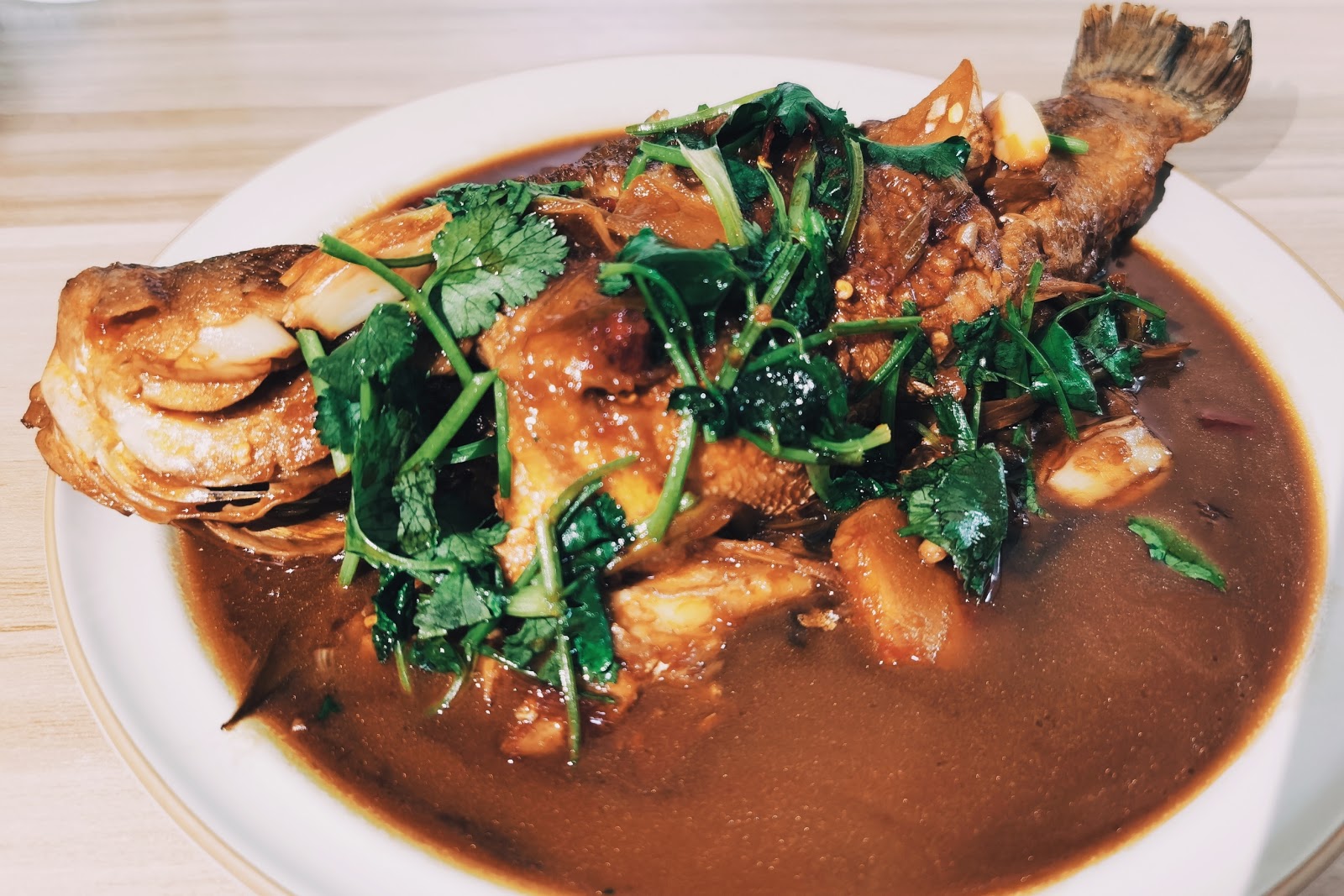 My mom cooks the best red-braised whole fish (红烧鱼 hóng shāo yú) in the world. It's a unique recipe that doesn't come from any cuisine or chef. I grew up eating this dish, and now I'm inheriting it — and sharing it with you.
Cooking fish on the bone and skin yields meat that's more succulent than you'd find in a fillet. Try to get a live one for maximum freshness. I use bass in this recipe, but feel free to choose whatever type of fish you like.
Red braising, a.k.a., red cooking, is a Chinese cooking technique that uses dark soy sauce, cooking wine, sugar, and other spices to generate a reddish-brown color and savory taste. Be sure to fry the fish with flour so the meat will be even moister and more tender.
YIELD
Serves 2
TIME
20 minutes
INGREDIENTS
1 whole fish (about 1.6 lb), descaled and cleaned
3 dried chili peppers, chopped
3 slice ginger
1 green onion, sliced
6 garlic cloves, roughly chopped
1 bunch cilantro, roughly chopped
2 tablespoon salt
2 tablespoon flour
3 tablespoon vegetable oil
2 tablespoon cooking wine
1/2 tablespoon dark soy sauce
2 tablespoon light soy sauce
1 tablespoon sugar
1 tablespoon vinegar
2 cup hot water
INSTRUCTIONS
Make 2-3 cuts on each side of the cleaned fish. Pat it with 1 tablespoon of salt on each side and marinate for 10 minutes.
Rinse the fish under tap water to remove any extra salt. Evenly apply 1 tablespoon of flour to each side.
Heat up 3 tablespoons of cooking oil and slide in the fish. Cook over medium-high heat for 3-5 minutes until the surface is golden brown. Flip and repeat on the other side.
Add chopped dried chili peppers, ginger slices, green onion, garlic, 2 tablespoons of cooking wine, 1/2 tablespoon of dark soy sauce, 2 tablespoons of light soy sauce, 1 tablespoon of sugar, 1 tablespoon of vinegar, and 2 cups of hot water. Bring to a boil and reduce to low heat.
Spoon sauce over the fish from time to time until the sauce is reduced by half.
Garnish with cilantro and serve hot.
This is the final edition of the SupChina Eats column. Happy holidays! We hope you've enjoyed reading this column and learned some Chinese cooking skills. Follow Lu Zhao's on Instagram @luuzzhao