Feminist comedian accused of 'inciting gender-based antagonism' after critiquing sexist haters
Society & Culture
When reflecting on her past year, Yang Li, the stand-up comedian known for her feminist men-bashing, delivered a barn-burner of a tirade against her critics, blasting them for being misogynist and overly sensitive to critique.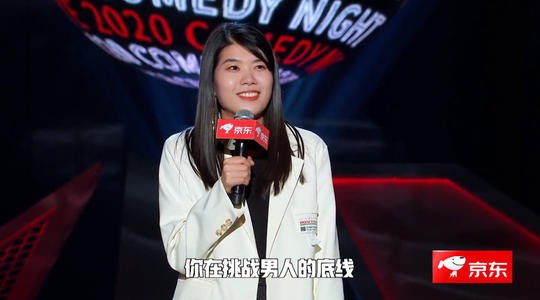 Yáng Lì 杨笠 knows haters gonna hate, and she has gleefully given them more fuel for the fire.
When she first appeared on the third season of hit stand-up comedy series Rock & Roast (脱口秀大会 tuō kǒu xiù dà huì), which hit streaming platforms over the summer, the young comedian became a national sensation almost overnight. By delivering an eclectic blend of thought-provoking, patriarchy-challenging jokes, Yang has earned rave reviews from women who felt heard and inspired — as well as a ferocious backlash from online trolls, who recently took their opposition to the political level with calls to have Yang censored over her "hate-inciting" views.
The renewed controversy surrounding Yang's feminist men-bashing stemmed from her latest appearance on the year-end special episode of Rock & Roast, which asked a roster of the show's previous contestants to share their biggest disappointments from 2020. When reflecting on her past year, Yang delivered a barn-burner of a tirade against her critics (in Chinese), blasting them for being misogynist and overly sensitive to critique.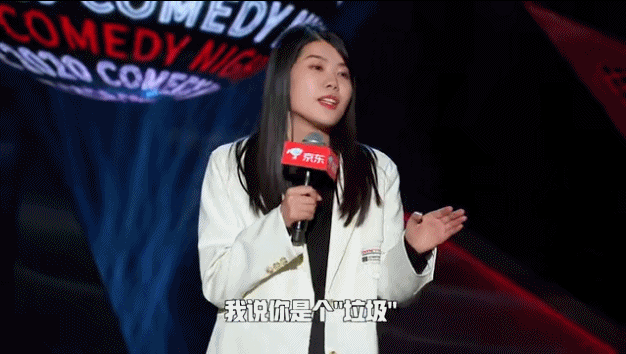 "The way that my haters treated me made me feel like the most horrible person on this planet. It almost feels like all the suffering they endured were caused by me asking, 'Why do you look so average, yet so blindly confident?'" Yang tells the crowd, referencing the punchline that was central to her rise to prominence.
"Men are so hard to please. Everything I say about them is likely to be taken as an offense," she goes on. "When I call you garbage, you are definitely upset. When I say you are a good person, you somehow feel insulted, too. Now I tell you that you are ordinary, and you are still not happy."
In anticipation of a fresh backlash against her biting takedown of trolls, Yang reveals that before performing onstage, she was cautioned by a comedian friend that her "testing men's limits" might lead to grave repercussions. But the warning didn't stop her. "I replied, 'Do men have limits?'" Yang says, flashing a smile.
Just as she expected, Yang's rant about trolls quickly opened her up to a whole new world of hate fueled by jabs from her male counterparts in comedy. "Slowly, people only talk about genders. No one cares about justice anymore," wrote (in Chinese) Zhāng Bóyáng 张博洋, a male stand-up comedian with almost 500,000 followers on Weibo. Wáng Yuèchí 王越池, a popular male performer in the world of comedy, took swipes at Yang (in Chinese) in another Weibo post, saying that "stand-up comedy definitely shouldn't be like Yang Li's."
Also in the resistance were hundreds of thousands of ordinary men soured by Yang's jokes, who claimed she treated the group "unfairly" and "badly." "Yang's entire brand is built on putting the nastiest possible spin on male behavior and motives. Her sweeping indictment of men as the oppressors of women is not empowering or feminist. It's stereotyping and harmful," a Weibo user wrote (in Chinese). Others complained that as outspoken feminists like Yang gradually took over microphones in comedy, they felt reluctant to voice even the mildest unpopular opinions on something women-related.
On Weibo, @平权盟-南平, a men's rights activist and anti-feminist, was the loudest among the detractors. In a now-deleted post (in Chinese), the person shared the screenshot of his online complaint with the National Radio and Television Administration, China's top media watchdog, in which he accused Yang of "being biased against men," "repeatedly insulting all men," "preaching hatred," "inciting gender-based antagonism among the masses," and making a "harmful" impact on the country's future development. "Come on! Let's make more complaints together," he wrote, calling on his followers to follow suit.
However, not everyone was disturbed by Yang's scorn for her haters. Many supporters of Yang hailed her response to critics, praising how she handled sexist trolls and pushed the boundaries of stand-up again. Calling Yang "the best Chinese stand-up comedian to watch this year," Chinese-American comedian Joe Wong, who returned to his native China in 2013 after gaining a following in the U.S., wrote (in Chinese) in a Weibo post, "One of the biggest strengths of stand-up comedy is amplifying marginalized voices and poking fun at powerful figures. In old performances, the disabled, women, and the lower class were often the subject of ridicule, but few people complained about how problematic they were. It totally makes sense for Yang Li to take a well-deserved piss out of men, whose voices are consistently elevated above women's in society."