Chloé Zhao is the first Chinese woman to win Golden Globe Best Director, but is she Chinese enough for social media?
Society & Culture
The Beijing-born director of "Nomadland" is the first Chinese woman to win a Golden Globe award for best director, but naturally that does not please everyone on Chinese social media.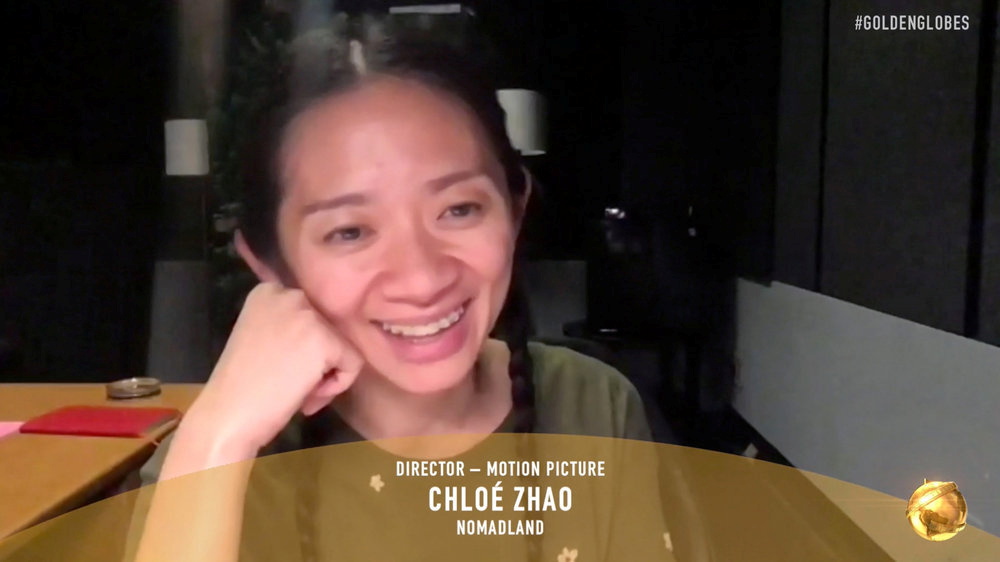 Film director Chloé Zhao (赵婷 Zhào Tíng), who was born and raised in Beijing before moving abroad at the age of 14, has made history as the first Chinese woman and woman of Asian descent to win the Best Director award at the Golden Globes.
Appearing virtually at Sunday night's ceremony, Zhao received the honor for the feature film Nomadland, which she wrote, edited, and directed. Nomadland also took home the prize for Best Motion Picture — Drama, marking the first film directed by a woman to win in the category.
Based on Jessica Bruder's nonfiction book of the same name, Nomadland stars Oscar-winning actress Frances McDormand as Fern, a jobless widow and modern-day nomad who lives out of her modified van while traveling across the American West. Like Zhao's previous projects, the film features a cast of nonprofessional actors, many of whom are real nomads.
As the second woman ever to earn the trophy of Best Director at the Golden Globes — following Barbra Streisand's victory for Yentl in 1983, Zhao said in her acceptance speech that she was especially appreciative of all the nomads who shared their stories with her.
The 38-year-old director then relayed remarks from Bob Wells, a real-life nomad who helped in making Nomadland and appeared in the film. "This is what he said about compassion," she explained. "Compassion is the breakdown of all the barriers between us. A heart-to-heart pounding. Your pain is my pain. It's mingled and shared between us." 
She added, "This is why I fell in love with making movies and telling stories, because they give us a chance to laugh and cry together, and they give us a chance to learn from each other and to have more compassion for each other."
Since its debut in September, Nomadland has been racking up accolades at various film festivals. According to Variety, even prior to her two Golden Globe wins, Zhao was the most-awarded person in a single award season in the modern era, with "34 trophies for directing, 13 for screenplay, and nine for editing" under her belt. The film has received official permission for a limited release in China starting on April 23, according to information published on the government-backed distributor China Film's website.
Born in Beijing, Zhao is the daughter of a top executive at Shougang Group, one of the largest steelmakers in the country. After her parents' divorce, her father married Sòng Dāndān 宋丹丹, a sitcom actress who is a household name in China, and ex-wife of Yīng Dá 英达, a member of China's showbiz royalty. Zhao left China at age 14 to attend boarding school in London and went on to study filmmaking at New York University. 
Nomadland is Zhao's third feature following Songs My Brothers Taught Me (2015) and The Rider (2017). Next up for her is the highly anticipated Marvel's Eternals, starring Angelina Jolie, set for release later this year.
Given Zhao's connections with China, news about her history-making victories has naturally sparked a flood of congratulations and expressions of joy on the Chinese internet. "This is incredible. She seems like a filmmaker who's both talented and hardworking," a Weibo user wrote (in Chinese). Also joining the chorus of compliments was Zhao's stepmother, Song Dandan, who described the director as a "legend" of her family in a Weibo post. "Every award you win exceeds my expectations and is a big surprise for me," Song wrote (in Chinese). "I believe your story is inspiring for many kids in China."
However, on Chinese social media, there was also some skepticism regarding where Zhao stood on China and how connected she was with her Chinese roots after she spent most of her adulthood overseas. "I don't feel comfortable calling her 'the pride of China' before figuring out her citizenship," a Weibo user commented. Some online critics also unearthed a 2013 interview with Zhao published in Filmmaker Magazine, in which she described China as "a place where there are lies everywhere," where "you felt like you were never going to be able to get out." She added: "A lot of information I received when I was younger was not true, and I became very rebellious toward my family and my background." 
These quotes were later edited out of the article for unknown reasons (you can see the original archived here, or in this screenshot on Weibo). Some speculated that the removal was part of a PR cleanup campaign to absolve Zhao from future controversies surrounding her identity, BUT others argued that it shouldn't matter if Zhao saw herself as Chinese or not. "She deserves all the compliments for what she's achieved as a filmmaker. We should take comfort that her award-winning film is not a China-bashing one made to please foreign judges," a Douban user wrote (in Chinese).