China's nursing shortage is easing, but not fast enough to address needs of aging population
Society & Culture
Although the number of nurses in China is increasing, the country is facing a severe shortage that will get worse as the population ages. Low salaries, tough working conditions, and a lack of respect for the profession mean the problem is not likely to get better.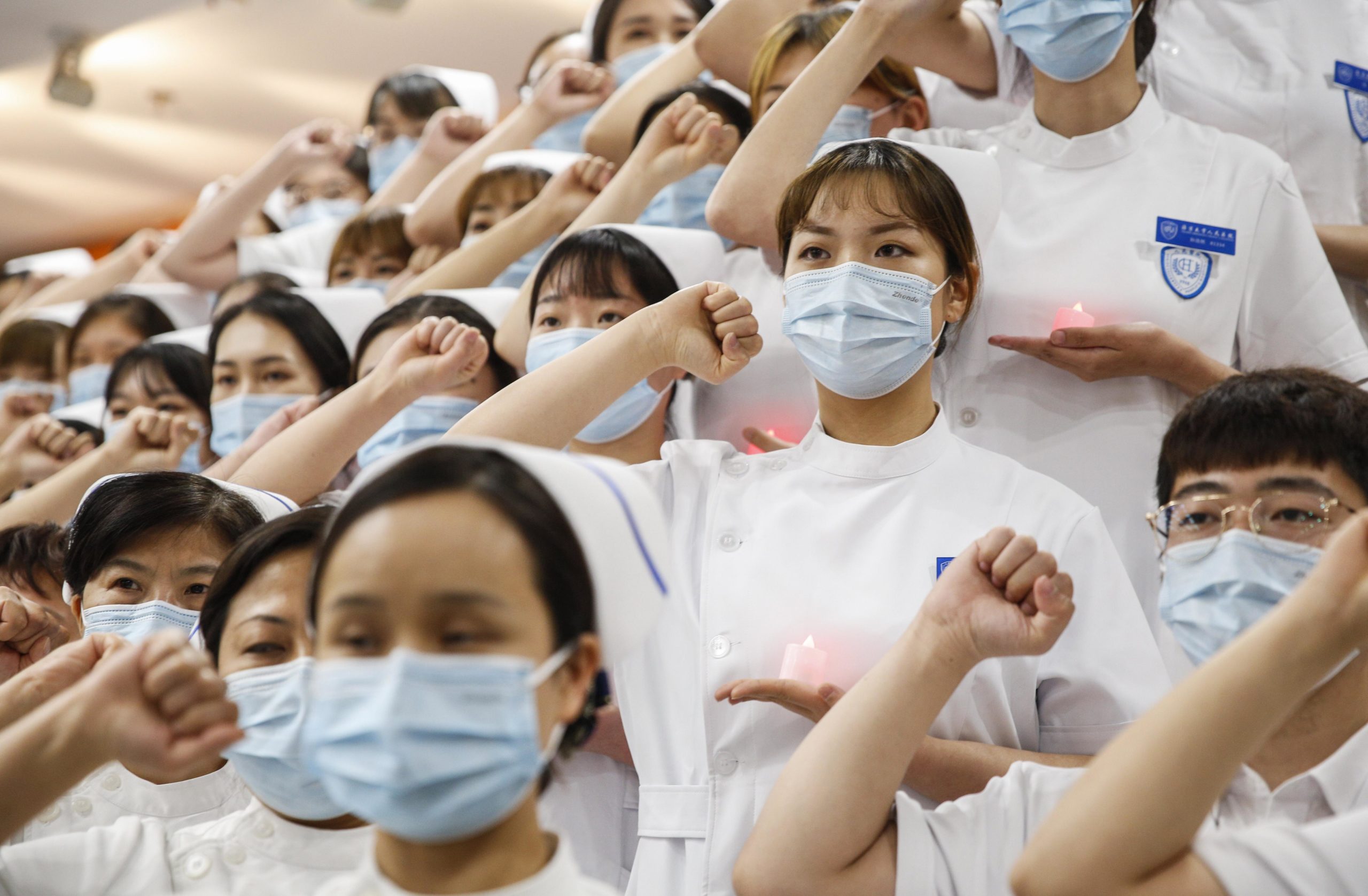 Yesterday, May 12, was International Nurses Day, which recognizes and celebrates the work that nurses do. To commemorate the occasion, Jiemian News published an article (in Chinese) about a serious shortage of nurses in China, which, it cautioned, had a very real chance of becoming a crisis, one with profound implications for the country's rapidly growing aging population.
Citing the latest data from the National Health Commission, Jiemian News reports that by the end of last year, China had approximately 4.7 million registered nurses, marking an increase of 45% in comparison with 2015. In 2020, there were approximately 3.35 nurses for every 1,000 people in the country, a slight rise from 2.37 in 2015. The doctor-to-nurse ratio was 1 to 1.15. More than 70% of the registered nurses had at least associate college degrees.
The numbers suggest that China is making strides toward addressing a nurse deficit that has lasted for decades. In the past five years, the number of nurses in China has grown consistently by about 200,000 every year. But despite the steady growth, demand is still outpacing supply and that discrepancy will likely become so severe that it will threaten patient care.
This is raising serious concerns from some healthcare experts and government officials, many of whom are concerned that as China's population ages, demand for healthcare services will soar. Earlier this year, Wú Xīnjuān 吴欣娟, the president of the Chinese Nursing Association, told Xinhua that in the next 15 years, China would have to deal with a growing population of older adults with chronic diseases, but the country's healthcare sector wasn't prepared for this demographic shift, as there are not enough community-based services or nurses training in geriatrics.
Wu's worries are shared by Jiāo Yǎhuī 焦雅辉, the deputy director of the Medical Administration Bureau of the National Health Commission, who said in a press conference in 2019 that China had roughly 150 million seniors living with chronic conditions, comprising about 65% of the country's entire elderly population. He also pointed out that there were 44 million older adults who had partially or completely lost their ability to cope with daily-life activities, and their needs for geriatric care were not going to be met anytime soon.
Figures from China's once-a-decade census released on Monday showed that adults above 60 now make up a whopping 18.7% of the population, compared with 13.3% in 2010. The average age of people in China is 38.8, and it's projected to keep climbing and reach 46 by 2050.
Adding to the problem of a nursing shortage is that more and more nurses are leaving the profession for a variety of reasons. But mostly, it comes down to dissatisfaction over pay, working conditions, and a lack of respect and recognition of their work. According to a 2017 survey of over 50,000 Chinese nurses, conducted by the China Social Welfare Foundation, 76.5% said they earned less than 5,000 yuan ($775) a month. Of those who had left the profession, almost half of them cited low wages as their primary reason.
"Nurses are generally paid meager wages, except for those who work at prestigious hospitals. There are many nurses who juggle insane workloads and intense pressures just for 4,000 yuan ($620) a month. Although their outstanding work received a lot of accolades during the pandemic, they are still underappreciated on a day-to-day basis," said a senior nurse in Hefei, Anhui Province. 
In order to alleviate the nursing shortage, the National Health Commission issued a document (in Chinese) last September, outlining a few options to make the profession more attractive, including raising salaries and offering perks like flexible hours. But in reality, Chinese hospitals, squeezed by managed care, have generally kept nurses' salaries low — some even made nursing a minimum-wage job. Last December, a handful of nurses in Gansu Province walked off their jobs (in Chinese) to protest being paid 1,400 yuan ($217) a month, which was lower than the minimum wage in the state.