In Shaoxing, young winemakers attempt to revive China's original spirit
Society & Culture
Rice wine was China's earliest banquet liquor. These days, it is more visible as a cooking product, and hardly anyone under the age of 40 likes it. Can this ancient spirit be revitalized for the modern market?
For Zhāng Lù 张璐, putting old wine in a new bottle is more than just a marketing catchphrase. The 40-year-old businessman, who used to specialize in imported German and Austrian wines in China, has dedicated himself to adding a centuries-old product to his catalogue: rice wine, also called yellow wine, a staple of his native Shaoxing in eastern China's Zhejiang province.
For him, the mission is personal.
Around 2005, while undergoing training in Germany as a sales manager of a wine import company from China, he was invited to a Christmas Eve party where every guest was expected to present something unique from their home countries. For this occasion, Zhang scoured local Asian supermarkets for quality rice wines, only to find a few bottles marked as "Made in Shaoxing" on shelves meant for sauces and spices.
When he cracked open a bottle that evening, ready to serve to the other guests, the pungent smell of spices and artificial fragrances mortified him. To avoid embarrassing himself — and all of Shaoxing — he broke the bottle in a way that made it look like an accident. His hand sustained multiple lacerations from splintered shards of glass.
"The guests didn't blame me, but it did hurt, both physically and mentally," Zhang said, pointing to the scars on his hand. "It was from that moment on that I realized my responsibility as a Shaoxing-born person was to introduce the Western world to authentic rice wine."
Upon his return to Shaoxing in 2008, he leased a dozen mu (about two acres) of rice paddies in a village and grew glutinous rice himself. Meanwhile, he learned to make traditional rice wine under Jīn Fāngcái 金芳才, a wine virtuoso who helped create the iconic brand Nü Er Hong (女儿红 nǚ ér hóng, literally "daughter red").
Zhang has also utilized his experience in European vineyards and wineries. "All our rice is harvested locally and water sourced from the nearby Jianhu Lake, and we make our own mold-based yeast," Zhang said, adding that this practice is in line with a biodynamic wine-making method known for respecting nature, and what the French call terroir, meaning "flavor of the land."
But Zhang faces an uphill battle. Once a luxury drink, Shaoxing rice wine has fallen out of favor with the Chinese public. It desperately could use a rebranding.
What is rice wine?
Traditionally, the brewing of Shaoxing wine starts in November, when colder temperatures make the fermentation process easier to control. Once pasteurized and sealed in clay jars, Shaoxing wines can have a shelf life spanning decades, and they generally mellow with age.
Unlike many established brands like Guyue Longshan and Kuaijishan, which churn out millions of tons of wine a year, Zhang caps his annual capacity at 4,000 liters, which is enough to fill some 8,000 bottles. Each bottle carries a sticker price of close to 800 yuan, roughly 40 times more expensive than a low-end rice wine in the market.
"My wines are more flavorful and more sophisticated in aroma," Zhang said with a grin.
The taste of yellow wine, according to him, is somewhat similar to certain types of fortified wine, such as Sherry, Port, and Madeira. Therefore, young wine connoisseurs might take a shine to rice wine, he noted.
Shaoxing wine — basically synonymous with rice wine in China — dates back at least 2,500 years to the Spring and Autumn Period (770 BC – 221 BC). Initially used at state rituals as an offering to thank deities for a good harvest or wish for an auspicious year, rice wine became a popular drink across China during the late Qing dynasty (1636-1911), when so-called shīyé 师爷, or counselors, from Shaoxing fanned out across the nation. A large number of these men, with their relatively high level of education, were employed as advisors to county magistrates and higher-ranking mandarins to assist with legal, financial, or administrative affairs. As they traveled, these precursors to modern-day attorneys took with them their love of Shaoxing wine.
Fermented using glutinous rice (other ingredients include sorghum rice and millet, depending on which local variation you look at), water, and mold- or wheat-based yeast, the wine mostly has an amber color and tastes tart and sweet, with notes of ripe plum, dates, and caramel. Enjoyed warm, it is said to be particularly nourishing for people with "cold" bodies. In its heyday, Shaoxing rice wine was a drink of choice at official banquets.
A century later, however, it is no longer accorded the symbolism or pomp that luxury spirits such as Moutai and Wuliangye get. According to market intelligence, 80 rice wine makers in Shaoxing reported a combined revenue of 4.3 billion yuan ($664 million) in 2020, a fraction of the 114 billion ($17.7 billion) yuan that Kweichow Moutai Group alone raked in that same year.
Reluctant youth
Among the hurdles to restoring rice wine to its former glory, public perception may be the biggest challenge. People think of yellow wine as an old-fashioned beverage that only fogies consume. "Rarely can you come across a 20-something who loves it," Zhang said. Even in his hometown, the most avid drinkers of yellow wine tend to be 40 and older.
Its use in cooking also tarnishes its image. "I learned from China's association of yellow wine that 60 to 70 percent of the product sold on the market is for cooking purposes, rather than to be consumed on its own," Zhang said. "On the other hand, it just shows how big a market potential rice wine has as a drink to be enjoyed on its own."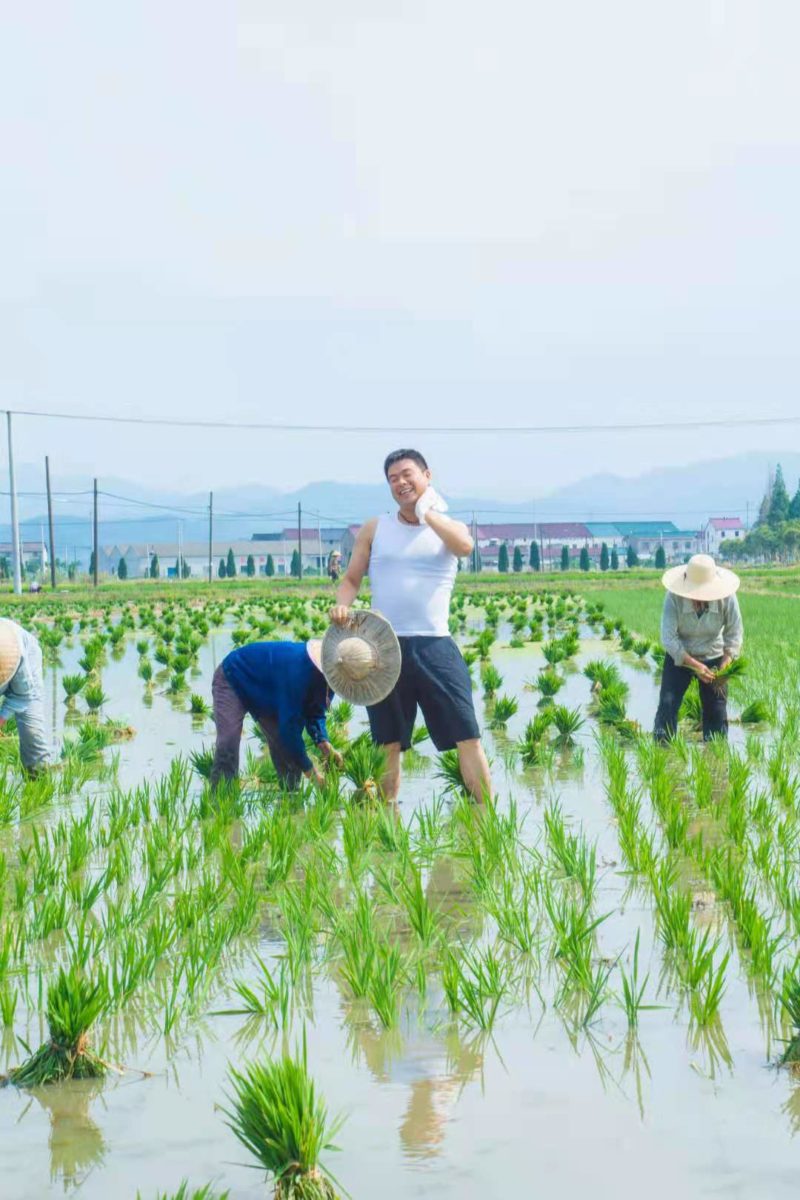 Wú Jìnyí 吴晋怡, a postgraduate student at Fudan University, said she believed that rice wine is suffering from its failure to fill any consumer need.
"When it comes to wine, I think of class and elegance," said Wu, who is in her mid-20s. "But to me there seems to be some ambiguity surrounding rice wine's positioning. Its intrinsic value is not well communicated [to the target customer]."
For Wu, the flavor of Shaoxing wine is "mild and moderate, with hints of traditional herbal medicine." Asked if she would choose rice wine over other alcoholic drinks, she shook her head and said plum wine is more after her heart.
Shaoxing officials have been vigorously dangling incentives to spur the revitalization of its prized drink. Clusters of so-called "yellow wine towns" have sprouted across the city, in hopes of better parlaying a local specialty into tourism. Early this year, the city's rice wine association elected a former deputy mayor as its new chairman, underscoring the greater official attention toward the industry. The association's official slogan is, "To make Shaoxing wine a truly global product!"
Paradoxically, despite the lofty words, Zhang thinks that promoting rice wine abroad is easier than at home, largely because foreigners have next to zero understanding of rice wine and its past. This, in his view, makes it less likely to be encumbered by the negative stereotypes that hobble its growth within China.
This might hearten sellers concerned about their revenue streams, but Wu, the Fudan student, said she cares more about flavor and mouthfeel than a tagline advertising something as "steeped in ancient history."
As an alternative, she suggested that rice wine makers produce an equivalent of Sangria or sparkling wine to cater to young customers. "Maybe this is the kind of innovation that rice wine should try?"
Re-imagining rice wine for contemporary times
Rice wine makers understand innovation is necessary. Some have already begun tweaking recipes to create a more "modern" product.
Riding the crest of this wave is Wú Huī 吴徽, a 36-year-old banker-turned-entrepreneur. In 2012, he opened a store tucked away in a narrow alley in Shaoxing, selling treats such as milk tea infused with rice wine.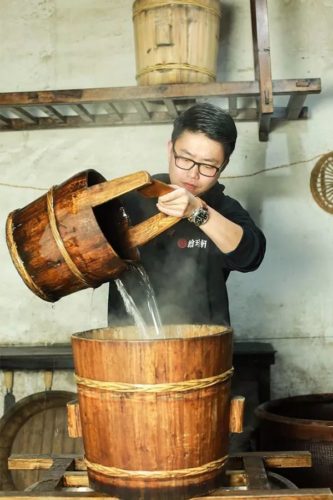 After a bumpy start, business began to flourish, topping out at 700 cups of milk tea sold in a single day. "The majority of rice wine-related goodies in the market are our brainchild or inspired by our brainchild," said the bespectacled Wu. "Rice wine-flavored milk tea is just one amongst many."
After finding initial success with the milk tea, he branched out into assorted product categories that, weird as they might appear, also contain rice wine: popsicles, chocolate, and cold brew coffee.
When his fledgling business gained a more solid footing in 2017, he traded his job at a joint-stock bank for a full-time entrepreneurial endeavor, despite being met with strong opposition from his family. Even today, family support remains muted. This is despite the fact that he sells 10 million yuan ($1.5 million) of products every year. "[My parents] think a bank guarantees job security, whereas entrepreneurship is highly risky, not to mention that rice wine is a field rife with uncertainties," said Wu, who also hails from Shaoxing.
So far he is explicitly against a foray into traditional rice wine, convinced that such attempts will do little to win the drink its respect. "We not only expanded the applications of rice wine, but broadened the scope of fermentation skills as well," Wu said. "That means we will redefine a product of our own."
He is among a rare breed of millennial who is willing to put up with the hard labor and low pay to pursue this career. The shrinking pool of people drawn to winemaking is forcing people like Zhang to ponder how to preserve this cherished craft — which was designated as a national intangible cultural heritage in 2006.
To educate the public about the beauty of Shaoxing wine, Wu began last year to offer tutorials and organize blind tasting sessions. He said these activities found a receptive audience among people primarily born in the 1980s and '90s. In particular, returnees from abroad are curious, as their exposure to booze overseas make them ideal candidates for crash courses on rice wine.
"If they've ever sampled Sherry or Port, they would be surprised to find that the taste of Shaoxing wine, with which their fathers and grandfathers are familiar, is the same," Zhang said.
For these people, they might relearn something about their national drink. Long before baijiu distilling techniques came into the picture in the 1300s, the staple drink in China was rice wine. For rice wine makers like Zhang and Wu, they are hoping to restore just a tiny portion of that former luster.