Meditative 'Buddha Mountain' gets 10th anniversary director's cut
Society & Culture
The award-winning "Buddha Mountain," starring Fan Bingbing, is now available on demand, giving international viewers a director's cut of what might be controversial filmmaker Li Yu's strongest work.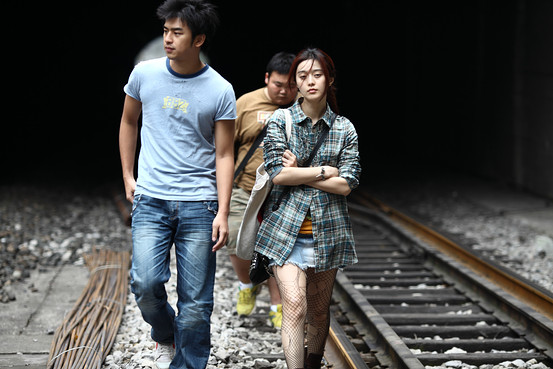 Since making mainland China's first lesbian-themed movie Fish and Elephant (今年夏天 jīnnián xiàtiān) (2001), director Lǐ Yù 李玉 has established herself as one of the country's best-known female filmmakers. Although her work has gotten bigger and conventional, like the recent comedy caper Tiger Robbers (阳光劫匪 yángguāng jié fěi), Li started with documentaries and arthouse fare that frequently upset censors. The LGBTQ romance Fish and Elephant was confined to foreign film festivals. Li's follow-up, Dam Street (红颜 hóngyán) (2005), about a teenager who has to give up her child in the 1980s, was doomed to the same fate. Lost in Beijing (苹果 píngguǒ) (2007) hardly fared better: its four-person love affair set in the underground of Beijing was eviscerated with cuts before it was banned outright.
Like many a Chinese auteur, Li seems to have toned her radicalism down so her social criticism could actually reach domestic viewers. Her Buddha Mountain (观音山 guānyīn shān), released a decade ago, is a bridge between Li's gritty indie days and her lighter mainstream work. It continued her fascination with aimless youth, strong women, and the underbelly of society, but was accessible enough to see a release in her home country with good reviews and a healthy box office. To mark the movie's 10th anniversary, Cheng Cheng Films has brought Buddha Mountain stateside to VOD, treating viewers to the director's cut of what might be Li's strongest film.
The youthful lost souls of Li's fourth feature are a trio of friends in Sichuan who refuse to go to college or work steady jobs. All three are the product of broken families. Ding Bo (Chén Bólín 陈柏霖 of Blue Gate Crossing) drifts around on his motorbike, upset with a father who's about to take a new wife. His friend Fatso meanwhile gets beaten at home and shaken down for money in the streets. Nan Feng (featuring Li's favorite collaborator, the now-scandalized Fàn Bīngbīng 范冰冰 ) sings at a bar, but ruins that gig when she accidentally throws a speaker at a listener in the audience. Nan Feng avoids her parents because her father is a drunk who's always abusing her mother.
These characters are typical of the Sixth Generation films of the time, but their chemistry and energy make the trio's cliches a lot more forgivable. After Nan Feng ditches her job, the friends decide to rent a room from an old opera singer named Chang (played by Sylvia Chang 张艾嘉 Zhāng Àijiā). With a wrecked car in her garage, and a surprising amount of money hidden in her house, Chang is an intriguing woman. But the friends are too self-absorbed to pay any real attention to her. They feel stifled by her harsh, old-fashioned rules, so steal her cash and play more pranks on her than what any reasonable landlord might tolerate.
Despite the deep generational divide,the tenants share with Chang a sense of loneliness. Their opinions of Chang change as they dig into her dark past, and they find themselves bonding and confiding with her as they rebuild a temple together. The presence of the faded opera singer, with her age and gentleness, brings a refreshing touch to the ennui and gloom of the modern Chinese art film.
Director Li's first three features were concerned with mood over plot, and Buddha Mountain suffers most when it goes for weighty moments. There's a scene, for example, when Chang and her brood of delinquents visit a town wrecked by the 2008 Sichuan earthquake. It's powerful enough to gawk at the place's crumbled buildings and ruins, but the film cheaply amplifies this point when it cuts to real footage of the earthquake's victims. A few other key scenes are burdened with on-the-nose dialogue that should have been shown instead of muttered and shouted in conversation.
These moments are the exception rather than the norm, however. The down-to-earth performances keep the film grounded with handheld camerawork that captures the chaos of the city as well as it does the quiet, meditative quality of the countryside the characters explore. Buddha Mountain dwells on some heavy subjects — its misfits contemplate death, loss, and the impermanence of life — yet even with its sorrow, there's a surprising loveliness and strength to this suffering as Chang and her friends form the family each of them have lost or been denied.