5 Chinese athletes to know at the Tokyo Paralympics
Society & Culture
China is a Paralympics powerhouse, but we won't just be watching the medal count this year. There are several athletes whose stories make them easy to root for.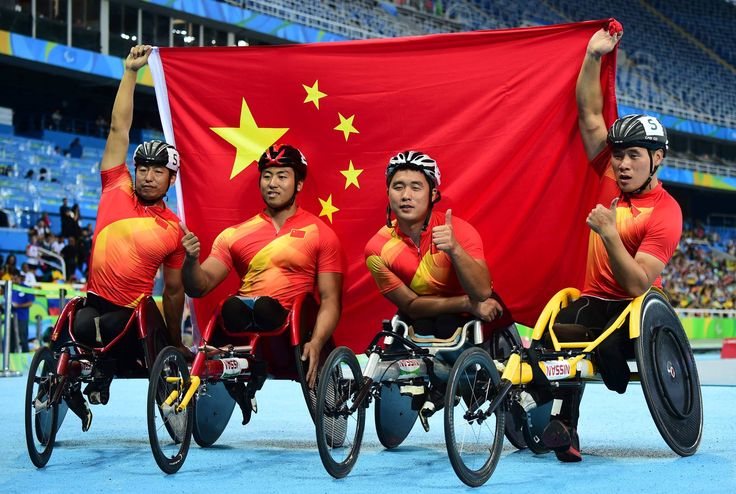 When it comes to the Paralympics, China's dominance is unmatched, having topped the overall medals table at every Paralympics since the Athens Games in 2004. At Rio 2016, China's 239 medals, 107 of them gold, represented the largest medal haul of any nation in the history of the Paralympics.
This remarkable string of success is unlikely to be challenged at the Tokyo Paralympics, which begins tomorrow.
Boasting the biggest overseas contingent of 255 athletes, just five shy of hosts Japan, China will compete in every sport apart from wheelchair rugby and equestrian. With so many Chinese participants, it's hard to spotlight only a handful — but these are five we'll be keeping our eyes on.
Wú Chūnyàn 吴春艳, archery
A gold medalist in the team recurve event in Rio, Wu had to settle on silver in the individual event. That's because her closest rival is a powerhouse: the Iranian tour de force Zahra Nemati.
Nemati, perhaps one of the best female archers ever, has dominated her category since her Olympic debut at London 2012. Since then, Nemati has won gold at Rio and in the world para archery championships and Asian Games.
In Rio, Wu pushed Nemati closer than anyone has, losing out in a nail-biting 6-4 battle. The Iranian came from behind to win on the last two arrows. Then, in the mixed team event, it was Wu who shot the final arrow that secured China the gold against Nemati's Iranian team.
Like ships passing in the night, the two have chosen to compete at different major events in the five years since Rio. But in Tokyo, the two are on a collision course. It's no exaggeration to say this may be the most highly anticipated archery clash in a long while.
Only taking up archery in 2012, Wu will feel like she now has the experience to go out there to win that individual gold — and perhaps supplant Nemati's spot at the top of the sport.
The women's archery heats start this Friday, August 27, with the knockout part of the competition, including the final, on Thursday, September 2.
Táng Xuěméi 唐雪梅, sitting volleyball
Another monumental battle is on the cards in women's sitting volleyball.
Although the battle we were promised between China and the U.S. never materialized in women's Olympics volleyball after China bombed out in the group stage, these two powerhouses are almost guaranteed to square off in the Paralympics.
The two sides have faced each other in the final at every Paralympics since 2008, with China winning every final…apart from the last one at Rio. China not only lost its first-ever Paralympics sitting volleyball game, but lost handily:
Consider this year the team's redemption tour.
At the center of the Chinese team is 2008 Sichuan Earthquake survivor Tang Xumei. When the earthquake hit in 2008, Tang was only 14 years old, and in school. The earth began to shake. Running out of her collapsing dormitory, Tang fell through the floor and became trapped under rubble for nearly 28 hours.
When she was finally rescued, she had to have her left calf amputated.
In the following period, the once-sporty student became quiet and withdrawn until she discovered sitting volleyball, and was offered the chance to join a Shanghai-based club.
Since then, she has gone on to become an essential part of the China women's national team, helping her team win gold in London:
Now 26, Tang is at the height of her powers and will have a major part to play if China is to reclaim the gold from the U.S.
Tang and her team start their hunt on August 27, with the women's final on September 5.
Jiǎng Yùyàn 蒋裕燕, swimming
At 16, Jiang Yuyan has achieved more than most athletes will in a lifetime.
The double-amputee, who lost her right leg and arm after being run over by a truck at the age of four, made a splash at the 2018 Asian Para Games when, at just 13, she won three golds and a silver at her major competition debut.
Success has always been on the cards for Jiang after she won her first gold in the 50m butterfly at the Chinese national para swimming championships back in 2015 when she was only 11.
In 2017, Jiang won six golds at the same event, claiming the national title in the 50m butterfly, 50m freestyle, 200m individual medley, and 100m backstroke.
When she made her first appearance on the global stage at the 2019 World Championships in London, Jiang secured three golds in the 100m freestyle S6, 400m freestyle S6, and 50m butterfly S6, as well as two bronzes in the 50m freestyle S6 and 100m backstroke S6.
In the 400m freestyle, the then 14-year-old broke her first world record, after she made easy work of the former world record holder and 2016 Rio champion Yelyzaveta Mereshko in the final.
Jiang is, of course, the heavy favorite in the butterfly and freestyle events, and will be among the contenders for the backstroke and individual medley events too.
She will start her medal haul in the women's 50m freestyle on August 25 before returning on August 30 for the 50m butterfly, with her competing every day until September 3.
Liú Yǔtóng 刘禹彤, badminton
From one teenage prodigy to another, Liu Yutong is yet another Chinese sensation hoping to show off her skills on the world stage.
The 17-year-old is already a name to be reckoned with in the sport. At 13, she won her first World Championship title in the women's singles wheelchair (WH2) category in 2017, before retaining her title in 2019.
Shy and reserved off the court, Liu is fierce on it. Inspired by her hero "Super Dan" — Fujian native and recently retired badminton legend Lín Dān 林丹 — she will be on the path to exceeding Lin's legendary career if she can secure gold in Tokyo.
With gold medals at every Asian Para Games and World Championships, including in the doubles, Liu is the person to beat at Tokyo.
In her way is hometown favorite Yuma Yamazaki, Thailand's Amnouy Wetwithan, and compatriot Xu Tingting, but with victories over all of them at major tournaments and the medals to prove it, Liu will be feeling confident.
Badminton starts on September 1 and concludes on September 5.
Cuī Zhé 崔哲, powerlifting
Cui was first brought to the world's attention as part of the Netflix series Rising Phoenix last year. The 34-year-old discussed her low expectations for life in a wheelchair before Beijing 2008 and how winning a silver medal began to change her outlook.
Competing in the 40 kg women's powerlifting event, Cui has yet to go one better than silver — which she has won at each of the last three Games, losing out to Turkey's Nazmiye Muratlı in 2012 and 2016.
Moving up a weight class to 45 kg, this could be Cui's last chance to win gold, with rumors that weightlifting events could be taken off the Olympic and Paralympic schedule in Paris in three years' time.
Cui will have to overcome her nemesis Muratlı if she is to win that elusive gold. Muratlı is squarely in the twilight of her career at 42, and it was Cui who won the 2017 and 2019 World Championships, including setting a new world record.
The competition at Tokyo promises to be a thrilling affair that could go right down to the final lift.
Cui and Muratlı will face off on August 26.
---
The China Sports Column runs every week on SupChina.