China Foundation for Poverty Alleviation takes mission to 'disseminate good' overseas
Society & Culture
"There are fewer people living in absolute poverty in China since the eradication of extreme poverty, and both the government and corporate sector have adequate resources to meet the needs of low-income people. I tell international companies and foundations now that if they want to work with CFPA, there's more value in our international projects because the marginal effect will be maximized," says Xingzui Wang, Executive Vice President of the China Foundation for Poverty Alleviation.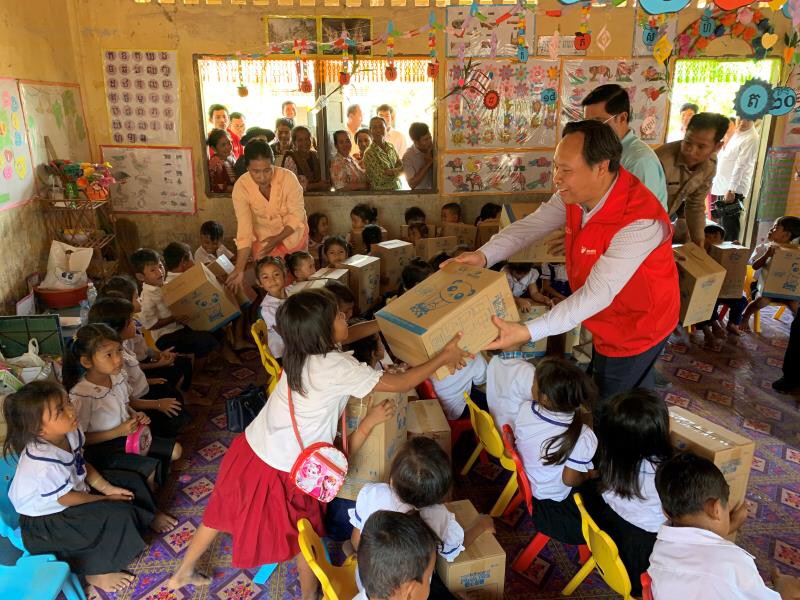 We spoke with Xingzui Wang, Executive Vice President of the China Foundation for Poverty Alleviation (CFPA), to discuss rural revitalization in a rapidly developing China, promoting poverty alleviation projects abroad, and forging partnerships with international funders. (Disclosure: Xingzui is also my friend and former supervisor, from when I interned with CFPA back in 2015.) The interview has been edited for clarity and length.
---
Serica: What is CFPA's mission, and how did you become involved in the cause of poverty alleviation?
Xingzui Wang: China Foundation for Poverty Alleviation (CFPA), established in 1989 and headquartered in Beijing, is one of the largest nongovernmental charitable organizations in China in the field of poverty alleviation. CFPA's mission is to "disseminate good and reduce poverty," and at the same time promote reform, mobilizing social participation and building partnerships. In China, CFPA alleviates poverty through a range of projects, including providing healthcare, nutritious food, and education scholarships to vulnerable populations, promoting economic development through infrastructure construction, tourism, and microfinance, and conducting cooperative efforts aimed at disaster relief and public advocacy.
After I graduated from university, I was assigned to work in the Ministry of Agriculture, where I worked on intergovernmental agricultural cooperation projects for rural farmers. In the mid-1990s when I was working in the Ministry of Agriculture, I got an opportunity to work for a World Bank-financed poverty reduction project in southwest China. This was how I officially became involved in the cause of poverty alleviation.
Serica: Poverty alleviation is a strong area of philanthropic support in China, accounting for over 24% of high net-worth individual annual giving in 2020. What do you see as the reason behind this trend?
Xingzui: Many Chinese people have experienced poverty themselves, especially before China started opening up its economy in the 1970s. They understand the affliction on a visceral level, and are thus willing to support the cause of poverty alleviation, especially by helping the most needy. National policies and other trends have made it easier for people to become more involved in poverty alleviation, including through public awareness campaigns on philanthropic participation, the advent of mobile-based donations, and livestreaming.
Serica: President Xi Jinping recently declared that poverty has been eradicated in rural China. How do you still make the case for CFPA in the eyes of critics who claim that Chinese NGOs don't need philanthropic aid to support its poverty alleviation sector?
Xingzui: Absolute poverty has been eliminated, which is a huge achievement, and indeed CFPA's work will make adjustments accordingly, such as changing our name and adjusting our programs. However, it doesn't mean that there are no low-income people in China. Considerable effort is still needed to consolidate the achievements of poverty alleviation to date and promote rural revitalization, especially to prevent low-income households and the relative poor from falling back into poverty. The National Administration of Rural Revitalization was established to promote the overall planning of rural revitalization. As for NGOs, support from various stakeholders and resource mobilization are still critical for us to implement philanthropic programs.
Serica: Who are some of CFPA's largest philanthropic supporters overseas?
Xingzui: We've been fortunate to have the support of international partners over the last two decades. We received support from Mercy Corps and Ford Foundation for domestic projects as early as 2001. Some of our other major international foundation partners have been the Asia Foundation and Give2Asia. We've also received funding from American corporate sponsors, including Apple, JP Morgan, Mars, Yum China, Citi, Walmart, and Amazon.
Serica: We hear a lot about Chinese government aid directed toward the Global South but not often Chinese NGOs. How has CFPA shifted from domestic support to also promoting poverty alleviation overseas in the years since its founding?
Xingzui: Part of it was due to internal forces. The economic development of China and increasing international exchanges have increased the Chinese government and the public's willingness to support international humanitarian aid and development. Larger investment by Chinese companies overseas has also meant more opportunity for Chinese NGOs like CFPA. Additionally, our vision and mission calls for our actions on poverty reduction both domestically and internationally. Another reason for our shift internationally was due to encouragement and support from our overseas funders.
Serica: Why have funders been supportive of this transition to doing work internationally?
Xingzui: CFPA's first international project was in response to the 2004 tsunami in Indonesia, where we raised funds for affected disaster victims. We went on to fund similar humanitarian efforts in Haiti and Francophone Africa. Mercy Corps took note of this work and inspired us to embark on an internationalization endeavor. Our previous Executive Director, Daofeng He, attended "Interaction," an NGO conference in the U.S. chaired by Mercy Corps' then-CEO Neal Keny-Guyer. He recommended that we work together to create a department under CFPA that was responsible for disaster response and community development projects. We saw this opportunity as a good chance for CFPA to differentiate from other Chinese NGOs and to sustain and expand our own development. On the basis of that recommendation, we founded our International Development department in 2009. We compiled a team of a dozen staff who went to the U.S. to receive a two-week training at Mercy Corps' headquarters and visited with various NGOs. In order for staff to gain field experience, we also sent staff to Mercy Corps country offices in Ethiopia, Myanmar, Nepal, and Jordan.
Gradually, we established country offices in Nepal, Myanmar, and Ethiopia. This enabled us to be more coordinated in responding to emergencies, and so that instead of having a one-time response, we could establish a real presence on the ground. This also ushered in a gradual shift in our program funding. From 2013-2014, support went from domestic projects to capacity building for international projects. By then, we already had the capacity to implement domestic projects, so the competitive advantage in supporting our international arm was bigger than supporting our domestic one. We sent other staff to visit our country offices with the support of Mercy Corps. In 2018, we also brought in local partners from Ethiopia, Nepal, and Cambodia to have a one-week training at CFPA's headquarters in Beijing.
CFPA has undertaken work in 23 countries outside China and has long-term projects in Myanmar, Nepal, Ethiopia, Cambodia, Pakistan, Laos, Uganda, Namibia, and Sudan. CFPA has also taken an active role in the campaign for more Chinese NGOs to launch humanitarian projects abroad. Other Chinese NGOs are interested in becoming international but lack experience and don't know what challenges they will face in other countries. As a result, we've developed country-specific operational manuals to share best practices and lessons learned with interested Chinese NGOs. We've also received funding to conduct field assessments on how Chinese companies can better work together to incorporate worker voice and local communities into their CSR efforts.
Serica: Why do overseas funders want to fund CFPA rather than local organizations in developing countries?
Xingzui: We've built up trust and a reputation within the international community. Many organizations and corporations want to donate to us because they know our track record and want to encourage us to continue doing this kind of work. Volkswagen in Changchun donated 80 million RMB [$12.4 million] to CFPA for COVID relief efforts. They felt we would be able to use the funds better. Give2Asia originally made a 50,000 RMB [$7,700] donation to fund microfinance in China. We lend between 7-8 billion RMB [$1.1 to $1.2 billion] per year, so the donation — while meaningful — was only a drop in the ocean. We encouraged them instead to consider diverting their funding to support a pilot microfinance project that we were launching in Nepal and they agreed. There are fewer people living in absolute poverty in China since the eradication of extreme poverty, and both the government and corporate sector have adequate resources to meet the needs of low-income people. I tell international companies and foundations now that if they want to work with CFPA, there's more value in our international projects because the marginal effect will be maximized.
Serica: Has it been difficult to sustain your mission with competitors such as Ant Group making inroads in the sector?
Xingzui: Ant Group, Alibaba, and Tencent are actually our partners rather than competitors. We work closely with them. They act as funders and we serve as implementers. As platforms, they can raise funds on a massive scale, and they boost their reputation by working with partners like CFPA. Senior leaders from Alibaba and Tencent are actually sitting on the CFPA Board, and one of our vice presidents also sits on the Alibaba Philanthropic Board. Ant Group, for example, has a huge forestation project to replan deserts in Gansu and Inner Mongolia and we are one of their implementing partners in the field. Tencent and Alibaba have raised funds for our Smiling Children (School Feeding/Food Distribution) program, which is a nutrition and education project that has reached over 66,000 people across five countries. Working with them has raised standards and requirements both in terms of fundraising (matching) and implementation (transparency, blockchain), which has been good for the evolution of the philanthropic sector in China.
Serica: COVID-19 and the declining state of U.S.-China relations have had a profound impact on the philanthropic sector. What impacts have you seen on your programming and the ability to fundraise both domestically in China and abroad?
Xingzui: COVID has affected us both positively and negatively. On the positive side, we've raised more funds devoted to anti-COVID actions and programs both domestically and internationally. U.S. foundations and corporate donors have continued to support our programs. Negatively, due to border control, implementation of our international projects have been adversely affected. We barely had any overseas trips, and our international portfolio came down by ⅓. Even domestically, we weren't able to go anywhere before July 2020. Our borrowers couldn't generate income and thus couldn't pay back their microfinance loans. We extended the repayment period and also distributed grants directly to borrowers and households affected most severely through our charitable fund. At the same time, our loan officers went to the villages as volunteers, helping to procure agricultural products that could be sold via e-commerce to urban customers at a premium. This effort is part of the Fairtrade E-Commerce Program (善品公社), which helped borrowers generate income to support themselves and get back on their feet.
Serica: For philanthropists looking to make the most impact on poverty alleviation, what causes would you recommend that they start? Are there any other innovative programs that CFPA is prioritizing as the next frontier of poverty alleviation?
Xingzui: For domestic Chinese projects, simple charity is often not the most effective. I would recommend contributing to something like microfinance or development projects, rather than simply giving money to a low-income person. As opposed to spending a one-time donation, lower-income people can reuse an investment like a loan in perpetuity. Lending money builds up capacity. Increasingly, we will be focusing our domestic efforts on three aspects of rural revitalization: livelihood development, ecological conservation, and rural talent development. The goal is to move more towards a model like microfinance which encourages building skills and capacities of vulnerable groups rather than simply giving money. Our Fairtrade E-Commerce Program will continue to develop a network of rural farmer's cooperatives to grow and sell high-quality agricultural products. Our Bona Villa Program will look to redesign and rebuild houses in rural villages throughout China to attract tourism.
Internationally, we will expand our portfolio of international operations, increasing the share of our international operations from 3% to 10%, covering more countries with more funding, projects, and staff. We will start, as we did domestically, with charity-like distribution of free meals and school bags. But gradually, we will also move more and more towards development projects like livelihood and business as we're pursuing in China now. We would be excited to work together with companies or foundations on our expanding international portfolio, especially in Southeast Asia and Africa.
To learn more about the China Foundation for Poverty Alleviation (CFPA), please check out their website (Chinese / English) and annual reports. To make a donation or get involved as a volunteer, follow them on Facebook or LinkedIn.
*
Want to learn more? The Serica Initiative's China Philanthropy & Nonprofit Newsletter is a monthly deep-dive into the trends, major players, and regulatory environment for philanthropic and nonprofit activity between the U.S. and China. Subscribe to the newsletter here.