#MeToo setback: Chinese court rules dismisses ex-intern's sexual harassment case against TV star
Society & Culture
A Beijing court rejected China's highest profile sexual harassment legal suit in which a former intern sued her former boss, a celebrity TV host. It was a setback for the #MeToo movement, but the alleged victim has vowed to appeal the judgement.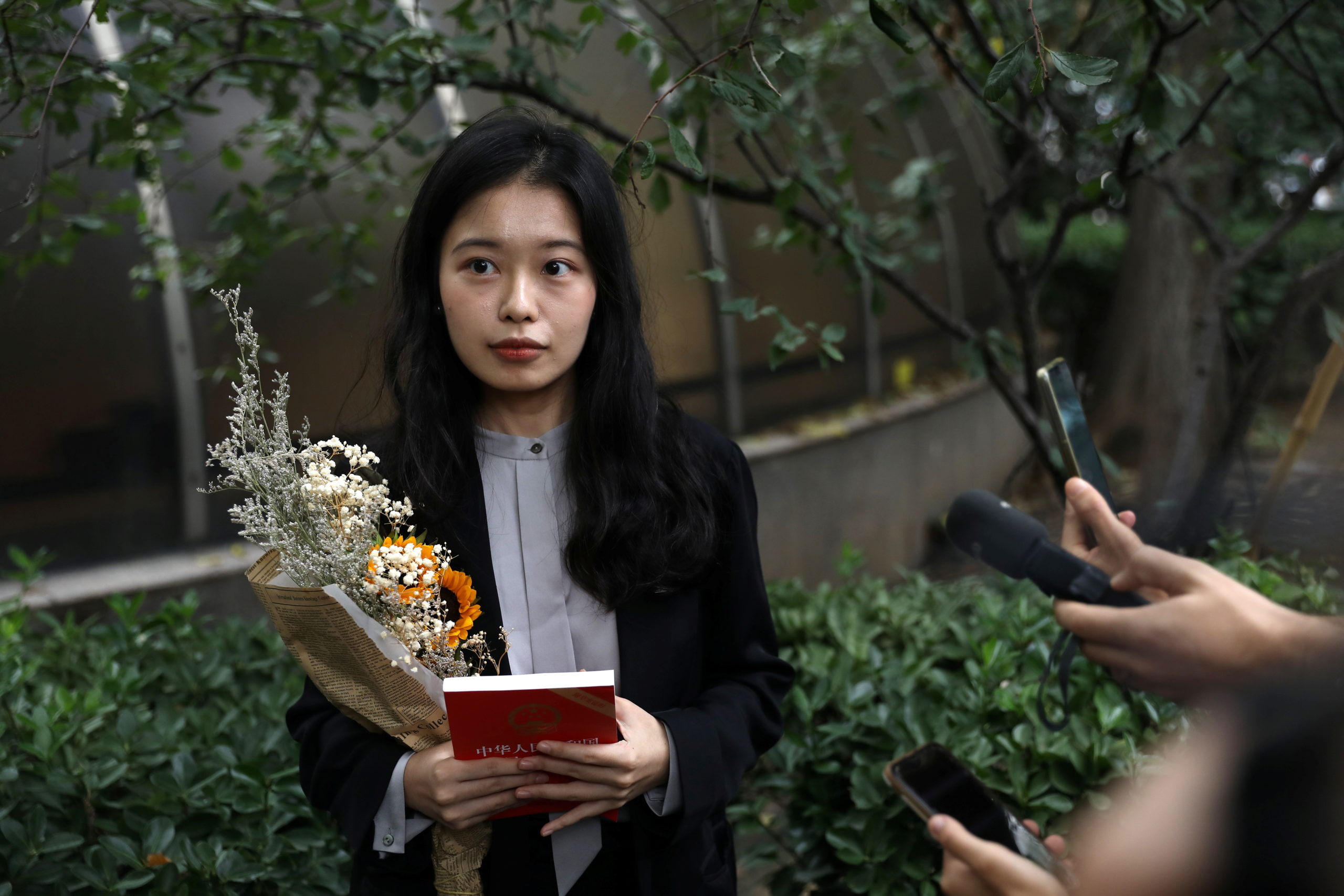 In a major blow to China's beleaguered but resilient #MeToo movement, a Beijing court has thrown out a lawsuit filed by Zhōu Xiǎoxuán 周晓璇, whose sexual harassment allegations against high-profile television host Zhū Jūn 朱军 has attracted national attention since 2018 and sparked increased awareness about sexual misconduct in the workplace.
In a ruling (in Chinese) released late on Tuesday night, the People's Court of Haidian District said that it had dismissed the case because Zhou didn't meet the burden of proof necessary to establish her claims that Zhu sexually harassed her when she was an intern at state television network CCTV.
"During the trial, the plaintiff and the defendant presented and cross-examined the evidence and conducted a full court debate over key points in their arguments," the statement read. "The court concluded that the evidence submitted by the plaintiff Zhou was not sufficient to support her claim that Zhu had sexually harassed her, and therefore ruled to reject her suit."
The China Vibe.
Subscribe to The China Vibe, our society and culture newsletter, to get a free weekly roundup of the most interesting stories from China.
In the summer of 2018, inspired by the courage of women who came forward with their allegations against Hollywood film producer Harvey Weinstein, which kick-started the global #MeToo movement, Zhou, also known by her previous alias, Xiánzǐ 弦子, first took to social media to share accounts of an alleged incident during her internship at CCTV in 2014. In a 3,000-word essay, the then 25-year-old claimed that while working on Zhu's celebrity interview show, Art Life 艺术人生, the TV star forcibly groped and kissed her in a dressing room.
Despite swift censorship, Zhou's post quickly went viral and resulted in an outpouring of support on social media. Zhu has consistently denied the allegations via his lawyers and fired back by suing Zhou for hurting his "reputation and mental well-being," demanding 655,000 yuan ($101,000) in compensation. Zhou then countersued Zhu, asking for a public apology from Zhu and 50,000 yuan ($7,780) in damages. 
As she fought the legal battle, Zhou also leveraged her fame to speak openly about women's issues in the country and help abused women seek justice. As a symbol of China's fledging #MeToo movement, Zhou's experience has prompted many Chinese women to share their stories of sexual harassment and assault in the past few years, causing a radical shift in the country's cultural outlook regarding sexual misconduct, power dynamics, and the strength of women's words.
The first hearing of Zhou's case was held behind closed doors in December 2020. Though not showing up for the event, Zhu for the first time personally addressed the controversy following  the hearing, declaring flatly in an interview that he never had "physical contact" with Zhou and that he was a victim of "smearing."
In May, without giving an explanation, the court abruptly canceled the second hearing on the day it was supposed to take place. The court had also rejected Zhou's request to adopt a new cause of action for her case, one that specifically cited sexual harassment under China's newly passed Civil Code. Instead, it stuck with Zhou's original complaint, which was filed as a dispute about "personality rights," a broad term under Chinese law that refers to the rights of life, body, health, and other rights enjoyed by civil subjects.
Speaking to a small group of supporters after the conclusion of Tuesday's hearing, a tearful Zhou said that she was "exhausted" from the prolonged ordeal and "disappointed" about the verdict, according to Laurie Chen, a China correspondent for AFP. "I have done all that I can. I knew this would be the last hearing, but I never imagined it'd turn out like this," she said, adding that she was thankful for all the support on social media, which she described as "a vital source of solidarity" that helped her through the previous three years.
Later in a statement (in Chinese), though, Zhou wrote on her WeChat account that her team would file an appeal. The court, she said, treated her unfairly throughout the procedure by means like blocking her repeated efforts to retrieve video footage evidence and having a psychologist involved. "There is no shame in failure. I'm honored to have stood with everyone in the past three years," she wrote. "It wasn't an easy matter, but an extremely arduous and glorious journey."
Online, partial censorship was applied to discussion about the verdict, with only voices taking Zhu's side being allowed to exist. Many internet users called (in Chinese) Zhou an "attention-seeker," a "wolf in sheep's clothing" and a "liar," among many other negative labels. Others suggested that Zhou was "brainwashed by feminist ideologies" and was "under foreign influence to discredit the Chinese government."
Comments supporting Zhou or critical of the ruling were scrubbed from social media sites like Weibo and Douban. Meanwhile, the news was largely ignored by the media, with only a few publications reporting on the outcome of Zhou's lawsuit and heavily censoring the comments (in Chinese) on their articles.