Qingdao FC pulls out of China's upcoming soccer season
Society & Culture
Chinese soccer remains in dire financial straits.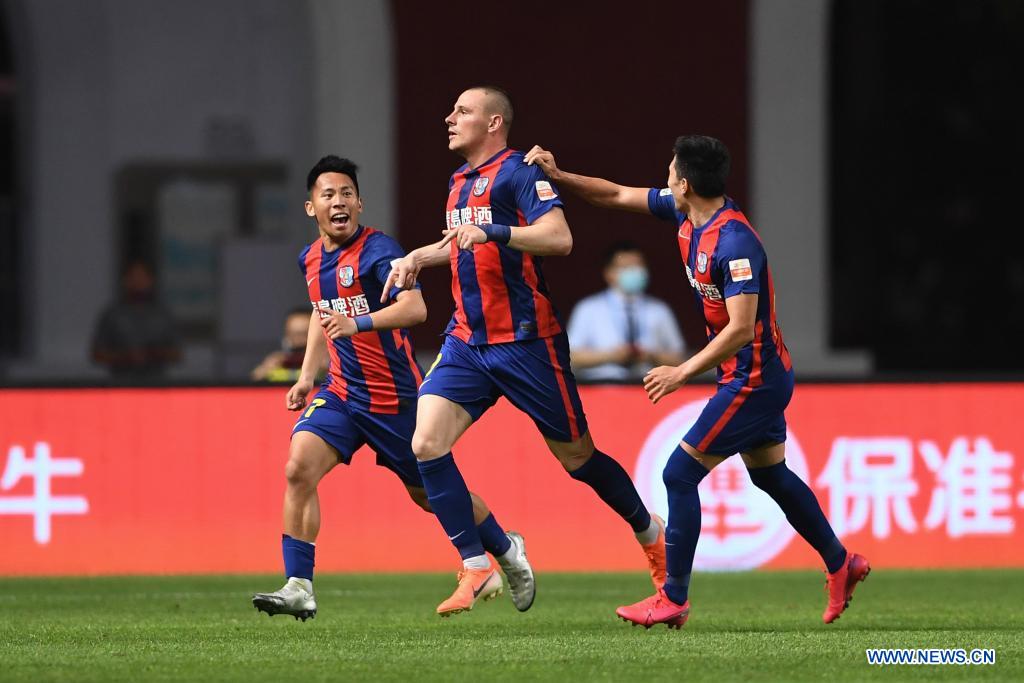 New season, same old depressing problems for Chinese soccer.
Qingdao FC became the latest club to withdraw from professional Chinese soccer. According to Qingdao Daily, the club has sent a letter to the relevant authorities about its decision not to participate in the upcoming season, citing serious debt.
Back in December, several players threatened to strike, with senior goalkeeper Zhào Shí 赵石 quitting the club over unpaid salaries.
The club was relegated from the Chinese Super League (CSL), China's top domestic league, at the end of last season following a run of one win in 17 league games.
The majority of clubs in China are currently in serious financial difficulty, with most struggling to survive with mounting debts and wage arrears.
Last week, Cangzhou Mighty Lions defender Wáng Zǐháo 王子豪 explained in a lengthy Weibo post that he had not been paid in a year and had resorted to borrowing money to pay for his mortgage and support his family. As reported by SCMP:
"I need to support my family, pay my mortgage, and now I'm borrowing money to live," he wrote.
"Everything you are doing now is hooliganism, and professional hooliganism. The Football Association asked us to reconcile in private first, and what you did is not to give money or freedom. Why can't I get my hard-earned money back?"
Guangzhou FC, China's most successful club, has been forced into a fire sale of its highly paid stars, including numerous naturalized players. Last week, Elkeson, the naturalized Chinese forward, signed with the Brazilian club Gremio.
The CSL was due to kickoff on Saturday, but has been delayed due to COVID-19. The revised opening day is now May 14.
~
Chinese Olympic Committee continues support for Russia
Russian Olympic Committee (ROC) President Stanislav Pozdnyakov has announced that the ROC and the Chinese Olympic Committee (COC) will work together to organize events and training camps between the two countries, following a videoconference between the two parties.
Following Russia's invasion of Ukraine, its country's athletes have effectively been banned or suspended from almost all international competitions, including at the recent Beijing Paralympic Games. But this has not stopped the COC from stepping up its cooperation with the ROC as part of its "2022-2023 China-Russia Year of Sports Exchanges."
Last week, Russia announced that China would participate in a new international handball tournament in Moscow, the so-called "Friendship and Peace cup."
Pozdnyakov said the two countries have agreed to take practical steps to deepen the relationship through sports.
"A working body will soon be created to prepare events that will take place in the next two years," Pozdnyakov said.
"We have already received a large number of requests from the national sports federations of Russia and China to hold joint training camps, competitions and tournaments both in our country and in China.
"We plan to consider issues related to the development of mass sports.
"The most important thing in our partnership is to complement each other so that our main beneficiaries — athletes — receive additional opportunities, including in the field of training, scientific, methodological and medical support, as well as in other areas of elite sports."
In addition to handball, several other future events have been proposed, which may include countries such as Kazakhstan, Armenia, Tajikistan, and the already-sanctioned Belarus.
Most recently, the Russian Paralympic Committee (RPC) said that its athletes have been invited to China following the COVID-19 pandemic — so not any time soon.
~
CBA's top two seeds, Liaoning and Zhejiang Guangsha, to face off for championship
It's been mostly chalk in the Chinese Basketball Association playoffs, with six non-competitive series in the quarterfinals and semifinals (all sweeps). In fact, the only close recent games were the final two, with Liaoning fending off Guangdong 117-116 in overtime and Guangsha closing out Shanghai 103-100 after Jamaal Franklin's last-second three-pointer rolled off the rim.
These finals will be a rematch of the 2018 finals, when Liaoning beat Guangsha 4-0 to win the franchise's only title. Guangsha is still looking for its first championship.
Quarterfinals:
(1) Liaoning def. (9) Shanxi 2-0
(5) Guangdong def. (4) Zhejiang Golden Bulls 2-0
(2) Zhejiang Guangsha Lions def. (10) Jilin 2-0
(3) Shanghai def. (6) Shenzhen 2-0
Semifinals: 
Liaoning def. Guangdong 3-0
Guangsha def. Shanghai 3-0
CBA finals — Liaoning vs. Guangsha, best 4 out of 7 — schedule (all times local):
Game 1: April 20, 7:35 p.m.
Game 2: April 22, 7:35 p.m.
Game 3: April 24, 7:35 p.m.
Game 4: April 26, 7:35 p.m.
Game 5 (if necessary): April 28, 7:35 p.m.
~
Other Stories:
Brooklyn Nets owner Joe Tsai is the face of NBA's uneasy China relationship (ESPN)
Inside China's Top Women's Soccer Academy (Sixth Tone)
For Rural Soccer Girls, a Long Shot Out of the Mountains (Sixth Tone)
China mulls setting up anti-doping agency in sports law overhaul (Xinhua)
Beijing Olympic Park Reopens: Winter Games Icon on Display (That's)
---
The China Sports Column runs every week.