Activists fight for LGBTQ adoption rights in Taiwan
Society & Culture
Same-sex marriage has been legal in Taiwan since 2019, but true equality has not yet been achieved. Social organizations and legislators are collaborating to make changes happen.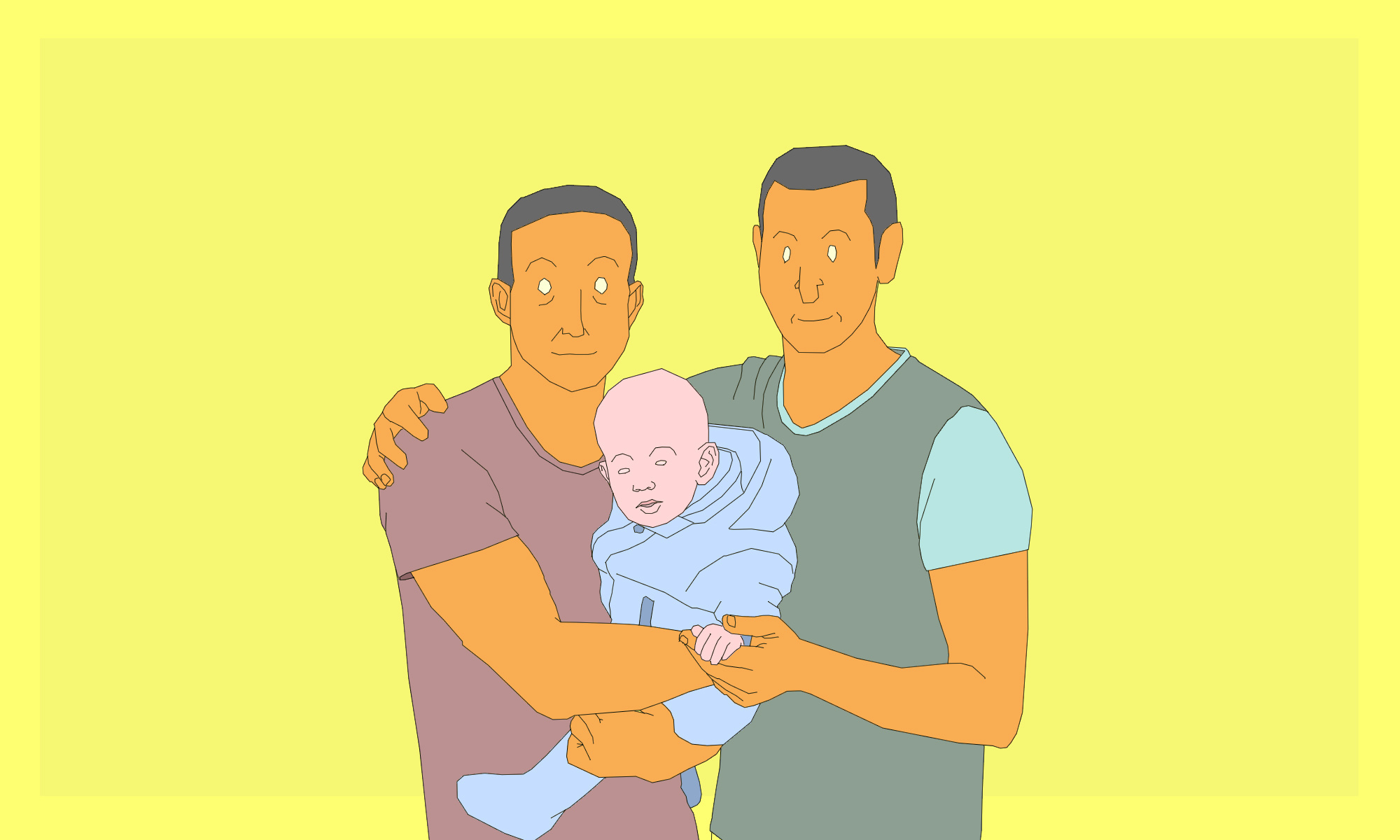 While same-sex couples have been able to wed in Taiwan since a landmark court decision in 2019, local LGBTQ campaigners say that the fight for true marriage equality is still not over.
"People think that because same-sex marriage was legalized, there are no longer any LGBTQ issues. Many legal changes still need to be made," said Du Sih-cheng (杜思誠Dù Sīchéng), secretary general of Taiwan's longest standing LGBTQ support network and education group, Tongzhi Hotline Association (同志諮詢熱線 Tóngzhì zīxún rèxiàn).
In May 2019, Taiwan's lawmakers approved a same-sex marriage bill, making the self-ruled island the first place in Asia to do so. But the law, passed through a bill separate from Taiwan's Civil Code, does not provide the same access to adoption, assisted reproduction, or transnational marriage rights as heterosexual couples. To secure full recognition for LGBTQ families, local rights groups and legislators are still advocating for legislative changes.
Under the status quo, Taiwanese law only allows single individuals — regardless of their sexuality — and heterosexual couples to adopt children unrelated by blood. For people in a same-sex marriage, they can only adopt as "step-parents"; that is, they can adopt the biological children of their spouses. This legal barrier has led some gay couples to delay marriage, and in some cases, seek divorce to allow one of the partners to adopt on behalf of the couple. 
Take Cammy (卡蜜 Kǎ Mì) and Huàn Huàn 奐奐, a lesbian couple from southern Taiwan. After being together for eight years, the couple wed when same-sex marriage was legalized in 2019, but after only a year the pair sought divorce so that Cammy could adopt as a single parent. Although they plan to remarry after they successfully adopt, they will have to fight through litigation to allow Huan Huan to legally register as a mother of their child.
Unable to co-adopt, the couple are painfully aware of the risk placed on the child, but they still seek to form a family, even in an unorthodox form. Cammy acknowledged that should something happen to her, her immediate blood relatives would gain custody, whereas Huan Huan would remain a legal stranger to the child. And should the couple separate, there would be no legal grounds for them to have joint custody. 
Another couple, surnamed Luó 羅 and Xiè 謝, have lived together in Miaoli for five years. In 2020, they decided to forgo their marriage plans to enable Luo to go through the adoption process as a single individual.
Xie said that although he and his partner will raise the child together, Taiwan's current law grants him no parental rights. "I will have nothing to do with the child's school applications. Even when I take them to see a doctor, I won't be able to show my relationship to them. I won't be able to officially intervene in their life. What can I do? I can only compromise," he said. 
Adoption agencies and social workers have had to navigate the restrictions placed on same-sex couples when matching adoptive parents with children. Lǐ Fānglíng 李芳玲, the director of Child Welfare League Foundation (兒福聯盟 Er fú liánméng), a Taiwanese non-profit organization dedicated to empowering children through advocacy and various services, said that social workers have been left to implicitly recommend that couples get divorced before trying to adopt. "It's very inhumane. Why should a family have to do this before adopting a child?" she said. 
Other couples have found loopholes by seeking insemination treatment internationally, explained Lee I-Ching (李怡青Lǐ Yíqīng), a professor of personality and social psychology at National Taiwan University. "In Taiwan, same-sex couples can have children if they are wealthy enough to go abroad. It costs a lot. It is a form of status discrimination," she said. 
Legal protection on a case-by-case basis
In January this year, husbands Wang Chen-wei (王振圍) and Chen Chun-ju (陳俊儒) made history by winning a two-year battle for Chen to be legally recognized as the father of Wang's daughter, whom he adopted prior to their marriage. The pair is Taiwan's first same-sex married couple to legally adopt a child neither are related to. Although their victory has brought hope to LGBTQ couples hoping to start a family, the case didn't establish a precedent or prompt legal changes. 
The lack of legislative progress is particularly disappointing given that public attitudes toward LGTBQ people and issues have been more positive than ever before in contemporary Taiwanese society. According to a 2021 poll by Taiwan Equality Campaign (台灣彩虹平權⼤平台協 Táiwān cǎihóng píngquán dà píngtái xié), nearly 60% of the respondents expressed support for joint adoption by same-sex couples and more than 72% agreed that same-sex couples can raise children well. 
The statistics are further corroborated by researchers such as Lee, who explained that interviews with same-sex couples highlight how "their families tend to be seen positively within Taiwanese society." 
Du, who also serves as a sitting member of Taipei City's Gender Equality Committee, urged Taiwan's lawmakers to catch up with public opinion and social reality. "We [Tongzhi Hotline] lobby for legislators to amend the law. Some of them have been really supportive," he said.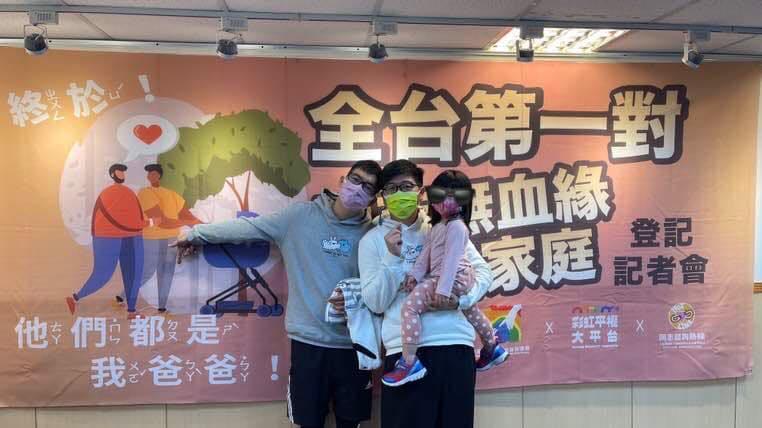 At the end of 2020, Democratic Progressive Party (DPP) legislator Fàn Yún 范雲 proposed an amendment to article 20 of the same-sex marriage law that would allow same-sex couples to co-adopt. Despite lobbying efforts by civil society organizations, the amendment has not yet been passed. 
"The only obstacle to the passing of the amendment is the Ministry of Justice," noted Lee. "All other government agencies show a lot of support, but they keep prolonging the process, saying they need time to gather information and write reports. We have seen nothing from them for at least three years."
Lee, whose involvement in LGBTQ activism began long prior to the legalization of same-sex marriage, seeks to use her research to make Taiwan's adoption landscape LGBTQ-friendly. "We have to change the law to allow LGBTQ people to become parents in a way that doesn't create such difficulties for them and their families," she said.
In early April, Lee spoke at a public hearing on the adoption rights of same-sex couples, along with a number of activist organizations and legislators. Meetings like this, Lee said, are a strategic way to add pressure to the Ministry of Justice, prompting it to remove legal complexities facing LGBTQ families when it comes to adoption. 
The Ministry of Justice has agreed to submit an assessment of the amendment to the Legislative Yuan, Taiwan's parliament, by the end of May. "We will soon see if they do," Lee said.