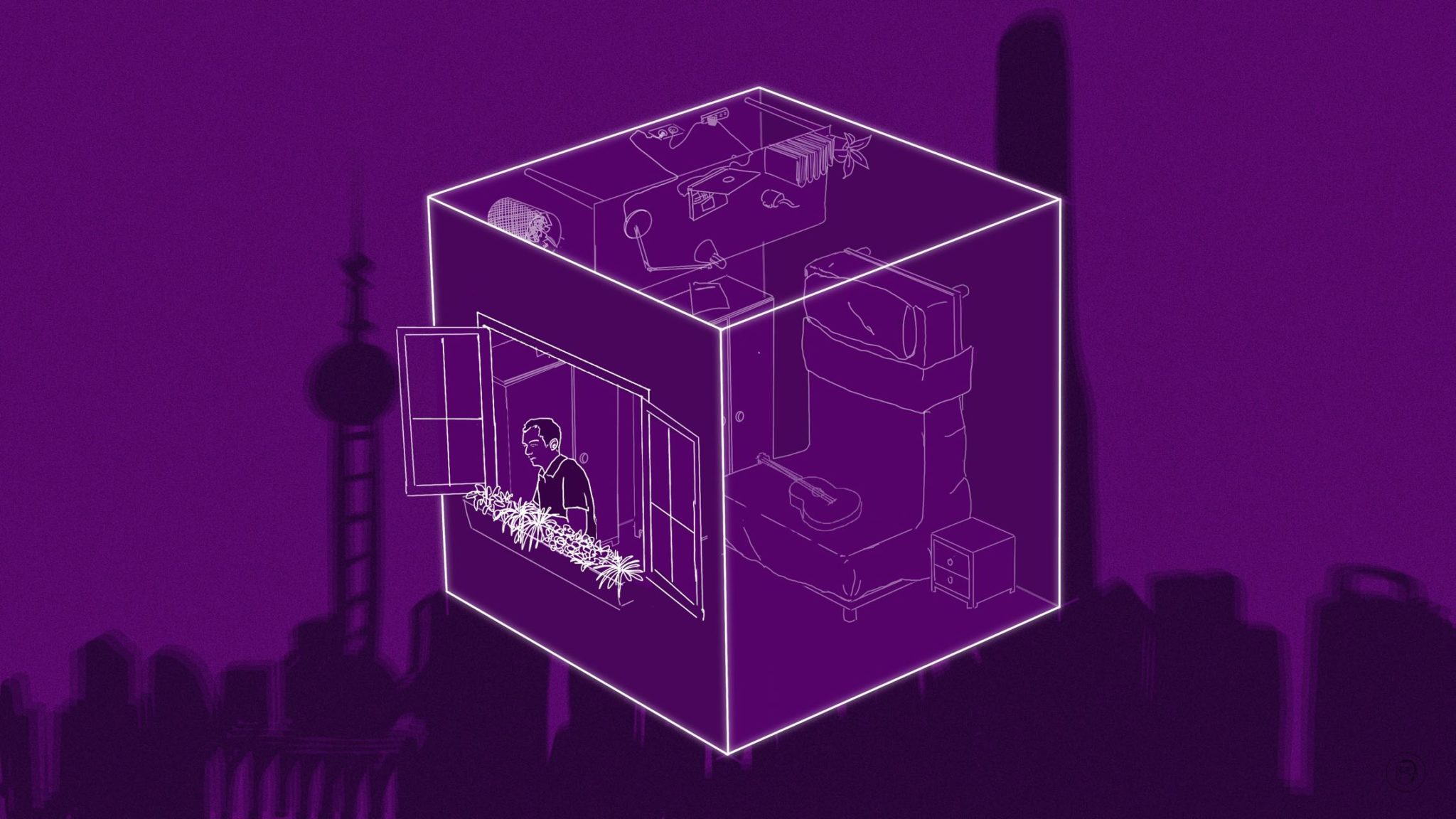 50 days in Shanghai lockdown
Society & Culture
Cameron Wilson lives in Pudong District, Shanghai. He has been locked down in his residential compound for nearly two months. Here's the diary of a man — and a city — slowly losing his mind.
March 19, 2022 • New normal • "48 hours" • An omen • Shanghai Night • "No plans for city lockdown" • Preparing for lockdown
Week 2
March 26 — April 1
"The virus is no trifling matter" • Stunning announcement for Pudong • Lockdown Day 1 • A rainy day • The rules • Not as bad as the Cultural Revolution • Pandemic panic
Week 3
April 2 — April 8
Whirling dervish • Golden silence • 2020 vs. 2022 • Zero COVID • Six-year-old • A tale of two sides of the river • The lies
Week 4
April 9 — April 15
Corgi • The VOID Shanghai underground techno crew • Food • Food? • Food! • Censorship • Football dreaming
Week 5
April 16 — April 22
Empty streets • Rationality • Fenced in • Rapport • "America's fault" • Helicopter • Egg bombs
Week 6
April 23 — April 29
Lord of the Flies • 24601 • Manna • Doom scrolling • Bleach • Yellow wine • Morning sneak-out, workout
Week 7
April 30 — May 6
Safety first • Pot banging • Back from the dead • Quitting social media • Privileged foreigner? • A beer with Mr. Spock • Persisting
Day 50: Jingmo and Epilogue: Day 59
The China Vibe.
Subscribe to The China Vibe, our society and culture newsletter, to get a free weekly roundup of the most interesting stories from China.
Day 1: March 19, 2022
It begins. We aren't surprised. A cropped photo of a document is sent to our residential compound's WeChat group notifying us that we will be locked down for 48 hours. My wife, daughter, and I have plenty of food, having just done a big shop a couple of days prior, so we conclude we easily have enough for as long as a week, should the "48 hours" be extended. A meme, "China's first domestic horror movie — another co-worker disappears each day," has been doing the rounds in the days leading up to our compound being locked. It captures the tone: dark and mysterious.
Meanwhile, "Victory comes from perseverance," Xí Jìnpíng 习近平 says.
Day 2: New normal
We're seeing more images online of people sleeping in their offices due to on-the-spot lockdowns. Chinese domestic media attempts to make light of these sleepovers by calling them a "new normal." Seeing something completely abnormal presented as something we should be getting used to does not instill much confidence.
Day 3: "48 hours"
Our 48-hour lockdown will be extended somewhat, according to our compound's WeChat group. Details of mass COVID testing are also sent. Our compound in Sanlin Town has around 1,300 residents. Despite the stereotype about Pudong District being all paddy fields until they built the Oriental Pearl Tower, it's actually a long-standing center of traditional Shanghainese culture, and our neighborhood reflects this. Residents in our compound are mostly Shanghainese of many generations, and everyone takes the testing in their stride with no drama — even my Shanghainese daughter in the above video. Everything feels under control, and despite the extension of the lockdown, the mood is calm and people are talking about going out next week.
Day 4: An omen
Shanghai reports a fifth consecutive day of escalating local transmissions. My wife starts to feel anxious about food, so she puts in an order with Freshippo, a grocery store across the street from us. As is the norm, it arrives within an hour: bags of instant noodles, rice, tofu, fruits, veggies, frozen dumplings, breads, and, at my behest, a box of Hoegaarden. Our moment of bliss is interrupted by a burning smell — it's coming from outside, where a disturbingly large bonfire is in the courtyard. It's a traditional mourning ritual for a resident who has died, but the lockdown has forced the family to carry it out in a less than ideal location.
The incident sparks off an angry debate in the compound WeChat group, souring the so-far civilized mood. Residents complain bitterly that there was no need for the fire to be so large that it blocked an entire sidewalk. It's the first sign of dissent so far.
Day 5: Shanghai Night
The lockdown remains novel so far — quality time at home with family is not something to be sniffed at. (Also living in our building are my parents-in-law.) However, the pictures we see on social media become ever more disturbing — I find a video on Chinese social media of city streets filled with shoppers at midnight set to the classic 1930s song "Shanghai Night."

Day 6: "No plans for city lockdown"
Around the dinner table tonight there is confusion between what we are officially being told and what we are seeing and hearing for ourselves. With around 1,000 cases found today — but the vast majority being asymptomatic — we wonder how the virus has not already spread all over the city, considering most of the people who tested positive didn't even realize they had it.
Day 7: Preparing for lockdown
The mood is starting to shift subtly. No one knows what's going on. At this point it feels like anything could happen. I feel like a family meeting is in order to make a plan in case of an extended lockdown, but there isn't much we can do but hunker down and wait it out. It's not a good feeling.
Day 8: "The virus is no trifling matter"
I find a tweet from March 10 that makes me chuckle. A boss of a supermarket asks his employees — "especially male comrades" — to step forward if they have visited a nearby massage parlor recently, as there was a confirmed case there. "Don't be embarrassed, the virus is no trifling matter," he says.
Day 9: Stunning announcement for Pudong
Stunning news on this Sunday night from the Shanghai municipal WeChat account: Pudong — basically the eastern half of Shanghai — will be locked down for five days beginning tomorrow. I am dumbfounded. The topic becomes the talk of the town. "We are witnessing history," says one Shanghainese friend of mine on WeChat. No one can understand how it can be OK for everyone in Pudong to be confined to their homes while those on the other side of the Huangpu River, in Puxi, are mostly allowed to roam as they please. The announcement that the lockdown will only be five days is also baffling, as five days surely isn't not long enough to stop the spread of the virus. On social media, a man throws 100-yuan notes from the top of a residential building:
More bizarre goings-on in locked-down Shanghai – a bloke throwing money off the top of a residential tower block. pic.twitter.com/IUCYB7BRUe

— Cameron Wilson 韦侃仑 (@CameronWEF) March 27, 2022
Day 10: Lockdown Day 1
Monday, March 28. We enjoy a fine roast chicken purchased last night from our local Freshippo store. After last night's announcement, all compounds in our sub-district were let out for a few hours to replenish dwindling supplies. We seized the opportunity and were confronted with queues out the door at the superstore — and police in the aisles to keep order. Nevertheless, we entered the fray and queued for an hour to get out, basically carrying as much as we could. I managed to sneak in another six-pack of beers.
#shanghai morning began with people with bags on wheels, basket on the bike in search for food to hoard. Line stretches out of the door and at the back of the shop at my local supermarket before 8 a.m. ahead of #lockdown April 1st on this side of the city. Not #Covid_19 friendly. pic.twitter.com/5orCfW0KXx

— Jennifer Pak (@jpak25) March 28, 2022
Day 11: A rainy day
This appears at the entrance to our building: "Don't step outside, thanks for your cooperation." As it happens, it rains heavily most of the day and no one goes out anyway. An asthma patient dies in Pudong. Earlier this week, another man died from kidney failure. Both are victims of the city's COVID restrictions. The public is outraged.
Day 12: The rules
I have my first clash with an authority figure. As I'm taking my daughter down to a small kids' playground around lunchtime, I discover a new policy in place that says we have to stay indoors. A neighborhood warden urges me to go back. She's a volunteer and someone who lives right next to me. I am confronted with an age-old inner conflict about how to deal with these sorts of situations. Do I protest and look like the dumb foreigner who doesn't respect Chinese ways? Or do I go along with it because méibànfǎ 没办法 — nothing to be done — and because I don't want to upset someone who is only doing her job? I say to her, "Look, come on, don't you think this is ridiculous? It was fine for over a week. Why is it suddenly not OK?" She looks at me with embarrassment on her face. "Yes, Cammy, I know it's hard to accept, but I'm just asking you to follow the rules we have all been told to follow." I reluctantly agree and move back inside, my mood foul. I throw my keys on the floor in frustration and swear my head off once I get inside…only to find my mother-in-law is in the kitchen and has heard everything. Lockdown just got a lot tougher.
Day 13: Not as bad as the Cultural Revolution
The fallout of my flip-out yesterday is mainly embarrassment, but there is an unexpected upside. My wife says, "My mom heard you shouting like a crazed fool yesterday and doesn't understand why you were so upset about it." I end up apologizing to her. It turns out that, as a survivor of the Cultural Revolution, having to stay in your apartment for a couple of weeks is child's play to her. This gives me a renewed perspective and I tell myself the situation isn't that bad — I could be back in 1970s China. And at least I'm not sleeping in the office.
A life-saving collaborative document called "Shanghai Medical Emergency Help" begins to circulate on the Chinese internet.
Day 14: Pandemic panic
Mother-in-law seems to be giving me a wide berth due to my fit of pique…the complications of cross-cultural families can be tricky in the best of times, and this lockdown just exacerbates the awkwardness at home. People of her generation think everyone should accept whatever falls upon them from above. I want to explain that this is not in the Scottish DNA. But, wisely, I let it slide.
The hashtag "Is it really difficult to buy groceries in Shanghai" #上海买菜到底难不难# goes viral on Weibo. "I'm so hungry that I can't go to bed. I can't believe this is happening in Shanghai in 2022," one user writes. Others say that pandemic panic is worse than the virus itself. In the following video shared by China Digital Times, residents in Pudong yell, "We want cheap food" and, "The police do nothing, the police don't care."
Day 15: Whirling dervish
Daily lockdown routine is more tedious than one can imagine (and I'm not the only one who feels mentally strained). Lunch hour is spent actually making your lunch. My young daughter requires almost constant supervision to make sure she pays attention during her online classes. During the breaks between classes, she tears around the apartment, knocking over furniture and throwing soft toys around the room. Dinner means starting to cook at 5 p.m. or earlier. My mother-in-law regularly pops in to offer unsolicited advice on various domestic matters and issues which are not normally a problem, such as scolding me for walking barefoot around the house (because doing so invites illness). My wife spends most of her time online trying to secure food deliveries. All the while, everyone has to continue working from home as if nothing happened. Exercise is difficult, nerves become frayed, patience wears thin. Lockdown has become a serious grind…we could all use a smoke, like this guy:
This maskless, smoking guy in Shanghai seemed to be on a mission for trouble amidst epidemic panic and he ended up going viral on Chinese social media today. pic.twitter.com/fSMCubhCOX

— Manya Koetse (@manyapan) April 1, 2022
Day 16: Golden silence
Late in the evening, once the family has gone to bed, I often sneak out to wander aimlessly for half an hour or so. The sound of silence is seldom heard anywhere in Shanghai: there's always someone, somewhere, within earshot making some kind of noise. But much less so during lockdown. Silence really is golden during this confusing and stressful time. I sit out under the streetlights and gaze into the far distance with my thousand-yard lockdown stare.
Day 17: 2020 vs. 2022
It appears Shanghai is on track to have more covid infections than Wuhan did in 2020. Whereas there was little societal resistance to the lockdown once it was imposed in Wuhan, resistance in Shanghai is palpable now. The absolute majority of Shanghai residents are vaccinated.

— Dali L. Yang (@Dali_Yang) April 2, 2022
What does "lockdown" mean, anyway? This meme shows the big difference between now and two years ago:
Day 18: Zero COVID
My wife and I think back to lockdown 2020, which we did not find problematic. But we discuss yesterday's meme and the reality of it all starts to sink in as we realize how much worse it is in 2022. Back then, we could come and go and take a trip out to the shops, freely, as often as we felt necessary. Other than that, people simply stayed in because they were genuinely afraid of catching a potentially life-threatening virus. Yet two years later, with vaccines, much better knowledge, and a much milder variant of the virus, we can't even set foot outside our compound and have to rely on food deliveries. This time around there's several more layers of severity — endless COVID tests, metro and other public transport shutdowns, fear of being taken away to a COVID jail, fear of your pets being killed, widespread panic buying, and fear of being separated from your children. Realizing that China isn't in a hurry to plan for living with the virus instills a sense of dread in us.
Day 19: Six-year-old
My daughter started doing online classes a week before we were locked down. I marvel at the amazing return on investment of the 200-yuan ($30) trampoline she constantly uses to burn off energy. Ironically, it was bought during the first lockdown in 2020. Having a six-year-old in a small apartment is a unique kind of hardship.
Day 20: A tale of two sides of the river
As a consequence of Pudong — but not Puxi — being shut down, the route map on subways shows that the terminal station of Line 2 — a major link between east and west Shanghai — has moved to downtown Shanghai. It's just so completely weird for regular metro riders to see this.
Day 21: The lies
That there has officially been zero deaths during the Shanghai outbreak not only defies belief but is — as I learn from my wife, a Pudong native — simply not true. As early as last week, people have speculated about unreported deaths at elder-care facilities. Seeing official statements that you know are wrong doesn't give us much confidence going forward, and morale starts to drop. Hashtags about buying food are being censored, and public outcry continues.
Day 22: Corgi
I learn a Corgi was beaten to death by a health worker while its owner was being taken away to an isolation center. My daughter notices my reaction as I see this viral video and asks me what I'm looking at. I try to fob her off, but kids aren't always so easy to fool. I just have to say it's a really bad video and that I don't want to upset her by showing it. Make a mental note to myself to exercise more discretion before looking at anything online.
Day 23: The VOID Shanghai underground techno crew
Some much-needed fun and banter as I socialize online into the wee hours with some Shanghai friends who are part of our DJ collective. The mood starts off serious as my friends share various experiences and perspectives, but we soon realize we didn't meet up to depress each other, so our usual brand of tomfoolery returns. Hangover the next day.
Day 24: Food
My wife is in tears. She says she spends all day on her phone using apps to try to get food deliveries, but dozens of orders have been rejected. The amount of food we are eating is exceeding the amount coming in, and supplies are dwindling. I tell her we have plenty of rice and we won't starve, but this doesn't placate her much and she urges me to use my network to try to secure more deliveries.
Day 25: Food?
A lot of food delivery services aimed at the international community are focused on Puxi, where most foreigners are based. I spend a large chunk of my day finding out that it's impossible to get anything sent to Pudong. I feel bad for having left all this to my wife, and the upshot of today is that I now understand what she's been going through.
I've just been outside to barter for food. Swapped a jar of coffee for two cloves of garlic and some tomatoes. Shanghai is actually a Mad Max movie.

— Cameron Wilson 韦侃仑 (@CameronWEF) April 12, 2022
Day 26: Food!
A large truck backs into our compound and we're given essential supplies in the form of cabbage, rice, cooking oil, onions, and potatoes. It provides some cheer, but the quality leaves something to be desired. Neighbors outside discussing the latest delivery don't seem too impressed, either. But we have it better than others. Two weeks ago, the hashtag "Is it really difficult to buy groceries in Shanghai" #上海买菜到底难不难# went viral on Weibo. "I'm so hungry that I can't go to bed. I can't believe this is happening in Shanghai in 2022," one user wrote.
Pouring rain in Shanghai today and many of the hastily constructed isolation centers (mandatory destinations for those who test positive) are leaking. pic.twitter.com/Yl1DWj2nb3

— Dan (@DRechts) April 13, 2022
Day 27: Censorship
A batch of Chinese traditional medicine arrives courtesy of the local government. Surely a vaccine booster would be better? I spot the following video — it's the best meme production yet, the punk soundtrack and anarchistic scenes capturing the state of trauma the city finds itself in, absolutely perfect even down to the resident playing a drum solo for his neighbors at the end:
That video lasted about 45 minutes on WeChat before being censored. Also censored: a recorded phone conversation between an elderly man and his neighborhood committee worker.
Worker: "I'm sorry, Mr. Yu. There's nothing I can do."

Yu: "I can't believe our country is like this."

Worker: "I also don't know why Shanghai has become like this."
Day 28: Football dreaming
I dreamt of standing on the north terrace at Hongkou, Shanghai Shenhua's home stadium. It's been closed since the pandemic started two and a half years ago. I dreamt of the countless times over the last 17 years when we had all stood together to support the team — foreigners, locals, it didn't matter, everyone was Shanghainese for 90 minutes. I dreamt of those amazing adrenaline-filled moments when Shenhua scored against Beijing Guoan or Shanghai Port FC, hundreds of guys jumping around on the terrace and embracing strangers from another culture, another world, and how moments of great joy destroyed the barriers we otherwise confront every day. I woke up and realized the barriers were now actually physically outside as well as the psychological ones formed by years of anti-Western propaganda.
Day 29: Empty streets
Day 30: Rationality
COVID testing is constant, but it comes in waves. Some weeks there's no testing, other weeks there are tests multiple days in a row. Today I can hear a warden with a bullhorn outside exhorting residents in our block to go downstairs: Kuài diǎn xiàlái 快点下来 — hurry and come down. Every day now the battle raging in my mind grows more intense, the war of attrition between the desire to say fuck off and the rational mind's quiet, consoling tone telling me to just go down and get it over with. The cerebral side wins once more, but for how long? "Shanghai has set a target to stop the spread of COVID-19 outside of quarantined areas by Wednesday," Reuters reports. I'll go ahead and tell you right now that this target is not met.
Day 31: Fenced in
Every day you roll the dice to see what lies in store. They're loaded in favor of bad news. Today it seems cases are spreading inside compounds while Shanghai reports its first official COVID deaths since the start of lockdown. On social media we see viral videos of people being physically sealed inside buildings. COVID hospitals look awful. Up until this point I have just about accepted everything and seen at least some reason for the various measures taken. I discuss it with friends online. People are shocked to see green fences stopping people from stepping away from their front door. I'm shocked by the irresponsible approach to safety and a switch flips in my mind — rationality has clearly taken a backseat.
Day 32: Rapport
I'm at my window looking outside while on a work call with a colleague. On the other side of the courtyard, an old neighbor smoking at his window sees me and attracts my attention to the big green barrier around his building's exit door. He wags his finger and shakes his head theatrically to indicate disapproval. I've seen this guy hundreds of times but never spoken to him. I interrupt my call to shout over to him, "I know, it's really irresponsible!" I apologize to my Shanghai-based co-worker on the phone, who is shocked when I explain what's going on. Anger starts to mount once again.
Day 33: "America's fault"
I've gotten to know my neighbors better. Regular deliveries and tests provide opportunities for conversation. There is a kindly couple upstairs, both teachers, in their 50s. Previously I was only on nodding terms with them. I wonder what they think I think about all of this. I don't bring up my personal views in conversation with any of them, aware of the risk of coming across like a foreigner who doesn't understand or thinks his view is more relevant than theirs. Another neighbor, a rotund middle-aged Shanghainese woman, says it's all America's fault. I just say you shouldn't believe everything you hear on Chinese TV news and leave it at that.
A couple of weeks ago, I asked an educator at a large international school in Beijing if she was planning a going away party. "That'll be kind of difficult," she told me. "There are 64 of us leaving." https://t.co/2lhWDXIspf

— Haig Balian (@haigbalian) April 20, 2022
Day 34: Helicopter
I finish lunch and go to our bedroom window to get some air. There's a helicopter hovering overhead, low enough for a "Police" label to be visible. Heads are poking out of windows all around. It flies a few hundred meters in one direction before coming back and flying over our compound again. It flies back and forth like this for about an hour. There's something uniquely unsettling about the sound of a helicopter. It's often a sign that something has gone wrong somewhere. Like so much of what we have seen and heard, we never find out the real reasons why.
Day 35: Egg bombs
This video appears on Chinese social media:
There's a noisy commotion outside. Despite no one being allowed out, there are dozens of people standing around the courtyard squabbling in Shanghainese. I see broken eggs on the ground — my father-in-law is on the scene and says volunteers delivered eggs to a sealed building. Residents there, angry at being sealed in, threw the eggs down at health workers in white suits, but some residents got caught in the crossfire. I see my wife's uncle angrily shaking his fist at an upper window. I leave the scene unsure of what I just saw. I never find out exactly what happens, it seems everyone is too embarrassed to discuss it afterwards.
Footage also appears online of what looks like a mini-riot somewhere in Shanghai — residents break out of a sealed building and clash with around a dozen health workers on the street. Objects are hurled at street level and dropped from above apartment windows.
In another video, a health worker is seen sprinting as fast as he can to escape an angry mob:
Day 36: Lord of the Flies
The virus has started spreading from apartment to apartment in a building in our compound. The neighborhood WeChat group is on fire as residents point fingers, saying others are hiding their positive test results. It's a Lord of the Flies moment as paranoia spreads. We are now playing Russian Roulette: you don't even need to step outside to run the risk of testing positive and being taken away to a grotty isolation center. The stress of knowing you could get a knock at the door any moment is palpable.
Day 37: 24601…
Testing again… "Apartment 501, kuadian xia lai! Kuaidiaaaaaan!" roars the megaphone-wielding health worker outside. That's right, we are reduced to a number.
Shanghai: someone is playing "Do you hear the people sing?" from the Les Misérables musical on trombone in his / her apartment…

🎵 🎶 pic.twitter.com/gBfFMQmsmF

— Byron Wan (@Byron_Wan) April 24, 2022
Day 38: Manna
My wife's company sends a generous spread of food, which lifts our spirits. One chicken is swiftly roasted and eaten. The rest will be polished off soon.
Day 39: Doom scrolling
Social media has become a horror show. Upsetting and chaotic scenes unravel in real-time on your feed. I've seen at least half a dozen snuff movies where people throw themselves out of buildings to end it all. To call it "doom scrolling" just doesn't do it justice — these are real events happening nearby. Sometimes you just need to look out your window to see things no one wants to see.
Most of the time I come away just hoping that whatever shocking incident I saw doesn't happen to me — like being taken away kicking and screaming to a COVID jail despite testing negative, or being separated from my daughter.
Day 40: Bleach
I go out to collect a food delivery…and end up struggling for breath as I walk up the stairs to my apartment with the heavy bag. Am I really that unfit now? No, a stench of bleach is everywhere: the bag I'm carrying has been very liberally sprayed by overzealous security at the front gate. (I didn't get it as bad as this, but still.) I wheeze like an old man for a good hour afterwards.
I rant a little on the China Sports Insider Podcast.
Day 41: Yellow wine
My father-in-law scores a box of Huangjiu, the essential tipple for the older Shanghainese gentleman. I am in full admiration of his resourcefulness.
Day 42: Morning sneak-out, workout
I have tried to get into a daily routine of sneaking out in the morning to use the exercise bike. Before this, I cycled 160 km a week to work, so the inactivity has hit me fairly hard. But I only manage this if I wake up early enough to evade the wardens and escape any morning domestic chores. Today I bump into my mother-in-law, who, to my surprise, also seems to have something of a subversive side and is exercising too. She's impressed to see me up so bright and early. Everyone needs fresh air somehow.
Day 43: Safety first
There's an extra gate sealing us in. A gate to get to the gate. I tell the guard we are treated worse than animals. He says it's for our safety and to make sure all deliveries are disinfected before anyone can collect them. I tell him it's unscientific and a waste of time. My protestations fall on deaf ears.
Day 44: Pot banging
Evening pot-banging protests are the work of dastardly "foreign forces," according to some loudspeaker announcements in compounds over town. This meme really sums up the absurdity of it all — especially when someone asks me if it's actually something real from the Chinese media or not:
I assumed it was a joke, but on reflection, I realize I do not actually know.
Day 45: Back from the dead
Just when you thought life could not possibly get more surreal, a story in local media reveals a "body" was mistakenly stuffed inside a body bag while the person was still alive. Thankfully it seems they were saved…but one can't help but wonder what other unbelievable things are going on out there…
上海新长征福利院把还活着的老人装进尸袋,要送去殡仪馆火化,被运尸体的殡仪馆工作人员发现:"活的!"看来这是嫌上海老人死得还不够多,烧死活人不算死于新冠就行。 pic.twitter.com/O6Zn5qV76L

— 方舟子 (@fangshimin) May 1, 2022
Day 46: Quitting social media
During good times, social media is a distraction, but in a crisis like this, it becomes downright problematic. It gives much-needed social contact during a time when you are stuck at home, but it's draining and much of what I see on it just makes me angry or depressed. You know you shouldn't look at it too much, but it's impossible not to. I decide to go cold turkey to take a complete break for a few days to focus on family. The jokes are no longer funny.
Day 47: Privileged foreigner?
Despair after finally managing to secure a pizza delivery. I looked forward to my first Western food takeout in nearly two months, but the pizza turns out to look and taste a week old. After losing my temper in a childish outburst, I feel a sense of guilt and stupidity. My mind ties itself into moral knots — I'm not in Ukraine, I'm not a delivery guy sleeping on the street in Shanghai, I'm not facing financial ruin, I am a privileged foreigner. Mental discipline has been lost quite some time ago. Lockdown makes you wallow in all kinds of places. You slowly realize that you are not yourself anymore.
Day 48: A beer with Mr. Spock
I wake up after having a beer with Mr. Spock in my dream. Other strange visions I've had during my sleep include riding giant black flies, being eaten by a ravenous refuse lorry, talking hamburgers, seeing my wife and daughter locked in a greenhouse with no air and being powerless to save them, sleeping under my desk at work, arguing with a flatulent road sign outside my compound, and eating concrete as if it's just hard-boiled sweets. Even in your sleep, Shanghai's lockdown might drive you nuts.
Day 49: Persisting
In an attempt to bring an upbeat atmosphere to our home, I try to order flowers for Mother's Day on behalf of my daughter. Estimated arrival date will make them a week late. My brownie-point-scoring scheme is promptly busted. Even when you try to do something positive, the end result is negative. A readout on a recent Politburo Standing Committee meeting reads: "We have persisted in people first and life first, we have persisted in defense against import [of the virus] and against internal recurrence, we have persisted in dynamic zero, and therefore significant strategic results in prevention and control have been achieved through constant adjustment of prevention and control measures."
Day 50: Jingmo
Disinfection work continues en masse, with or without residents' permission. Despite falling case numbers and everyone in our compound complying with increasingly invasive demands and restrictions, we're told our sub-district is going into a period of silence — jìngmò 静默 — of five days, which means no deliveries or opening of the compound gate for any reason. Silence period? What do they think we have been doing for the past 50 days? We have only one question left: Will it be another 50?
Epilogue: Day 59
Latest reports say Shanghai has set a deadline of May 20 for opening up. The reaction from those around me, jaded after nearly two months of lockdown, is abject skepticism. Many wonder why the deadlines are set at all — it's not like the virus will eliminate itself quicker. Every other person I speak to suspects the numbers are being cooked by exhausted neighborhood leaders who just want it all to end. It is said that everyone will be required to take a PCR test every 48 hours to enter public places. Look forward to more restrictions, more having to show your health code, limited-capacity restaurants and bars, long queues to get on the metro, and all manner of bureaucratic hoops to jump through, all in a city constantly reeking of bleach. No one is sure if Shanghai will ever be the same again. I ask a British friend who has been here the longest how he feels about everything in general. "It's all a bit depressing, to be honest," he says. "Like watching a stage magician revealing his trick only to find he was really cutting his assistants in half after all."