Zhou Guanyu lucky to escape scary crash at Silverstone
Society & Culture
Meanwhile: When it comes to diving, no country comes close to matching China.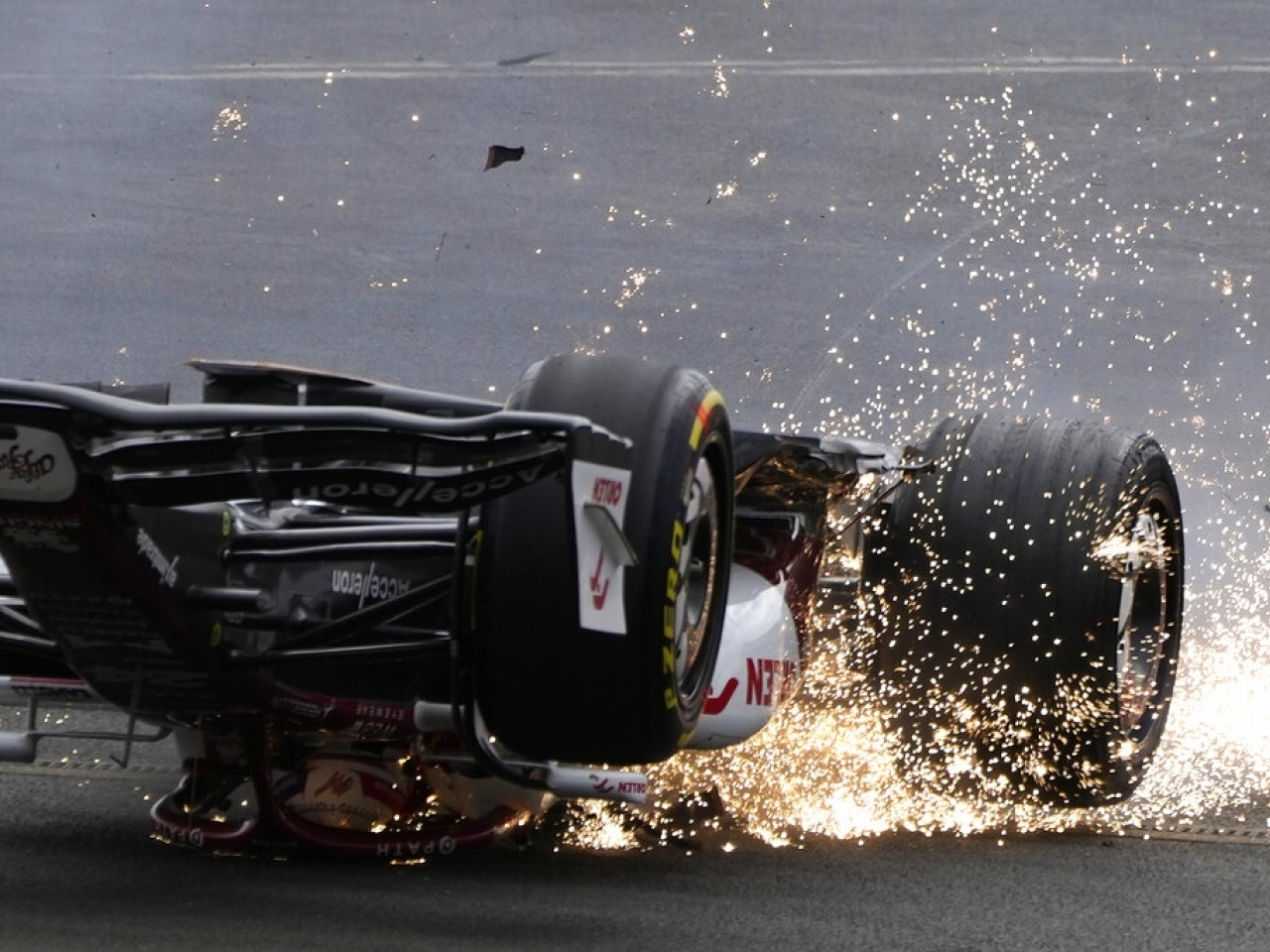 Zhōu Guānyǔ 周冠宇 survived a car roll-over at the start of the British Grand Prix on Sunday, with survive being the operative word. He tweeted afterwards that his halo "saved" him:
I'm ok, all clear. Halo saved me today. Thanks everyone for your kind messages! pic.twitter.com/OylxoJC4M0
— 周冠宇 | Zhou Guanyu 🇨🇳 (@ZhouGuanyu24) July 3, 2022
Starting the race from ninth after an impressive qualifying, Zhou's car flipped on the first lap after making contact with the Mercedes of George Russell.
Zhou was slightly bogged down at the start with Russell. Frenchman Pierre Gasly, who started from 11, tried to overtake both the Alfa and Mercedes drivers through a gap between them, but when he couldn't, his right-front tire touched the back-left tire of Russell. The contact caused the Mercedes to veer left into Zhou and swipe Zhou's back-right tire. The contact instantaneously flipped Zhou's Alfa Romeo and sent the Chinese driver careering toward the barrier.
Zhou's car rolled over the barrier and hit the outer fencing of the circuit, eventually coming to a stop between the tire wall and fence. If not for the safety halo — the piece of bodywork above the driver's head — it's quite possible that Zhou would not have walked away from the accident.
Fortunately, Zhou was uninjured, and was seen talking to F1 CEO Stefano Domenicali in the paddock later.
After scoring his second batch of points in Montreal a fortnight ago, it looks likely that Zhou will re-sign for another year in F1. Zhou has proven himself to be a fairly reliable driver in his rookie season, and now, according to German outlet Auto Motor und Sport, Zhou is likely to keep his seat next year.
"Normally, with rookies you always have to reckon with one or the other crash. But Zhou makes practically no mistakes," Alfa team manager Beat Zehnder said. "Experience shows there has to be a crash at some point but that's also part of the learning process."
"He's definitely one of the best rookies we've ever had in our team," Zehnder added. That is high praise, considering Zednder has seen the rookie seasons of both current Ferrari driver Charles Leclerc and former world champion Kimi Räikkönen.
~
Clean sweep of diving gold for China at Worlds
China is the global diving superpower. Chinese competitors won every gold medal — 13 in all — at the recently concluded FINA World Diving Championships in Budapest. Four of the gold medalists in individual events were different from the individual champions from last summer's Tokyo Olympics. With one exception, none of the contests were particularly close.
Quán Hóngchán 全红婵, who was one of the stars of the Tokyo Olympics, came away with golds in the 10m synchronized and mixed 3m & 10m team events. She couldn't defend her Olympic gold in the 10m individual event though, losing to countrywoman Chén Yùxī 陈芋汐.
At the last world diving championships in 2019, China also won gold in every event it participated, only failing to sweep the championships by virtue of the fact that they did not enter a team into the 3-meter mixed synchronized event, which is not an Olympic event.
The last time China took all the golds was in 2011, when China won all 10 of the titles.
The World Diving Championships are part of the larger World Aquatics Championships. In the overall medals table, China finished second, though it tied first-place U.S. with 18 gold medals.
China also topped the artistic swimming medals table, winning four golds.
~
Other Stories:
NBA Isn't the Only Sports League China Is Trying to Muzzle (Bloomberg)
China's Up-and-Coming Sports Gear Makers: When Politics Meets Business (The Diplomat)
Brawl breaks out between Chinese fans and protesters in FIBA qualifiers (Basketnews)
---
The China Sports Column runs every week.