China's ban of LGBTQ content in movies didn't begin with 'Lightyear'
Society & Culture
In China, censorship of LGBTQ content in imported movies has been going on for years. But within the country, queer-themed films continue to be produced.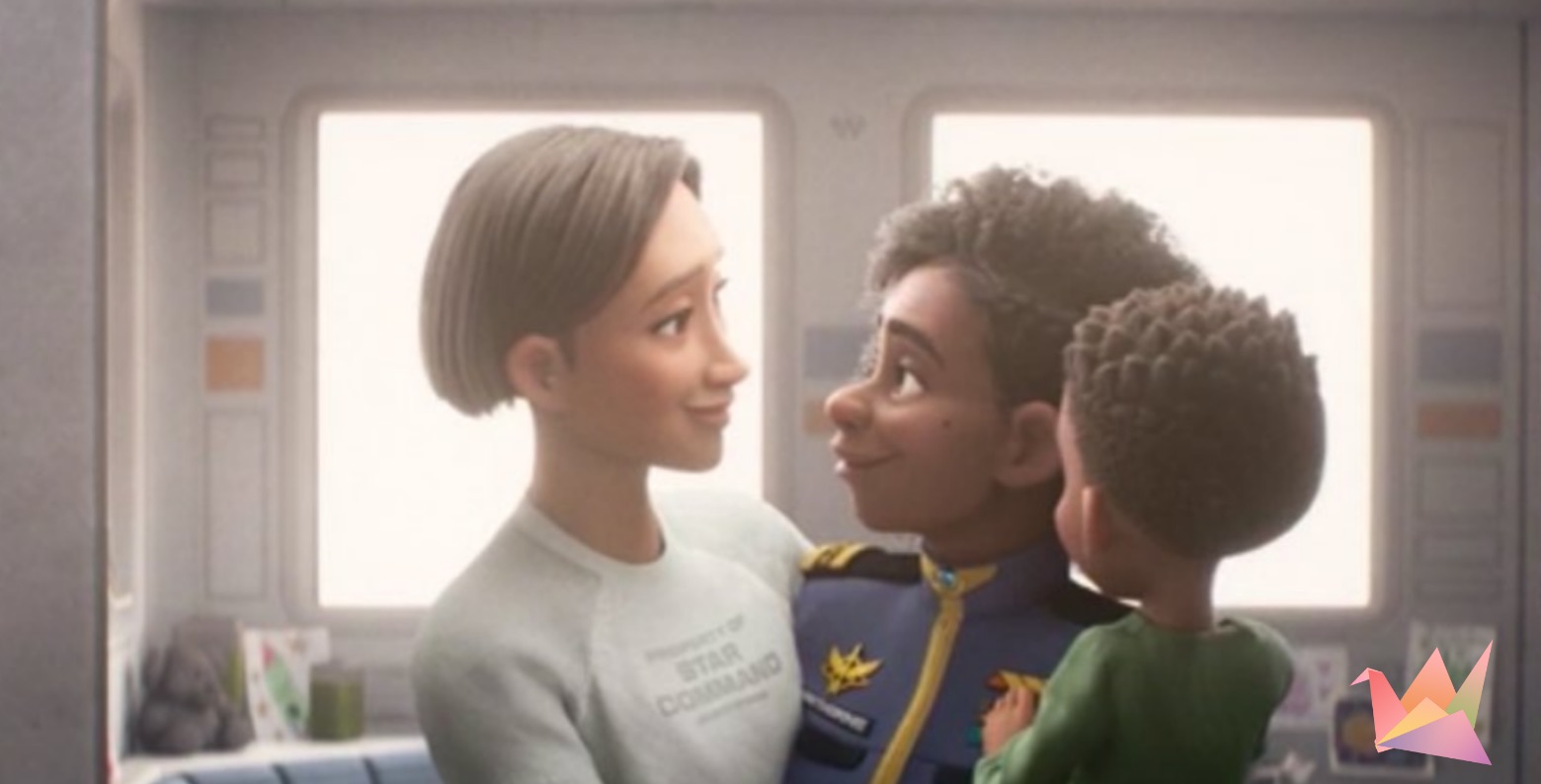 The visibility of LGBTQ characters in Hollywood movies has been on the rise. A 2021 survey based on an analysis of 40 major studio feature films released in the previous year showed that 80% of these movies had LGBTQ characters with more than 10 minutes of screen time.
The most recent example is the new Disney Pixar movie Lightyear. The animated movie was released in North America a month ago, but its Chinese release is still up in the air. The reason? A kissing scene between a lesbian couple.
According to Reuters, Disney received a request from Chinese movie regulators to remove the scene, but the media conglomerate refused to make the change, citing that the scene was crucial to the development of the main character. One producer from Disney said that this decision would likely keep the movie away from the world's largest film market.
Lightyear has been banned in 14 Middle East and Asian countries for this reason alone. If it were up to some American politicians, the scene would probably be deleted from U.S. theaters, too. Republican Senator Ted Cruz recently said about the kiss scene:
"I gotta say, it's a wild twist where Hollywood has been willing to grovel to China and let China censor its movies, to embrace anti-Americanism, to avoid any criticism of China because they want to get access to the Chinese movie market. But when it comes to their culture agenda, apparently now they've suddenly discovered, 'Alright, give up the money because lesbian toys are more important.' And I must say, it brings a whole new meaning to the phrase, to infinity and beyond!"
Lightyear is not the first Hollywood movie to face these challenges in the China market. In April, the newest Harry Potter movie, Fantastic Beast 3, also went through alterations before hitting Chinese theaters, with six seconds of footage being edited out. The lines in the censored scene — "Because I was in love with you" and "The summer Gellert and I fell in love" — directly confirm the same-sex romance between two lead characters, Albus Dumbledore and Gellert Grindelwald. Warner Bros admitted the edits were made to "comply with local requirements," but emphasized that "the spirit of the film remains intact."
Despite the cuts, Chinese moviegoers still recognized the intimate bond between the two characters as a significant theme of the story. While the movie has an abysmal score of 5.9 out of 10 on China's popular movie review site Douban, most of the critiques are about the incoherence of the storyline; many reviewers said the depiction of the gay romance is the only memorable plot in the entire movie.
China has a history of censoring LGBTQ content in mainstream fare. In 2019, when the Freddie Mercury biopic Bohemian Rhapsody was released, scenes of gay kissing and lines mentioning the word "gay" were all edited out. Many classic LGBTQ-themed commercial movies never secured a release in China, such as Brokeback Mountain.
But there have also been exceptions. In 2015, the American film Imitation Game was screened in China. The movie revolves around the life story of the mathematician and cryptanalyst Alan Turing, who died under British persecution for his homosexuality.
Aside from censorship, foreign movies hoping to enter China are also subjected to a quota system implemented by the Chinese government. Most Hollywood blockbusters are imported based on a revenue-sharing system, which has set the annual quota to 34 films since 2012. The actual number exceeded that limit in 2018 and 2019, when the Chinese cinema market was booming, but it has fallen to a lower level since the start of COVID-19.
The persistence of local queer cinemas
While China has heightened its censorship of LGBTQ references in foreign movies in recent years, domestic filmmakers continue to create queer-themed movies. Unable to secure screenings in theaters, their work is often shown at local and global film festivals.
According to Hongwei Bao, a professor in media studies at the University of Nottingham, the history of Chinese queer cinema dates back to the canonized Farewell My Concubine (霸王别姬 bà wáng bié jī), a 1993 Chinese historical drama film directed by award-winning filmmaker Chén Kǎigē 陈凯歌. Some other LGBTQ classics include Lan Yu (蓝宇 lányǔ) (2001, dir. Stanley Kwan) and Fish and Elephant (今年夏天 jīnnián xiàtiān) (2001, dir. Li Yu). Farewell My Concubine was the first Chinese movie to win the Palme d'Or at the 1993 Cannes Film Festival.
The early 2000s saw the emergence of independent queer cinema from directors who self-identified as queer and who worked closely with the LGBTQ community. Some leading figures include Cuī Zi'ēn 崔子恩, a Beijing-based filmmaker and scholar who has directed more than 10 arthouse and documentary films, and Fàn Pōpō 范坡坡, a director who has made several documentaries on queer issues in China.
The boom of independent LGBTQ directors was in tandem with an increased number of local queer film festivals. The longstanding Beijing Queer Film Festival was founded in 2001 and is still running, though the name has been rebranded as Love Queer Cinema Week (爱酷电影周 Ài kù diànyǐng zhōu).
A new crop of up-and-coming young directors are ready to make their mark, too. In May, Shuli Huang's Will You Look at Me (当我望向你的时候 dāng wǒ wàng xiàng nǐ de shíhòu) won the Best Short Film at 2022 Queer Palm, an independently sponsored prize for LGBTQ-relevant films entered into the Cannes Film Festival. As introduced on the director's website, the film is a personal essay that features "a long overdue conversation" between the filmmaker and his mother that "dives the two of them into a quest for acceptance and love."
Another documentary, Xiaodi (晓迪 xiǎodí), directed by Chen Junmi and Gao Guo, extends the scope of queer cinema to the issue of transphobia, parental violence, and conversion therapy. The movie tells the story of a 17-year-old transgender girl who was sent to an "internet addiction camp" by her parents to have her gender identity "normalized."
For more recommendations of LGBTQ films, see:

Other LGBTQ stories:
Former Chief Executive of Hong Kong posted anti-LGBTQ content on Facebook
Former CE of Hong Kong basically warning parents their kids will turn gay if they move to the West. https://t.co/SjJ1rSDyYd

— Eli Friedman (@EliDFriedman) July 11, 2022
Hong Kong's former Chief Executive Leung Chun-ying (2012-2017 in office) made a post on Facebook on July 11 in which he exhorts Hong Kong parents who plan to move to Western countries for their children's future to reflect on the meaning of "freedom"…he suggests a move to the West will expose minors to LGTBQ content.
China votes no on an UN Human Rights Council meeting regarding the protection of LGBTQ rights
On July 2, the UN Human Rights Council adopted a resolution to extend the mandate of the Independent Expert on protection from violence and discrimination related to sexual orientation and gender identity for a period of three years. The resolution was adopted by a vote of 23 in favor, 17 against, and 7 abstentions. China voted against the resolution.
A Chinese sex-ed worker on Bilibili 
A Chinese sex-ed video creator applied for verification on Bilibili and was initially rejected for the explicit reason of "homosexuality." The creator just said Bilibili reached out to apologize for "the bug" and finished the verification. pic.twitter.com/G9QOS6BJR3

— Zeyi Yang (@ZeyiYang) July 5, 2022
---
Queer China is our fortnightly round-up of news and stories related to China's sexual and gender minority population.