Wang Jianan wins China's first long jump gold at World Athletics Championships
Society & Culture
Meanwhile: China's top male UFC fighter, Li Jingliang, got back to his winning ways by defeating Muslim Salikhov.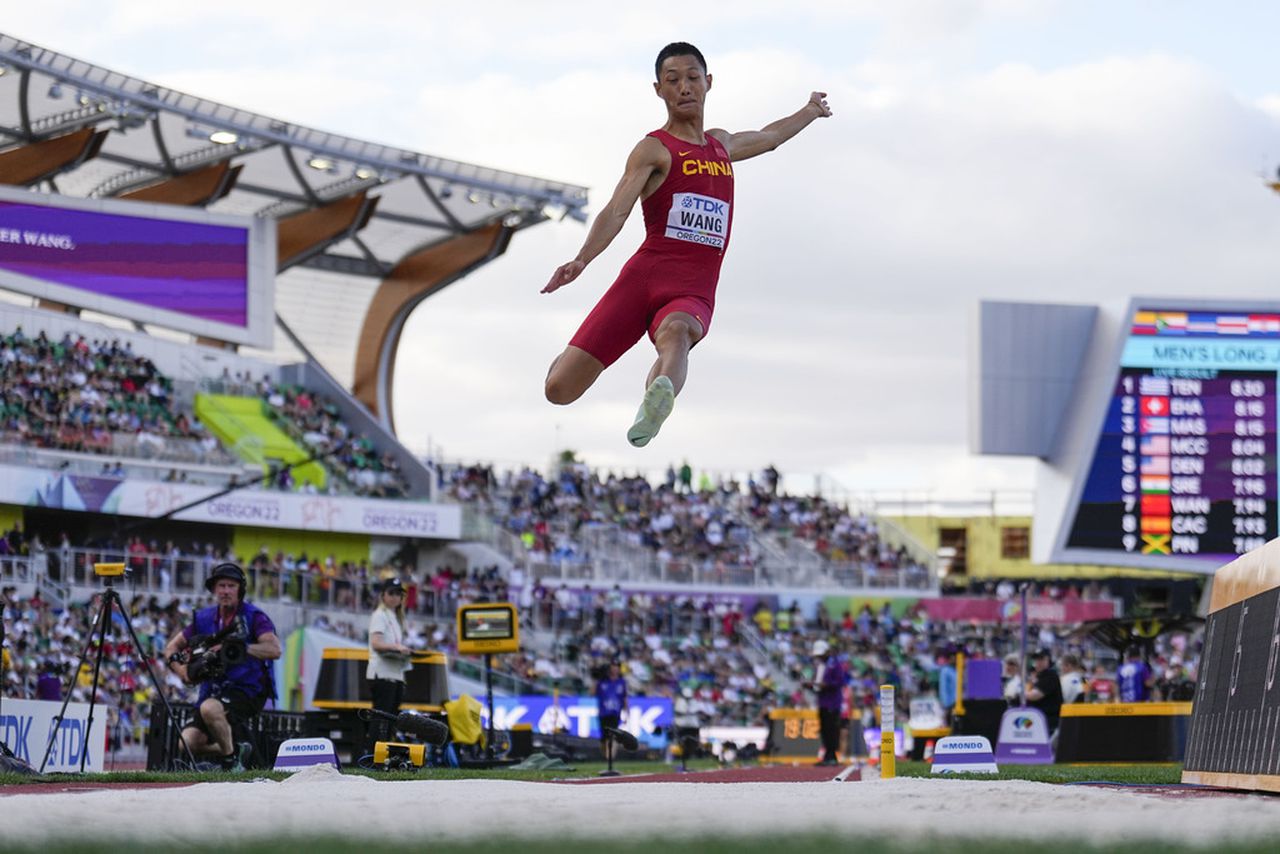 Wáng Jiā'nán 王嘉男 produced a dream jump of 8.36 meters to give China its first-ever long jump gold at the World Athletics Championships in Eugene, Oregon. The 25-year-old hit the winning mark on his sixth and final attempt after struggling to go beyond the 8-meter mark with his first five jumps.
Wang spent the final well outside the top three, and looked to be heading to a middle-of-the-pack finish behind current Olympic champion Tentoglou Miltiadis and current world-record holder Simon Ehammer. The Greek Miltiades, in fact, was cruising, with jumps of 8.24 meters, 8.29 meters, and 8.30 meters before putting down 8.32 meters on his fifth attempt. Ehammer's best effort was 8.16 meters, way short of his current world-leading distance of 8.45 meters but still far ahead of Wang.
But then, Wang delivered a moment of magic:
While China has found success in other track and field events, the country traditionally has had meager results in the long jump. China's only previous medal in the event was a bronze, also won by Wang, on home soil in 2015. China has no Olympic medal in the event.
Wang has struggled to find the consistent form that led him to that bronze in 2015, even failing to qualify for the finals at the Tokyo Olympics last summer But if anyone was to break through, it was him. He won gold at the Asian Games in 2013 and World Junior Championships in 2014, and now hopes to carry the torch forward for Chinese long jump.
"I cried indeed. I was so emotional," he said after his win in Eugene. "My plan for the next two years is still to move forward steadily. I just want to train hard and to do my best."
Elsewhere, Olympic champion Gǒng Lìjiāo 巩立姣 narrowly lost to Chase Ealey in women's shot put. Ealey made history by becoming the first American to win the event at the World Athletics Championships.
Gong, who was the defending world champion from 2019 as well as 2017, could not match Ealey's massive 20.49-meter first throw. Gong's 20.39 on her fifth attempt was more than enough to secure silver.
Gong is one of China's most successful track and field athletes. The 33-year-old has won Olympic gold, silver, and bronze at Tokyo, London, and Beijing, in addition to two golds, two silvers, and three bronze medals at Worlds.
While she dismissed questions about her retirement pre-tournament, Paris 2024 is likely to be the last major event for Gong.
~
The Leech defeats King of Kung Fu
China's top male UFC fighter Lǐ Jǐngliàng 李景亮 got back to his winning ways by stopping Muslim "King of Kung Fu" Salikhov in the second round of their fight at UFC Fight Night: Ortega vs Rodriguez.
Li, who has struggled to put together a string of wins, was coming off the back of a somewhat embarrassing loss to welterweight contender Khamzat Chimaev, where he found himself getting manhandled by the Swede in front of UFC president Dana White.
But Li looked like a different fighter against the dangerous Salikhov.
In the build-up to the fight, Li switched his camp location to the renowned Sanford MMA in Florida to work with top kickboxing coach Henri Hooft. Fans at the Long Island card saw a more methodical and tactical Li, who kept his distance and showed an exemplary defensive game that was missing from his repertoire.
Salikhov, who is a former world champion in the Chinese martial art of Wushu Sanda (also known as Chinese kickboxing), threw a number of heavy strikes in the first round that failed to land on Li, with the Chinese fighter controlling the distance perfectly with a series of leg kicks.
In the second round, Li began to offer more offense as the heavier Salikhov began to slow down. After opening up Salikhov with leg and body strikes, Li hit the Russian with a left jab followed by a picture-perfect right to set off the finishing sequence.
Another strong jab and right put Salikhov down, with the follow-up ground strikes forcing the referee to stop the fight.
THE LEECH KNOCKS OUT SALIKHOV FOR HIS FIRST EVER KNOCKOUT LOSS pic.twitter.com/0tCb5JtOzo

— Spinnin Backfist (@SpinninBackfist) July 16, 2022
The win is likely to put Li in position for another shot against a higher-ranked opponent, potentially against American Neil Magny or the loser of the Vicente Luque vs. Geoff Neal fight next month.
During Li's celebrations after the fight, there was a slightly controversial moment when Li had the China national flag snatched out of his hand by a UFC official. The UFC banned flags earlier this year after the Russian invasion of Ukraine. The company, which has a lot of Russian fighters on the roster, took to the decision to ban all flags instead of just the Russian flag in a much-maligned decision.
The Leech got his Chinese flag ripped away from him by a UFC employee after his finish at #UFCLongIsland pic.twitter.com/CnIIENXu5u

— Spinnin Backfist (@SpinninBackfist) July 16, 2022
Meanwhile, the Tibetan Eagle Su Mudaerji (苏木达尔基 Sū Mùdá'ěrjī) fell to a second-round submission against American Matt Schnell. Despite dominating the stand-up, Schnell exposed the Tibetan fighter's wrestling by getting him on the ground.
The greatest round in UFC history. (Matt Schnell vs Sumudaerji) pic.twitter.com/emjgPAwv32

— pierogi jones (@ClevelandGod) July 17, 2022
~
Other Stories:
China remains the world's largest e-sports market despite gaming crackdown (CNBC)
Baseball's Efforts in China May Show Up at the Draft (New York Times)
'Szechuan Chef Curry': Little Chinese boy's basketball skills could make him the next Stephen Curry (Yahoo)
Ultimate Frisbee takes off among China's Gen Z (Xinhua)
---
The China Sports Column runs every week.