China's shipbuilding industry is booming, including aircraft carriers, LNG tankers, and container ships
Business & Technology
China is building a lot of big ships. More precisely, China State Shipbuilding Corporation (CSSC) is building aircraft carriers, liquified natural gas (LNG) tankers, passenger liners, and container ships.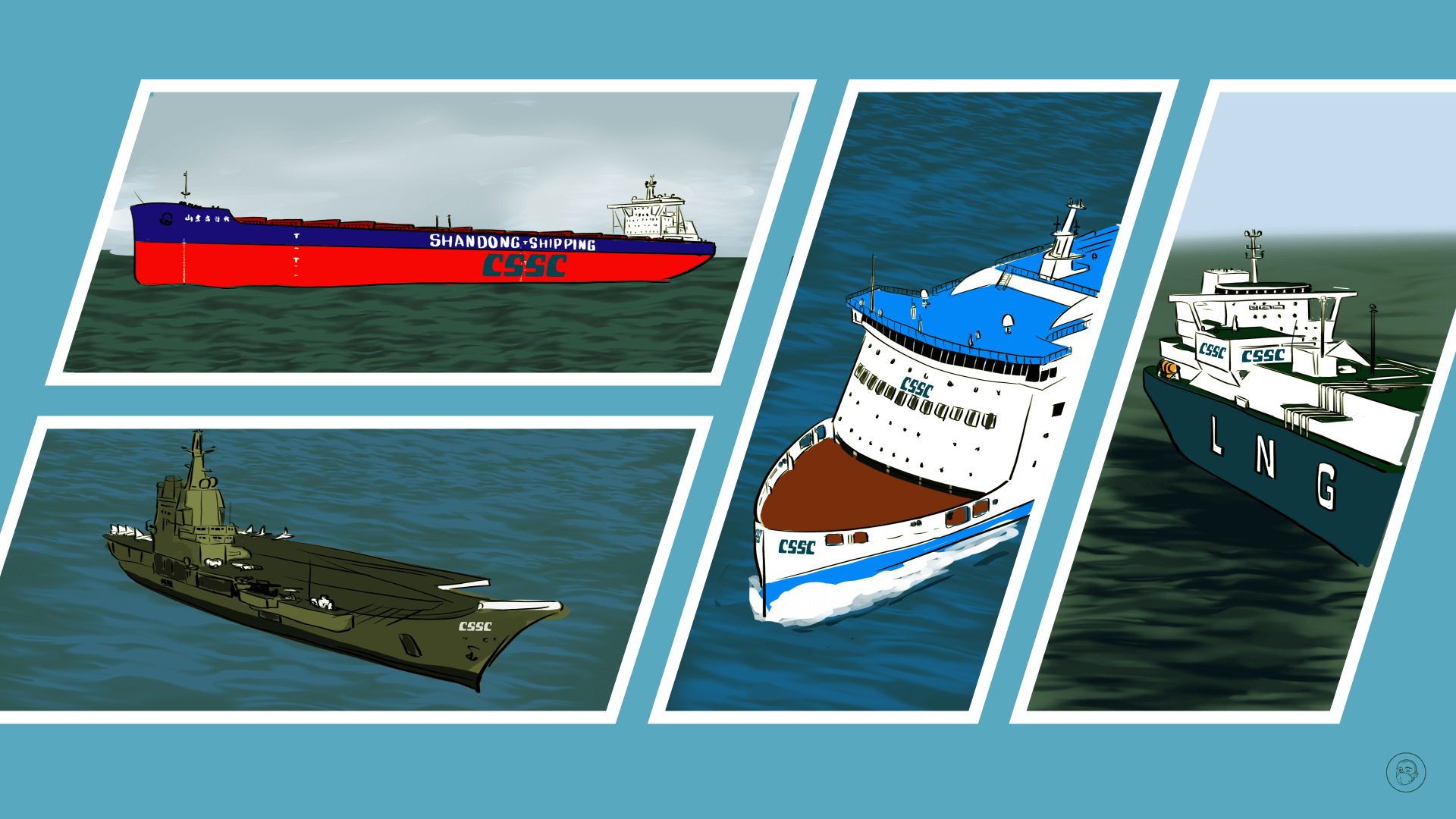 This week, China State Shipbuilding Corporation (CSSC) 中国船舶集团, a massive state-owned conglomerate, held an open day for journalists in Beijing, and then over four days took the media to see shipyards in Dalian and Qingdao to view the company's dazzling array of new ships, including:
China's shipbuilding industry is booming, as are CSSC's orders:
CSSC received new orders amounting to 10 million DWT in the first half of the year, and as of the end of May, the company held orders for 243 ships of a total of over 20 million DWT, to be delivered up to 2026, including LNG tankers and more than 60 container ships.
Over 90% of the orders are for mid-to-high-end ship types, and also include new generation (and cleaner) dual fuel (using both LNG and conventional diesel fuel) bulk LNG tankers of 209,000 DWT each.
Orders for LNG tankers have been a big source of revenue in 2022. In January, for example, CSSC signed a contract for 6 LNG tankers with MOL Group of Japan, which at 7.5 billion yuan ($1.11 billion) was the largest contract for LNG tankers ever signed by a Chinese shipbuilding company. In total over the last year, Chinese shipbuilders received orders for 30 new LNG tankers, an increase of 6.5 times year-on-year, and accounting for a share of 32.6% of the global market.
The context
According to the Ministry of Industry and Information Technology, in the first half of the year, based on the major shipbuilding indicators (completion rate, new orders, and current orders), China accounted for the largest market share in all three categories in terms of DWT, namely 45.2%, 50.8% and 47.8%, respectively. Like the rest of China's economy, April (at the height of the Shanghai lockdown) was a low point for the shipbuilding industry, but it has rebounded in the last few months:
In June, total new orders amounted to 4.76 million DWT, an increase of 107% month-on-month, and the completed shipbuilding volume was 4.22 million DWT, an increase of 64.2% month-on-month.
As of the end of June, the Shanghai Shipyard, which this year has a 40% share of the domestic ship design market and a 22.5% share of the global market, has received more than 100 design orders for various types of ships.
CSSC was born out of a shipbuilding government ministry in the 1960s, but shifted from military to predominantly civilian shipbuilding in the early 1980s. The company became China's undisputed shipbuilding colossus in 2019 when it merged with the China Shipbuilding Industry Corporation (CSIC) 中国船舶重工集团, now holding an estimated 20% share of the global shipbuilding market.
CSSC is riding at the top of China's current shipbuilding boom, and over the next few years, the company is expected to make huge profits. According to one estimate, from 2022 to 2024, the company's revenue will be 65.31 billion yuan ($9.67 billion), 86.07 billion yuan ($12.75 billion), and 108.97 billion yuan ($16.14 billion), year-on-year increases of 9.3%, 31.8% and 26.6%, respectively; and net profit will be 9.92 billion yuan ($1.46 billion), 25.96 billion yuan ($3.84 billion), and 59.81 billion yuan ($8.86 billion), year-on-year increases of 364%, 162%, and 130%, respectively.
The takeaway
China's shipbuilding industry is in a boom period, and the company building China's aircraft carriers is the world's largest shipbuilding company that is building various other groundbreaking ships, notably LNG tankers with new generation fuel systems.