'Demon stock' AMTD Digital had a blistering but brief rally on the NYSE
Business & Technology
An obscure Hong Kong financial services company and its controversial founder caused an uproar on Wall Street this week after its stock shot up 14,000%. Can it possibly be legit?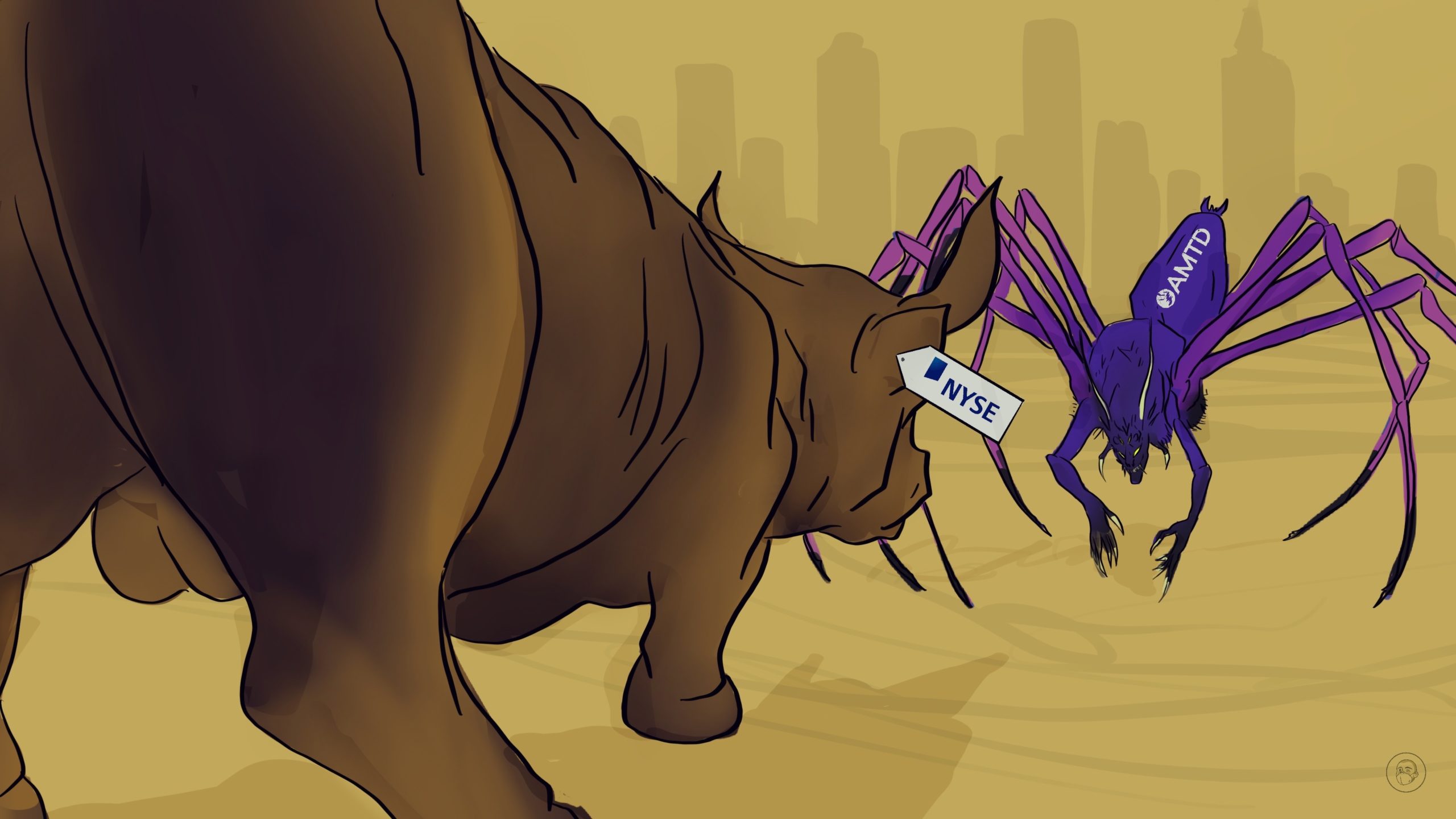 "Demon stocks" (妖股 yāogǔ) are stocks whose trends are highly unusual or contrary to the general market.
That's what Chinese investors are calling AMTD Digital 尚乘数科, an obscure Hong Kong financial services firm, which listed on the New York Stock Exchange on July 15 with an opening price of $7.80. Just 13 trading days later, the stock price had risen to $1,679, a 215-fold surge, eventually peaking at $2,555 on Tuesday this week, before dropping down to $800 at close of trading on Thursday. At its peak, AMTD Digital — with revenue of $24.94 million in 2021 and only 50 employees — had a market valuation larger than Alibaba 阿里巴巴集团 and Tencent 腾讯, and was the 13th largest company in the world.
Who owns it?
AMTD Group, the parent company of AMTD Digital, was founded in 2003 by Hong Kong billionaire Li Ka-shing's (李嘉誠 Lǐ Jiāchéng) Cheung Kong (CK) Group and Commonwealth Bank of Australia, along with a few other investors. But in 2015, LR Capital 瓴睿资本, an investment firm led by Calvin Choi Chi-kin (蔡志坚 Cài Zhìjiān), acquired most of the shares of AMTD Group, and Choi also signed on two new investors, Morgan Stanley and China Minsheng Investment Group (CMIG).
AMTD Digital was founded in 2019 by the same Calvin Choi. In early 2022, it was acquired by AMTD Idea Group, AMTD Group's boutique investment bank active in the Hong Kong and mainland China IPO markets, for $1.2 billion.
Following AMTD Digital's stock rally this week, however, CK Group released a statement saying that it was selling its remaining 4% stake in AMTD Group, having sold most of its shares "almost a decade ago."
But what does it DO?
According to its website, AMTD Digital is a digital financial service provider. The company also undertakes strategic investments, digital media content and marketing, and acts as a "super-connector" for Asia-based entrepreneurs and corporates via its SpiderNet Ecosystem. The company claims to hold "multi-sector scarce digital financial licenses in Asia". Digital financial services require operating licenses in each separate country, and after forming a consortium with tech giant Xiaomi 小米, and a Singaporean energy company as well as digital financial platform for SMEs, AMTD Digital obtained digital bank operating licenses in Singapore and Hong Kong by leveraging Xiaomi's capital and market influence. This has provided AMTD Digital's financial services with a degree of global legitimacy.
AMTD Digital has also cooperated with Hong Kong's Television Broadcasts Limited (TBL) on the crime thriller television series Murder Diary (刑侦日记), broadcast this year, and it also invested in the 2020 Chinese film Shock Wave 2 (拆弹专家), in which a former bomb disposal officer, suffering from amnesia, becomes a suspect in a terrorist attack before clearning his name and regaining his memory. Although the film was a box office hit — like AMTD Digital's stock rally this week — some critics described it as "unrealistic, doesn't make sense" — also like AMTD Digital's stock rally.
Ultimately, however, AMTD Digital's attraction lies not in film production, but in its supposedly large network of relationships in financial circles, and their ability to connect emerging Asian entrepreneurs and enterprises with capital investment: The "super-connector" and its "SpiderNet Ecosystem."
A controversial founder
AMTD Digital's founder, Calvin Choi, whose family emigrated from Hong Kong to Canada when he was 12, became an investment banker, starting out at Citibank in the U.S. Choi has described his experience meeting entrepreneurs among his family back in Hong Kong, and accumulating experience working with other family businesses in Southeast Asia. But Choi has had a controversial career: He is currently facing a two-year ban in Hong Kong for breaking the city's securities law, related to his work on IPOs in 2014 and 2015. The Hong Kong Securities Regulatory Commission investigated Choi due to conflicts of interest and information disclosure issues.
In 2019, China Minsheng Investment Group (CMIG), a Shanghai investment firm, accused Choi of financial fraud. CMIG had entrusted AMTD Group with the management of large funds, but when it encountered a debt crisis, CMIG wanted its money back. By August 2020, after CMIG had repeatedly failed to get anything from AMTD Group, it hired someone to hold up a banner in front of AMTD Group's office building, accusing Choi of misappropriating funds of hundreds of millions of dollars. Choi soon stepped down as Chairperson of AMTD Digital (though he still sits on the board of AMTD Group), and left Hong Kong under a cloud. In March and April, he was reportedly in Singapore. Choi has filed an application for review of his two-year sentence in Hong Kong, which will take place in an open hearing in December.
Will AMTD Digital tank today?
It is entirely unclear to outsiders what drove AMTD Digtial's share price so high earlier this week, almost as unclear as AMTD Digital's business model. On the other hand, it is entirely possible that the stock will tank today when trading opens in New York a few minutes after this article is published.