'Trash Talk': A marine debris exhibition in Hong Kong
Society & Culture
A small-scale exhibition entitled "Trash Talk" highlighted the work of a beach cleanup collective in Hong Kong and invited visitors to reflect on their contribution to marine waste.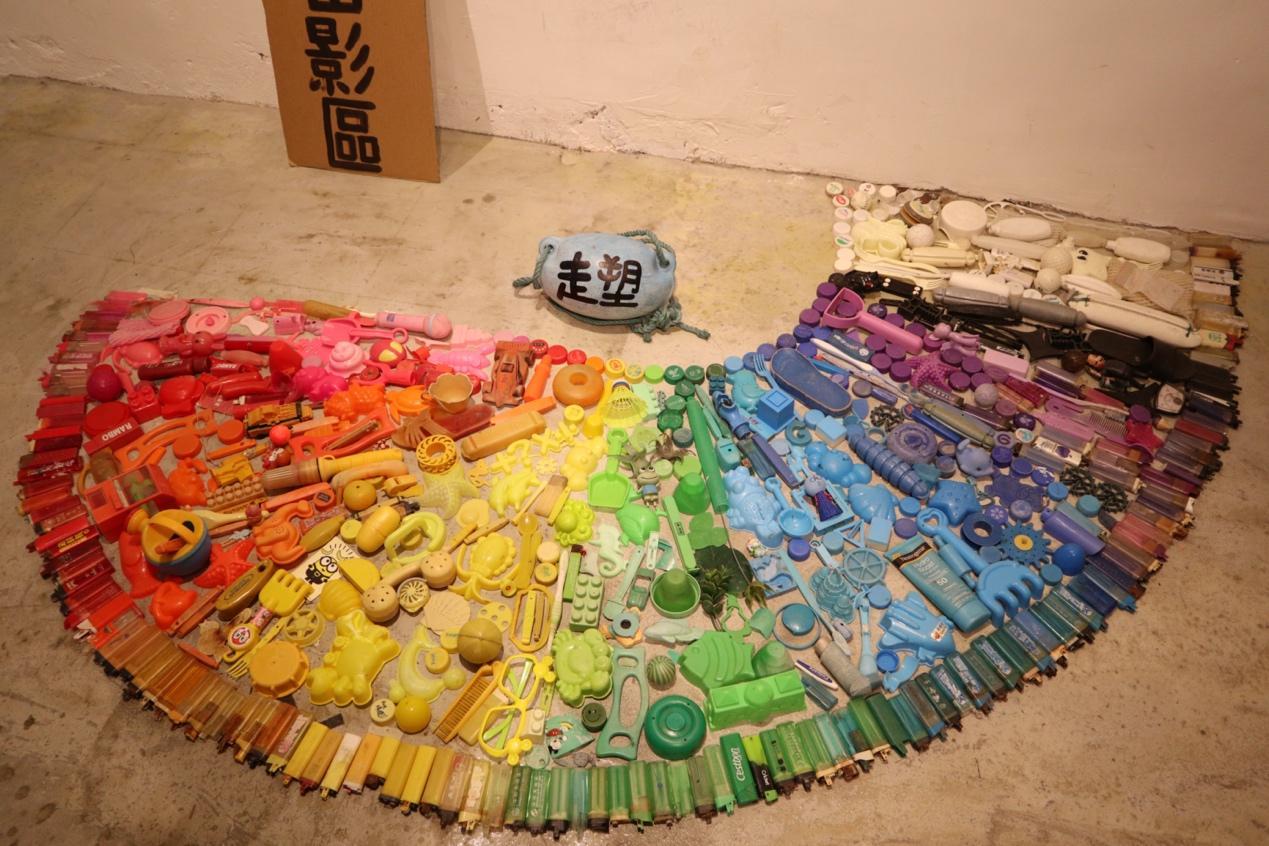 In July, more than a thousand people in Hong Kong encountered an unconventional rainbow.
On display in the center of an 18-square-meter room, the "rainbow," upon closer examination, turned out to be loads of plastic waste — such as lighters and children's culinary toys — organized in seven color categories. Alongside the installation was a buoy with two Chinese characters — 走塑 zǒusù, or "Reduce Plastic" in English — which revealed the reason why the people were there. 
This was part of a marine waste exhibition that took place in Hong Kong from July 17 through July 31. Titled "Trash Talk" (廢事同你講 fèi shì tóng nǐ jiǎng), the event was "perhaps the first of its kind in the city," said Yeungs, one of the organizers. All the items on view were collected in the past one and a half years by around 10 beach cleaners in the city, a collective of volunteers who call themselves "CraSea Cleanupper" (淨灘瘋人院 jìng tān fēng rén yuàn).
"We are quite crazy about picking up the trash," said Yeungs, a freelancer working in environmental education. "No matter sunny or rainy, we go to clean the coast every week."
Yeungs, who is in her late 20s, started doing shoreline cleanup on her own in 2010 after she went to a non-gazetted beach and collected more than 500 bottle caps within an hour. "It was that moment where I realized how severe plastic pollution was," she said. 
Located in one of the world's most densely populated regions, Hong Kong contributes to large amounts of refuse in the form of household, recreational, and industrial waste. When it comes to marine pollution, a 2015 report published by Hong Kong's Environmental Protection Department revealed that 95% of its ocean refuse was produced locally, with over 70% of its ocean litter being plastic and foam plastic items. 
The situation has deteriorated since the outbreak of COVID-19, as residents rely more on single-use cutleries and masks. According to a survey conducted by Ocean Park Conservation Foundation, Hong Kong (OPCFHK) in 2021, consumption of disposable plastic straws climbed from 4 to 4.4 per week, marking the first increase since 2017. 
Echoing OPCFHK's findings, statistics from My Natural Diary (MND), an initiative that allows cleanup participants to input refuse data into a centralized system, show that approximately 75% of the beach litter collected in 2021 was related to food delivery, possibly due to soaring usage of take-out containers and utensils during the pandemic. Plastic bottles were the most common type of waste on the coast, with more than 50,000 of them being picked up last year.
Further complicating the problem is waste from external sources. Because marine trash can be transported by winds and currents, Hong Kong, with 263 islands and 733 kilometers of coastline, also receives debris from other parts of the world.
"On average, we pick up about 100 kilograms of trash every week," Yeungs said. Since the start of 2021, about six tons of litter have been removed by members of CraSea Cleanupper, most of whom work or study in areas unrelated to the environment. Because the program's weekly cleanup takes place on Thursday, some volunteers even save up their vacation time to partake in the activity. 
Leo Mak, an IT worker in his 40s, is one of the passionate cleaners. "It really doesn't matter that I'm not a professional cleaner," he said. "Anyone from any occupation can join us if they want to."
Mak has adhered to coastal cleanup for four years while leading an eco-friendly lifestyle. When it comes to masks, he prefers the reusable type. But unlike others who wear cloth masks, Mak dons a respirator every day and changes its single-use filter once a month. 
"Many people think this is stuffy," he said, with a veiled but discernible voice coming through the mask. "But actually I can breathe normally, even when I run or jump."
For Yeungs, breaking free from plastic isn't hard, as "you can always find the alternative," she said. But she found it challenging to persuade other people to make sustainable, eco-friendly choices in everyday life. In an effort to convince people to go green, Yeungs, along with several other members of CraSea Cleanupper, put together the exhibition, where the rubbish was repurposed and given a meaning through handwritten cards telling the displayed objects' stories.
"For example, many visitors have marveled at the beauty of the rainbow," said Yeungs. "But these colors should never appear in the ocean. There should only be blue in the sea."
Because it can take hundreds or even thousands of years for plastic to degrade, some of the items on display could date back to the last century. There was a Happy Meal toy released by McDonalds in 1998 that still looked brand new. A Coca-Cola bottle that has long passed its expiration date of "April 1990" still has a dark liquid inside. Although their long lifespans are proof of the "high quality" of plastic production, they also represented the material's lasting damage to the environment.
Some exhibits were of unique local characteristics. For example, seven-digit phone numbers could be seen on some foam plastic pieces, which indicated that the debris was produced at least before 1995  — the year when local phone numbers were expanded to eight digits. Tiles of Mahjong, a Chinese board game popular in Hong Kong, were also collected along the shoreline.
Some objects harbor interesting stories. In 2011, a Sichuan boy threw a drifting bottle with a letter inside into the ocean from Zhuhai, a coastal city in Guangzhou province. Ten years later, the bottle was picked up by the cleaners in Hong Kong. The letter has the boy's basic information such as his name and school, along with a note saying, "I want to make friends with you." 
"I am astonished to see these litter still existing after so many years," said Ginny, a 21-year-old university student who happened to be at the exhibition's location and decided to go in and take a look. Her boyfriend, a 22-year-old graduate, remarked: "It's more powerful to see straws bitten by fishes with my own eyes, compared to plainly knowing the information."
Elsie Leung, a 26-year-old nurse who learned about the exhibition through Yeungs's social media posts, shared similar views. "I think what they are doing is very influential. They make me want to do beach cleanup in the future," she said. 
Yeungs and Mak said they hope the exhibition will transform people's lifestyle from extravagant to abstemious, step by step. A "Plastic Reduction Promise Area" was set up for visitors to vow to change their behavior, beginning with "stop using plastic straw," "bring tableware," and "prepare shopping bags." 
"Although we are passionate about picking up ocean waste every week, the beach cleanup is an endless work," Yeungs said. "We need everyone to take action if we want to solve the ocean debris problem for good."