Chinese badminton star says she was ordered to lose at Sydney 2000
Society & Culture
Meanwhile: China's women's volleyball team catches flak for taking the court at the Asian Volleyball Confederation Cup in the Philippines in masks.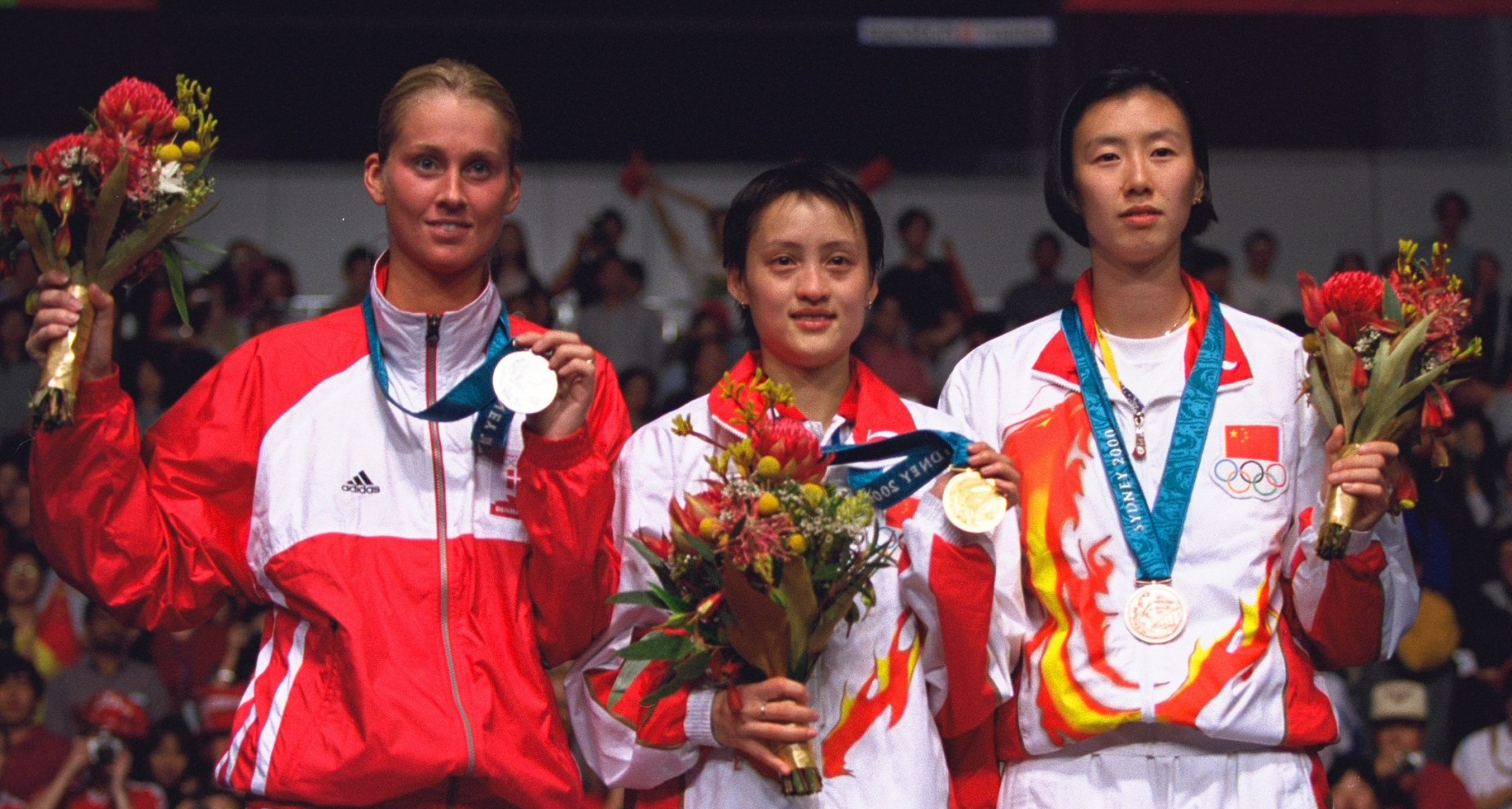 Retired badminton player Yè Zhāoyǐng 叶钊颖 has alleged she was ordered to throw an Olympic semifinal match against compatriot Gōng Zhìchāo 龚智超 at Sydney 2000.
In an interview with Danish broadcaster TV 2 Sport, she said officials told her to throw her match against Gong, who was seeded No. 1, because they believed Gong had the better chance of securing a gold for Team China in the finals.
Ye lost 11-8, 11-8 to Gong, who then defeated Denmark's Camilla Martin 13-10, 11-3 in the finals. Ye beat compatriot Dài Yùn 戴韫 for bronze.
The story about the fixed match has been gnawing at Camilla Martin, TV 2 SPORT's badminton host, for a long time. Both as an active player, when she first got wind of the story, but especially since 2004, when she retired from badminton and gained clearer insight into China's methods on and off the court.

However, Camilla Martin only recently managed to persuade the Ye Zhaoying to come forward and speak openly about the controversial Olympic semi-final in 2000. How it was agreed, who was involved, and why she deliberately lost.
Ye said that Chinese badminton's head coach, Lǐ Yǒngbō 李永波, and women's singles head coach, Táng Xuéhuá 唐学华, approached her the night before the match. Ye said she was paid 112,500 yuan ($16,300) to take the dive, the same bonus awarded to an Olympic gold medalist.
TV 2 Sport contacted the Chinese embassy in Denmark, who replied: "She has always been anti-China. Her statements don't deserve a response."
Ye's only other Olympics appearance was at Atlanta 1996, when she was one of the best in the world — she rose to world No. 1 for the first time in her career in December 1995 — but was upset in the quarterfinals. Sydney was her final Olympics.
Ye's many accomplishments in the sport earned her an election into the World Badminton Hall of Fame in 2009, but one can't blame her for feeling bitter about being robbed of her chance to compete for Olympic gold. "You feel very powerless because you are alone against the whole system," Ye said. "The Olympics are almost a once-in-a-lifetime opportunity as an athlete, so it feels really sad when you have to let yourself lose.
"But as an individual, I could do nothing against the system."
In a statement, the Badminton World Federation (BWF) said it "can't comment on specific details related to this historic incident" but that measures were in place to combat corruption.
"Accusations of this nature are something we consider very seriously," said BWF president Thomas Lund in the statement.
"Match manipulation of any kind is not tolerated in badminton. We are committed to protecting the integrity of the sport by putting in place very robust measures for monitoring and investigating acts of match manipulation."
~
Women volleyball team takes court in masks
Last Thursday, China's women's national volleyball team caused a stir across Chinese social media after players took the court at the Asian Volleyball Confederation (AVC) Cup in the Philippines wearing N95 masks.
The team lost its first set to Iran 26-24. The masks came off, and the team promptly won the next three sets 25-19, 25-10, and 25-13.
Criticism spread around the Chinese internet for the team's decision to wear masks before turning into a wider critique of China's ongoing struggle to maintain zero COVID.
"Letting the players wear N95 masks in competitions is extremely irresponsible to the national-level athletes," one person said on Weibo, according to SCMP. "For the sake of politics … The team leader and coach of the women's volleyball team, are they not human?"
Other comments included (via BBC):
"Our leaders are… taking things too far — it's as simple as that."
 "Is health or performance more important? We need to take some responsibility towards our athletes."
"How long will this so-called epidemic prevention farce continue? Do we want to become the butt of all other countries' jokes?"
In a statement on Weibo, the Chinese Volleyball Association (CVA) apologized and cited "lack of experience" in dealing with the virus outside of China.
In the statement, the CVA also said that it required mask-wearing after it was informed that some players from other teams had been infected and some players on the Chinese team had displayed symptoms.
The organization also said that players were required to wear masks at the venue and they were unsure if they had to remove them before taking the court.
"We realized wearing masks was bad for athletes' health in the second half of the first set, and the team promptly reminded the players to take off their masks and finish the rest of the game," the association said.
Two days later, China defeated Australia 3-0 (25-13, 25-8, 25-8) in the quarterfinals, then beat Thailand 3-2 (19-25, 25-20, 25-14, 23-25, 15-10) yesterday in the semifinals.
China will take on Japan in the finals later today, a rematch of the last edition of the AVC Cup in 2018, which China won. Both teams are undefeated at this year's tournament. (UPDATE: Japan won 3-1, securing its first title at this event.)
~
Other Stories:
China probes defeat by Evergrande youth team (FT)
Can ex-stars save China's soccer dreams? (Sixth Tone)
World Tennis boss assured of Peng Shuai's safety (Sky News)
Legend Liu Guoliang appointed to WTT board (China Daily)
---
The China Sports Column runs every week.