Traditional fundraising in the U.S. evokes black-tie galas in wood-paneled ballrooms. Storied donors in the latter half of their careers make multimillion-dollar endowments. Philanthropic giving in China, likewise, started with high-net-worth donors. But in recent years, China's technological and fundraising trends are fast bringing philanthropy into the apps and games that Next Gen donors already use every day. 
Imagine combining the functionalities of GoFundMe, Instagram, Venmo, Twitter, Fitbit, Duolingo, Mindspace, and your favorite texting platform in one app. On 99 Giving Day, China's biggest philanthropic event of the year over nine days in September, donors can give to their favorite charities by playing a game on their phone; committing to walking a certain number of steps that day; or sharing their online fundraising campaign with their friend—all on a single platform. This is powered by Tencent Philanthropy's channel on WeChat, the Shenzhen-based tech company's super app that encompasses the functionalities of chat; mobile payments; social media; fitness tracker; and more. (Disclosure: Tencent is a donor to the Serica Initiative.) 
Like on U.S. online fundraising platforms like GoFundMe, individuals and nonprofits can start their own 99 Giving Day crowdfunding campaigns on WeChat. Going a step beyond this, gamification helps make online fundraising entertaining, and appeal to Chinese millennials and Gen Zers. At the heart of 99 Giving Day's gamification are "Little Safflowers." These are virtual tokens that users can collect throughout the year on the app; convert into money to donate to their charities of choice; and for which Tencent Philanthropy will make matching donations on 99 Giving Day.
What does this look like in practice? Participants can collect Little Safflower tokens in various ways. Different games offer users different ways to earn tokens and donate to charities, according to their means and interests — whether by engaging in daily physical activity or meditation, volunteering their time or, of course, by donating money directly:

One option invites users to recycle used goods, from home electronics, textbooks to old clothes, in return for Little Safflower tokens.

In a 2022 version of the Tamagotchi, individuals earn points by engaging in activities like meditation, and marking their daily progress on the app. These points allow the user to "feed" their virtual dragon and in turn give to charity. 

99 Giving Day participants can also earn Little Safflowers by committing to taking a certain number of steps each day. 

In another game, users collect tokens by helping underprivileged children in the Chinese countryside develop their language skills. Volunteers record language lessons for the children using voice messages sent over WeChat. 

Partnering with China's Jinjiang hotel chain, one 99 Giving Day game gives users Little Safflower tokens by checking into a "green" hotel room, where the guest chooses not to change their linens or complimentary toiletries items during their stay.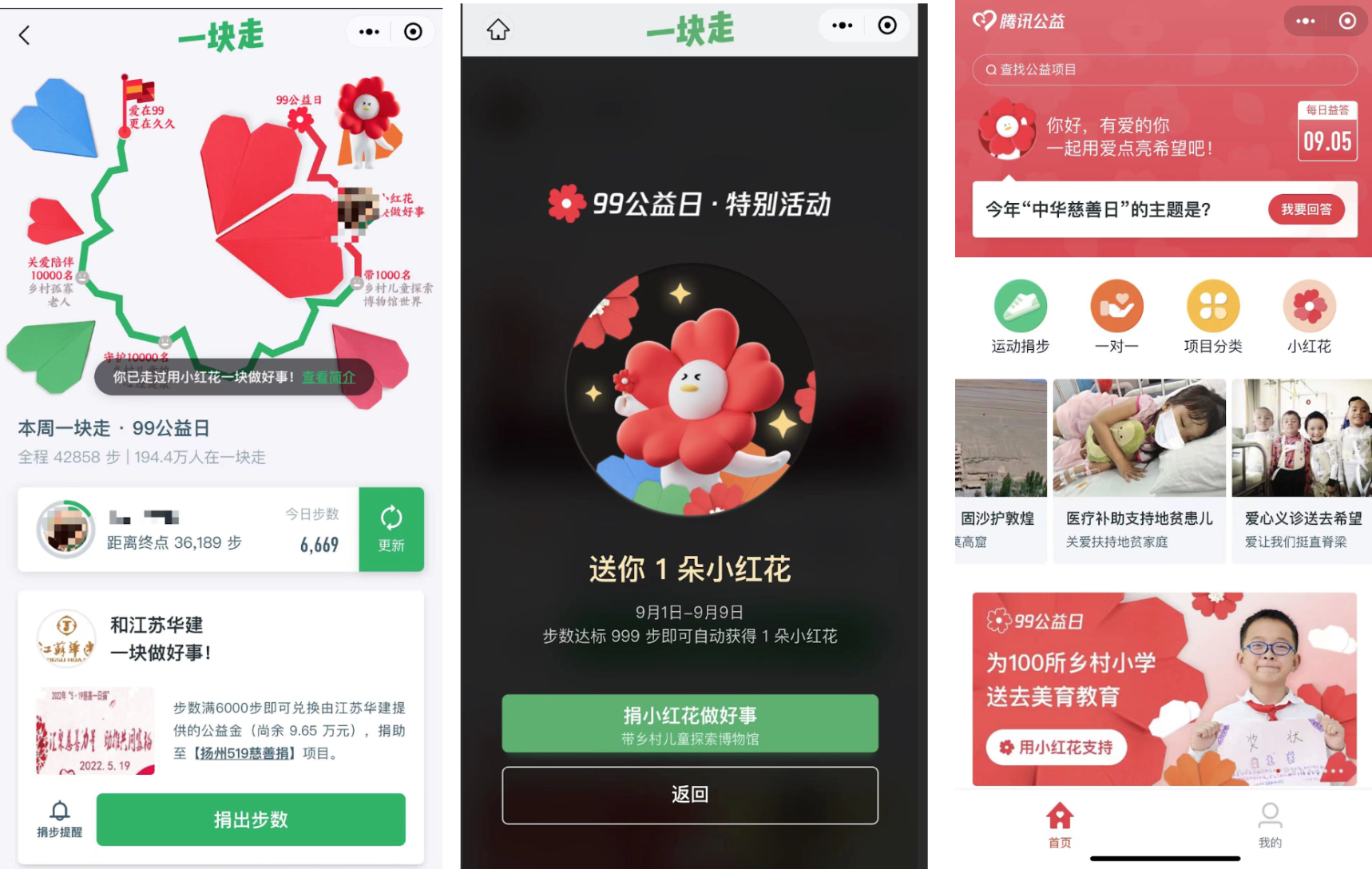 Key takeaways from fundraising best practices in China:
Going to where your donors and potential donors already are — to the apps and tech platforms they already use throughout the day — integrates charitable giving into people's daily habits and tech use. By leveling up mobile giving capability, your fundraising strategy can meet your potential donors where they are, rather than asking them to use a separate platform or sign up for a new account. Not surprisingly, this is especially important for nonprofits when cultivating Next Gen donors, since millennials spend nearly twice as much time on their mobile phones as Baby Boomers, according to Entrepreneur.
Gamifying philanthropy makes giving entertaining, and again leverages what millennials and Zoomers are already doing everyday on their phones: such as playing games; using meditation apps; and keeping track of their number of steps each day. Next Gen donors may not have as much money to give as preceding generations yet, but gamification allows them to support their favorite causes in alternative ways. As we saw through the 99 Giving Day games, emerging donors can "convert" their time, daily activities, attention, and social networks into charitable contributions. These are all important ways, as Charitable Impact points out, for young donors — as well as the nonprofits looking to court them – to capitalize on their Next Gen tech-forward habits and strong online networks to give charitably.
Innovative online giving campaigns not only help nonprofits fundraise from Gen Z and millennial donors. Just as important, the use of tech and gamification makes philanthropic giving fun and accessible for a new generation of donors. This encourages younger generations to start building a regular habit and practice of charitable giving, and enables nonprofit organizations to develop meaningful relationships with a mission-conscious new generation of donors early. 
Edited by Daniel Tam-Claiborne. 
Want to learn more? The Serica Initiative's China Impact Newsletter is a monthly deep-dive into the trends, major players, and regulatory environment for philanthropic and nonprofit activity between the U.S. and China. Subscribe to the newsletter

here

.