'While the Wall is standing, we'll be here': Catching up with Great Wall conservationist William Lindesay
Society & Culture
"It was when I looked back at my Great Wall life story that I realized, in so many places, it was the fact that I hung on by the skin of my teeth when there seemed like all hope was gone, well, that is the reason why I'm still here today."
William Lindesay first left his native England for China in 1986 as a marathon runner attempting to run the Great Wall. After many setbacks, he completed a journey of 2,500 kilometers in 1987. Those experiences are recounted in his first book, Alone on the Great Wall, published two years later.
He has since written seven books, including Marching with Mao: A Biographical Journey (1993) and The Great Wall in 50 Objects (2015). In 1998 he was awarded the Friendship Award for presenting and preserving the Great Wall from Qián Qíchēn 钱其琛, then vice premier of China, and in 2006 he was awarded an OBE from the late Queen Elizabeth for outstanding contributions to protecting world heritage and furthering cultural understanding between the UK and China.
On September 20, he published the first volume of his two-part memoir Wild Wall — The Foundation Years. He recently talked to The China Project about why he decided to write a memoir, the challenges of running a tour business during the pandemic, and how the mantle of Great Wall exploration has been taken up by his sons.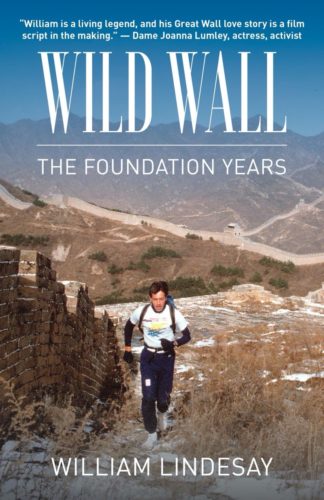 Why did you decide to write a memoir in this time of great flux and geopolitical change?
My two sons Jimmy and Tommy were playing 7 Years by Lukas Graham in the car when we were on holiday in Scotland a few years ago and the lyric "Remember life and then your life becomes a better one" caught my ear. It triggered the realization that as I was approaching the normal age of retirement, 65, I should look back at a life, over half of which has been lived in China.
At my normal writing rate it would have taken me several years to actually finish the book, but when COVID broke out in early 2020 I had nothing to do but make hay while the sun shines. This gave me the chance to reread my old writings, much of which were done when I knew very little about Chinese history. I also sorted through thousands of photographs and maps, and reached out to the long line of Great Wall friends I've made over the years. Within six months I'd written 138 chapters, which I later pruned down to 100. It was still long, so we've decided to release two volumes. The first, Wild Wall — The Foundation Years, will be out this week, with the second volume, Wild Wall — The Jiankou Years, released in a few months' time.
In the first volume, as well as chronicling your helter-skelter experiences in China from 1986 to 1994, you also delve into your childhood in Liverpool and your family history. What inspired you to bring your past, as well as your ancestors, into the story?
This book doesn't just explore what I do but who I am and where I'm from. I was trying to uncover the reasons that would predict why I was going to spend my future life exploring China. One interesting thing I uncovered was that my great grandfather, Dr. John Cross, was born in Macau and had Chinese blood, as his grandfather was a Chinese man who married a Portuguese woman, which makes me 1.56% Chinese. I also write about some childhood episodes that I think forged me, like repeatedly running away from a school my parents put me in that I disliked. I think that shows an unwillingness to take no for an answer, which you need when traveling thousands of kilometers through China alone. Writing these books has also helped me link life's journey with my big journeys, including those of the next generation, as my sons are currently off on their own Great Wall adventure. It feels like things are less linear than they are cyclical sometimes.
Yes, their 2 Brothers Great Wall YouTube channel shows they're making quite a bit of progress in the Hexi Corridor, which you first explored in 1986. How much do you think your Great Wall obsession has become a family business?
Well, I have to say my wife Wu Qi has proved to be a fantastic partner. She actually studied history, although she often laughs it off, saying the class of '77 was mainly about Marxism-Leninism. But she's always been able to assist in my research as well as advising me when I might want to notify the authorities about this or that, such as when we organized the first volunteer clean-ups on the Wall in the early 2000s after litter had become a problem.
As for my sons, well, they were born into it. We took Jimmy there when he was four, just after we acquired a small farmhouse about 100 kilometers north of Beijing that we use for our WildWall Weekends. Tommy touched the Wall before his first birthday. It was their back garden. There was, of course, a bit of pushback when they were teenagers about missing things like friends' birthday parties. But mostly, they've relished it. They heard all my stories, and when, about 10 years ago, I injured my knee, they were able to step into my shoes and take over my role as tour guide.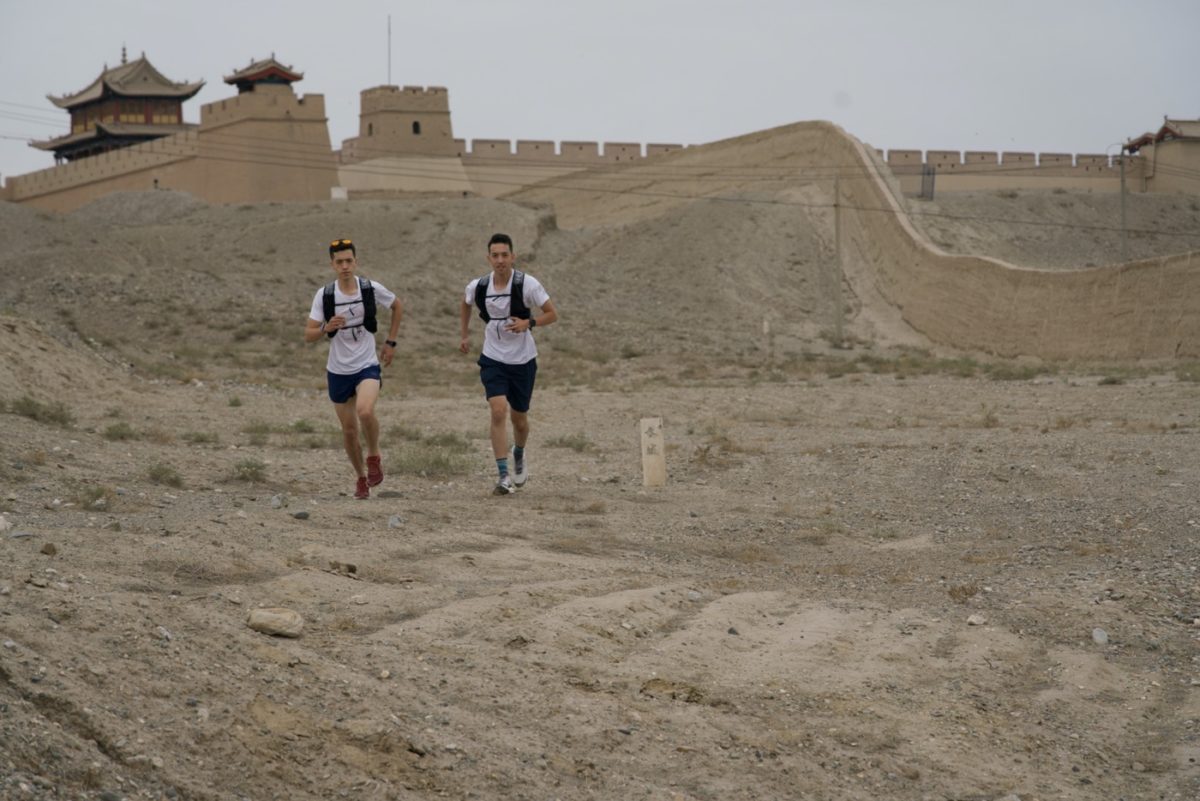 How did they come to be traveling the Wall together in 2022?
In the summer of 2019 they ran Hadrian's Wall, the Roman wall across the north of England. My brother Nicholas and I ran it in 1984, and that's when he suggested I try and run the Great Wall of China. We traveled as a family by car along the length of the Great Wall in 2016, and the boys, who are both adept with technology, filmed it with a drone. The footage became a documentary aired on BBC Four.
But neither of them had taken a gap year before Peking University. So when Tommy graduated, it felt like the time was right for them to go it alone. Of course, China has changed a huge amount since the 1980s. They have an amazingly detailed map allowing them to hug the line of the Wall, take scores of photos with their iPhones, and post daily updates on Twitter, while I only had a classroom wall map, a film camera, and sent postcards. But, in certain respects, the challenges remain the same: The Wall is long, the landscape brutal, the weather roasting.
We did discuss if they should wait and let COVID die down, but life can just waste away waiting for policy change. Because of the COVID-zero policy in China, they face a different kind of red tape from that which I faced when I ran the Wall: more high-tech, more challenging. Yet I'm happy to report they've just passed the 1,500-kilometer mark, and because they are right beside the Wall, it is now they who are opening my eyes to things I have not seen before.
Has the pandemic also affected your Great Wall tours?
In a word, the pandemic has decimated travel in China. In the first year, you know, we had the family reserves to rely on, and I was distracted writing my books. In the second year, the reality of the pandemic began to bite because everyone had expected it to be a troublesome six months or so and it was clearly something far bigger. In 2021, we realized we were going to have to try and organize some wild weekends, but the market had completely changed as inward travelers amounted to zero. We had two choices, what I call the trapped expat who can't leave China, and the local market. Both are challenging, as they probably have visited the Great Wall before so you have to convince them that you have the experience and insights to offer something new. Then there are COVID restrictions. For instance, we had some clients recently who came up from Shanghai to Beijing and were on their way to join our tour when their app notified them that someone in their district had tested positive, so they had to cancel. That's just the reality now.
Apart from your personal story and insights into Chinese history, what do you hope readers will take away from your life-less-ordinary?
Writing the books made me feel really appreciative and thankful for the thousands of days of different experiences I've had all along the Great Wall, across many provinces, in the mountains, in the desert, and even beyond the frontier of China, in Mongolia. It was kind of a rejuvenating experience in that respect. But it's a human survival story at heart, and my greatest hope for the book is that it inspires people, especially younger people. That it shows them that whatever difficulties stand in your way, you've got to be focused. I learned this as a runner. Without missing a single day's training, you clock up 3,500 miles per year, rain or shine. Mental strength is much harder to acquire, you can't train for unforeseen things. It was when I looked back at my Great Wall life story that I realized, in so many places, it was the fact that I hung on by the skin of my teeth when there seemed like all hope was gone, well, that is the reason why I'm still here today.
You've talked about COVID zero and the damage to tourism. How are you channeling the mental strength to hang on in China now in the face of so many unforeseen challenges?
There's been a huge decline in the expat population, which is sad, especially saying goodbye to people who've been in Beijing for 20 years. The pandemic has been terrible for privately owned businesses, China-wide, for many sectors, including travel and hospitality. But ask anyone who has spent some time in China and they will tell you, nothing is ever easy.
Currently we're Zen living in the present moment and just hoping things will improve. It's not all doom and gloom. There are exciting things going on, including the announcement of the first tranche of 50 or 60 significant sites along the Wall that will form a national park chain. There's also a Great Wall cultural belt in the works. Great Wall provinces and counties are now hungry for content, stories, and different ways of looking and learning about the Great Wall. I have a shelf-full of books that do just that.
Honestly, I think I would get severe withdrawal if we ever left this place. My wife and I often say that while the Wall is standing, we'll be here. You know, she told me my memoir should have been 99 chapters, not 100, because we still have one big chapter left ahead of us.