To think of traditional Chinese art is, typically, to think of calligraphy, ink painting, landscape drawings, and hanging scrolls. In this sense, Summoning Memories — currently on view at Asia Society Texas — undoubtedly feels steeped in deep time at a cursory glance. 
But a closer look at the artworks on display will immediately reveal the true intent behind the exhibition. Although the works are in relation to the past, they are unequivocally not of the past. For the artists represented, traditional modes of Chinese art-making and crafting are the foundation on which they can forge their own paths. 
China news, weekly.
Sign up for The China Project's weekly newsletter, our free roundup of the most important China stories.
"These artists summoned something from the past and then moved beyond what was originally devised to make something relevant, something new, and something changing," Susan Beningson, the show's guest curator, told The China Project. "They are responding to the world today and the things in their lives."
Occupying most of the light-filled second floor of Asia Society Texas Center and comprising five galleries, the exhibition features a dynamic collection of works by more than 30 contemporary artists of Chinese descent who buck norms and expectations, presenting a fresh approach to traditions through a variety of mediums, techniques, and styles.
While no single piece can possibly encapsulate the varied exhibition, Yáng Yǒngliáng's 杨泳梁 "Phantom Landscape" series is exemplary of the show. Expertly trained in traditional Chinese ink painting, or shuǐmòhuà 水墨画, in his early years, the Shanghai-born multimedia artist developed a fascination with modern technology in the 2000s and began creating landscape prints of illusionary effects through digital manipulation. 
At first sight, the three "Phantom Landscape" prints exhibited at Summoning Memories — one being a special commission specifically created to celebrate the Year of the Rabbit, placed by the entrance of the installation — seem to be earnest, modern imitations of classic Southern Song (1127–1279) painting, in which sensitively gradated ink washes are applied with technical perfection and an air of elegance that evokes visual poetry. But upon closer examination, trees and mountains fade as telegraph poles and skyscrapers emerge to reveal glimpses of complex cityscapes in modern China. 
On the surface level, harmony rules Yang's pictures as they masterfully balance the conflicting elements such as gentleness and vigor, ugliness and beauty. Beneath that, however, lies an unsettling feeling about dystopian landscapes, which reflects the artist's rumination on the traumatic loss of traditional urban architecture and ways of life.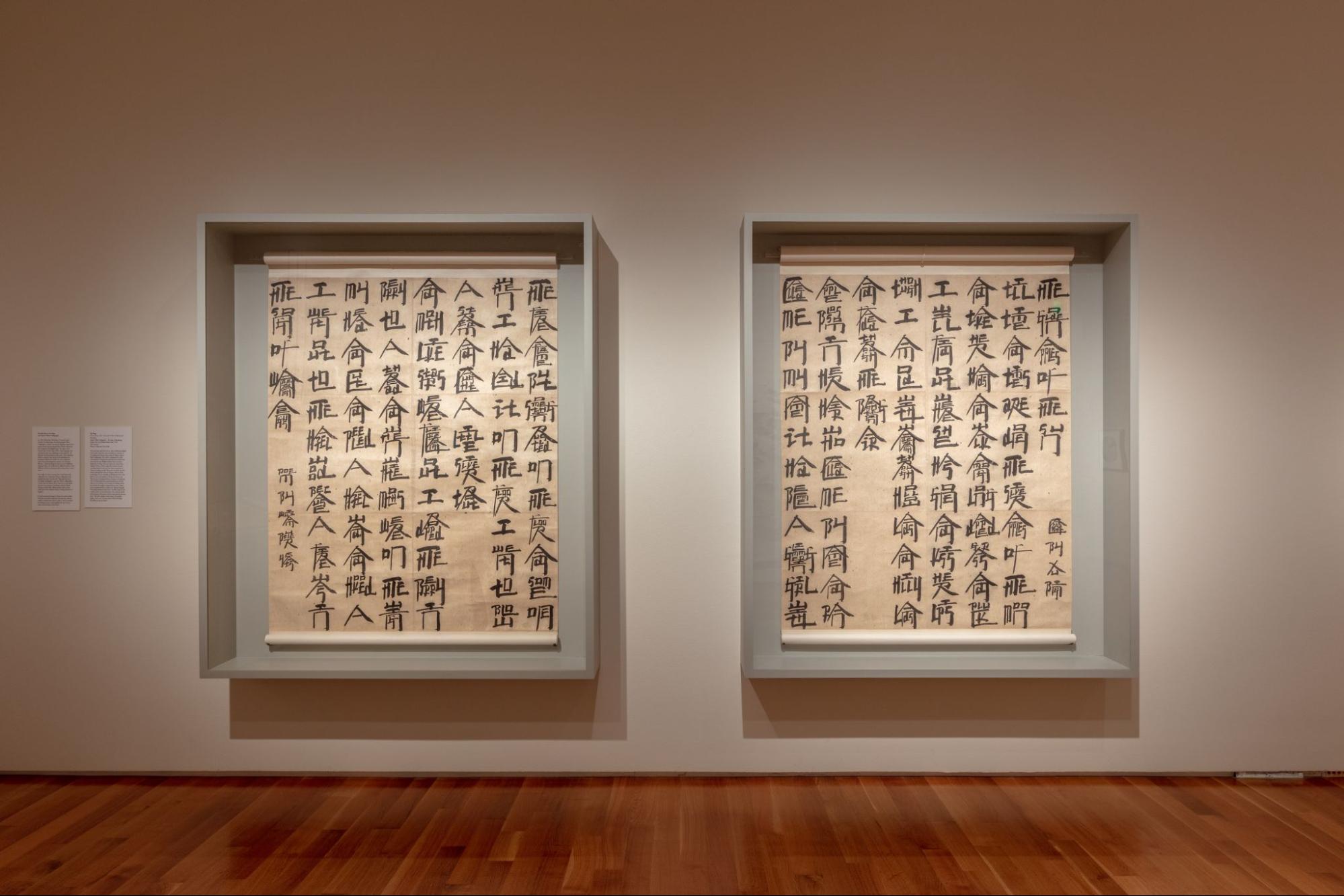 Deception is also a key ingredient in the work of Xú Bīng 徐冰, a world-famous artist known for his expansive body of creations that examine the significance and question the effectiveness of written communication. In the 1990s, after spending considerable time overseas as a pioneering figure introducing contemporary Chinese art to an international audience, Xu began to experiment with the representation of English words in Chinese calligraphic forms. The result is "Square Word Calligraphy," a system where each English letter is transformed into a Chinese calligraphic-like square structure. 
On show at Summoning Memories, "Introduction to Square Word Calligraphy" is a textbook to explain how Xu's system works. Placed next to it is "The Song of Wandering Aengus by William Butler Yeats," a painting in which Xu employs his own invention and renders the title poem through symbols that transcend the linguistic and cultural boundaries between East and West. Reading from left to right, following English word order, and from top to bottom in columns, as in traditional Chinese texts, Xu's transcription does not retain Yeats's original format of three eight-line stanzas. Instead, he divided the poem into two sheets and recomposed the words to resemble Chinese characters.
The puzzling piece was a crowd favorite at the exhibition's soft opening in early February, which was timed to coincide with the Lunar New Year. "You'd see these Chinese families trying to read the calligraphy as if it was in Chinese, and the label for it hadn't been put up so they couldn't figure it out," Beningson recalled. "So I called Xu Bing to tell him that and he was so happy. Seeing people interact with his work makes him so happy."
Another piece that requires deciphering from visitors is "In a Twinkle No. 6" by Táo Àimín 陶艾民. Born and raised in Hunan, Tao uses art to explore the daily lives and often forgotten personal histories of rural Chinese women with a combination of empathy and anthropological curiosity. For her contribution, which consists of three dramatic hanging scrolls, Tao paints on wooden washboards that she collected on numerous trips to her family's home village. She creates ink rubbings from them and inscribes them with stories in nüshu, a colloquial language spoken exclusively by the local women of the Yao minority in Jiangyong county, Hunan Province. 
The text on "In a Twinkle No. 6" is a collection of short sentences, allegorical sayings, and slang, with very strong cultural and regional specificity that might not be understood by people outside that area. To help visitors understand, the installation has English translations displayed in this wall text. "It's about gender, but it's also about modernization and how communities change," Beningson said. "About half of the artworks in this exhibition are by female artists, and I just really wanted different voices to be heard."
Rather than conversing with visitors via cryptic language, some works on display are in dialogue with modern-day issues. Globally celebrated for borrowing past events to comment on present problematic developments, Chinese painter Jì Yúnfēi 季云飞 shares "Three Gorges Dam Migration," a 10-foot-long horizontal image, hand-printed from over 500 hand-carved woodblocks. Presented on a hand scroll and drawn in a classical Chinese landscape style, the piece depicts the environmental and social consequences caused by the construction of the Three Gorges Dam, a gigantic hydropower project on the Yangtze River that swamped more than 1,000 historical and archeological sites, and forced millions of people to relocate.
Discoursing with a more recent event, New York-based artist Kelly Wang addresses the global COVID-19 pandemic in "Entanglement," a sculpture that mimics the imagery of a scholar's rock (供石 gōngshí, i.e., naturally formed rocks kept by ancient scholars), made of newspapers she collected in 2020, when her father was hospitalized with COVID and passed away as a result of the virus. 
When a group of 30-plus artists are brought together in one exhibition, resonating patterns are bound to emerge. To spotlight a dynamic intergenerational dialogue between the artists, the show is deliberate and purposeful about its arrangement. For example, in the same room with Kelly Wang's "Entanglement," there is "Taihu Rock of the Liuyuan Garden," an ink portrait of a scholar's rock by Chinese painter Liú Dān 劉丹, who sees the natural substance as "the DNA of Chinese landscapes," Beningson noted of Liu's artistic philosophy.
"So he's thinking very much like a traditional Chinese scholar, thinking about the whole history of scholar's rocks," the curator added. "But for Kelly, it's something completely and equally personal, but has a very different meaning. It's part of her grieving and mourning process. I think it's really interesting to have those kinds of conversations within the galleries."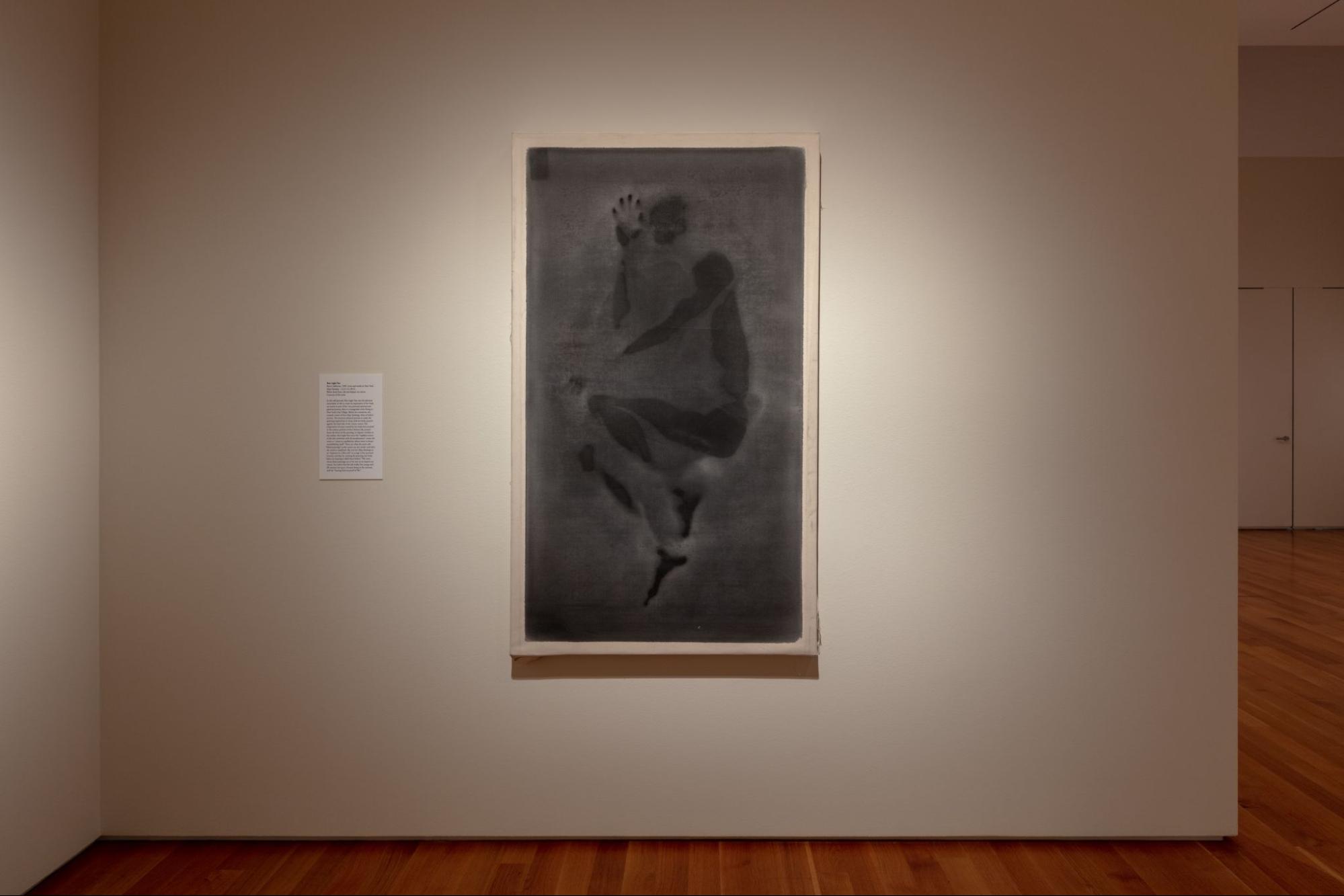 Elsewhere at the show, artists look inward and engage in self-reflection. A notable work from this category is "Sleep Painting," a provocative and oddly moving self-portrait by a New York-based transgender artist who goes by Ren Light Pan, who used the physical materiality of ink to create an impression of her body on canvas before her transition.
"It's one of the most poignant paintings in the exhibition. It's so incredibly personal. You can tell that she was going through personal trauma and upheaval at this time in her life and was dealing with depression. The portrait is a documentation of a painful yet very specific moment in her life," Beningson said.
Ren Light Pan is among several emerging artists whose works are displayed next to established names at Summoning Memories. "I wanted to use this as an opportunity to give some younger or up-and-coming artists a shot. I wanted to give them that exposure," Beningson said.
Summoning Memories offers visitors an understanding of how the historic and the contemporary in Chinese art can feed each other in meaningful ways, creating a synergy that is both retroactive and forward-facing. 
"The cultural traditions are really dynamic and they're still evolving," Beningson said. "It's a vibrant dialogue. At Summoning Memories, some of the artists are having very personal dialogues. Some of them are having cultural dialogues. Some of them are having political dialogues. And some of them are having historical dialogues. There are many different kinds, and I want to highlight that sense of movement."
Summoning Memories will be on view at Asia Society Texas until July 2, 2023. Click here for more information.