China's techno-natural utopia: A deep dive into Xiong'an
Business & Technology
Xiong'an New Area (雄安新区 Xióng'ān Xīnqū) is a development hub in Hebei province, announced on April 1, 2017, and is currently home to multiple state-owned enterprises, research facilities, and government offices. At the six-year anniversary of its founding, we take a closer look at this centrally-planned city.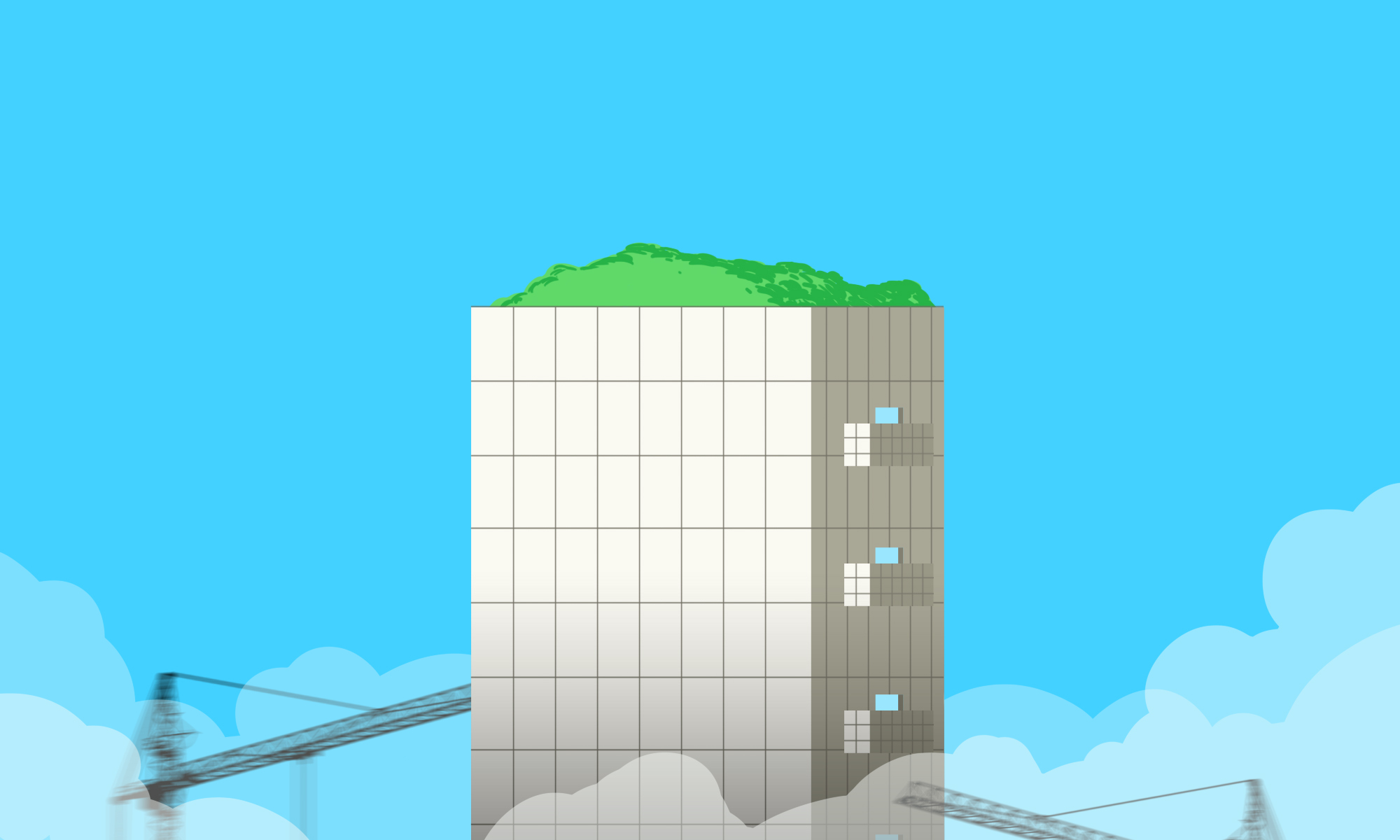 A power transformer station with a Chinese-style rooftop garden. A placid reflecting pool with supercomputing servers buried within. A water treatment plant with curving rooves that flow into the landscape. These structures symbolize the ethos of "high quality development" in Xiong'an New Area, a satellite city 100 kilometers (60 miles) south of Beijing. Officially announced on April 1, 2017 as part of an effort to relocate non-essential functions out of a congested Beijing and promote development in northern China, today the city — parts of which are still under construction — has taken on ideological significance as a "national template of high-quality development."
While China has built numerous "new areas" and eco cities in the past, Xiong'an represents a more ambitious synthesis, a fusion of nature, high technology, and culture to show that high-tech development can be reconciled with environmental protection, and that China can innovate on its own terms.
Overview
The concept of "high quality development," enshrined at the 19th Party Congress in 2017 as part of "Xi Jinping thought on socialism with Chinese characteristics for a new era," has come to encompass various aspects of Xí Jìnpíng's 习近平 push for a new model of development to offset a slowing economy. At the recent Two Sessions meetings, the "high-quality development" theme, along with "self-sufficiency," were further emphasized. A recent visit to Xiong'an by close Xi associate and Politburo member Chén Mǐn'ěr 陈敏尔, currently Party secretary of neighboring Tianjin, shows how Xiong'an continues to be closely tied to national development goals. The city already has reported 510 billion yuan ($70 billion) in total investment, surpassing the $37 billion tab for the Three Gorges Dam, one of China's largest infrastructure projects when it was fully completed in 2012. By this point, the sheer amount of central investment could make Xiong'an "too big to fail."
In 2018, the Xiong'an Master Plan was released, using the term "Xiong'an quality" to describe the city, echoing the term "Shenzhen speed," which described Shenzhen's rapid construction in the 1980s during China's reform and opening up. While Xiong'an is discussed as a "third new area of national significance" following Shenzhen and Shanghai's Pudong District, Xiong'an's developmental model and political significance are quite different. Whereas Shenzhen signaled a China opening to private foreign investment, Xiong'an represents a reassertion of the state's role in China's economy, something that has only accelerated over the past few years with concepts like the "dual circulation" and Xi's crackdown on private technology giants like Alibaba, Didi, and Tencent. After Xiong'an's creation in 2017, private tech platforms like Baidu, for example, announced they would help build Xiong'an into a center for high-tech innovation.
In reality, Xiong'an's construction and technology platforms are being carried out primarily by state-owned enterprises (SOEs). Xiong'an Group was set up in 2017 as a company to help build the city's basic infrastructure, with loans from China's big four banks plus China Development Bank. Housing development has mostly been undertaken by SOEs like China Merchants, China Resources Land, and Poly Group, and China Rail Construction. Among the first major offices to begin construction recently are headquarters of multiple SOEs, including China Satellite Group, power generator Huaneng, and Sinochem. The big three state-owned telecoms (China Mobile, China Telecom, and China Unicom) have set up research parks in Xiong'an. For example, China Telecom is building its "Smart City Industrial Park." The Xiong'an Innovation Research Institute, a branch of the Chinese Academy of Sciences, is also under construction in Xiong'an. And China Communications Construction Company (CCCG) is developing a plot of land around the Xiong'an Railway station into "Sci-Tech Innovation City."
Xiong'an has become a physical embodiment of Xi's "party-state capitalism": re-centering the Chinese Communist Party in urban life, promoting high-tech and green innovation through investment in universities, state research institutes, and SOEs.
An answer to the "big-city disease"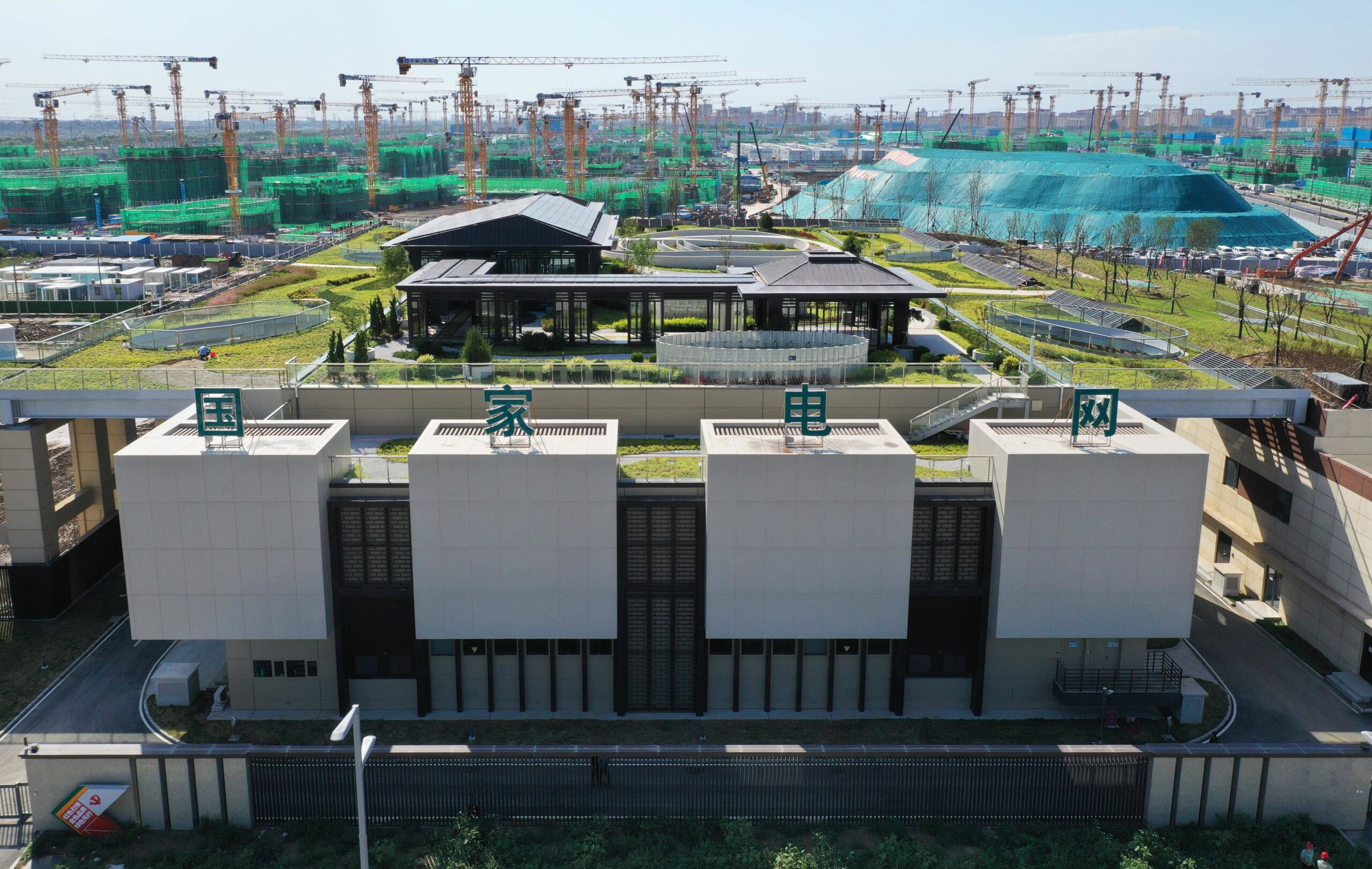 Xiong'an New Area has been seen by Party leadership as crucial to China's overall efforts to promote better urban quality of life and innovation, and modernize the role of the party and state in urban residents' lives. But what is actually "new" about Xiong'an New Area? To answer this question requires both an exploration of the city's overall planning and design, as well as the policies and digital platforms being trialed in Xiong'an.
The city was supposed to heal the "big-city disease" (大城市病 dà chéngshì bìng) of Beijing — sprawl, pollution, and traffic jams had reduced quality of life in the capital in the early 2010s. In order to avoid these problems, Xiong'an would eschew the "big pancake" pattern (urban sprawl) by promoting "group form" spatial layout with distinct urban clusters separated by greenbelts, with 70% of the city reserved for green areas.
The Xiong'an Master Plan requirements called for the central Qibu District of Xiong'an to be laid out in "five groups" arrayed on an east-west axis. Combined with a central north-south axis, the city's form resembles imperial Chinese planning concepts seen in the old city of Beijing itself, as well as the 1986 master plan of Shenzhen, which was organized in a series of east-west enclaves.
Xiong'an features ecological buffer zones, limiting construction around the edges of the Baiyangdian wetlands. "There was pretty clear direction from the government to do small blocks, that land wouldn't be sold to developers, that things would be state-run," an urban designer working for Skidmore Owings Merrill, the firm who won the master plan competition for Xiong'an, told me in August 2021. There were also ideas about shifting from a system of land-based finance, which had become the main source for Chinese cities to fund their infrastructure and budgets over the last few decades. But finding a more sustainable financing mechanism is a challenge whose outcome remains uncertain in Xiong'an.
The first neighborhood of Xiong'an to be constructed was Rongdong District, located just north of the main Qibu District. Rongdong mostly comprises resettlement housing for some 170,000 villagers whose homes were demolished to make way for the new area. Some of the existing towns and villages within the three counties of Xiong, Rong, and Anxin were to be maintained within the master plan, but 70,000 residents have already been relocated. Over the last few years, construction reports detailed the basic infrastructure being constructed in the city: large underground utility and logistics corridors built to facilitate maintenance and parcel deliveries, water treatment plants that funnel water from the north-south diversion project into Xiong'an, and the simultaneous building of a digital twin of the city. Xiong'an is said to be "three cities": the actual city, the city in the cloud, and the city underground.
Of the five groups of the Qibu District, Qidong District is the commercial core, lying just south of Rongdong. This area will feature a "finance island" and headquarters for state-owned enterprises being relocated to Xiong'an. Four universities from Beijing are set to open satellite campuses in the far eastern cluster adjacent to Qidong. Around 2025, when some of these projects are due to be completed, Xiong'an may finally see a significant increase in residents, if employees can be convinced to relocate.
New neighborhoods for a "new Xiong'an person"
Xi's turn toward "cultural governance," promoting the idea of "cultural self-confidence," has urged China to look to its own culture and traditions instead of copying Western models. This is reflected in the urban design guidelines of Xiong'an, which aim to "promote a higher standard of public service system, cultivate people with healthy minds, and create a 'new Xiong'an person' with noble character and artistic temperament."
The urban design concept lays out the required "10 complete components" of 15-minute "life circles," aiming to provide a certain set of social services and cultural amenities no farther than a 15-minute walk for residents of a particular community. This includes preschools, tool-rental facilities, cultural activity stations, a "public service center" hosting offices of the neighborhood committee, and elderly care centers. China's Ministry of Housing and Urban Development (MOHURD) published a "Guide to Building Complete Communities" in 2021, which includes similar concepts as in Xiong'an 2019 community design guidelines. While the concept resembles the "15-minute city" idea that has been promoted in Paris and elsewhere, in Xiong'an these guidelines have to be seen in the context of China's administrative system, where "communities" (社区 shèqū) are the lowest level of the state administrative apparatus.
A "green engine" for ecological civilization
The importance of building China into a "technological great power" has grown in the last few years in the face of intensifying competition with the U.S. and a slowdown in the domestic economy. At the same time, the concept of "ecological civilization," which was written into China's constitution in 2012, has been continued as a key Party-endorsed concept under Xi Jinping. The idea emphasizes China's unique "environmental culture" and "ecological wisdom" as offering solutions for environmental management distinct from those of Western environmental traditions, and that China's development will lead the country into a new ecological age. A 2015 article called for making scientific technological innovations the "green engine" of ecological civilization.
In Xiong'an, we can see, through specific projects, how this fusion of technology, environment, and cultural nationalism takes shape: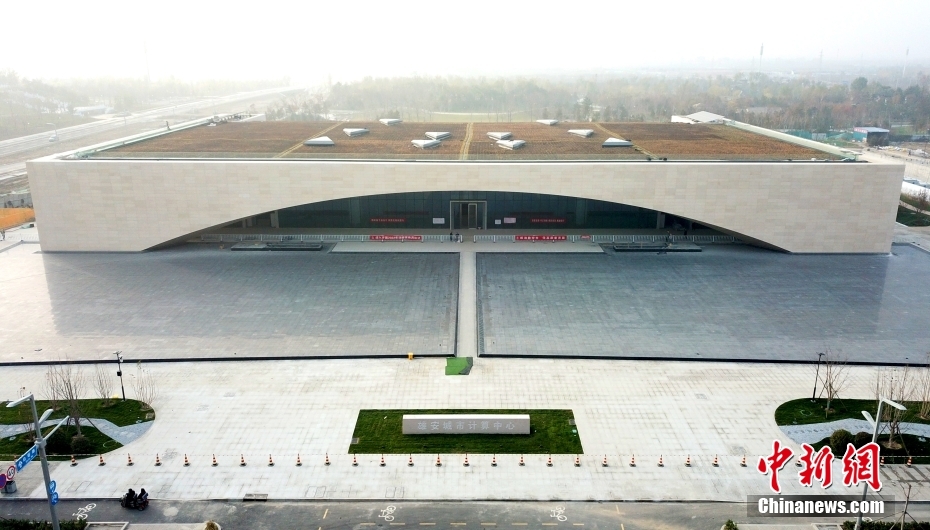 The Xiong'an Supercomputing Center went into operation on November 14, 2022, which the government describes as "the core of the ecological city, a perfect integration of digital and ecological" and the "first data center built into the earth, with Chinese landscaping features." A large glass-domed structure surrounded by a reflecting pool, it will house an internet data center, cloud platform, and supercomputing system. The center will help power some of Xiong'an's digital systems, including platforms to manage traffic flow and autonomous vehicles.
The term "city brain" is the same name Alibaba has used for its own proprietary smart city technology platforms, deployed in Hangzhou and other Chinese cities. Incorporating big data analysis and AI functions, these systems can help manage and "optimize" urban traffic flow with the aid of widespread surveillance cameras, for example. Xiong'an's "city brain" project has been overseen by a subsidiary of Xiong'an Group, though Alibaba mentions it as a collaboration on their website. The city brain is a physical embodiment of the fusion of high technology and environmental sustainability. Data centers are not usually located in such centrally visible locations (a potential security risk), but the building's significance seems to be primarily as a symbolic representation of nature and technology fused together.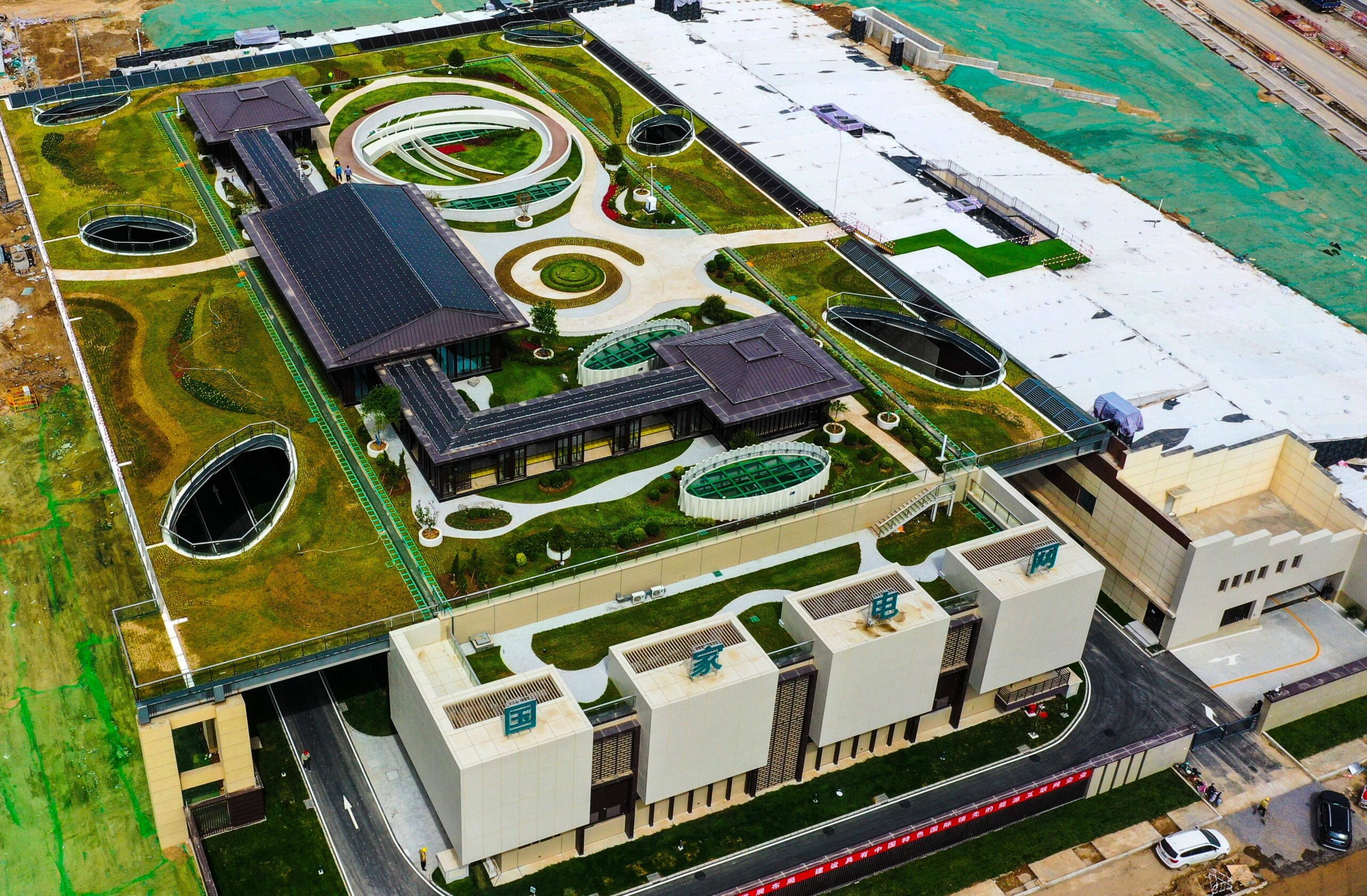 Xiong'an's plan calls for using primarily "clean" energy. The State Grid Corporation of China, the country's main power utility, has built a power transformer station that showcases renewal energy technology as well as Chinese landscaping; "the power station integrates three aspects in design: natural topography and power transformer and park integrated together, an open garden on the rooftop." A 2022 CCTV documentary described the project as featuring "a shan shui (a traditional Chinese landscape idea) urban style, with proper integration of practicality and aesthetics." The power station is part of a power transmission infrastructure that brings "clean energy" from wind farms in Zhangjiakou in northern Hebei province. The public swimming pool in the structure is powered by wind energy.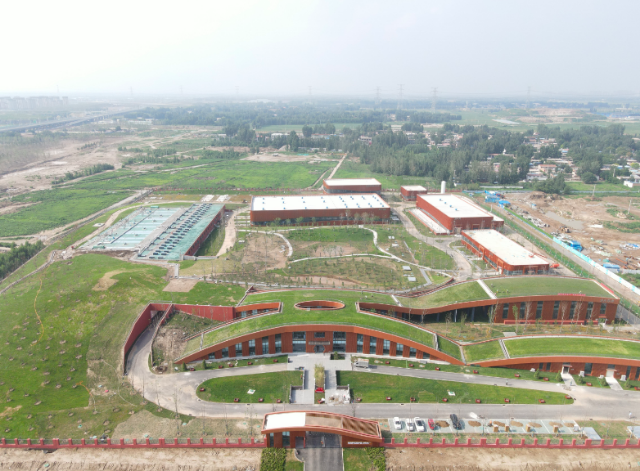 Can a water treatment plant be architecturally distinctive? In Xiong'an, it appears so. The Number 1 Water Supply plant begun operations in 2021, supplying water for the 170,000 expected residents in the Rongdong area of Xiong'an.
The design "blends seamlessly with the surrounding environment, using modern garden style architecture in the spirit of the times, becoming a garden style industrial zone," according to Beijing Daily. The plant helps treat water from the North-South Water Diversion project, a massive aqueduct moving water from southern China to arid north China. By integrating an industrial plant into the landscape, the project serves as yet another example of "ecological civilization," a celebration of China's infrastructure capacity and fusion of technological progress and ecological goals.
"Always serve the people": Modernizing government services for the platform age
One of the first complexes to be built in Xiong'an was the "citizen service center," a rather austere complex that is intended to display a new ethos of efficient and streamlined government in Xi Jinping's new era. In the boom years of the 1990s and early 2000s, local government buildings in China were often large and imposing, or sometimes even ersatz copies of U.S. or European buildings. They came to symbolize the corruption and accumulation of power by local governments, much of which was derived from their control over land and land financing. Xi took aim at these symbols of excess early on in 2013. A Maoist-era Party maxim, "always serve the people," is emblazoned in the foyer of the citizen service center, signaling the Party staying true to its roots while modernizing.
Xiong'an is being promoted as a place where new digital technologies will enable higher quality of life and better public services. Amid China's youth unemployment crisis and COVID lockdowns, Xiong'an has already functioned as a massive public works project, employing at least 100,000 workers on site during 2020 and 2021. But in order for Xiong'an to become a "global high ground of innovation," the city will need to attract "talents."
Recently, the "Xiong'an card" was unveiled, offering incentives to attract high-level experts by providing subsidized housing and free public transport, among other perks. Promotional videos have also featured stories of recent college graduates who moved to Xiong'an, no doubt hoping to attract those who might otherwise be put off by the city's remote location. Xiong'an is a trial area for the digital yuan, China's centrally-backed digital currency that is seen as a possible alternative both to the USD and to China's WeChat and Alipay apps. Xiong'an has promoted its use for paying workers salaries and using the digital currency for streamlining tax and utility payments for residents. One recent promotion mentions new digital platforms to make life easier for retirees: "What is it like to be in a cozy city where you can take care of yourself, have fun in your old age, do something in your old age, and be at peace in your old age?"
Will it work?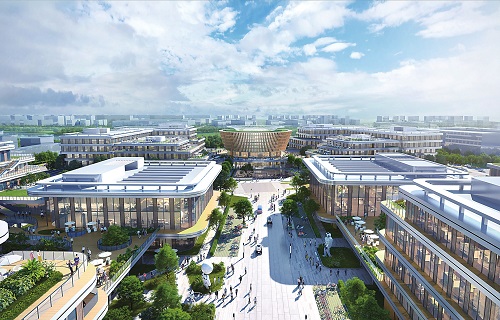 Urban planning history is littered with examples of utopian cities like Brasilia or Chandigarh, or more recent smart city projects of Songdo, South Korea, or Masdar, UAE, that failed to live up to their lofty expectations. But the commitment from Xi Jinping, who has just received an unprecedented third term, to Xiong'an as a legacy project could ensure that the city continues to receive support from the central government.
As an inland satellite city to Beijing, Xiong'an has obvious differences from Shenzhen, the rapid development of which was made possible by a confluence of factors, such as proximity to Hong Kong investors and the timing of its development during deregulation and demand for outsourcing from developed economies in the '80s and '90s. Xiong'an, meanwhile, is being built amid rising tension between China and the West, and talk of decoupling. If enough central SOEs relocate offices and employees there, this could serve as the nucleus for the city's employment base. But SOEs have generally been seen as less productive and innovative than China's private tech champions. Xi has called for SOEs to "operate according to market mechanisms," but with little evidence of concrete reforms thus far.
The city could eventually become attractive as a hub for research, innovation, and decent quality of life. While Beijing residents may be less keen to relocate, Xiong'an may be attractive for young college graduates from towns or secondary cities.
In other ways, Xiong'an deepens China's reliance on infrastructure and real estate as primary engines for growth at a time when many experts see a need to shift to consumption as an economic driver. While Xiong'an has been discussed by policymakers as an opportunity to find a new model of urban development less reliant on land leasing, so far, the central government has been unable to implement more sustainable forms of income or business tax that would replace land revenue. It will be a long time until Xiong'an's commercial activities generate revenue, leaving central investment as the main source of funding.
As this article has shown, Xiong'an has been conceived and designed as a tangible, living representation of Xi's new era, a bold vision for a China confident that it has found its own path to modernity based on its own system and values.