The U.S. cannot do without Chinese battery companies, and these are the ones that matter
Business & Technology
American car companies want to use Chinese battery technology in their new plants. Despite intense political opposition, the U.S. might have no other choice.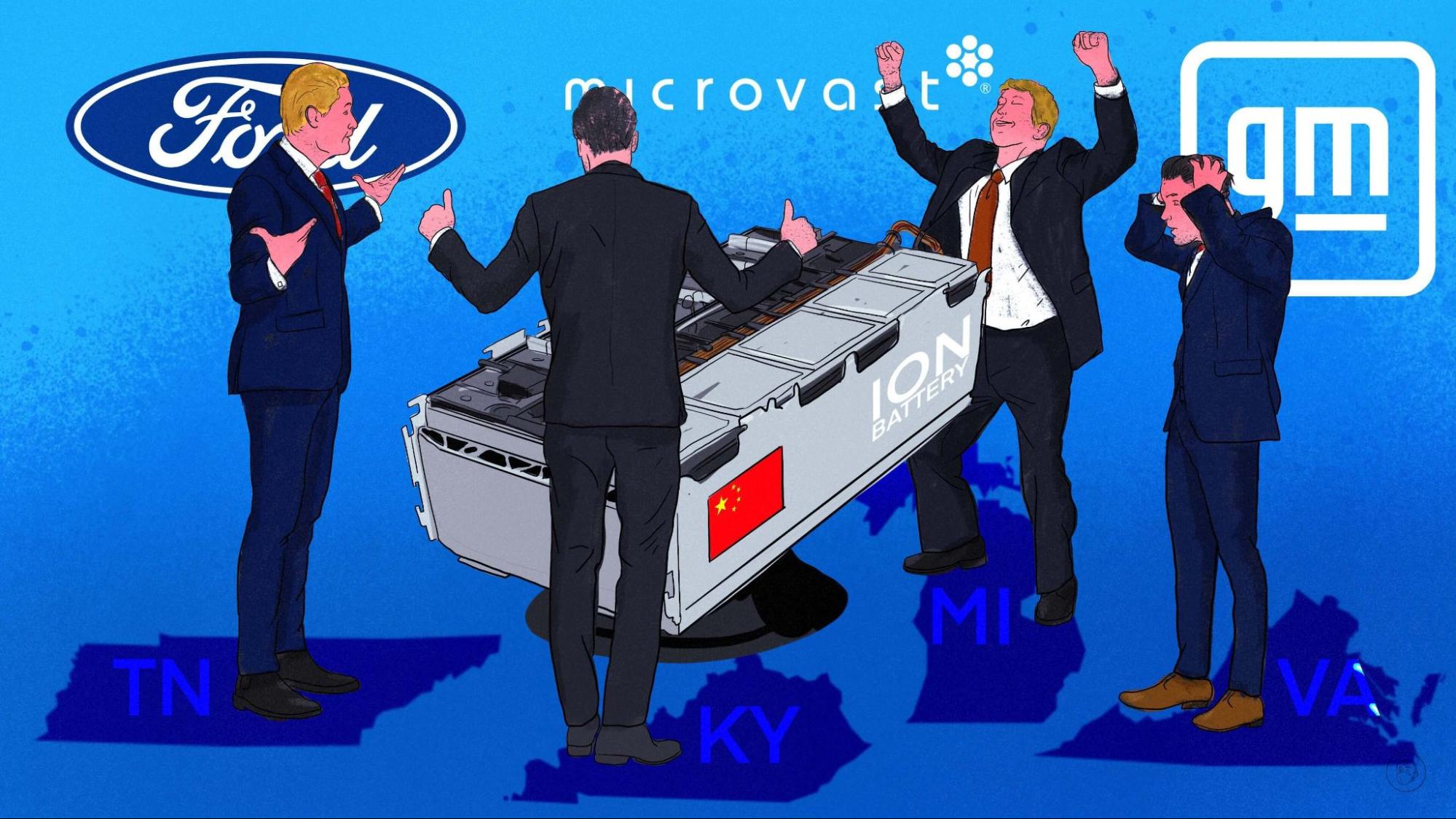 There will be more than $91 billion invested in the U.S. battery industry over the next 10 years, according to one analysis, as electric vehicles (EVs) surge in popularity, and stimulus for made-in-America clean energy from the Biden administration's landmark Inflation Reduction Act (IRA) kicks in.
The IRA, and the CHIPSs Act — both signed into law in 2022 — include more than $400 billion in tax credits, grants, and loans designed in part to incubate a clean-tech manufacturing base in the U.S. The related American Battery Materials Initiative mentions China's domination of battery production as "leaving the U.S. dependent on unreliable foreign supply chains," but it does not explicitly block Chinese firms from participating in America's own onshore battery industry, and some Chinese firms are still involved with the latest ventures.
Three announcements have been made so far involving Chinese battery technology firms.
China news, weekly.
Sign up for The China Project's weekly newsletter, our free roundup of the most important China stories.
Ford – CATL
On February 13, Ford announced that it will be using technology licensed from Contemporary Amperex Technology Co., Limited (CATL) for its new $3.5 billion plant in Michigan.
CATL is the global leader in lithium-ion phosphate (LFP) batteries, the type of battery the Michigan factory will produce. Founded by Robin Zeng (曾毓群 Zēng Yùqún) who was born to a family of farmers in Fujian province, CATL has grown into a global battery giant, eating up 34% of global market share. As of 2021, it employed 10,000 people and had generated an astonishing 4,445 patents.
LFP batteries (as opposed to nickel-based or NCM batteries), are used in commercial vehicles, which comprise the bulk of Ford's customer base. This new plant will mean that Ford will become the only firm in the country that manufactures both types of batteries — it is already investing in battery factories in Kentucky and Tennessee
However, the new plant has faced political backlash. It was originally intended to be built in Danville, Virginia. But the incumbent governor, Glenn Youngkin, described the project as a "Trojan horse" and voiced concern over a Chinese firm potentially receiving U.S. tax dollars via IRA subsidies.
In response, Ford clarified that it will pay CATL for its manufacturing services and technology, and that any incentives for battery production will go solely to Ford. In fact, the unconventional equity structure of the deal is designed purely so that Ford can receive government benefits.
As Henry Sanderson, author of Volt Rush: The Winners and Losers in the Race to Go Green, recently told The China Project, "It could have easily been a joint venture, but I think, because of political concerns, they have to license the technology." Indeed, Ford's CEO, Jim Farley, told CNBC that the IRA was the reason the company decided to invest in the plant at all: It "changed the economics for us," he said.
Fears of Chinese government influence have only increased by the enhanced status given to many battery industry leaders in China. A recent note from analysis firm the Rhodium Group counted 27 delegates at the Two Sessions meetings in March, China's biggest annual political gathering. Among them was Zeng of CATL.
And China might actually interfere with the plant: Beijing has decided to review the licensing deal over concerns about technology transfer. According to Bloomberg, the plan has already been examined by lower-level officials, and the findings will be presented to the top leadership.
General Motors – Microvast
Microvast was founded in Texas in 2006 by a Chinese-born American named Wú Yáng 吴扬. Courted by the incentives on offer in China, the company established significant manufacturing capabilities there. Last year, at least half of the firm's revenues came from its mainland China operations. These are only set to expand, following its receipt of a $111 million loan from a group of lenders led by a Chinese bank.
Nevertheless, the company has sought to reassure its American audience. Its COO, former U.S. Navy officer Shane Smith, told Bloomberg in February that the firm "will have more revenue in the U.S. and Europe than anywhere in Asia going forward," and even stated that the fact that Microvast is explicitly not a Chinese company is less than ideal for its business there: "Frankly… it is not promising. It's very difficult to win business being a foreign company."
Microvast, a publicly traded company on Nasdaq, is partnering with General Motors, the largest automaker in the U.S., and the largest in the world from 1931 to 2008.
According to a fact sheet from the federal government's Department of Energy (DOE), the collaboration will combine IP from both companies to create specialized separators — a membrane that keeps the two electrodes in a battery apart — using U.S.-sourced raw materials and equipment. The plant should also create "up to 700 new jobs…[and] plans to partner with local governments, universities, and community groups to develop a pipeline for hiring and training workers."
COO Shane Smith has underlined that the company is investing over $300 million of its own funds, and that the separators will not be commercialized in China. This should be reassuring, as concerns over technology transfer have plagued joint ventures between U.S. and Chinese firms for years, especially in the automobile industry.
Nonetheless, Microvast has encountered stiff opposition. The plant's location has been switched to Kentucky, following backlash in northern Tennessee, where the project was originally pitched last October.
Thankfully for Microvast, David Turk, the deputy secretary of the DOE, which has approved funds for the project, has stated in congressional hearings that the DOE has its "eyes wide open" about China risks and had consulted with intelligence officials before coming to its decisions.
Another DOE official also wrote in response to a concerned senator that Microvast's technology "was developed in China and would be manufactured in the U.S. for the first time, obviating the typical risk of intellectual property loss and jump-starting progress toward the Administration's goal of rebuilding U.S. manufacturing leadership." In other words: Forced transfer or theft of American technology or IP is not at stake here, as it is the U.S. that is the beneficiary of the technology in question.
Gotion High-tech
Gotion High-tech is the fourth-largest EV battery manufacturer in China by sales volume. On March 15 this year, it announced that it would invest, via its U.S.-based subsidiary, in a battery facility in Green Charter Township in the city of Big Rapids, Michigan.
On April 20, a Michigan state senate committee voted narrowly 10-9 to approve $175 million in state funding for the proposed $1.6 billion factory. This followed a review from the Committee on Foreign Investment in the United States (CFIUS), which found no cause for concern.
Despite this, Green Charter has been the site of some of the most vocal opposition to Chinese investment in local manufacturing in the country in recent years. Tudor Dixon, Michigan's 2022 Republican candidate for governor, warned that the plant would be "one square mile of CCP," and Senator Lana Theis (R-MI) suggested that the firm would "set up a Party organization and carry out Party activities in accordance with the Constitution of the Communist Party of China."
Kristina Karamo, chair of the Michigan Republican Party, declared that "if you choose to give this money to Gotion, you are a traitor to your republic, you are a traitor to your children's future," and Representative John Moolenar (R-Mich.) lamented that it was a "historic mistake."
Meanwhile, Gotion has sought to emphasize that the plant will create 2,300 new jobs, and its U.S. vice president Chuck Thelen tried to dispel fears of a plot to "make Big Rapids a center to spread communism," arguing that voters were being "force-fed a big fear sandwich."
The narrow path that Gotion has had to tread to get this project off the ground highlights the complex mix of national and local politics that have to be navigated.
The road ahead
These projects are likely a sign of things to come. CATL is already exploring options to do a deal with Tesla, according to a March 30 report by Bloomberg, though there have been no formal announcements about the planned facility, likely in Texas.
The project is expected to go ahead, however, and indeed Tesla has partnered with CATL for several years now, currently procuring EV batteries manufactured and assembled by the Chinese firm for its gigafactory in Shanghai, which made over half of Tesla cars delivered globally last year.
China's former minister for science and technology, Wàn Gāng万钢, who is credited with spearheading the initiative for China to double down on EVs in 2009, since which time the government poured over $29 billion into various subsidies and tax breaks, was a big fan of Tesla's when it first came to the Chinese market, and despite fears of Tesla's China connections — on both sides of the Pacific — America's preeminent EV firm's integration with China could serve as a positive example of continued, vital engagement.
As Henry Sanderson notes, "What actually is the national security risk of having…China batteries?," adding that "if the U.S. doesn't allow Chinese components and Chinese expertise, it risks delaying the energy transition, and we don't have time."
It has not been lost on many observers that U.S. policy is increasingly looking like China's. Liza Tobin, former Director for China of the White House's National Security Council, has lambasted China's "brute force economics," in which the government "imposes market access restrictions in strategic sectors, massive subsidies…[and] requirements for foreign firms to transfer technology in order to access the Chinese market." But the anti-China wording of the IRA and the CHIPS Act means that these pieces of industrial policy will function on a similar logic.
Senator Marco Rubio (R-TX) has also recently tabled draft legislation with a juvenile name — Restricting Electric Vehicle Outlays from Kleptomaniac Enemies (REVOKE) Act — which seeks to block any agreement such as those outlined in this article. However, at least one lawmaker told The China Project that that Act was "Texas grandstanding," and unlikely to become law anytime soon.
The takeaway
China still accounts for more than 90% of all announced battery 98% and 93% of the world's announced manufacturing expansion plans. The United States will remain dependent on China's expertise, technology, and manufacturing capabilities: There is no political rhetoric that can alter that reality.
Companies:
Microvast
Ford
General Motors
Tesla
Sources and additional data: