China's official electric vehicle battery recyclers fight wildcat workshops
Business & Technology
China has an amazing, legal battery recycling industry. But opportunistic, informal operators are doing much of the recycling, which is causing serious soil, water, and air pollution.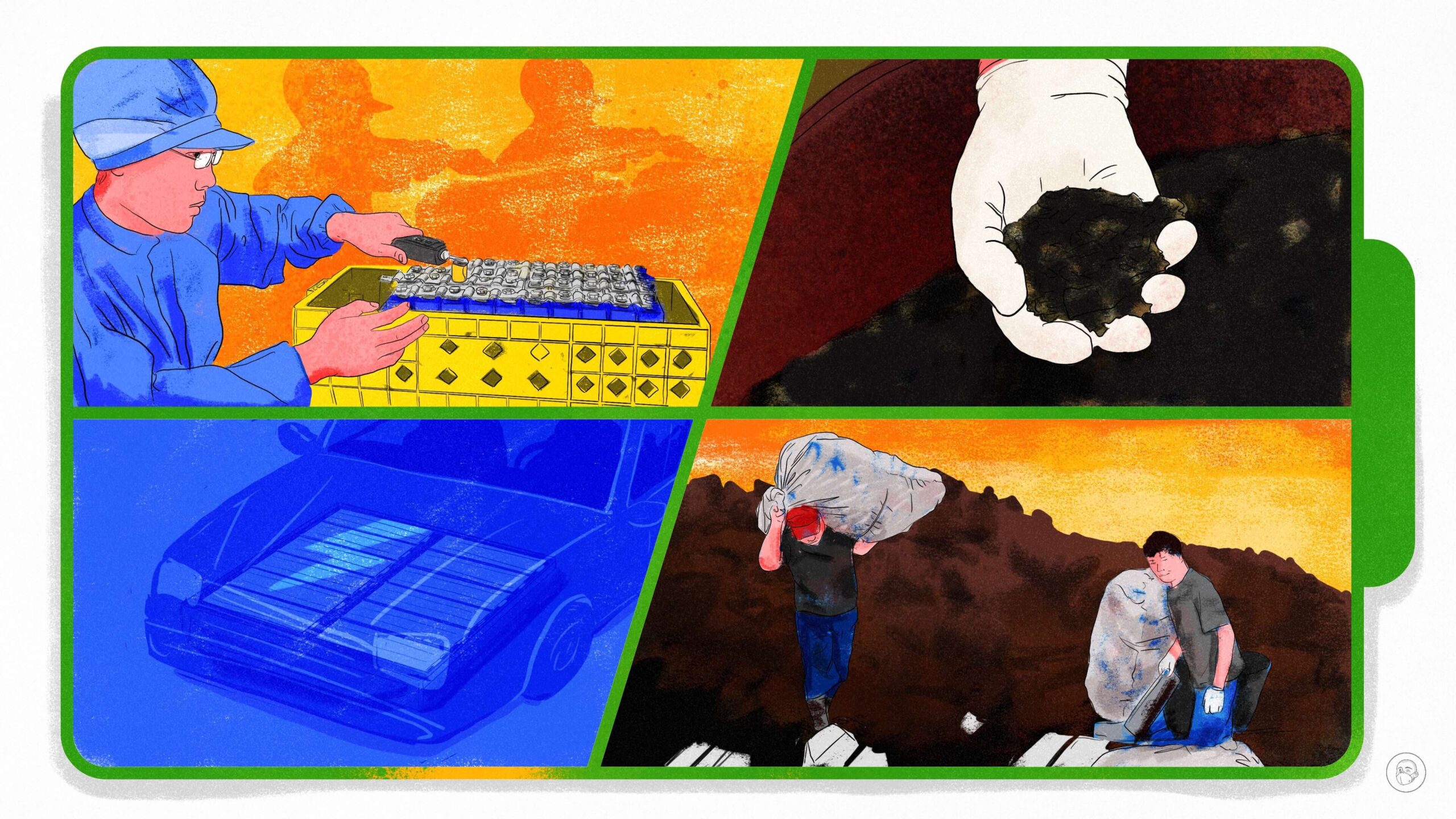 Until China, the world leader in electric vehicle (EV) production and sales, figures out a better recycling system for its glut of low-quality EV batteries — and the metals that make them work — it will be tough to realize the full environmental dividend from the transition to vehicles free of fossil fuels.
More than a quarter of the passenger vehicles sold in China in 2022 were new energy vehicles (NEVs), including full EVs and hybrids. Records show that nearly 7 million NEVs hit China's streets last year — that's 26% of the nearly 27 million vehicles sold overall, up from less than 5% of all vehicle sales in 2018.
An average EV battery weighs around 1,000 pounds, or half a ton. In 2021, China expected to retire 1.33 million EV batteries, for a recycling volume of 665,000 tons. But the actual recycling volume in 2021 was only 236,000 tons, the equivalent of about 524,000 EV batteries.
In 2022, China expected to recycle 750,000 tons, or about 1.5 million EV batteries, but again fell short: The actual recycled volume was only 285,000 tons, or about 570,000 EV batteries.
If China's 2022 NEV sales put 7 million new EV batteries into circulation, and each is expected to last five to eight years, then a wave of batteries should be ready for recycling starting in 2027.
But each year, China scraps, dismantles, and recycles far fewer vehicles overall than expected. In 2022, there were 319 million vehicles on China's roads. A year earlier, in 2021, only 2.38 million retired vehicles were disposed of via sanctioned, environmentally sound channels, Ministry of Public Security data showed.
The same holds for EVs. In 2022, about 390,000 EVs should have been scrapped in China, but the actual number scrapped via official, clean channels was only 90,000 vehicles, or 23% of the vehicles due to be retired.
This begs the question: Where do all China's old EVs and EV batteries go?
China news, weekly.
Sign up for The China Project's weekly newsletter, our free roundup of the most important China stories.
China's list of 88 EV battery recyclers
In 2014, China's Ministry of Industry and Information Technology (MIIT) began issuing policies to shape a system to track and recycle batteries.
By 2018, MIIT published a list of companies permitted to recycle batteries. By June 2023, the list had expanded to include 88 companies led by the likes of GEM in Shenzhen and Brunp Recycling in Guangzhou, a subsidiary of China's largest battery maker, CATL.
Brunp started out recycling mobile phone batteries, and was acquired by Fujian-based CATL in 2015. Since then, Brunp has expanded its recycling capacity, in 2021 investing $3.28 billion to bring 500,000 tons of waste battery recycling capacity online in Foshan in Guangdong Province.
EV companies BYD and NIO have also made substantial investments in battery recycling plants.
Two-stage recycling
According to MIIT guidelines, once an EV battery's capacity drops to 80%, it should be taken out of the EV and reclassified as: A) a source of spare parts for other EV batteries; B) a source of power for low-power EVs; or C) a unit for energy storage.
Once a battery drops below 40% capacity, it is designated for recycling. The battery is disassembled and its parts are sorted and crushed so composite materials can be extracted and separated. Next, components are either dissolved in an acid or alkali solution via hydrometallurgy, or converted with high temperatures, condensation, and refining into metals or metal compounds via pyrometallurgy. In China, hydrometallurgy is more common.
EV battery recycling's end-products are lithium, manganese, cobalt, and nickel, all recaptured at plants that are, in effect, above-ground mines that produce a powder called "black mass" (due to its color) that can, in theory, be recycled infinitely into new EV batteries.
Wildcat recyclers
While China's 88 officially sanctioned EV battery recyclers have 14,435 service outlets around the country, simply typing "battery recycling" into a Chinese business database will turn up over 50,000 companies registered as recyclers.
Those tens of thousands of unofficial recyclers are willing to pay a premium for run-down EV batteries. No clear regulations yet ensure that old EV batteries get recycled through one of China's 88 permitted recyclers and so EV owners often sell the batteries to small workshops because it's simply more convenient than tracking down an authorized recycler.
As the cost of raw materials that go into EV batteries rose, southern and eastern China's Pearl and Yangtze River deltas mushroomed with small recycling workshops extracting metals. One of the most lucrative has been lithium carbonate — it cost as much as $83,000 a ton in November 2022, although the price has declined since then.
With the small workshops buying up many of the old batteries, the whitelisted recyclers have suffered. For example, in 2022, Guangzhou's GEM recycled only 20,000 tons, using a mere 8% of its 250,000-ton capacity.
Unlike the sanctioned recyclers, small workshops disassemble EV batteries by hand, causing untold environmental damage when lithium ions, for example, seep into the soil and pollute groundwater, and the widespread use of solvents causes air pollution. Another serious environmental hazard occurs when waste battery materials are discarded in landfills: When it rains or snows, this results in the production of leachate, which is liquid pollution that contains various kinds of harmful chemicals. In June 2023, a Chinese journalist witnessed 30 workers without protective clothing smashing batteries with hammers in a dingy workshop in Dongguan, Guangdong Province.
Despite the prevalence of small, dirty, illegal recycling workshops across China, change is coming, albeit slowly. A few years ago, sanctioned recyclers with environmentally sound processes could only get their hands on 10% of the country's used EV batteries. The small, unregulated recycling workshops were eating the sanctioned recyclers' lunch.
Now the cleaner, permitted recyclers are getting their hands on 25% of China's decommissioned EV batteries, China Industrial Association of Power Sources data show.
By 2028, China will be recycling as much as a million tons of EV batteries per year, according to some estimates. But it's not yet clear if it will be done by environmentally conscious, officially approved companies, and how much will be done by polluting wildcat recyclers.
Companies:
Links and sources: