Eclipsing Russia: China's green energy expansion into Central Asia
Business & Technology
China has a significant comparative advantage in green energy. Growing incentives for Central Asian countries to diversify their energy mix are creating opportunities for Chinese companies, with significant implications for Russia, as well as the U.S. and EU.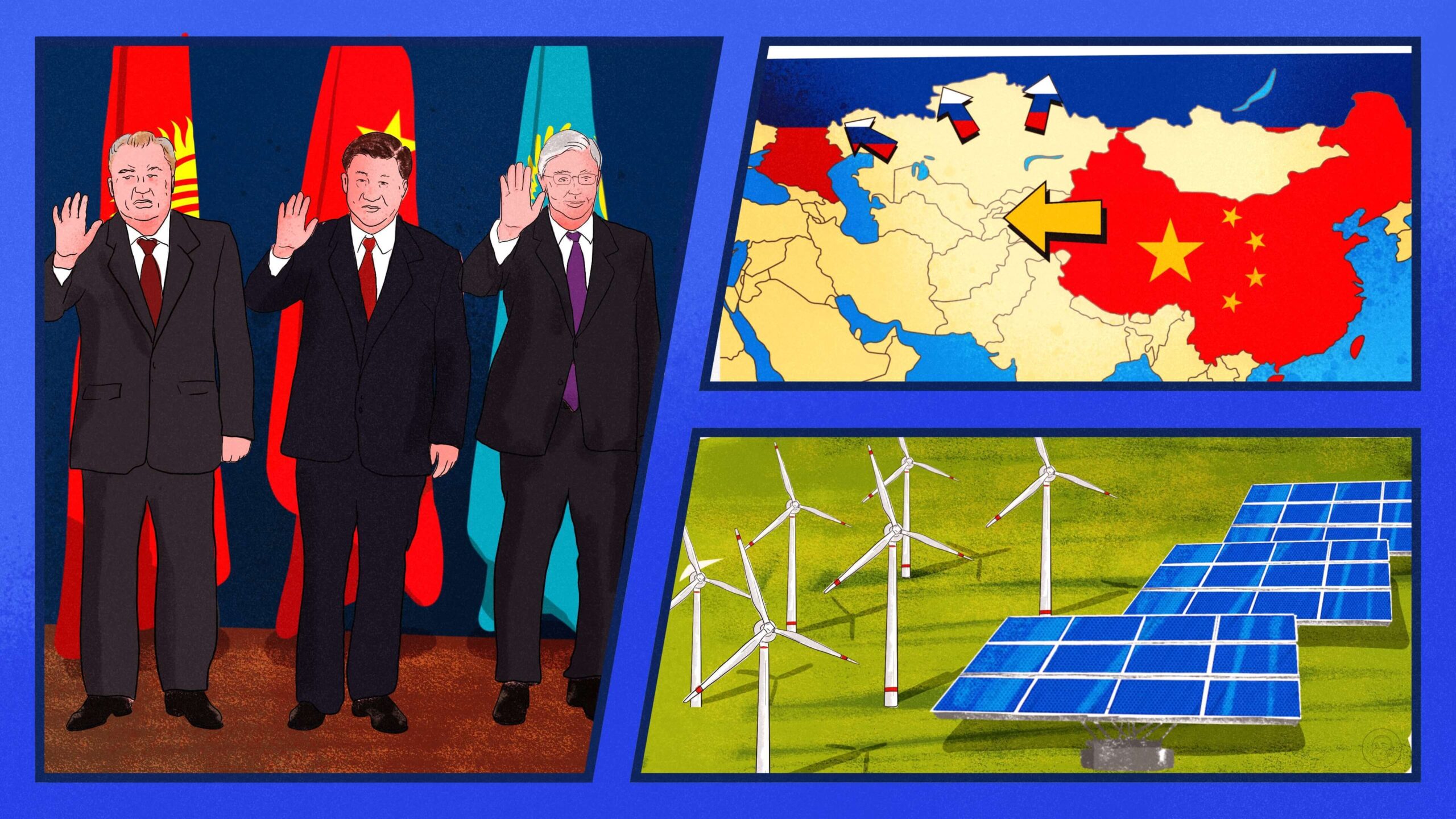 Central Asia's balance of power is shifting as China exerts increasing influence by helping to develop green energy, putting Beijing in a position to supplant Moscow as provider of the region's power.
China dominates the global green energy market as the largest producer of renewable energy. It has a strong presence in sectors like electric vehicles (EVs), energy storage, and smart grids. China's control over supply chains, including processing capacity and critical technologies, is vital for the green transition. The country's commitment to the sector is demonstrated by its investment of $546 billion in solar and wind power, electric vehicles, and batteries in 2022, nearly four times more than the United States.
China is also developing renewable energy in Central Asia. Traditionally, in this region, Beijing has preferred to invest in massive infrastructure and fossil fuel projects. In recent years, however, Beijing has begun shifting its investment priorities from infrastructure development and resource extraction to overall industrialization and renewable energy infrastructure.
In particular, China's specialization in the clean energy supply chain has created a comparative advantage over its geopolitical rivals in Central Asia, including the United States, the European Union, and, especially, Russia. The rapid expansion of China's renewable energy sector and overcapacity make Chinese green energy components cheaper than their competitors' products. Specifically, solar component exports remain cost-competitive, being up to 57% cheaper than modules produced in the U.S. and European Union.
China news, weekly.
Sign up for The China Project's weekly newsletter, our free roundup of the most important China stories.
An energy crisis and an opportunity for China
In the winter of 2022, the former Soviet Socialist Republics of Central Asia Kazakhstan, Uzbekistan, Tajikistan and Kyrgyzstan experienced gas shortages and an electricity crisis. Rising electricity demand, coupled with limited domestic energy sources, led to public discontent and resulted in temporary layoffs for thousands of industrial workers.
To address the domestic demand, both Kazakhstan and Uzbekistan decided to halt gas exports to China. Furthermore, Russia's mounting pressure on Central Asian countries to export gas further motivated these nations, particularly Uzbekistan and Kazakhstan, to promote green energy projects as a means to reduce their reliance on traditional energy sources.
The recent China-Central Asia Summit held in Xi'an showcased the growing collaboration between China and Central Asian countries in the renewable energy sector. Notably, significant agreements were reached during the summit. The Kyrgyz Republic's Ministry of Energy signed an agreement with China Power International Development Limited to establish a 1 GW solar power plant in the Issyk-Kul region (1 GW is enough capacity to produce power for about 1 million people in 300,000 homes if they use as much electricity as the average American, i.e. a lot.)
Similarly, Uzbekistan's Ministry of Energy contracted with Energy China to construct solar photovoltaic (PV) power plants in the Bukhara and Kashkadarya regions. The Uzbeks also agreed to build a 500 MW (i.e. 0.5 GW) wind power plant in the Samarqand region with Universal Energy of China. In total, China and Uzbekistan signed an agreement for the construction of 11 solar and wind power stations, with a combined capacity of 4.8 MW, valued at $4.4 billion.
Kazakhstan's Ministry of Energy also participated in the summit, signing a memorandum of understanding with China Energy Investment Corporation (CPIH) and SANY Renewable Energy for collaboration in wind turbine production. Additionally, State Power Investment Corporation, a prominent Chinese energy company, expressed its intent to manufacture wind power plant equipment in Kazakhstan. Even before the summit, Chinese companies were investing in the green energy sector in Central Asia, with a particular focus on Kazakhstan and Uzbekistan.
Geopolitical implications: The U.S., EU, and Russia
China's increasing presence in the green energy sector of Central Asian countries has significant implications for its regional influence in the short, medium, and long term. In the short term, the rapid expansion of Chinese companies in the region provides an opportunity to export excess capacity, particularly in the solar energy sector. China's efforts to promote global solar deployment coincide with an oversupply of manufactured equipment in its domestic market. As a result, China's growing footprint in Central Asia may lead to its control over the regional green energy market, creating obstacles for other countries to enter and establish their presence. This dynamic can shape China's long-term influence and control over the green energy sector in the region.
In addition, the United States and European countries show increasing interest in the energy potential of the region. In particular, Germany's investment in solar energy in Uzbekistan and France's intention to build a wind farm in southeastern Kazakhstan reflect the growing interest of EU countries. However, Beijing's investments could pose a challenge to Western countries' entry into the region's green energy market. This is particularly significant given the EU's dependency on Chinese energy products.
While Europe generally has a trade deficit, with the exception of wind turbine components, a significant portion of electric cars, batteries, solar PV modules, and fuel cells are imported, primarily from China. The United States imports two-thirds of its PV modules, mostly from Southeast Asia, where Chinese companies have been actively investing.In this context, the availability of cheap Chinese renewable energy equipment could be a major comparative advantage for Chinese companies to fill the Central Asian green energy market.
Central Asia supplies about one-third of China's total gas imports. Chinese investment in solar and wind energy in Central Asia has medium-term benefits for local governments, including energy diversification, conservation of raw energy resources, and maintaining a stable energy flow to China. For instance, the agreement between Huaneng Renewables Corporation, Poly Technologies, and Uzbekistan for constructing PV plants in the Jizzakh and Tashkent regions will enable Uzbekistan to generate 5 billion kWh of electricity annually and save 1.3 billion cubic meters of natural gas.
Similarly, the Shelek wind farm, a collaboration between Power Construction Corporation of China (PowerChina) and Samruk-Energy Joint-Stock Company, generates 230 million kilowatt-hours of electricity per year and saves Uzbekistan from having to burn 89,000 tons of standard coal.
Furthermore, in the medium-term, China's investments in the clean energy sector enhance energy security for Central Asian countries while challenging Russia's influence in the region. Russian pressure to increase its gas exports to Central Asia and China can heighten dependence on Russia and jeopardize China's energy diversification strategy. However, China's investments in green energy and continued engagement in the gas and oil sectors of the region reduce the effectiveness of Russia's energy leverage, ensuring improved energy security and preventing Russia from monopolizing gas exports to China in the region.
In the long term, Chinese investment can play a role in the industrialization of Central Asian countries, facilitating the establishment of environmentally friendly industries and creating new job opportunities that contribute to reducing air pollution. This can also aid in achieving the governments' goals of transitioning to green energy.
Electricity power play
Beijing's investment in the clean energy sector can prepare the ground for electricity exports from Central Asia to China in the long term. Already, the Kyrgyz Republic exports energy to China. In the long term, Central Asian countries' growing electricity production from solar, wind, and hydropower can transform the region into a major electricity supplier for China's central and eastern provinces.
China's Global Energy Interconnection (GEI) strategy, initiated in 2015, aims to enhance connectivity in its national power system by expanding transmission lines beyond China's borders. Faced with trying to connect to obsolete electric infrastructure inherited from the Soviet era in Central Asia, the plan is still in its initial phase. However, China is supporting the renovation of distribution networks and the upgrade of electric stations, substations, grids, and power lines to modernize the region's infrastructure. Notably, China financed the Datka-Kemin transmission line in Kyrgyzstan and is assisting in the restoration of the power line between Uzbekistan and Tajikistan.
A big shift: China is replacing Russia in Central Asia
Since Russia's invasion of Ukraine, against the backdrop of Moscow's escalating pressure on Uzbekistan and Kazakhstan to increase their imports of Russian gas and its attempts to monopolize energy infrastructure in Central Asia, China's growing dominance in the green energy sector within the region has significant implications over different time periods. China's growing regional influence also brings potential risks, as Central Asian countries may replace reliance on Moscow with reliance on Beijing.
While Chinese investment contributes to regional industrialization, the absence of strong engagement from the EU and the U.S. could lead countries already heavily dependent on Beijing''s purchase of energy exports to increase their reliance on China for cutting-edge technology.
Consequently, the region may achieve industrialization with a significant dependence on China, granting Beijing greater sway over the regional economy in the long run. In this context, China's role in the region expands beyond that of traditional economic power and investor. It can emerge as a rule-maker and norm-setter in the green energy sector, shaping the trajectory of the region's sustainable development.
Companies:
China Power International Development 中国电力国际发展
Energy China 中国能源建设
Universal Energy 寰泰能源
China Energy Investment Corporation 国家能源投资集团
SANY Renewable Energy 三一可再生能源
State Power Investment Corporation 国家电力投资集团
Huaneng Renewables Corporation 华能新能源
Poly Technologies 保利科技
Power Construction Corporation of China (PowerChina) 中国电力建设集团
Links and sources: