'Rising from the ashes' — Phrase of the Week
Business & Technology
Luckin Coffee is back from the dead, overtaking Starbucks as China's biggest coffee chain.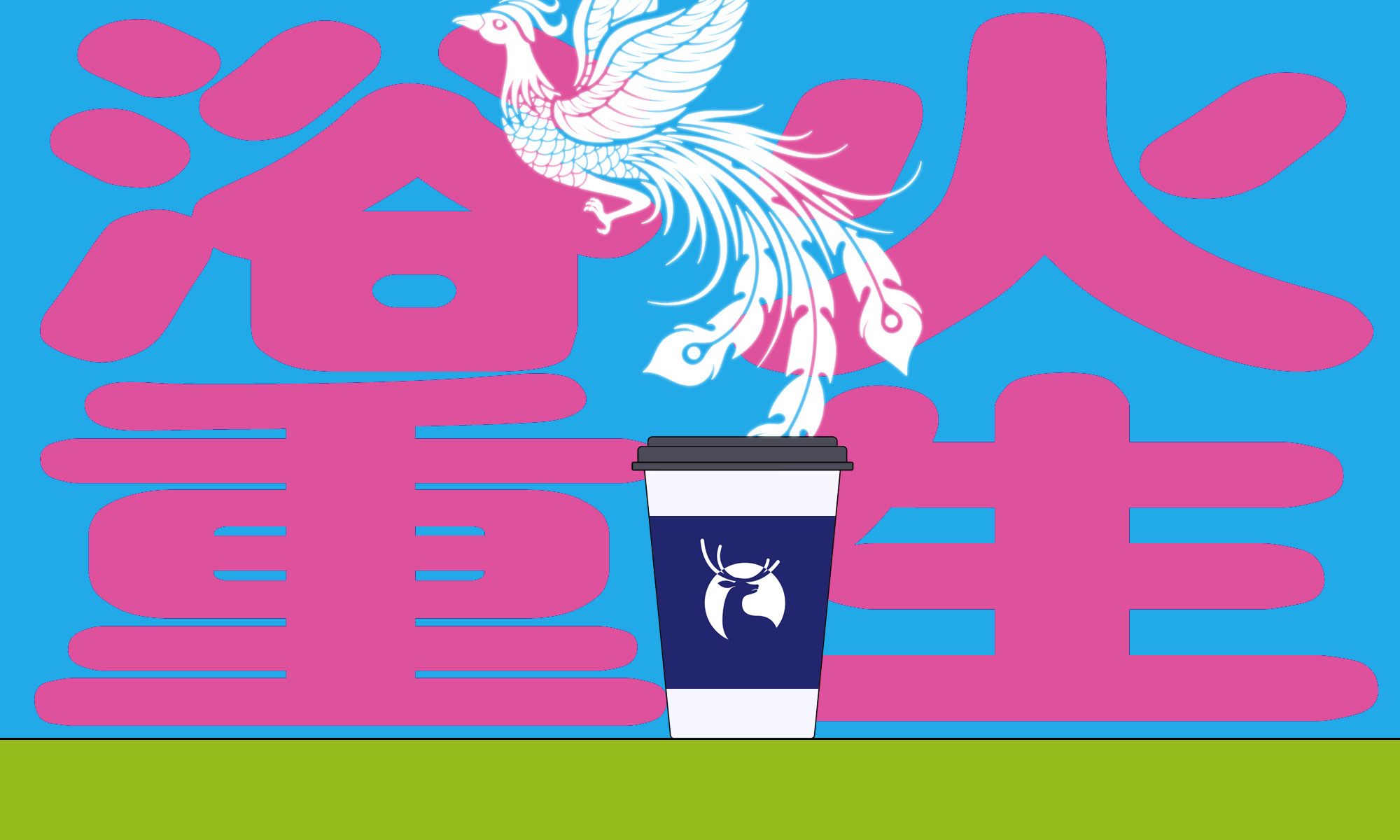 Our Phrase of the Week is: Rising from the ashes (浴火重生 yùhuǒ chóngshēng).
The context
Luckin Coffee has overtaken Starbucks in domestic sales in China, according to its quarterly revenue report released last week.
The impressive comeback follows a year of aggressive expansion, focusing on low prices and diversified offerings tailored to Chinese consumers.
From April to June 2023, Luckin Coffee earned 6.2 billion yuan ($862 million), an 88% jump compared with the same period a year ago. The company also surpassed the milestone of 10,000 outlets for the first time.
Starbucks, by contrast, reported a net income for that same period of around 5.9 billion yuan ($820 million) from around 6,000 locations across the country. This marks the first time Starbucks has fallen behind its local competitor in single-quarter earnings.
Founded in 2017, Luckin was once hailed as one of China's most successful unicorns. By 2019, the company had listed on New York's Nasdaq, raising $600 million through its IPO. But within a year, China's leading homegrown coffee brand was forced to delist from the exchange and was fined $180 million, after admitting it had inflated its earnings and falsified accounting data.
The founders of the business were sacked and a new management team was brought in.
So this latest achievement is even more remarkable, as one of its investors points out:
Snowlake Finance, which even shorted Luckin Coffee in November 2022, has become a shareholder in the business again. Its founder Ma Ziming said: "Luckin Coffee's rise from the ashes is a miracle in the history of Chinese companies."

2022年11月,就连曾经做空瑞幸的幕后推手雪湖资本,也成了这家公司的股东,其创始人马自铭称,"瑞幸咖啡的浴火重生是中国商业史上的一个奇迹。"

2022 nián 11 yuè, jiù lián céngjīng zuòkōng ruìxìng de mùhòu tuīshǒu xuěhú zīběn, yě chéng le zhè jiā gōngsī de gǔdōng, qí chuàngshǐrén Mǎ Zìmíng chēng: "ruìxìng kāfēi de yùhuǒ chóngshēng shì zhōngguó shāngyèshǐ shàng de yí ge qíjì."
And with that, we have our Phrase of the Week.
What it means
Rising from the ashes is a four-character Chinese idiom. The direct translation is: "bathed in flames" (浴火 yùhuǒ), "come back to life" (重生 chóngshēng).
It is a reference to the phoenix (凤凰 fènghuáng) in Chinese mythology. Legend has it the mythological creature is reborn every 500 years after being bathed in fire.
The phrase is also linked to the 1930 poem "Phoenix Nirvana" (凤凰涅槃 fènghuáng nièpán), penned by Guō Mòruò 郭沫若.
Guo was a Chinese historian and a prolific writer of novels and revolutionary poems. Educated in Japan, Guo joined the Chinese Communist Party in 1927. In "Phoenix Nirvana," Guo explains how China must break ties with the past, to rise like a phoenix from the ashes and survive against the evils of feudalism and imperialism.
In modern Chinese, this idiom is best translated as rising from the ashes. It describes an experience of great pain and hardship, through which someone survives and succeeds, often to a higher level than previously thought possible. The idiom is similar to previous Phrases of the Week back from the dead (咸鱼翻身 xiányú fānshēn) and making a comeback (重出江湖 chóngchū jiānghú).
That's certainly how investors see Luckin's impressive comeback in China.