U.S. restriction on Chinese use of open-source microchip tech would be hard to enforce
Business & Technology
RISC-V architecture that connects hardware and software could boost China's chips sector and shrink the market for American-made chips.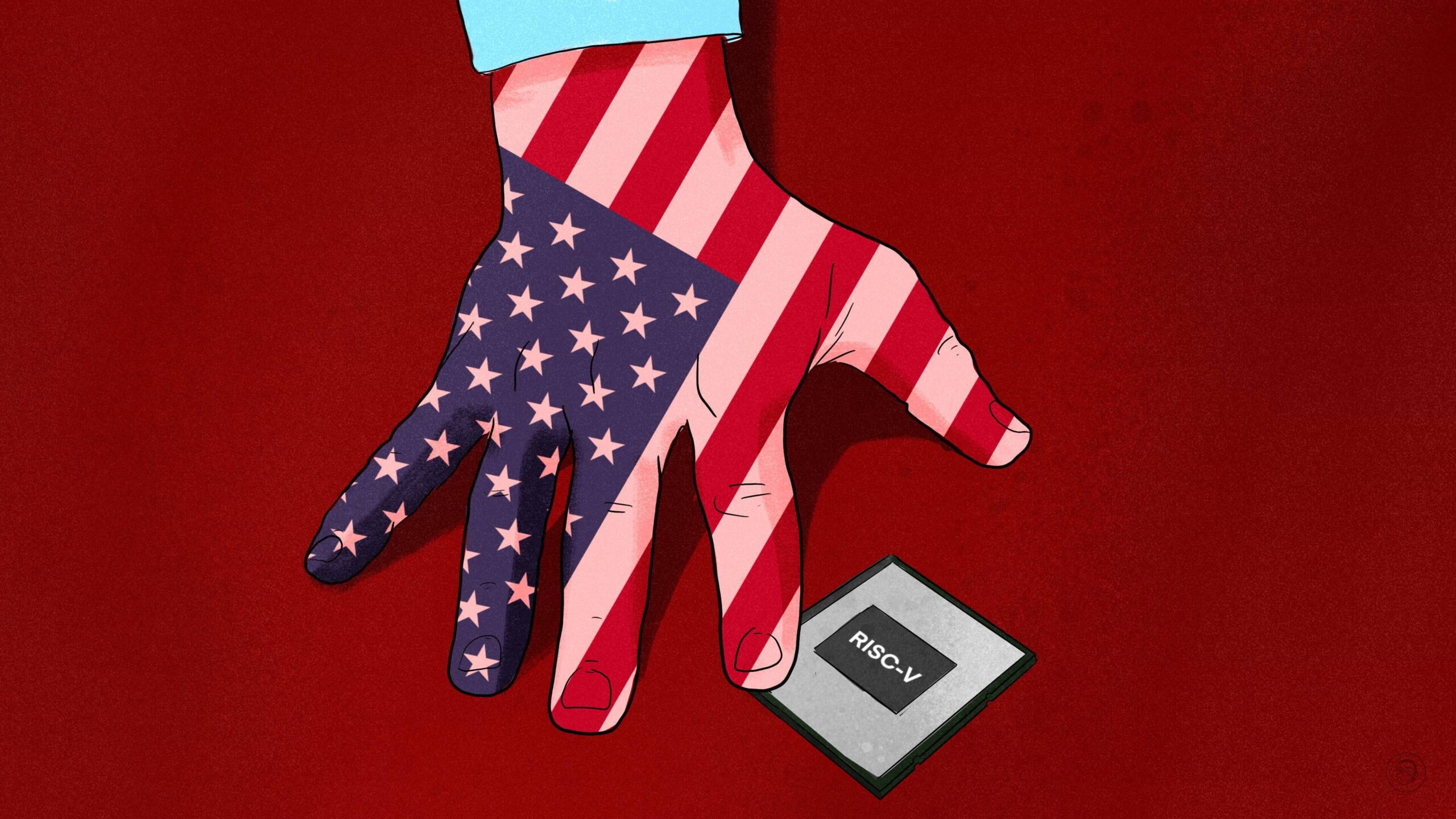 Proposed U.S. measures to restrict China's access to an open-source computer chip technology known as RISC-V would be difficult to enforce and could stifle innovation, industry insiders and analysts told The China Project.
RISC-V (pronounced "risk five") is an instruction set architecture, or ISA, a technology standard that enables communication between computer and smartphone hardware and software. As the U.S. and its allies have moved to cut off China's access to certain chip-related technologies, China has honed in on the freely available RISC-V, designed at the University of California at Berkeley.
U.S. lawmakers are pressuring the administration of President Joseph Biden to place restrictions on RISC-V to prevent China from benefiting from the technology as it attempts to develop its semiconductor industry. Representative Mike Gallagher (R-WI), chairman of the House Select Committee on the Strategic Competition between the United States and the Chinese Communist Party, told Reuters that the U.S. should require citizens and companies to have a government license before engaging on RISC-V with China, which could include activities such as working directly with Chinese firms on RISC-V, or making innovations on RISC-V freely available worldwide.
Because RISC-V is an open-source technology managed by an organization based in Switzerland, putting restrictions on who uses and benefits from it is more difficult for the U.S. government than restricting how U.S.-based companies do business with China.
"There's very little the United States government can do to stop Chinese companies from building RISC-V processors," Kevin Krewell, a computer engineer who analyzes microprocessor architectures at TIRIAS Research, told The China Project.
"The instruction set itself is freely available to anybody in China to build whatever processor they want to build. I can't see how the United States government or any government could stop that from happening," Krewell said.
U.S. export controls generally don't apply to open-source, royalty-free technologies, so restricting RISC-V "goes against the entire U.S. export control regime," Ron Oleynik, law firm Holland & Knight's co-head of the International Trade Practice, in Washington, D.C., told The China Project.
The line between the sanctions and export controls was blurred during the administration of Donald Trump. Washington could now try to limit Chinese access to RISC-V as a sanctions measure, rather than an export control measure, Oleynik said.
"Sanctions equals preventing transactions with particular persons, while export controls equals preventing certain technologies from being exported," Oleynik said.
RISC-V is one type of reduced instruction set computer (RISC) architecture, which is designed to simplify instructions given to a computer, compared with complex instruction set computer (CISC) architecture. RISC serves as a foundation that allows other chip-makers to add on and expand a chip's capabilities.
As Beijing has moved to insulate China's semiconductor industry from reliance on proprietary chip technology purchased from the U.S., some Chinese companies have moved to using RISC-V.
"It's a public good, frankly, anyone can use it," Doug O'Laughlin, author of "Fabricated Knowledge," a blog about semiconductors, told The China Project. "China wants that, versus having a foreign actor having some control. China wants to make sure that its foundation that it builds off of cannot ever be touched by anyone, so open-source is the best place to start."
RISC-V, now managed by Swiss-based nonprofit RISC-V International, was created at Berkeley in 2010 as an open, free-to-use alternative to proprietary ISA technologies.
Though founded in California, RISC-V moved to Switzerland in 2019 over fears that the U.S. government might target anyone using the open-source standard in order to work with some of the very Chinese chip companies from which Washington is trying to shield Americans.
Companies from any country may become members of RISC-V International, and a number of Chinese firms, including Huawei, Tencent, Alibaba, and ZTE, are premier members, granting them seats on the organization's board.
When RISC-V moved to Switzerland, CEO Calista Redmond said that several members' "concerns about possible geopolitical disruption" contributed to the decision to leave the U.S.
In mid-October 2023, Redmond promoted an open ecosystem around chip development as beneficial to innovation, employment, consumers, research, academia, and industry.
"Curtailing adoption of RISC-V for companies, foundries, government, and research institutions would deprive them of the ability to benefit from open standards they have helped fund and create, while allowing global competitors to race ahead with their own implementations," Redmond said in a statement on October 9, 2023.
Enabling many parties to work on a technology does facilitate innovation, agreed Dan Hutcheson, the vice chair of TechInsights, a semiconductor research firm.
"That's the whole point of open-source…everybody in the world works on it, improves it, and uses it," Hutcheson told The China Project.
Losers and winners
While it may not be possible for U.S. lawmakers to stop China from using RISC-V, they will have some jurisdiction over the activities of U.S. firms working with Chinese firms that use the technology.
SiFive is one of those companies. Based in Santa Clara, California, SiFive leverages the open RISC-V standard to provide other companies with chip processor cores, the logic circuitry that processes the basic instructions that run a computer's software and apps, for consumer devices and various other applications, according to its website.
"Open Standards like Linux, Ethernet, Wi-Fi, and now RISC-V are critical to technology innovation and growth," Jack Kang, SiFive Senior Vice President of Marketing and Business Development, told The China Project in an emailed statement. "Saying you would restrict people working on RISC-V is like saying you would tell people they can't work on the internet. RISC-V is inevitable and has strong global momentum."
The U.S. government can't keep Chinese firms from accessing fundamental RISC-V designs, Krewell said.
"What they can do is stop a company like SiFive, which is based here in the United States, from licensing high-performance cores to China," he said.
Once SiFive or other companies working on RISC-V create a custom extension of the RISC-V architecture, they own the designs and do not have to make those designs open to the public, Krewell said.
Because many Chinese startups use chips that use RISC-V to link hardware and software, SiFive stands to lose business if Washington goes the route of punishing U.S. firms for dealing with Chinese partners using the Made in California tech standard.
Chinese firms make up more than 60% of startups using RISC-V today, according to one analyst. In August, one Chinese executive estimated that China would account for more than 50% of global demand for RISC-V cores by 2027.
If U.S. measures to restrict RISC-V disrupt the ecosystem around the technology, established giants in chip architecture, such as American firm Intel and U.K.-based Arm Holdings, could stand to gain.
RISC-V's growing appeal
Most smart devices around the world run on one of just a few chip architectures. Currently the architecture called x86, developed by Intel, dominates the computer and data center markets, while the chips in most smartphones are built on intellectual property developed and leased by Arm Holdings.
Tech companies such as Apple and chip makers Nvidia of California and Samsung of South Korea map their own designs onto architecture IP they license from Arm.
Due to U.S. export controls put into place a year ago, Arm has been unable to sell certain high-end designs to Chinese firms.
RISC-V's appeal is not limited to Chinese firms wary of potential restrictions by the U.S. government; major Western tech companies also increasingly are adopting the standard as a way to avoid paying for Arm's IP.
"Everyone is kind of looking across and saying, 'Okay, well, if Arm's going to be ridiculous in terms of pricing in order to justify a business model…what we're going to do is we're going to all start to invest in the RISC-V ISA,'" blogger O'Laughlin said.
Arm sued American chip company Qualcomm in September 2022 for failure to pay royalties on licensed IP, a charge Qualcomm denied. In May, Qualcomm and other global tech companies announced a new initiative to support RISC-V International.
"If everyone supports this cornerstone utility, they're all going to be able to build off of their own custom variants of the RISC-V architecture," O'Laughlin said.