An unexpected détente — South Korea and China – China's latest top news
Newsletter
Jeremy Goldkorn's selection of the top stories from China on October 31, 2017. Part of the daily SupChina newsletter, a convenient package of China's business, political, and cultural news delivered to your inbox for free. Subscribe here.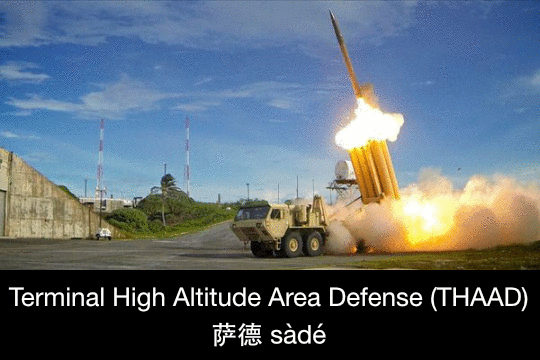 ---
South Korea and China make nice
Xinhua News Agency reports that the Chinese foreign ministry says that Beijing has been "maintaining communications on the Korean Peninsula issue through diplomatic channels" with Seoul, and that "both sides agree to return communication and cooperation in various fields to the normal track as soon as possible."
This was the first positive signal about a relationship that thrived for most of the last two decades, but has deteriorated significantly over the last year — mostly because of China's objections to the deployment of the American THAAD missile defense system in South Korea, which began in March this year.
As part of the agreement, "South Korean President Moon Jae-in will meet Chinese President Xi Jinping on the sidelines of the summit of Asia-Pacific Economic Cooperation (APEC) countries in Vietnam on November 10-11," Reuters reports.
China's foreign ministry understood that South Korea recognized China's concerns over THAAD, but clarified that the deployment "was not aimed at any third country and did not harm China's strategic security interests." China also "reiterated its opposition to the deployment of THAAD, but noted South Korea's position."
South Korean foreign minister Kang Kyung-wha "first hinted at a possible breakthrough on Monday, when she said that despite the Thaad deployment, South Korea had no intention of joining the United States' efforts to build a regionwide missile-defense system aimed at countering China's expansion of its military capabilities," according to (paywall) the New York Times. She also said that "South Korea would not accept any additional THAAD batteries," nor enter any trilateral military alliance with the United States and Japan. (Her comments are reported in Chinese by Xinhua here.)
From the point of view of South Korean companies, the political détente "formalizes a thawing that's been in the making for months," according to Bloomberg, although one executive says that "Korean companies will keep a two-track business for their post-China strategy…they cannot depend on the Chinese only."
"It is necessary to recognize that the achievement of this consensus does not mean that the THAAD problem has been fundamentally resolved," says a Xinhua commentary (in Chinese) on the agreement to renormalize relations.
Why does China object so much to THAAD? It is generally understood to be because the radar technology that comes with the missile defense system will alter the regional balance of power. For details on China's specific fears, see this analysis (paywall) by Ankit Panda, which sees the potential for THAAD to significantly degrade China's nuclear second-strike capability as the main worry in Beijing.
Why now? Reuters hints at a possible reason for the timing: "The unexpected détente comes just days before U.S. President Donald Trump begins a trip to Asia, where the North Korean nuclear crisis will take center stage."
The Party 'will no longer back down on many issues'
Deng Yuwen 邓聿文 is a former deputy editor of the Central Party School's journal, Study Times, who made a habit of expressing provocative views in the media during the Party leadership transition period of 2012–2013.
One of his most controversial essays was on "the ten grave problems" left behind by the Hu Jintao and Wen Jiabao administration (2003–2013), a critical look back on a decade about which Deng says "the problems that were engendered and spawned may well outweigh the achievements."
Now Deng has published an opinion piece in the South China Morning Post titled "In Xi's new era, Chinese diplomacy will be a display of hard power."
He states, "The way the Party sees it, a hardline approach will not only protect the country's interests, but also meet the people's expectations of how a great power should behave," and that while there is room for compromise in China's diplomacy, "such 'weakness' may be considered only when the matter at hand does not involve China's core interests."
Deng concludes that "the Communist Party will no longer back down on many issues," and that the international community should be prepared to face a "strong" China.
A Communist pilgrimage
The China Daily has photos of Communist Party General Secretary and President Xi Jinping together with the other six newly appointed members of the Politburo Standing Committee making a visit to the site in Shanghai where the Party's first National Congress was held in 1921.
Reuters' report on the visit contains two theories from Party watcher Willy Wo-Lap Lam 林和立 on the significance of the visit:
– A signal that here will be "no move away from orthodox Marxism, orthodox Maoism," nor "taking up of Western values."
– "It shows indirectly that the Shanghai faction under Jiang Zemin has ceased to be a force to be reckoned with."