Trade war, day 131: China hawk says there may be 'outlines of a deal'
Newsletter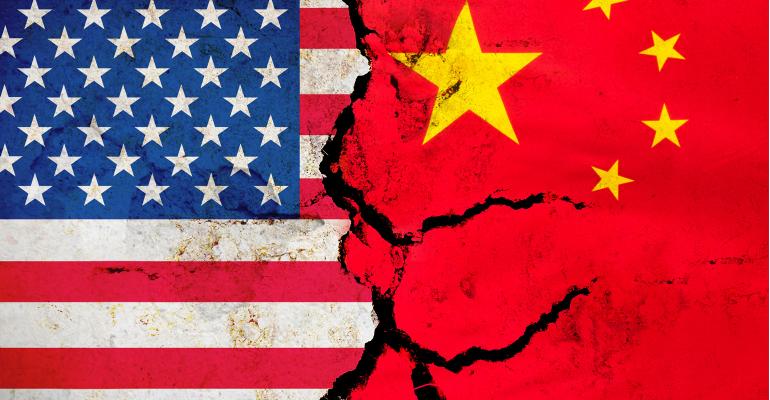 In another sign of a potential thaw in relations, the Wall Street Journal reports (paywall) that U.S. Treasury Secretary Steven Mnuchin and his Chinese counterpart, Vice Premier Liú Hè 刘鹤, had a phone conversation last Friday.
The U.S. wants to see a "concrete" offer

from Beijing before any talks on a trade deal commence, while the Chinese side fears that doing so will put it in a weaker negotiating position, according to official sources.

While the Mnuchin-Liu chat

didn't result in any progress on that stalemate, "the renewed discussions indicate the two sides are trying to reach an accommodation, the officials say."

"There is a consistency in the (Chinese) messages

that can be seen by optimists as the outlines of a deal," Michael Pillsbury, American Director of the Center on Chinese Strategy at the Hudson Institute, told the WSJ. "But it's not an offer."

Michael Pillsbury,

it should be noted, is the author of the paranoid tome

The Hundred-Year Marathon: China's Secret Strategy to Replace America as the Global Superpower

, and one of the éminences grises behind the Trump administration's hostile attitude to China. He's not a panda hugger.

The next step

is for Liu to travel to Washington.

According to the South China Morning Post,

he will soon make a trip that was originally planned for September, but canceled amid the escalation in trade tensions. No schedule has been set yet, but it's expected ahead of the Xi-Trump meeting on the sidelines of the G20 summit in Argentina around the end of this month.

Markets reacted warmly

to the news: Reuters says:

Asian shares pare losses on U.S.-China trade optimism, oil slides

; Bloomberg reports:

U.S. Index futures rise with European stocks on trade optimism

(porous paywall); the Wall Street Journal notes:

Copper climbs on hopes for U.S.-China trade thaw

(paywall).
But a key question concerns the bigger landscape in which the trade war is playing out:
"Is Mr. Trump's trade battle

with China really about trade, or about geopolitical rivalry?"

asks James Mackintosh in the WSJ

(paywall). "Much follows for investors. If it is about trade, a deal is possible, and Mr. Trump's track record suggests it is fairly likely. If it is about containing China, it may be time to hunker down in preparation for a new cold war."

U.S. Vice President Mike Pence,

in Asia this week, reflected the broader, and more worrying, view.

In an interview with Washington Post columnist Josh Rogin

(paywall), Pence said that "Trump is leaving the door open for a deal with Xi in Argentina, but only if Beijing is willing to make massive changes that the United States is demanding in its economic, military and political activities. The vice president said this is China's best (if not last) chance to avoid a cold-war scenario with the United States."
OTHER TRADE-WAR-RELATED NEWS:
Asian summits and partnerships


Xi expands China's footprint in the Pacific while Trump stays home

/ Bloomberg




"For President Xi Jinping, diplomatic wins rarely come this easily: Just showing up at an Asia-Pacific summit this week would help to score a victory for China."




Asian mega free-trade deal stalls in Singapore despite China's push against protectionism

/ SCMP




"Analysts said future RCEP talks could be complicated by potential changes of government in some countries such as Australia, India, Indonesia and Thailand, where elections are due next year."




China, Fiji sign agreement to cooperate on BRI

/ Xinhua

An American challenge to Belt and Road?


US embarks on tortoise vs. hare investment race with China

/ WSJ (paywall)




"The U.S. has launched a new strategy aimed at ramping up investment in Asia to vie with Chinese President Xí Jìnpíng's 习近平 overseas infrastructure-building spree, as Beijing grapples with setbacks to its sprawling program…. But China has a head start — and a state-led model that makes it easier to finance and build on a large scale."

Troubling outlooks


Chinese premier rejects economic stimulus option as latest data shows more weakness

/ SCMP




"The People's Bank of China released data showing that bank lending slowed sharply in October to a level well below expectations, suggesting businesses are reluctant to proceed with investments given the economic uncertainty created by the trade war with the United States."




China's biggest financial risk is the US

/ FT (paywall)




"The Trump administration's cavalier approach to financial risk increasingly suggests that its economic policies will not end well."




Trade war and censors blow chill wind through China's giant tech scene

/ Reuters




"Now the market is feeling the pinch. Hiring numbers are down, company margins are thinner and tumbling technology stocks have wiped nearly half a trillion dollars this year from the value of China's top listed tech firms."




Japan's economy faces rising risks from U.S.-China trade war: Reuters poll

/ Reuters




"Nearly all economists, 33 of 36, said downside risks to Japan's economy have increased compared with three months ago."
---
Previously in SupChina's trade war coverage:
Trade war, day 126: China talks up G20 meeting as exports surge