1.5 million Muslims are in China's camps — scholar
Domestic News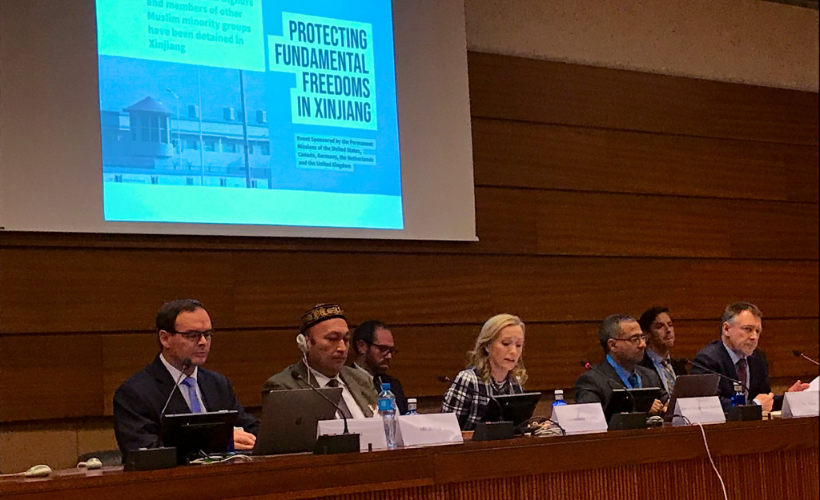 Adrian Zenz, an independent German researcher, said that his new estimate was based on satellite images, public spending on detention facilities and witness accounts of overcrowded facilities and missing family members.

"Although it is speculative it seems appropriate to estimate that up to 1.5 million ethnic minorities — equivalent to just under 1 in 6 adult members of a predominantly Muslim minority group in Xinjiang — are or have been interned in any of these detention, internment and re-education facilities, excluding formal prisons," Zenz said at an event organized by the U.S. mission in Geneva, home of United Nations human rights bodies.

"The Chinese state's present attempt to eradicate independent and free expressions of the distinct ethnic and religious identities in Xinjiang is nothing less than a systematic campaign of cultural genocide and should be treated as such," Zenz added.
The U.S. Department of State is also issuing statements about Xinjiang that are far more specific and condemn the human rights abuses in much stronger terms than anything in 2018. Reuters reports:
U.S. Secretary of State Mike Pompeo highlighted abuses in Iran, South Sudan, Nicaragua and China in the department's annual "Country Reports on Human Rights Practices," but told reporters that China was "in a league of its own when it comes to human rights violations."

"For me, you haven't seen things like this since the 1930s," Michael Kozak, the head of the State Department's human rights and democracy bureau, told the same briefing, referring to abuses of China's Muslim minority in the Xinjiang region.

"Rounding up, in some estimations…in the millions of people, putting them into camps, and torturing them, abusing them, and trying to basically erase their culture and their religion and so on from their DNA. It's just remarkably awful."

"It is one of the most serious human rights violations in the world today," he said.
Beijing has been on the defensive in recent months, and most recently defended the Muslim detention camps as being "like boarding schools," though the chairman of the Xinjiang government, Shohrat Zakir, declined to disclose how many are in the system. The government has also been inviting waves of foreign diplomats, mostly from non-Western countries, on carefully organized tours of Xinjiang.
Two more notes:
As Adrian Zenz says on his Twitter feed — which you should keep an eye on for updates on this story — the British and German governments have added to calls for UN access to Xinjiang to conduct an independent assessment of alleged human rights abuses.
United Nations human rights chief Michelle Bachelet said on March 6 that her office continues to seek access to Xinjiang "to carry out an independent assessment of the continuing reports pointing to wide patterns of enforced disappearances and arbitrary detentions." She has been seeking access for over three months now, after initially announcing that her office had been seeking access on December 5, 2018.