Xi and Albanese meet in Beijing
Politics & Current Affairs
Xi Jinping and Australian Prime Minister Anthony Albanese met for the second time in Beijing today. It's the strongest signal to date that ties between their two countries are improving after years of tensions.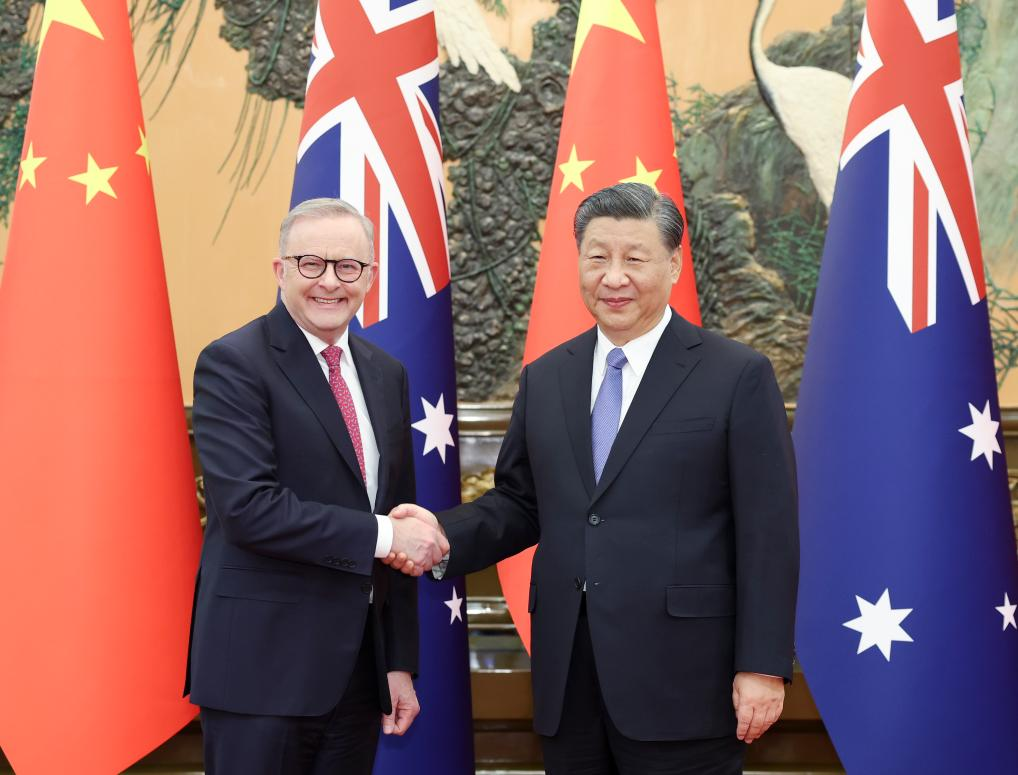 Australian Prime Minister Anthony Albanese met with Chinese leader Xí Jìnpíng 习近平 today in Beijing. Albanese is currently on a highly anticipated visit to China from November 4 to 7. He is the first Australian leader to visit the country since 2016 and his trip is a notable step toward stabilizing diplomatic ties after years of tensions.
Xi and Albanese smiled and shook hands at the start of their bilateral talks at the Great Hall of the People. Xi praised the Australian leader for working to stabilize ties with China since being elected to his position in May last year. It is the second time they have met face to face. They first met on the sidelines of a G20 summit in Bali, Indonesia, in November 2022.
During their talks, Albanese raised the issue of Australian writer and democracy activist Yáng Héngjūn 杨恒均, who has been behind bars in China since January 2019 on vague espionage charges after a closed-door trial, according to media reports from  journalists accompanying him in Beijing. Last week, Yang's family released a letter pleading with Albanese to negotiate with Xi for his release.
When asked if he raised concern over China's alignment with Russia over the war in Ukraine, Albanese vaguely replied that "the conflict in the world was raised," including over Ukraine and in the Middle East. He also stressed the need for peace and security "in our region."
Xi raised China's ambition to join a key regional trade pact, the CPTPP. The two also moved to resume an annual leader-level dialogue, which has been suspended for a number of years. Albanese invited Xi to visit Australia.
A sign of warmer ties?
Albanese's trip coincides with the 50-year anniversary of Gough Whitlam's iconic trip to China to visit Máo Zédōng 毛泽东 in 1973, marking the first trip by an Australian prime minister after the establishment of diplomatic ties.
Earlier this morning, Albanese stopped by Beijing's iconic Temple of Heaven and posed for pictures at the circular Echo Wall, where Whitlam had also stood in 1973. "In China we often say that when drinking water, we should not forget those who dug the well," Xi said. "The Chinese people will not forget Prime Minister Whitlam for digging the well for us."
Albanese also attended the opening ceremony of the sixth China International Import Expo (CIIE) on November 4. He delivered a speech at the country's largest international trade show after the opening remarks of China's premier, Lǐ Qiáng 李强, saying that "it is in the interests of Australia and China to have a relationship through dialogue and cooperation."
Improving strained ties
In the months leading up to the Xi-Albanese meeting, China had removed some of the punitive trade sanctions it placed on Australia, though it stopped short of lifting restrictions on lobster exports and wine tariffs imposed at the height of the trade war.
Xi reportedly flagged lobsters during the meeting, and Australian officials have signaled that Australian wine may soon return to the Chinese market.
"I think there are promising signs," Albanese said at a press conference prior to his meeting with Xi. "We have already seen a number of the impediments to trade between our two nations removed and an uplift already, a substantial uplift, in the trade between our two nations."
China is Australia's largest trading partner, particularly in purchases of Australian food and natural resources. It accounts for nearly a third (32.2%) of Australia's trade, buying more Australian exports than the next three biggest markets combined.
However, in 2020, simmering tensions between the two nations skyrocketed when Australia's then prime minister Scott Morrison called for an inquiry into the origins of the COVID pandemic. Beijing retaliated with punitive trade actions on a number of agricultural products, including wine, beef, and rock lobsters.
Meanwhile, China released Australian journalist Chéng Lěi 成蕾, a former news anchor at Chinese state media television channel CGTN, after more than three years of imprisonment in China on national security charges.
An eye on the U.S.
Prior to his trip to China, Albanese had visited the United States. U.S. President Joe Biden had warned the Australian leader to "trust, but verify" anything Beijing told him during the trip.
When asked at the press conference if he could trust Xi before their meeting, Albanese said: "We have different political systems. But the engagement that I've had with China with President Xi [has] been positive. They have been constructive. He has never said anything to me that has not been done."
"And that's a positive way that you have to start off dealing with people. But we recognize, as well, that we come with different political systems, very different values arising from that and different histories," Albanese added.
Chinese state media has been publishing a number of editorials and other articles leading up to Albanese's visit. While most of them echoed the optimistic tones sounded by both leaders, they also mentioned the underlying geopolitical issues that may risk steps to improve ties.
"Following years of strained relations, Albanese's China visit provides an opportunity to reset ties amid a complex global landscape," according to a commentary published by Chinese state news outlet Xinhua on November 3. "Still, there's a long way to go before relations warm up. Imprudent Australian actions regarding Taiwan and hawkish perceptions of China indicate that China-Australia relations still face challenges," it added.
But it also took a veiled swipe at the U.S.: "For Australia, it is always a better option to maintain strategic independence and avoid taking sides between the United States and China. Acting as a pawn of others will eventually harm its own interests."